Schedule
(Light Recital Hall)
8:30 - 9:00 a.m.
ON-SITE REGISTRATION/CHECK-IN
Greenhill Center of the Arts - Atrium
9:00 a.m. - 5:30 p.m.
EXHIBITS OPEN (Atrium)
9:00 - 9:25 a.m.
WELCOME! OPENING CONCERT (Light Recital Hall)
9:30 - 10:15 a.m.
MORNING WARM-UPS (UW-Whitewater Faculty)
10:30 - 12:00 p.m.
GUEST ARTIST MASTER CLASSES/VISIT EXHIBITS (Light Recital Hall)
12:00 - 1:00 p.m.
LUNCH/VISIT EXHIBITS
1:00 - 1:45 p.m.
GENERAL SESSIONS FOR ALL INSTRUMENTS
2:00 - 2:50 p.m.
GUEST ARTIST RECITAL
3:00 - 4:15 p.m.
WOODWIND MANIA MASS ENSEMBLES REHEARSAL
FLUTE CHOIR, CLARINET CHOIR, SAX CHOIR, DOUBLE REED CHOIR
4:30 - 5:15 p.m.
WOODWIND MANIA MASS ENSEMBLES CLOSING CONCERT (Light Recital Hall)
5:15 - 7:30 p.m.
DINNER BREAK
7:30 p.m.
MUSIC MOSAICS CONCERT SERIES - UW-WHITEWATER FACULTY (Light Recital Hall)
*All times are subject to change.
Guest Artists & Clinicians
Alexa Still, Flute
Alexa's many recordings on the Koch International Classics label have garnered unanimous praise: "impeccable in technique and taste, seductive in phrasing" (Stephensen Classical C D Guide). "Still plays... so convincingly I cannot separate her from the music" (American Record Guide), "whatever she plays sounds musical in every turn of the phrase" (Gramophone), "a stunning showcase for the astonishing Alexa Still" (Fanfare). Alexa studied in New York (SUNY Stony Brook), won competitions including the New York Flute Club Young Artist Competition, and, East and West Artists Competition and then returned home as principal flute of the New Zealand Symphony Orchestra at the age of 23. Other awards include a Churchill Fellowship and a Fulbright. She eventually left the NZSO to devote more time to solo engagements and teaching, based first at the University of Colorado at Boulder, then the Sydney Conservatorium of Music, and now at Oberlin Conservatory, USA. Alexa has performed and taught in England, Germany, Slovenia, Turkey, Mexico, Venezuela, Brazil, Canada, Korea, China, Australia, New Zealand, and of course across the United States. Alexa has also served her profession as President of the National Flute Association (USA), and regularly writes for flute journals across the globe. Her flute was made by Brannen Brothers with gold or wooden headjoints by Sanford Drelinger. When her flute is in its case, Alexa is an avid motorcyclist, and she shares a daughter and two dogs with her husband.
Christopher Zello, Clarinet
Milwaukee Ballet Orchestra
Randy Zelinka, Bassoon
Former Instructor at UW-Whitewater
Tony Barba, Saxophone
After residing in New York City and Chicago for the past fifteen years, saxophonist/composer Tony Barba relocated to Madison, WI in 2013 where he has become entrenched in the local music scene playing as a sideman with many different groups including Immigre (afro-pop), Golpe Tierra (afro-peruvian jazz), the Big Payback (funk), the Darren Sterud Orchestra (big band), Mama Digdown's Brass Band (New Orleans Brass Band), and the Johannes Wallman Quartet (jazz). 2015 led to an opportunity to record with Bon Iver on their new release: 22, A Million. In addition to co-leading a new organ quartet called Barbacoa, Tony is also performing as a solo artist and recently released his first solo album, Winter's Arms. Tony continues to perform with the globetrotting Youngblood Brass Band, which recently concluded a five week/ten country tour in the fall of 2016. In addition to performing, Tony also is an active educator at local schools and at his own private studio, focusing on saxophone, clarinet and flute instruction.
UW-Whitewater Woodwind Faculty
Cristina Ballatori, Director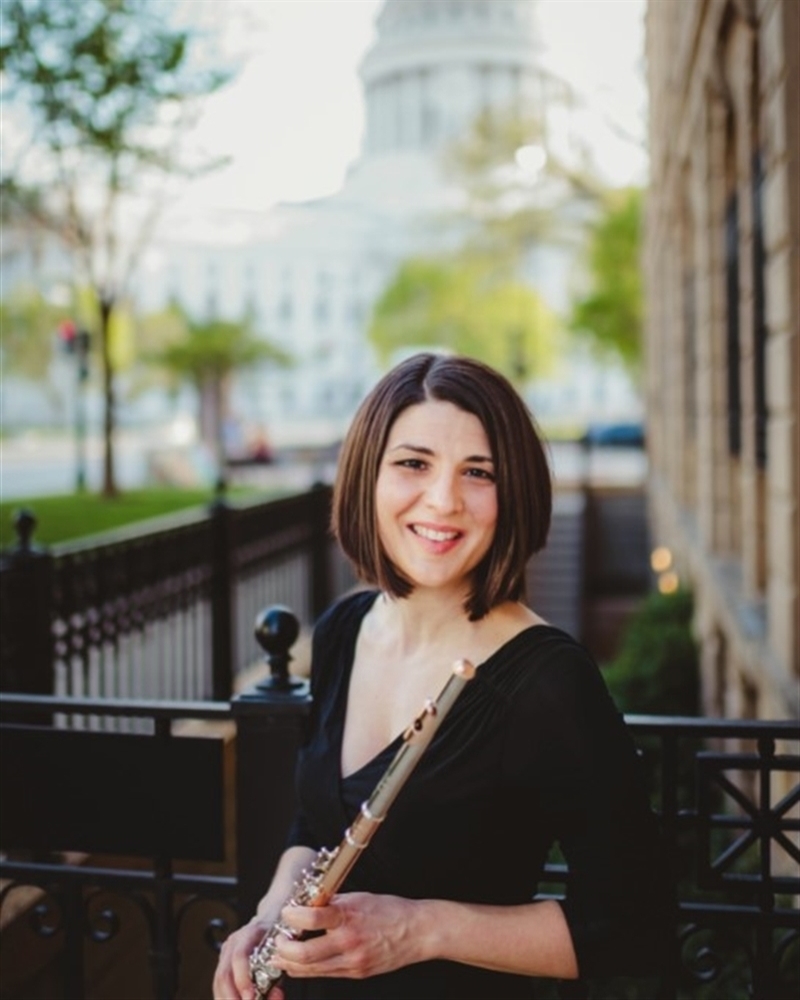 Cristina Ballatori has performed across the United States, Europe, England, and Latin America as a recitalist, soloist, chamber and orchestral musician. Recent performance highlights include concerts in such venues as the 2016 World Flutes Festival in Mendoza, Argentina, Atelier Concert Series in Paris, France, "Live from Hochstein" Series public radio WXXI in Rochester, New York, and artist residencies in Spain, Costa Rica, and Mexico. Ballatori regularly appears as a guest artist and has been a featured performer, clinician, and adjudicator at many festivals, universities, and conferences including those of the National Flute Association, Music Teachers National Association, Texas Music Educators Association, Florida Flute Association, and Mid-South Flute Society among others.
Dr. Ballatori joined the University of Wisconsin-Whitewater music faculty as Assistant Professor of Flute in Fall 2016. A recipient of the University of Texas System's Outstanding Teaching Award, she previously served as Associate Professor of Flute at the University of Texas- Rio Grande Valley.
Suzzane Geoffrey, Oboe
Suzanne Geoffrey has been featured as a soloist on oboe performing Haydn's Concerto for Oboe with the University Community Orchestra in Milwaukee, and with the Manitowoc Symphony in a performance of J.S. Bach's Concerto for Oboe and Violin and in Mozart's Sinfonia Concertante for Winds. She has performed J.S. Bach's Concerto for Oboe d'Amore and Orchestra with the Racine Symphony Orchestra. As an English horn soloist, she has performed Aaron Copland's Quiet City with both the Wisconsin Philharmonic and the Manitowoc Symphony and Jan Sibelius' Swan of Tuonela with the Festival City Symphony and the Wisconsin Philharmonic Orchestra.
Suzanne is in demand as a clinician throughout southeastern Wisconsin, and maintains a private studio for students of all levels. Suzanne is also active as a chamber musician, performing with the Spring City Winds (resident faculty woodwind trio/quintet at Carroll University) and the Great Lakes Wind Quintet.
Christian Ellenwood, Clarinet
A passionate recitalist, chamber musician, and orchestral clarinetist, Christian Ellenwood performs as principal clarinetist with the Woodstock Mozart Festival/Midwest Mozart Festival, the Skylight Opera of Milwaukee, and appears regularly with other orchestras and ensembles in the region, including the Milwaukee Ballet, Bel Canto Chamber Orchestra of Milwaukee, Madison Symphony, and Madison Opera. Chamber music collaborations include performances with the Grammy Award-winning Ying Quartet and the Telluride Chamber Music Festival, as well as artists such as LA Phil principal cellist Robert DeMaine, violinist Mark Peskanov, and pianist Christopher Taylor. His clarinet playing can be heard in frequent live broadcasts on Wisconsin Public Radio and on the Albany Records release, Music of Chris Theofanidis, and on CD projects produced by the University of Wisconsin–Whitewater, where he serves as Professor of Clarinet.
Dr. Ellenwood holds degrees from the University of North Carolina-Greensboro, Indiana University, where he was an I.U. Fellowship recipient, and the Eastman School of Music, where he was awarded Edith Babcock and George Eastman scholarships. Major teachers and pedagogical influences include Kelly Burke, Eli Eban, and Peter Hadcock.
Matthew Sintchak, Saxophone
Matt Sintchak is an avid supporter of contemporary music having commissioned and premiered over 50 works. In addition to solo concerts, he performs regularly with the Ancia Saxophone Quartet (based in Minneapolis), the Sonict Duo (saxophone, video, and electronics), and the Milwaukee Symphony Orchestra. Performances have taken him throughout the US, Canada, China, Japan, Korea, and Europe. As a jazz musician, he has recently collaborated with Roscoe Mitchell, Ray Anderson, David Bixler, and Paul Tynan. Sintchak studied at the Eastman School of Music (DMA, MM, Performer's Certificate), the Paris Conservatory, and the New England Conservatory (BM). He is a Conn-Selmer and Vandoren artist and has recorded for the Naxos, Innova, Albany, University of Iowa Composers', and Zimbel labels. Sintchak is the Professor of Saxophone and Jazz Studies at the University of Wisconsin-Whitewater.
Insurance
Each camper will be covered by a limited accident insurance policy. The insurance includes primary coverage up to $7,500 and $300 maximum dental insurance. Insurance does not cover pre-existing injuries and is for accidents only. The cost of insurance is included in the registration fee.
Special Notice
The University of Wisconsin-Whitewater is committed to equal opportunity in its educational programs, activities and employment policies, for all persons, regardless of race, color, gender, creed, religion, age, ancestry, national origin, disability, sexual orientation, political affiliation, marital status, Vietnam-era veteran status, parental status and pregnancy.
If you have any disabling condition that requires special accommodations or attention, please advise us well in advance. We will make every effort to accommodate your special needs.
Registering for this event you understand that the University may take photographs and or videos of event participants and activities. You will be required to agree at the time of registration that the University of Wisconsin-Whitewater shall be the owner of and may use such photographs and or videos relating to the promotion of future events. You will relinquish all rights that you may claim in relation to use of said photographs and/or videos.