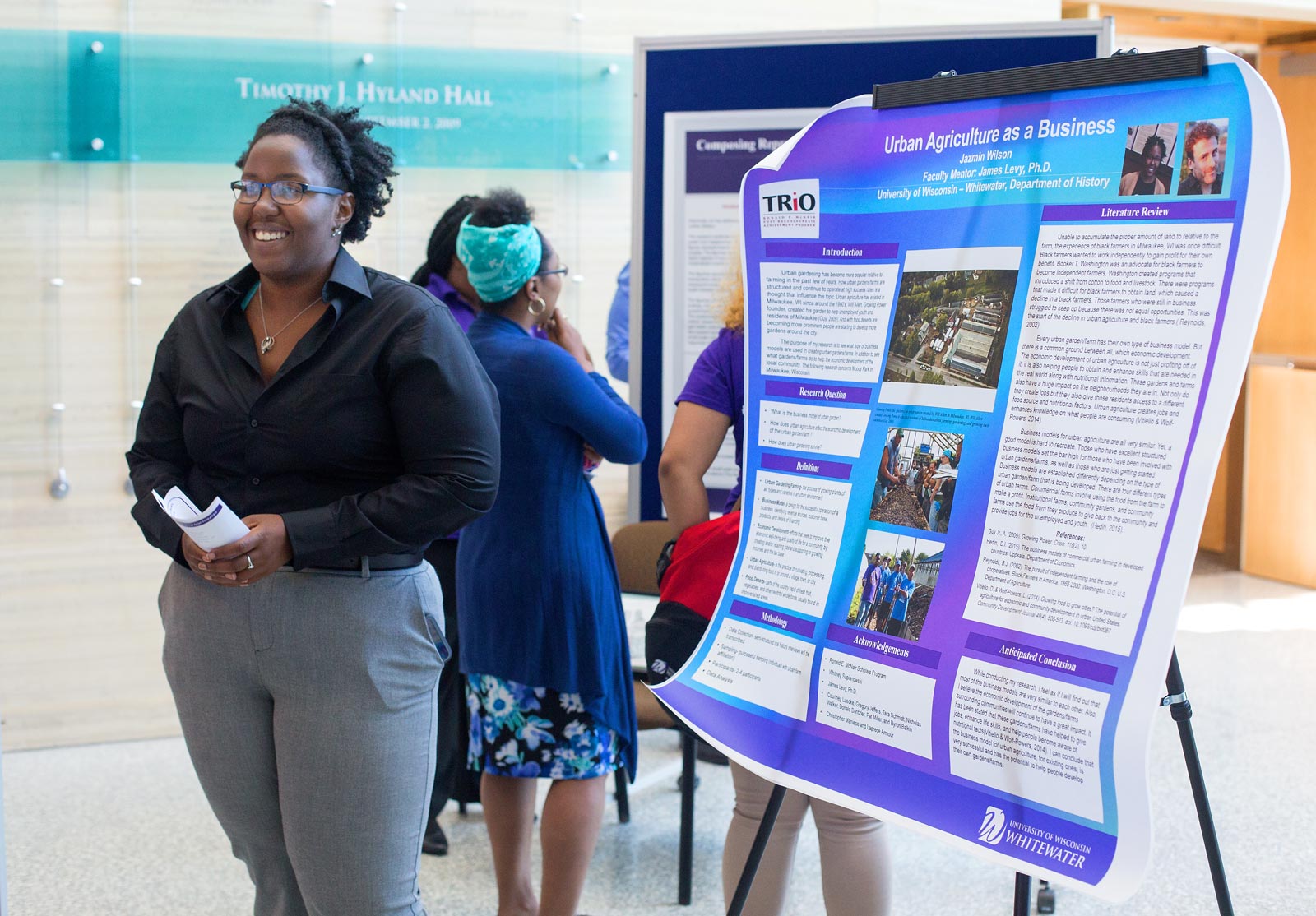 PHOTOS: Ready for research

Students in the UW-Whitewater McNair Scholars Program, including Jazmin Wilson, a senior majoring in general management, presented undergraduate research projects at a symposium in Hyland Hall on the UW-Whitewater campus on Friday, July 7.


Summer on the Mall

Join us for a winter wonderland under the sun on Wednesday, July 19, from 11 a.m. to 1 p.m. on the north Wyman Mall for music, art workshops and holiday food. Bring non-perishable food items and they will be donated to the Whitewater Community Food Pantry.



Help us welcome new Warhawks!

First Year Experience invites the campus community to participate in the fall 2017 orientation events. Help us welcome new students at the Warhawk Send-Off in Milwaukee on Aug. 10 and RU Purple on campus on Sept. 4.


Join us for the Student Involvement Fair Sept. 13

Departments and student organizations who have involvement opportunities to offer students should register for a table by the Sept 8. Space is limited.



Untagged bike removal

Untagged bikes will be removed from all bike racks on campus July 24-28 so that the racks can be maintained. Tagged bikes are not removed. You can pick up a tag at the Goodhue Hall front desk.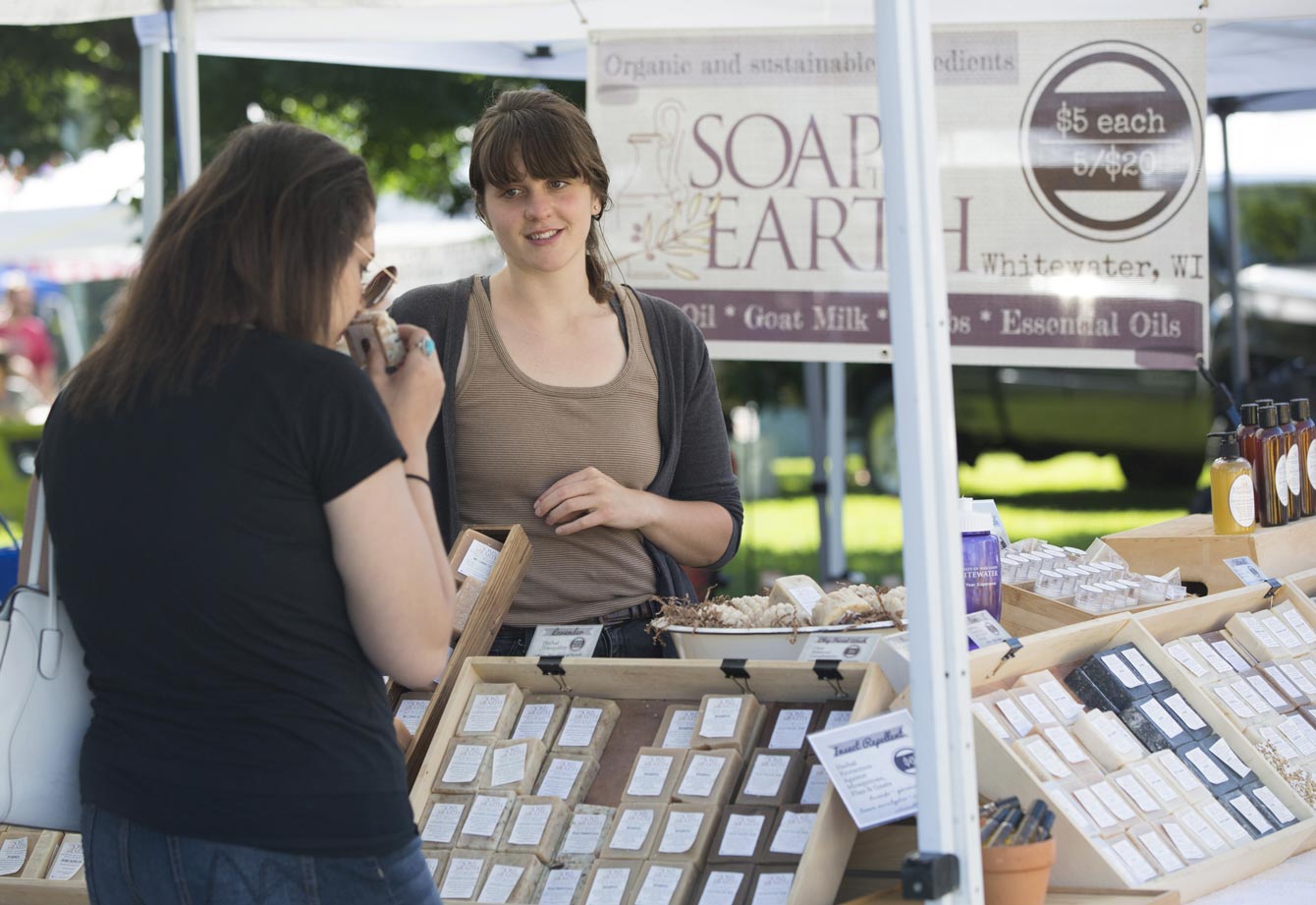 Warhawks at the City Market
Leslie Jones, who staffs the Soap of the Earth stall at the Whitewater City Market, is a UW-Whitewater senior majoring in early childhood education who also works as a student photographer with Marketing and Media Relations. Soap of the Earth raises and milks nubian goats just outside of Whitewater using the milk, as well as the herbs they grow, in their bar and liquid soaps, essentials oils, and balms and liniments. Whitewater City Market runs Tuesdays through October, 3:30-7:30 p.m., at the Historic Train Depot on Whitewater Street. Photo by Craig Schreiner


Campus Kudos

Kudos to UW-Whitewater students who donated 25,358 community service hours and raised $61,610 for philanthropy causes in 2016-17. The Greek Community alone donated 11,538 hours and raised $36,554.

Kudos to Nicole Weber, director of learning technology for ICIT, who was selected to the inaugural Educause Young Professional Advisory Council. Educause and its members contribute to thought leadership on major issues, document effective practices, and highlight how emerging trends and technologies may influence the evolution of IT in higher education.

Kudos to the 3,148 students who made the Dean's List for the spring 2017 semester. These students have demonstrated their academic abilities by receiving a grade point average of 3.4 or above in a single semester. Search the list »


New format for unofficial transcripts

As of July 12, unofficial transcripts requested through WINS Advisor Center or WINS Student Center will have some minor changes.



Looking for student volunteers

UW-Whitewater is hosting a Disability Awareness Merit Badge Clinic for Boy Scouts this fall and is looking for students to help facilitate the event.


Open forums: University Health and Counseling Services Executive Director

Candidates for the UHCS executive director position will interview on campus on July 25-26. Members of the campus community are invited to attend open meetings to meet the candidates and provide feedback to the search and screen committee. Open meetings are 3-4 p.m. in the Ambrose Health Center, 2nd floor conference room.

Tuesday, July 25 — James Freiburger
Wednesday, July 26 — Jay Chrostowski



University Staff Council elections

The following representatives were elected to the University Staff Council for 2017-2018:

Chair, Denise Ehren
Vice Chair, Wes Enterline
Treasurer, Donna Bare
Secretary, Karen Brueggeman

Student Affairs: Kim Apel, CynDee Sentieri
Administrative Affairs: Kirsten Mortimer, Kelsey Servi
Academic Affairs: Julia Rowehl, Kim Rusk


Submit your stories

We are always looking for great story ideas. If you know of a student or faculty or staff member who deserves a shout-out, or want to promote a campuswide event, email us at news@uww.edu by noon Friday. Submissions may be edited for length or content.