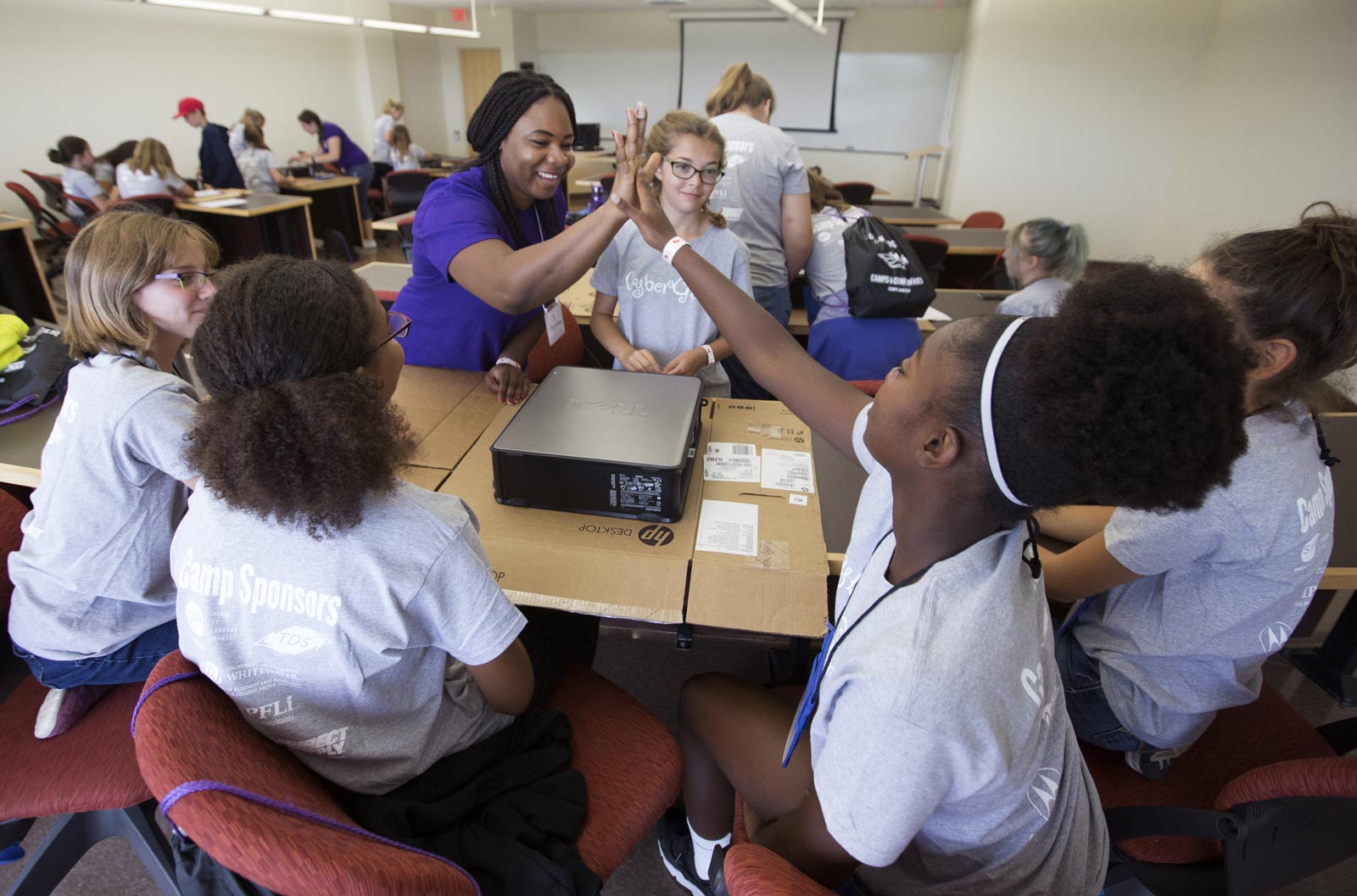 PHOTOS: Campers explore information technology

UW-Whitewater senior Sonia Kalmogo, in purple shirt, high fives girls in her group at a Cybergirlz camp on July 18 in Hyland Hall. During the Cybergirlz and Cyberhigh camps, junior high school and high school students explore information technology. Photo by Craig Schreiner.


Upcoming Events

Warhawk Sendoff
Thursday, Aug. 10
5 p.m. South Shore Park, Milwaukee
Register » Women in Higher Education event
Thursday, Aug. 24
10:30 a.m. Timmerman Auditorium State of the University Address
Monday, Aug. 28
10:30 a.m. Young Auditorium


Chancellor Kopper selected for National Security Program

Chancellor Beverly Kopper is one of 70 business, government, academic and community leaders from across the country taking part in an academic seminar this week alongside the students of the Army War College in Carlisle, Pennsylvania. During the event, participants will engage in discussions with the next generation of senior leaders of the U.S. Armed Forces, enabling a deeper understanding of perspectives across the American society they serve.


Parking rules and policies

UW-Whitewater Parking Services strives to provide equitable, quality services and the best possible parking value to the campus community. Please be sure to follow all parking rules, policies and procedures — as they are being strictly enforced. You can pick up a pamphlet on parking rules at the Parking and Visitor Center located at 826 W. Starin Road, or review the rules online at the link below. Feel free to contact parking representatives at 262-472-1011 or parking@uww.edu.



Volunteer at the campus garden

Volunteering at the campus garden is a great way to get involved while giving back to the community, as a majority of produce is donated to local food pantries. This activity is also approved for business students seeking community service hours. Meet us at the garden, located between the Bookstore and Ambrose Health Center on Starin Road. Our current volunteer schedule is Tuesday 3:30-6:30 p.m., Wednesday 3:30-6:30 p.m., Thursday 12:30-2:30 p.m., and Friday 2:30-5:30 p.m.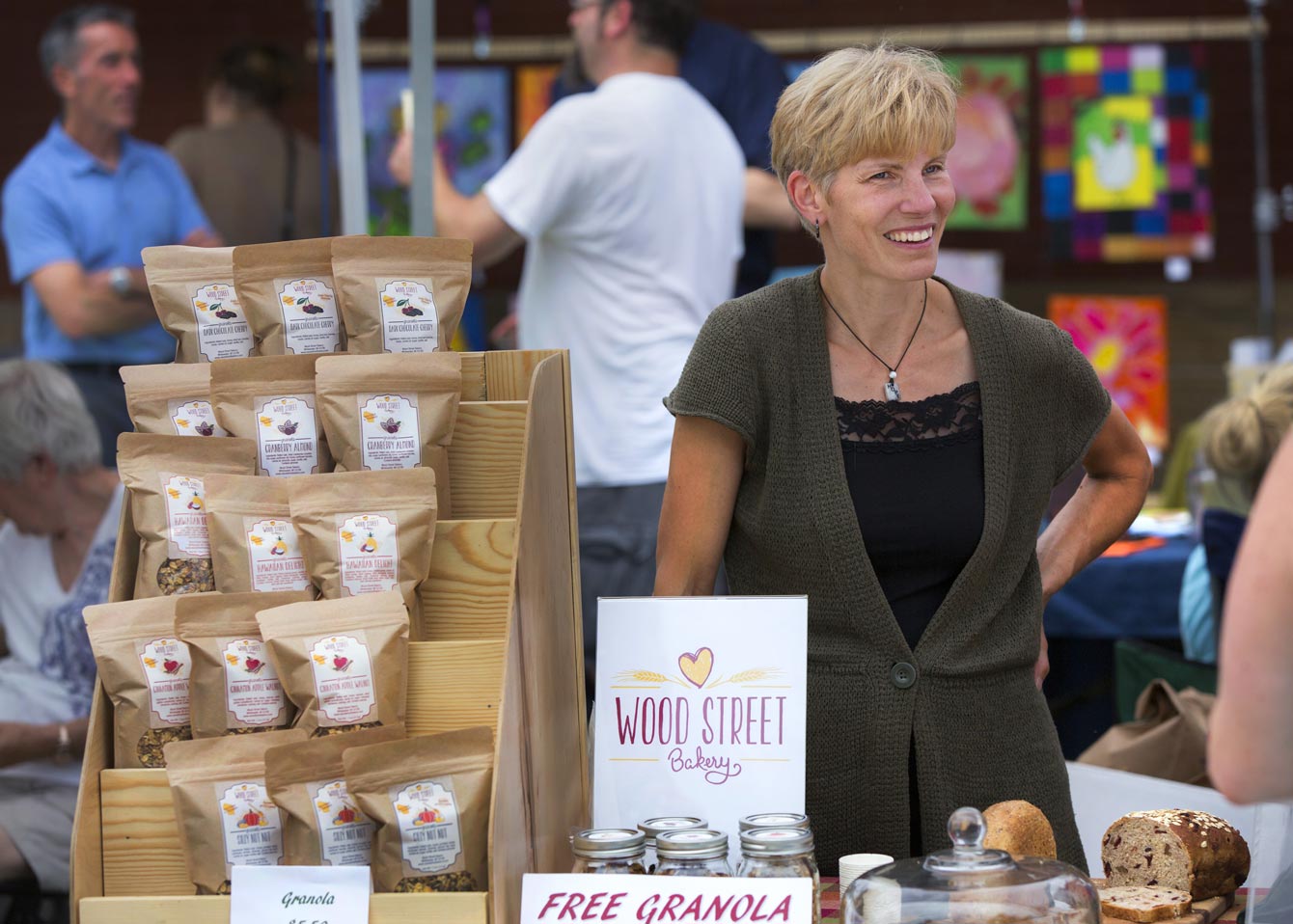 Warhawks at the City Market
Therese McKenzie, co-owner of Wood Street Bakery, also works on campus as the catering coordinator. The idea to start a home-based bakery with her husband Jim began 20 years ago, when they lived in Germany with their children. They've been selling since December 2016 and currently offer European tarts, breads (multigrain and cranberry walnut), and granola (cranberry almond, silly nut nut, dark chocolate cherry, cinnamon apple walnut, and Hawaiian delight). Whitewater City Market runs Tuesdays through October, 3:30-7:30 p.m., at the Historic Train Depot on Whitewater Street. Photo by Craig Schreiner.


Campus Kudos

Kudos to Steve Hillmer, director of sports medicine, who was selected to serve on the National Athletic Trainers' Association's Intercollegiate Council for Sports Medicine. Read more »

Kudos to Benjamin Whitcomb, professor of music, who published a new book, "Compendium of Chords for the Cello." Read more »

Kudos to Jo Ann Oravec, professor of information technology and supply chain management, who is presenting a paper at the 2017 Institute of Electrical and Electronics Engineers International Professional Communication Conference, held at UW-Madison on July 25. Her presentation is titled "Emerging 'Cyber Hygiene' Practices for the Internet of Things (IoT): Professional Issues in Consulting Clients and Educating Users on IoT Privacy and Security."

Kudos to the staff at Young Auditorium, who won a $13,500 grant to host the National Endowment for the Arts Big Read in Whitewater and neighboring communities. An initiative of the NEA in partnership with Arts Midwest, the NEA Big Read broadens our understanding of our world, our communities and ourselves through the joy of sharing a good book. The next NEA Big Read will focus on "The Round House" by Louise Erdrich. Activities will take place March 22–May 6, 2018.

Kudos to Continuing Education Services, the campus partner of Project SEARCH, an educational internship model for young adults with intellectual or significant disabilities. This program is a joint venture with regional companies, Department of Health Services, Department of Education, and Division of Vocational Rehabilitation. UW-Whitewater is the educational partner for students who have exited high school. Last year, 49 of the more than 150 participants were Warhawks, completing a Career Ready Internship development course. Eighty-seven percent of interns who graduate are employed 10 hours a week or more. The efforts were recently featured in the Milwaukee Journal Sentinel. Read more »


Submit your stories

We are always looking for great story ideas. If you know of a student or faculty or staff member who deserves a shout-out, or want to promote a campuswide event, email us at news@uww.edu by noon Friday. Submissions may be edited for length or content.