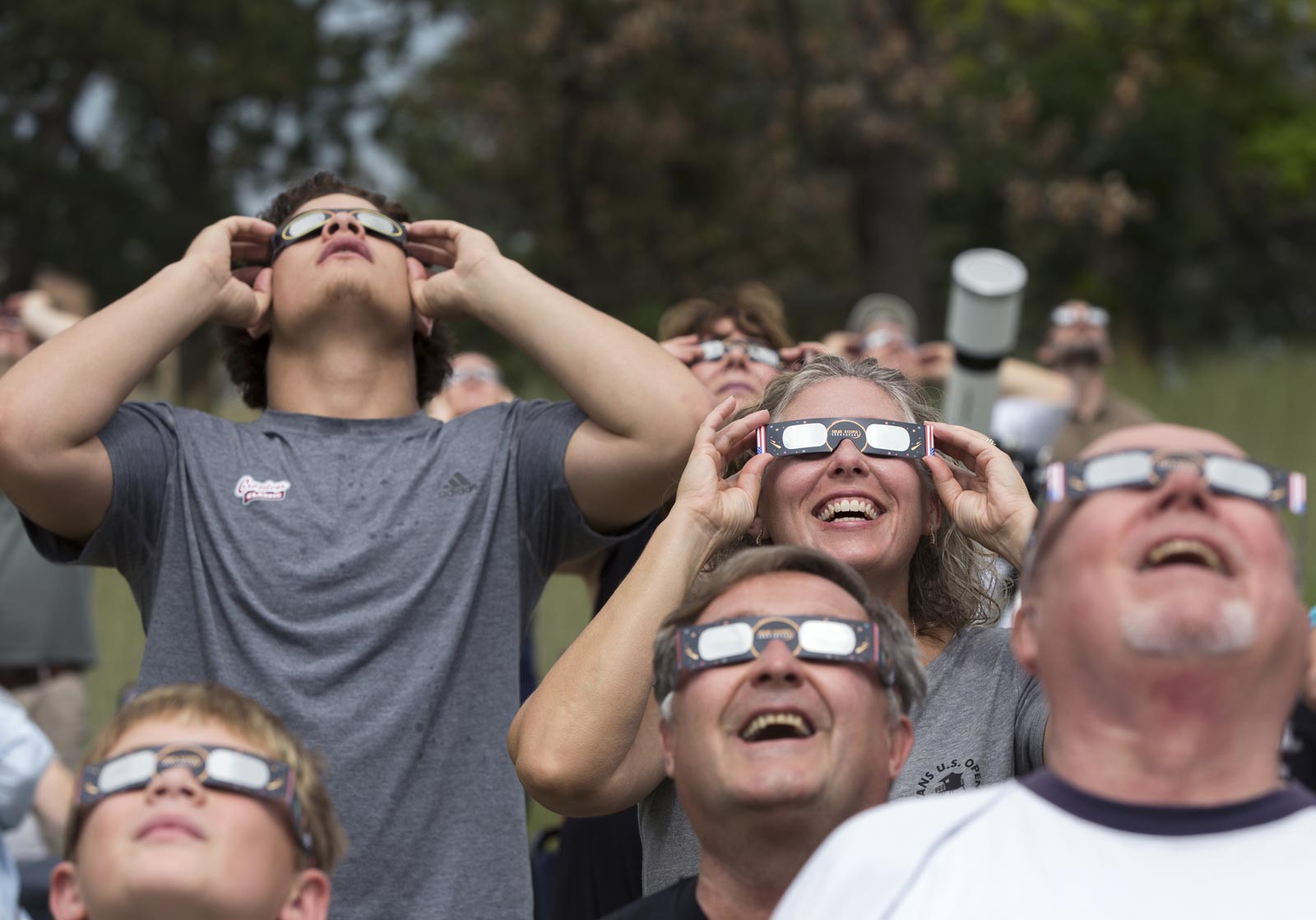 PHOTOS: Warhawks witness solar eclipse

The passing clouds broke up just enough for the campus community to view the solar eclipse on Aug. 21, 2017.


State of the University Address Aug. 28

Chancellor Beverly Kopper will give her annual State of the University Address at 10:30 a.m. Monday, Aug. 28, in Young Auditorium. Everyone is welcome to attend. A campus cookout will follow at noon at the University Center.



Upcoming Events

Women in Higher Education Leadership
Thursday, Aug. 24
10:30 a.m. Timmerman Auditorium State of the University Address
Monday, Aug. 28
10:30 a.m. Young Auditorium Campus Cookout
Monday, Aug. 28
Noon, University Center Academic Affairs Fall Forum »
Tuesday, Aug. 29
Events include keynote presentation and LEARN Center workshop

Campus Kudos

Kudos to Courtney Luedke, assistant professor of higher education leadership, who recently published a co-authored article in the Journal of College Student Development titled, "Encouraged or Weeded Out: Perspectives of Students of Color in the STEM Disciplines on Faculty Interactions." Read more »

Kudos to the UW-Whitewater Institute of Management Accountants for once again earning the IMA Gold Certificate of Excellence. Based on intensive efforts during 2016-17, UW-Whitewater was one of just four universities in the U.S. to receive this honor from the international association of accountants and financial professionals in business.

Kudos to James Schulgit, a biology major from Brookfield, Wisconsin, who was appointed as the new District 2 representative on the Whitewater Common Council to replace James Langnes, who graduated in May. Read more »




Move-in Day is Sunday, Sept. 3

The newest class of Warhawks will move in to the residence halls on Sept. 3. Select the links below for more information.




Technology Open House

Faculty and Staff are invited to ICIT's annual Technology Open House on Wednesday, Aug. 30, from 1 to 4:30 p.m. in the Old Main Ballroom (University Center, room 275). This year's event will feature an updated HelpDesk catalog, hands-on technology demos, recent classroom redesigns for active learning and a look into Emerging Technology Exploration. There will be a free giveaway, refreshments, and a chance to win an iPad, gift cards, sports tickets and more.


Message from Whitewater Student Government

Select the link below to read an important message from Whitewater Student Government President Tom Kind about recent events across the nation and a pledge to support a free and safe environment for learning, speech, and curiosity.



Whitewater City Market:
Tuesdays through October

From farmer's produce to unique treats and services, Whitewater City Market runs Tuesdays through October, 3:30-7:30 p.m., at the Historic Train Depot on Whitewater Street.


Community news:
Social media masterclass

Are you looking to up your social media game? Alumna Lacey Reichwald is hosting a free social media masterclass on Thursday, Aug. 31, from 6 to 8 p.m. at the Discover Whitewater, 150 W. Main St. RSVP at laceyreichwald@gmail.com.



Community news:
Active Threat Training Aug. 23

The Whitewater Police Department, in conjunction with the Unified School District, is conducting a training exercise Wednesday, Aug. 23, at Whitewater High School from 8 a.m. to 4 p.m. They will be training in rapid response to an active threat. The high school and Aquatic and Fitness Center will be closed during the training. There should be no service call disruptions or traffic issues.


Submit your stories

We are always looking for great story ideas. If you know of a student or faculty or staff member who deserves a shout-out, or want to promote a campuswide event, email us at news@uww.edu by noon Friday. Submissions may be edited for length or content. View Archives »