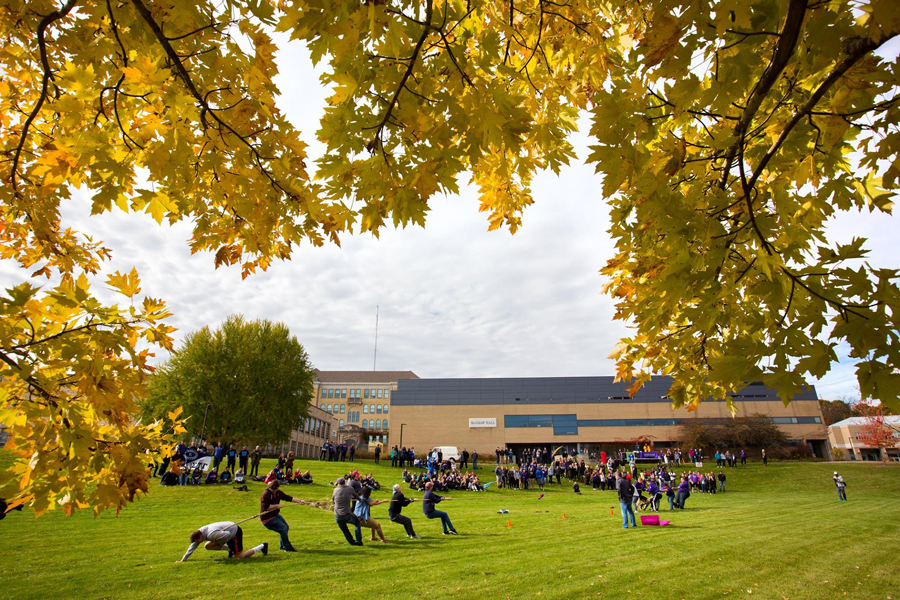 Homecoming spirit games: A Warhawk Family tradition

Autumn leaves spread out as anchor Nick Miller, left, and the Tau Kappa Epsilon team pull with all their might to prevail against Lambda Chi Alpha at a good-natured tug-of-war competition among student organizations on Friday. The spirit competitions included the first bed races since the early 1990s.


PHOTOS: "Warhawks Are All That" talent show

Celebrating the theme "Bringing Back the 90s," students showed off their singing and dancing skills at a talent show.



PHOTOS: Homecoming parade

A little bit of rain, a new route, and a lot of Warhawk Pride as UW-Whitewater held its Homecoming parade on Saturday.


VIDEO: Game highlights

The Warhawks keep possession of the Miner's Axe rivalry trophy after a 17-16 Homecoming victory over UW-Platteville.



PHOTOS: Homecoming game

Our Warhawk family recognized achievements and a cheered a football win at Perkins Stadium.


Dedication of Campus Memory Garden

Founded in honor of former Dean of Students Mary Beth Mackin, the Campus Memory Garden is a place to celebrate, honor and remember. Join us Tuesday, Nov. 7, at 12:30 p.m. for the dedication.



Upcoming Events

Air Hockey Tournament
6 p.m. Tuesday, Nov. 7
University Center, Warhawk Alley Theatre: Sense & Sensibility
7:30 p.m. Wednesday, Nov. 8
Young Auditorium "Careers In…" Series – Nonprofit and Public Sector
5 p.m. Thursday, Nov. 9
Hyland Hall, Timmerman Auditorium Magician: Steven Brundage
7:30 p.m. Thursday, Nov. 9
University Center, Down Under Lecture: The Great War and the Making of Arab Nationalism
3 p.m. Monday, Nov. 13
Fairhaven

At Crossman Gallery

The Department of Art and Design Faculty and Staff Exhibition is on display until Nov. 15 at the Crossman Gallery, located on the first floor of the Greenhill Center of the Arts.



Veterans and military service members recognition

There will be multiple events this month including a ceremony, veterans resource tables, open house, suicide prevention workshop, art exhibit, free bowling and more.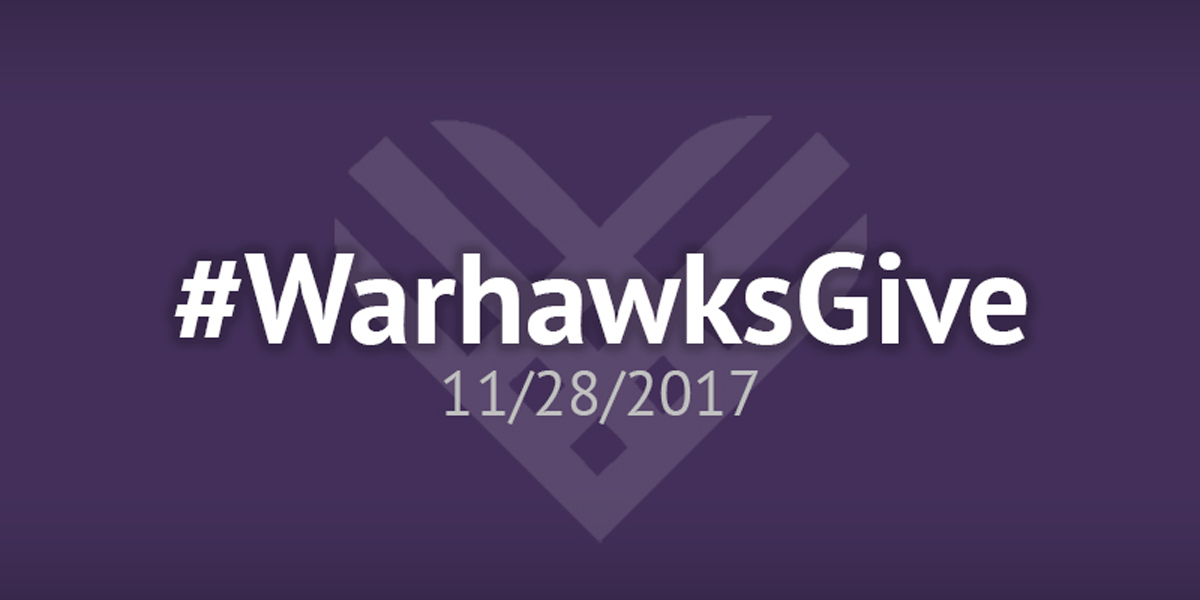 Our first Day of Giving
On Nov. 28, UW-Whitewater joins more than 33,000 nonprofits and civic organizations across the country in an effort that harnesses the power of social media to connect people with the charitable efforts of the organizations and causes close to their hearts. And we know UW-Whitewater is close to your hearts. Help make our inaugural Day of Giving an incredible success. Each donation funds vital student programming such as undergraduate research, study abroad, tutorial services, student emergency funds, scholarships and essential faculty support. In a very real and direct way, you can transform lives.


Campus Kudos

Kudos to Emily Fox, chemistry and pre-professional major, who received early admission to the Doctor of Pharmacy Program at UW-Madison for the 2018-19 academic year.

Kudos to Hephzibah Kumpaty, professor of chemistry, who was selected to serve as a review panelist for the 2018 National Science Foundation Graduate Research Fellowship Program, which awards the nation's highest federal scholarships to outstanding STEM students seeking to pursue graduate study in U.S. institutions. This is her fifth time serving on this prestigious panel.

Kudos to Nicole Weber, ICIT director of learning technology, whose article "Effect of U-Pace Instruction on Academic Success, Learning, and Perceptions in Younger and Older Undergraduates" was published in the American Journal of Distance Education. Read more »

Kudos to Nicole Weber and Eric Loepp, assistant professor of political science, were featured presenters at the 2017 EDUCAUSE Conference in Philadelphia, Pennsylvania. They spoke about effective communication tools used in a variety of pedagogical designs. Watch Video »

Kudos to Kelly Delaney-Klinger, associate professor of management, who co-authored the article "Transition to Career and Career Development," which appears in the AAC&U and AAEEBL Field Guide to ePortfolio: Why it Matters for Learning.

Read more »
Student Voices: Ben Swanson

Music major Ben Swanson talks about performing opera in Italy and shares his appreciation for faculty mentors who inspire and encourage him.



Professor wins national poetry award

Marilyn Annucci's poetry collection, "The Arrows That Choose Us," was selected from a field of 300 entries and named the winner of the 2018 Press 53 Award for Poetry.


Kudos to Jo Ann Oravec, professor of information technology and supply chain management, who will present "Social Scoring, Reputation Profiling, and Internet Shaming: New Forms of Artificial Intelligence-Enhanced Social and Political Control" at the International Studies Association Midwest conference in St. Louis, Missouri, on Nov. 17.

Kudos to Amy Klemm Verbos, assistant professor of business law, who won the Excellence Award for Research from the Principles for Responsible Management Education North America chapter at the group's annual meeting in Guelph, Ontario, on Oct. 19. PRME is a United Nations-supported initiative to raise the profile of sustainability in schools around the world, and to equip today's business students with the understanding and ability to deliver change tomorrow. Verbos presented on indigenous aspirations and rights relative to business.

Kudos to the winners of the Outstanding Adult Student Award, which honors nontraditional students' dedication to academics and their positive influence in the classroom: Ann Nelson, accounting; Lisa Revels, special education; Brandon Schultz, biology; Mary Abbott, art; and Christy Willett, social work.

Kudos to Jonathan Ivry, associate professor of languages and literatures, who won the UW-Whitewater CARE (Concern for Adults Returning to Education) Award, which recognizes a faculty or staff member who has provided extraordinary support and encouragement to returning adult students transitioning back into the college classroom.

Kudos to to UW-Whitewater CEO on its recent success at the Collegiate Entrepreneurs Organization national conference in Tampa, Florida, Oct. 26-28. Hunter Driscoll was awarded second place in Outstanding CEO Chapter Leader, and Austin Beveridge and Marcus Page were qualified to compete nationally in the pitch competition. Their faculty advisers are Dave Gee and Bill Dougan.
Sexual Misconduct Panel Discussion and Training Program
UW-Whitewater will offer a panel discussion and training program, "Handling a Sexual Misconduct Case from A-Z," intended for all campus community members who are interested in learning more about sexual misconduct and what to expect during the internal complaint and disciplinary process. The training is 3 to 4:30 p.m. Monday, Nov. 13, in the Summers Auditorium in the University Center. It will include a panel discussion from university officials and representatives who will discuss their role in every step of the complaint and disciplinary process from start to finish. Counselors will be available during and after the training program to engage in a confidential conversation with any student who would like to talk. Counselors may also be reached by calling 262-472-1305 at the UHCS.


LEAP Workshops 2018

All UW-Whitewater faculty, staff, and students are invited to form teams and apply to participate in this year's LEAP workshop series. LEAP (Liberal Education & America's Promise) is a campus-wide initiative aimed at helping teams develop action plans to enhance campus collaboration and improve student learning and success. The application deadline is Friday, Dec. 8.



Winterim Term 2018

Want to stay on track, get ahead or graduate sooner? Register for Winterim term 2018, a 3-week session held January 2-20, 2018, featuring sections of courses that tend to fill up quickly during the academic year. All courses are held either online or hybrid. Financial aid is available and you may qualify. Priority registration is now open.


Book drive

Golden Key International Honour Society is sponsoring a book drive to help hurricane victims. Drop off books through Tuesday, Nov. 28, at the boxes located at the Andersen Library (near the book drop off), Hyland Hall (main lobby under the stairs), and Winther Hall (lobby by the stairs).



National Nontraditional Student Week

The Adult Student Connections Organization will host a variety of special activities to honor the more than 800 nontraditional adult undergraduate students at UW-Whitewater.


Submit your stories

We are always looking for great story ideas. If you know of a student or faculty or staff member who deserves a shout-out, or want to promote a campuswide event, email us at news@uww.edu by noon Friday. Submissions may be edited for length or content. View Archives »