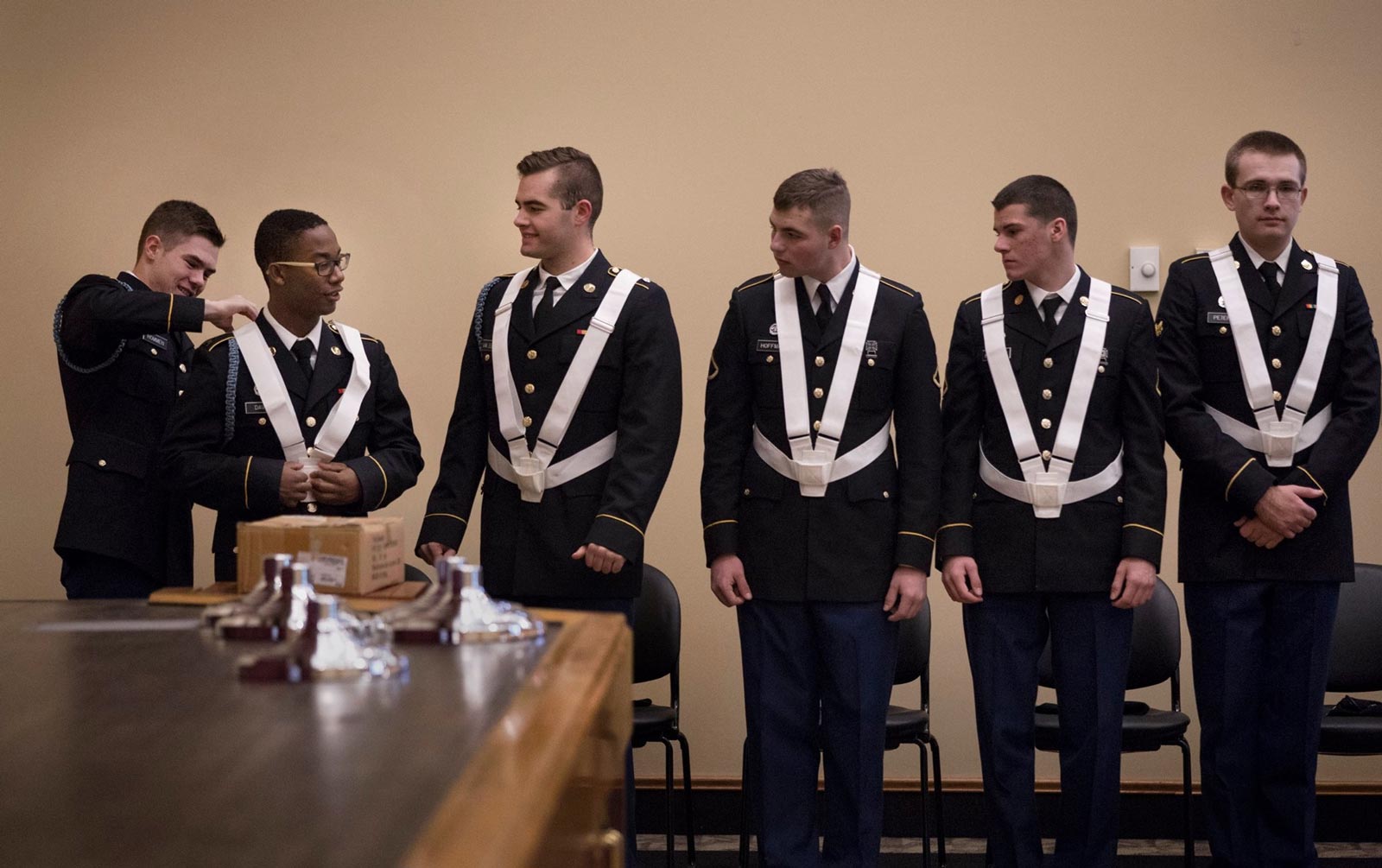 PHOTOS: Veterans Ceremony

An ROTC Color Guard gets ready to carry American and armed services flags for the veterans ceremony at the University Center on Nov. 10. Ryan Hommen, left, adjusts harnesses for fellow cadets, from second to left, Sam Davis, Ben Van Zeeland, Johnathan Hoffman, Derek Heederik and Curtis Peters. All are UW-Whitewater students in the ROTC program.


Forensics team wins San Diego tourney

The Warhawks won the team championship at the Ray Dahlin Invitational, Nov. 10 in San Diego, California, as well as 13 individual awards, including five event championships.



Wheelchair basketball tournament

The men's and women's wheelchair basketball teams will host a home tournament in Williams Center Friday, Nov. 17, and Saturday, Nov. 18.


PHOTOS: Memory Garden dedication

Featuring historic columns from Old Main, the Campus Memory Garden is a place to celebrate, honor and remember our Warhawk Family. For more information, visit uww.edu/memory-garden.



Upcoming Events

Jazz Ensemble II
7:30 p.m. Tuesday, Nov. 14
Light Recital Hall 25 Years of Alleys and Ruins Reception
2 p.m. Thursday, Nov. 16
Roberta's Art Gallery Comedian D.J. Demers
7:30 p.m. Thursday, Nov. 16
Down Under Singer-Songwriter Judy Collins
7:30 p.m. Saturday, Nov. 18
Young Auditorium Lecture: Milwaukee's German-American Community During WWI
3 p.m. Monday, Nov. 20
Fairhaven

Campus Kudos

Kudos to Ariel Owens, graduate student in University Housing, who won the Social Justice Action award from The Upper Midwest Region - Association of College and University Housing Officers at its conference in Omaha, Nebraska, on Nov. 9. The award honors Owens' passion for social justice education and student advocacy.

Kudos to David Gee, lecturer of management, on the launch of his new book, "The Corporate Refugee Startup Guide," which melds his personal experience with contributions from best-in-class entrepreneurs, angel investors, startup accelerator executives, attorneys and academics to deliver a practical step-by-step guide for aspiring entrepreneurs.

Kudos to Nicole Weber, ICIT director of learning technology, who will be presenting "Motivate and Reward: A Tale of Two Institutions Implementing Badging for Professional Development" at the Online Learning Consortium's Accelerate International Conference in Orlando, Florida, on Nov. 16. Read more »

Kudos to Matthew Vick, associate professor of curriculum and instruction, who won the Innovation in Teaching Science Teachers award for his paper, "Collaborating to teach elementary science methods in the field with K-6 classroom teachers: Benefits for in-service and pre-service teachers." He will be honored at the Association for Science Teacher Education International Conference on Jan. 6, 2018, in Baltimore, Maryland.

Kudos to Susan Huss-Lederman, professor of languages and literatures, and Brianna Deering, ELA instructor in Global Studies, who presented, "Beyond the Research Paper: Writing for Academic Access in College" at the 2017 Wisconsin Teachers of English to Speakers of Other Languages Fall Conference in Madison, Wisconsin, on Nov. 4.

Kudos to Christina Outlay, associate professor of information technology and supply chain management, who is speaking at the Women's Entrepreneurship Day Wisconsin in Madison on Nov. 14 about her decision to start colorcoded, a program to attract more women and minorities to IT.
In the Media: Equipment manager making a difference for Warhawks

Brent Ellison was recognized, along with all the other seniors, when the football team closed out the regular season on Saturday against UW-Eau Claire.



Student Voice: From Deployment to Degree

Military veteran Kim Neville talks about her life-changing deployment, inspiring faculty members at UW-Whitewater, and pursuing a degree where she can continue to serve others.


Kudos to Assistant Vice Chancellor of Student Diversity, Engagement and Success LaVar Charleston, who presented at the 42nd Annual Association for the Study of Higher Education Conference, Nov. 9-11 in Houston, Texas. He presented "I, Too, Am a Scientist: Developing STEM Identity Among African American Male College Students." He also chaired two sessions, "Black Men in College: Exploring Initiatives, Representation, and Intersectionality" and "Minoritized Students Engaging with STEM." Read more »

Kudos to journalism majors Justin St. Peter and Brad Allen, who presented "News and Numbers: Reporting Big Data on a College Campus" at the fall national convention of the College Media Association in Dallas, Texas, Oct. 25-29.

Kudos to Amy Klemm Verbos, assistant professor of business law, whose co-edited book, "Native American Business: Principles and Practices," was recently published by the University of Washington Press. Verbos wrote a chapter on legal forms of organization, and co-authored a chapter on business ethics and Native American values.

Kudos to Kymberly Mellen, assistant professor of theatre, who won a 2017 Equity Jeff Award, which celebrates excellence in Chicago theatre, for her supporting role in "The Columnist" at the American Blues Theater. Read more »

Kudos to the 30 UW-Whitewater student who recently participated in the National Association of Teachers of Singing events in Illinois and Wisconsin. At the event at UW-Stevens Point, finalists included Benjamin Swanson (First Place, Upper College/Independent Studio Music Theater), Joshua Ognenoff, (Second Place, Advanced College/Independent Studio Classical), and Teegan Lentz (Third Place in Third Year College/Independent Studio Classical).
Save the date: Hired Before Graduation
December graduates who have landed jobs are welcome to have their photo taken for the Hired Before Graduation campaign. Times are 7 a.m. to noon on Tuesday, Dec. 5, and 2:30 to 6:30 p.m. on Wednesday, Dec. 6. Both sessions will be held in University Center, room 69.


LTC Instructional Development Event

The Learning Technology Center is offering an all-day event on Saturday, Dec. 9, focusing on instructional development. This is a great opportunity for instructors who are not able to contact the LTC during our standard operating hours to receive D2L assistance. Sessions include D2L basics, how to lock a browser, uploading test questions, uploading grades to WINS, and more.



Canvas course design feedback - Nov. 28

As part of the Desire2Learn to Canvas migration project, a team from UW System will be on campus Tuesday, Nov. 28, seeking feedback on the Canvas course design templates. Your feedback is important. Registration is required.


Computer science lecture

Assistant Professor Zachary Oster of the Department of Computer Science will speak about software design on Wednesday, Nov. 15, specifically on the issue of how to reconcile differences in priorities between different audiences using the software. His talk at 12:30 p.m. in McGraw 122 will include projects he has worked on with UW-Whitewater students.



LEAP Workshops for 2018

All UW-Whitewater faculty, staff, and students are invited to form teams and apply to participate in this year's LEAP workshop series. LEAP (Liberal Education & America's Promise) is a campus-wide initiative aimed at helping teams develop action plans to enhance campus collaboration and improve student learning and success. The application deadline is Friday, Dec. 8.


Flu shot clinic for students

A flu shot clinic will be held noon to 2 p.m. on Monday, Nov. 20, in the Purple Room of Andersen Library. Students who get their flu shot for (Cost is $10) will receive a free cold care kit which includes a thermometer, hand sanitizer, a coupon for a free custard at Culver's and more.



Basketball Tourney benefit night

On Tuesday, Nov. 14, from 6:30 to 9 p.m., Sigma Sigma Sigma Sorority will host a basketball tournament at Kachel Gym in the Williams Center benefiting the March of Dimes foundation! Make up a team of 5-7 people ($5 per person) and compete. If you're coming to watch, it's a $2 entry fee.


Environmental event on proposed sulfide mine

Students Allied for a Green Earth and the Native American Cultural Awareness Association are hosting a free speaking event on the proposed Back 40 sulfide mine along the Menominee River, from 6 to 8 p.m. Wednesday, Nov. 15, in Heide Hall, room 101. Speakers include Al Gedicks, emeritus professor of environmental sociology at UW-La Crosse, Allison Werner, local groups director of the River Alliance of Wisconsin, and people from the Menominee Tribe.



Graduate school forum and fair

Interested in pursuing graduate school? Join us throughout this week for a series of events. Learn how to prepare for and select a grad school, develop your personal statement and discover the key to acing courses.


Submit your stories

We are always looking for great story ideas. If you know of a student or faculty or staff member who deserves a shout-out, or want to promote a campuswide event, email us at news@uww.edu by noon Friday. Submissions may be edited for length or content. View Archives »