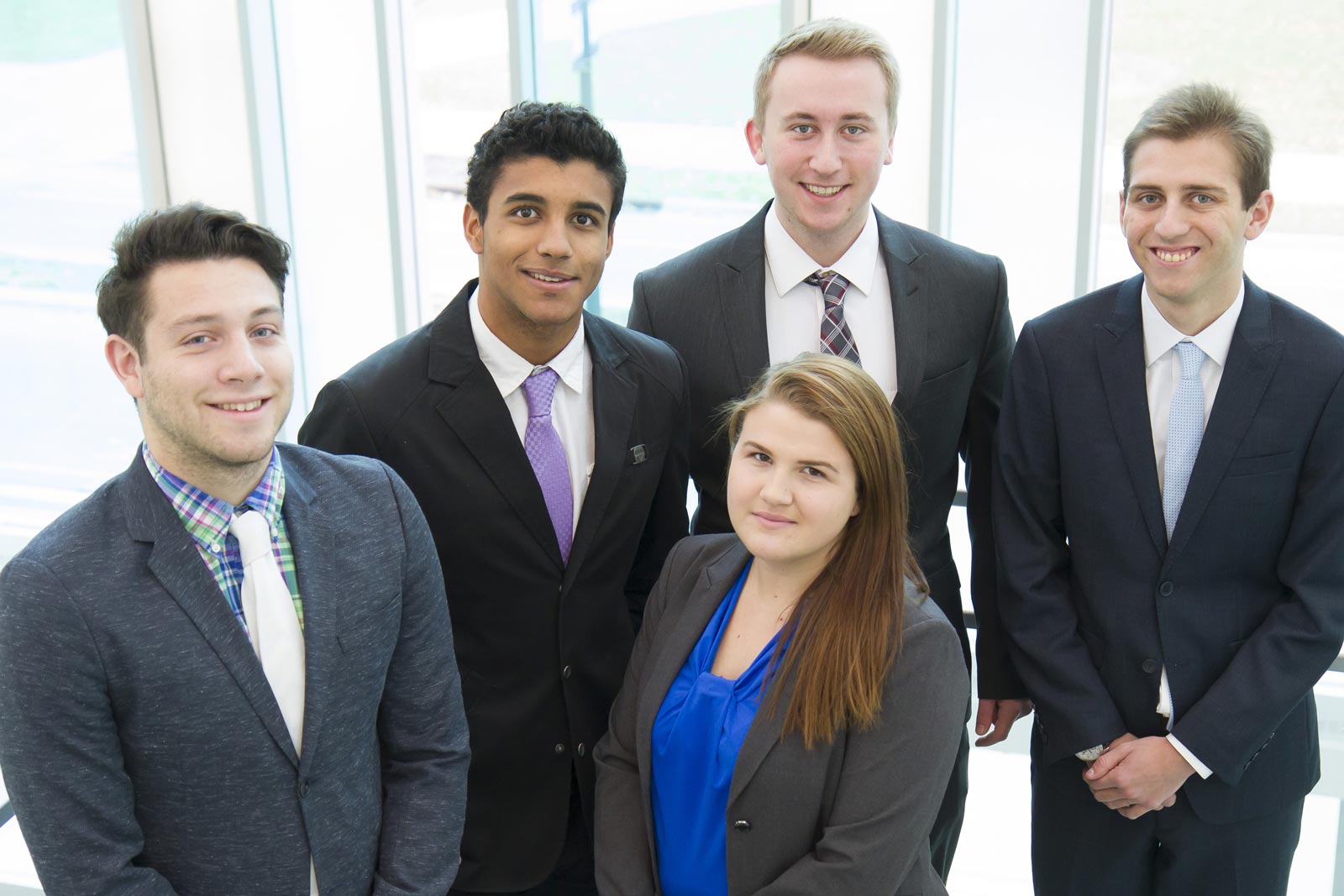 Economics students make history

Warhawk economics students won first place at the regional College Fed Challenge held at the Chicago Federal Reserve Bank in Chicago, Illinois on Nov. 13. After months of preparation, the team edged out Northwestern University, the University of Chicago and Marquette University to earn the chance to compete at the national level for the first time. They will face-off against Harvard University, Virginia Commonwealth University and Pace University in Washington, D.C. on Dec. 1.

The College Fed Challenge is an academic competition where teams play the role of monetary policymakers analyzing economic and financial conditions and making monetary policy recommendations. UW-Whitewater students included Taylor Griffith, Ron Tittle, Mark Ellis, Alex Vieira, Alejandro Esquivel, Pasan Samaranayake, Sean Spangard and Casey Russell. Faculty members Yamin Ahmad, Stuart Glosser, Nick Guo and Eylem Ersal serve as team coaches.


Lecture: "The 3 S's of Climate Change: Simple, Serious & Solvable"

Scott Denning, professor of atmospheric science at Colorado State University, will give a free lecture at 7 p.m. Monday, Nov. 27, at Young Auditorium.



Tea with the Chancellor

The campus community is invited to attend Chancellor Kopper's next Tea with the Chancellor on Monday, Nov. 27, from 2 to 3 p.m. in University Center, room 259. Chancellor Kopper will discuss the UW System restructuring and the new pay plan.


Help us feed the birds

Donations fund the more than 1,200 pounds of birdseed used on campus every year. For every donation, a bronze leaf is stamped with a name or sentiment and placed on the bird feeding tree in the Campus Memory Garden and the donor receives a certificate.



Upcoming Events

25 Years of Alleys and Ruins Exhibit
Roberta's Art Gallery The Tamburitzans
7:30 p.m. Monday, Nov. 20
Young Auditorium W. Basketball vs. Illinois Wesleyan
6 p.m. Tuesday, Nov. 21
DLK Gym Thanksgiving Recess Begins
5 p.m. Wednesday, Nov. 22 Lecture: Rebuilding Eastern and Central Europe, 1917-1923
3 p.m. Monday, Nov. 27
Fairhaven

Warhawk battling brain cancer

Andrew Wernicke almost missed his high school graduation because of cancer treatment, but six months later, he is enjoying life as a college freshman. And the treatment he's taking is working.



UW-Whitewater honored nationally for veterans mission

Campus has recently been recognized with three national honors for our dedication to veterans and military students. They are: Military Times Best Colleges rankings, G.I. Jobs Magazine Military-Friendly Schools designation, and Military Advanced Education & Transition Guide to Colleges and Universities top school designation.


Save the date: Hired Before Graduation
December graduates who have landed jobs are welcome to have their photo taken for the Hired Before Graduation campaign. Times are 7 a.m. to noon on Tuesday, Dec. 5, and 2:30 to 6:30 p.m. on Wednesday, Dec. 6. Both sessions will be held in University Center, room 69.


Campus Kudos

Kudos to international studies major Andrea Fabian-Checkai, who was named Top Campus Coordinator in North America by the Students for Liberty, at a national event on Nov. 7-8 in New York, New York. The award recognized Fabian-Checkai for most media hits, events on campus, and recruitment in North America for the fall semester.

Kudos to Krystal Sibert, occupational safety major, who won the American Society of Safety Engineers Student Leadership Award in Innovation at the organization's conference on Nov. 7 in Lombard, Illinois. The award recognized Sibert for advancing her student chapter by creating events and programs to benefit other students through skill development, including networking events with professionals, social events among peers, a scholarship workshop, and field trips centered in safety.

Kudos to Jake Santellano, integrated science-business major, who was voted as the Wisconsin Intercollegiate Athletic Conference Student-Athlete Advisory Committee Vice Chair for the 2017-18 academic year.

Kudos to the UW-Whitewater Sales Team for a commanding performance at the International Collegiate Sales Competition at Florida State University Sales Institute, Nov. 1-4 in Orlando, Florida. Warhawks earned third place as a team, and marketing major Kelsey Berchem placed fifth individually.
Supply Chain Success

Kudos to the UW-Whitewater supply chain team for a third-place win at the National Undergraduate Supply Chain and Operations Case Competition held at Arizona State University, Nov. 8-11. The team competed against some of the most highly-ranked supply chain programs in the country to earn this honor.

IMA Honors

Kudos to the UW-Whitewater Institute of Management Accountants for being honored at the IMA Leadership Conference in Houston, Texas on Nov. 9 as one of only four chapters in the country to earn gold status.
Kudos to UW-Whitewater's American Marketing Association Chapter for winning first place in the team event at the Ferris State University AMA Regional Conference in Big Rapids, Michigan on Nov. 3. Marketing majors Nick Rasmussen and Trevor Raasch won first and second place, respectively.

Kudos to UW-Whitewater's Beta Alpha Psi - Epsilon Rho Chapter for receiving international recognition as a Superior Chapter. This achievement is based on excellence in academics, professionalism and leadership and outstanding efforts during the previous academic year.

Kudos to Sang Choi, professor of occupational and environmental safety and health, who will give a lecture "Prevention through Design: A Novel and Sustainable Strategy for Improving Occupational Safety, Health and Ergonomics," at the Asia Pacific Symposium on Safety, Nov. 30-Dec. 1, in Fukuoka, Japan. Choi will also serve as session chair of "Risk Assessment and Management."

Kudos to management faculty Andy Yu and K. Praveen Parboteeah who won the Best English Paper Award at the 2017 International Family Enterprise Research Academy Global Conference, Nov. 14-17 in Taiwan. Their co-authored paper is "The configurational model of autonomy, family business performance, environmental dynamism, and national culture."


Survey for graduates

Graduating seniors are reminded to take the Senior Outcomes Assessment Survey (SOAS). An email was sent on Wednesday, Nov. 15 (from the Registrar's Office) with a link to the survey. You may notice an SOAS hold on your WINS account. This is a reminder to complete the survey by Dec. 15 at the latest. Holds will be removed every three days. Contact assessment@uww.edu with questions.



LTC Instructional Development Event

The Learning Technology Center is offering an all-day event on Saturday, Dec. 9, focusing on instructional development. This is a great opportunity for instructors who are not able to contact the LTC during our standard operating hours to receive D2L assistance. Sessions include D2L basics, how to lock a browser, uploading test questions, uploading grades to WINS, and more.