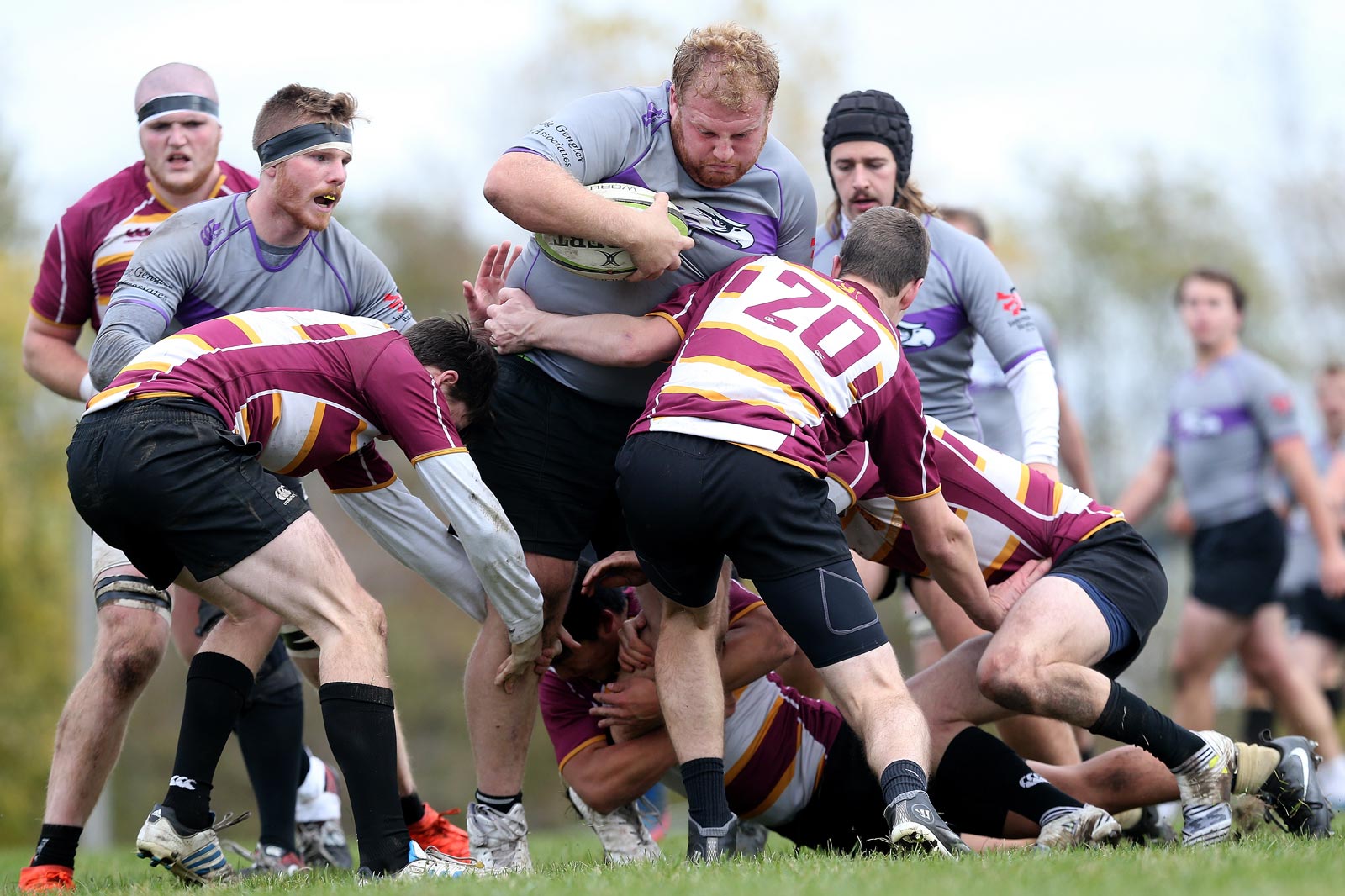 National Champions

UW-Whitewater men's rugby defeated Virginia Military Institute 34-27 in Greenville, South Carolina, to repeat as USA Rugby National Collegiate Fall Champions.


Fed Challenge team receives national honorable mention

Economic students finished strong at the national College Fed Challenge on Dec. 1 in Washington, D.C. In the end, Pace University captured first and Harvard University placed second. UW-Whitewater finished alongside Princeton University and Virginia Commonwealth University. UW-Whitewater is the first-ever Wisconsin university to advance to this event.



Hired Before Graduation

December graduates who have landed jobs or graduate school acceptance are welcome to have their photo taken for the Hired Before Graduation campaign. Times are 7 a.m. to noon on Tuesday, Dec. 5, and 2:30 to 6:30 p.m. on Wednesday, Dec. 6. Both sessions will be held in University Center, room 69.

Opening Tuesday at Barnett Theatre

The Theatre/Dance Dept. presents a comedic yet poignant play on the Vietnam War's effect on folks living in a small southern town in "1959 Pink Thunderbird," Dec. 5-8, at 7:30 p.m. and Dec. 9 at 2 p.m.



Upcoming Events

Annual Print Farm Sale
10 a.m. Tuesday, Dec. 5
Greenhill Center of the Arts Atrium

Southeast Asian Heritage Lecture Series
3:30 p.m. Thursday, Dec. 7
University Center, room 275A

Karaoke - Ugly Sweater Party
6 p.m. Thursday, Dec. 7
University Center, Down Under

Flutiz Navidad Holiday Flute Choir and Food Drive
11 a.m. Saturday, Dec. 9
Light Recital Hall, Greenhill Center of the Arts

CHICAGO
7 p.m. Saturday, Dec. 9
Young Auditorium



Gala Holiday Concert

Every year on the first Saturday of December, the UW-Whitewater Music Department gives a gift of beauty to the world in the form of its Holiday Gala. This year's performance was held Dec. 2, at Young Auditorium.



Regents visit campus

Chancellor Beverly Kopper, with UW System Regents Tim Higgins, left, and Tracey Klein, rear left, on a tour of Upham Hall. The Regents visited UW-Whitewater on Nov. 30 to meet students and staff and to learn about the campus. Photo by Craig Schreiner.

Scholarships for current students
The online scholarship application period is Dec. 1-Feb. 22. More than 200 scholarships are available. Only currently enrolled UW-Whitewater students with a Net-ID can apply.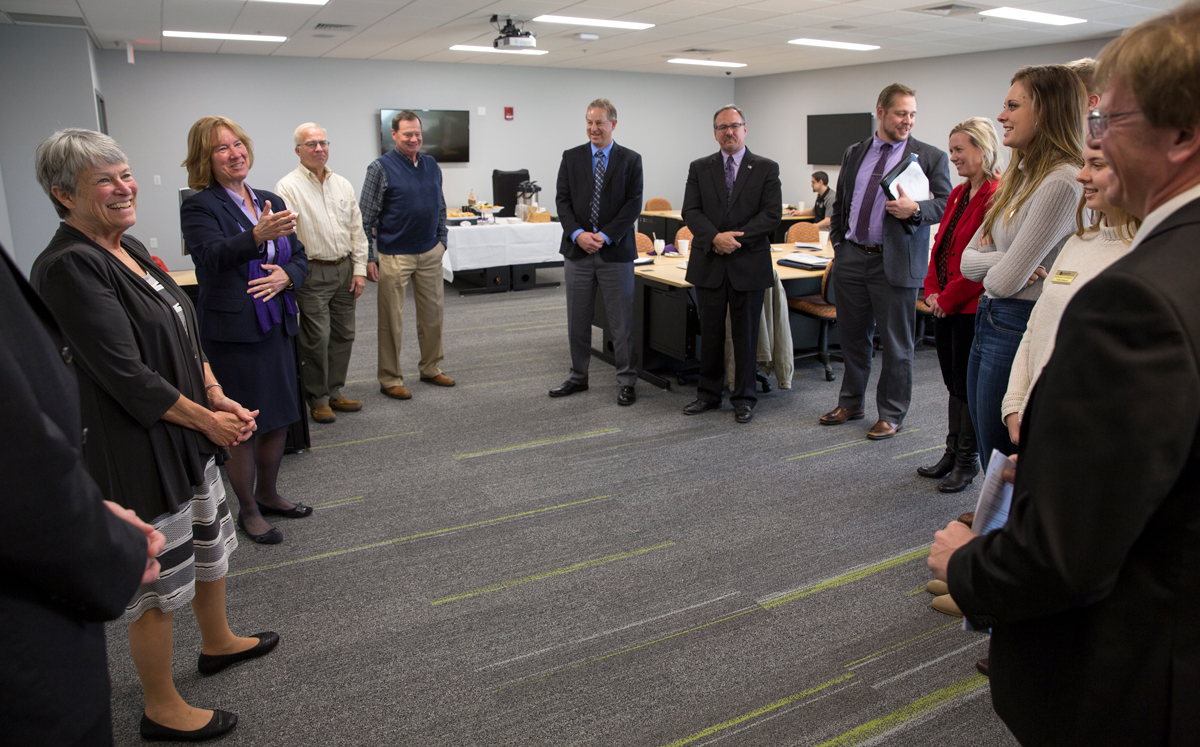 Legislators visit the Chrisman Success Center
Area legislators met with Chancellor Beverly Kopper and Associate Vice Chancellor Greg Cook for breakfast and a tour of the Mary Poppe Chrisman Success Center on Nov. 29. Center director Shane Staff and student workers talked with the legislators on the tour. Photo by Craig Schreiner.

Campus Kudos

Kudos to chemistry major Tina Slack, who recently won the Outstanding Presentation Inorganic award after presenting an invited research talk at the Gulf Coast Undergraduate Research Symposium at Rice University in Houston, Texas. Slack's faculty mentor is Assistant Professor Steven Girard.

Kudos to Jo Ann Oravec, professor of information technology and supply chain management, who was interviewed for two hour-long syndicated videos on artificial intelligence and emerging technologies by Jason Miller of Newsdesk. Read more »

Kudos to the UW-Whitewater AMA Sales Team for an outstanding performance and first-place team win in the AMA International Outbound Sales Competition the week of Nov. 13. Kelsey Berchem also captured a first-place win, Cam Neuhauser won fourth place and Katie Hart took fifth place. Among 63 schools and 186 AMA participants, UW-Whitewater AMA was the only organization to have more than one placement in the top 10.

Kudos to the Linda Kimball, associate lecturer in music, who organized the 19th annual Fall Horn Festival on campus on Nov. 11. More than 100 horn players of all ages and abilities came from Wisconsin, Illinois, and Iowa for a day of horn fun, camaraderie and inspiration.
Ceramics and jewelry sale

Get great handmade, functional artwork created by faculty, students and alumni from the Department of Art and Design's Ceramics Guild and Alloy metalsmithing organizations in the Greenhill Center of the Arts Atrium, Dec. 11-12, from 9 a.m. to 8 p.m.


Administrative Fellowship opportunity

The Offices of the Chancellor and Provost are pleased to announce the Administrative Development Program for 2018-19 and invite interested eligible faculty to apply to become Administrative Fellows. The program goals are to 1) provide interested faculty members with opportunities to broaden their understanding of and experience in higher education administration, 2) build more leadership capacity on campus, and 3) diversify administrative leadership. Apply by Jan. 10, 2018.


University Awards

Nominations are now being accepted for the 2018 Faculty and Academic Staff University Awards. See the link below for the list of awards and the submission deadlines.



LEAP workshops

All UW-Whitewater faculty, staff, and students are invited to form teams and apply to participate in this year's LEAP workshop series. LEAP (Liberal Education & America's Promise) is a campus-wide initiative aimed at helping teams develop action plans to enhance campus collaboration and improve student learning and success. The application deadline is Friday, Dec. 8.


Submit your stories

We are always looking for great story ideas. If you know of a student or faculty or staff member who deserves a shout-out, or want to promote a campuswide event, email us at news@uww.edu by noon Friday. Submissions may be edited for length or content. View Archives »