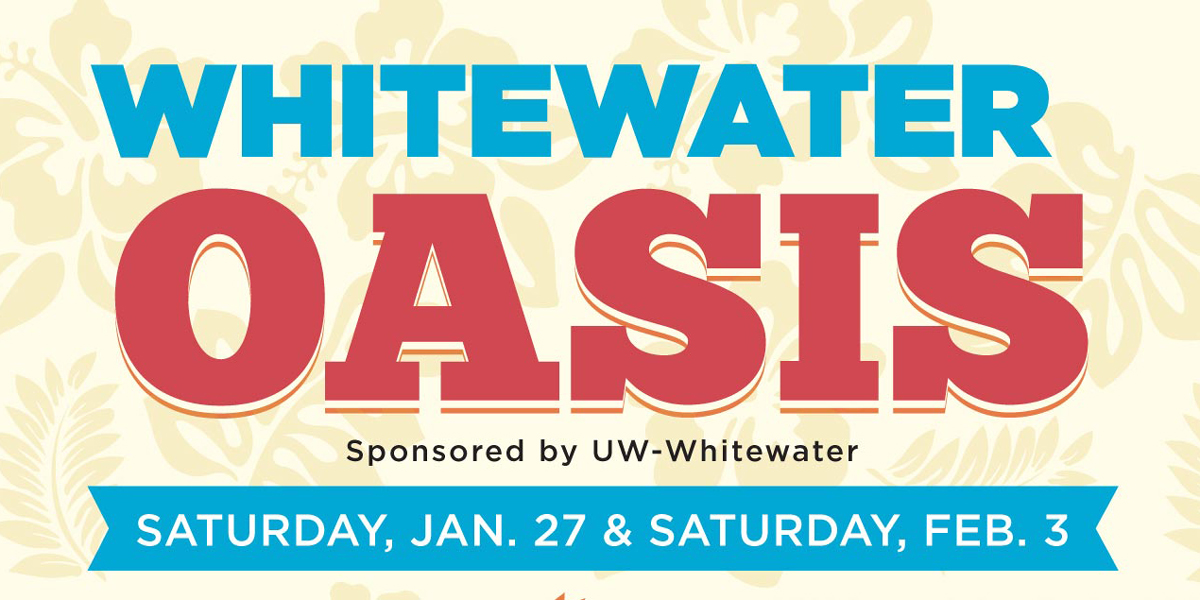 Whitewater Oasis promises free community fun

UW-Whitewater is opening up the Community Engagement Center (the former Sentry building, 1260 W. Main Street) for some free public events before the building renovation begins. On the next two Saturdays, from 3 to 7 p.m., come enjoy mini golf, ping pong, art activities, an indoor market and more! Plus, see what the new center and the adjacent hotel will look like — and offer your feedback.


Free tax preparation and filing

Beginning Feb. 3 and running through April 11, the UW-Whitewater Volunteer Income Tax Assistance program will provide free tax preparation and free electronic filing of 2017 federal and state income tax returns for low and moderate income taxpayers. No appointments will be needed. Taxpayers may stop by room 1001 of Hyland Hall on Saturdays from 10 a.m. to 2 p.m. and Wednesdays from 4 to 7 p.m. The program will be closed on March 24, March 28 and March 31 for spring break.



Warhawks at Night

Join us for free food, activities and entertainment starting at 7 p.m. Friday, Jan. 26, in the University Center. The night will feature Magician Daniel Martin, a movie, live music, casino night, an art workshop, trivia, dancing, free bowling and billiards, a caricature artist, door prizes and more.


Tea with the Chancellor

The campus community is invited to attend Chancellor Kopper's next Tea with the Chancellor on Thursday, Feb. 1, in University Center, room 259, from 10 to 11 a.m.



Upcoming Events

Men's Basketball vs. UW-Platteville
7:30 p.m. Wednesday Jan. 24
Williams Center DLK Gym Women's and Men's Swimming and Diving vs. UW-Eau Claire
1 p.m. Saturday Jan. 27
Williams Center Pool Sing-A-Long Sound of Music
3 p.m. Saturday Jan. 27
Young Auditorium Music Mosaics: Woodwind Mania!
7:30 p.m. Saturday Jan. 27
Light Recital Hall, Greenhill Center of the Arts

Cisco Spark webinar

Nicole Weber, director of Learning Technology, will be featured on a webinar highlighting our campus' work with Cisco Spark on Wednesday, Jan. 24. Cisco Spark is a cloud-based communication tool that offers numerous collaboration features including the ability to meet anywhere (messages, calls, and virtual meeting rooms), share and exchange files and documents among groups and access a digital whiteboard for real-time collaboration.



Snow removal information

Please see the link below for information regarding campus snow removal policies and procedures.


Campus Kudos

Kudos to Jo Ann Oravec, professor of information technology and supply chain management, who will present a paper titled "Online Social Shaming and Scoring as Genres: Implications for Writing Programs" at the University of Florida's Pedagogy, Practice and Philosophy Conference in Gainesville, Florida, on Jan. 27.

Kudos to Susan Elrod, provost and executive vice chancellor for academic affairs, who served on a committee that authored the report, "Indicators for Monitoring Undergraduate STEM Education." The goal is to improve undergraduate STEM education nationwide by providing a framework and indicators that document the status and quality of these programs. Read more »

Kudos to Jan Nordin in the Registrar's Office, who has been elected to the National Association of Veterans Program Administrators Board of Directors as the Region V representative. The board works in concert with the U.S. Departments of Veterans Affairs, Education, and Defense to assist veterans and their dependents, and provides input to Congressional committees on veterans affairs.



In the Media

Middle and high school students in Whitewater heard a special presentation on nonviolence in an event celebrating Martin Luther King Jr. Day. Faculty members Lauren Smith and Ozalle Toms trained the volunteers for this event. Members of the Black Student Union, including adviser Janay Alston, participated in the event as well. WFAW Radio »

Laura Porterfield, an assistant professor of educational foundations who coordinates UW-Whitewater's urban education program, was interviewed on WPR as part of a segment on Wisconsin having the largest gap in the nation between white and black students in terms of on-time high school graduation rates. Wisconsin Public Radio »

Pat Miller, head coach of the men's basketball team, who sits fifth all time in conference history in career wins, was featured in a local television news story. WKOW-27 TV »


Nominations for Women in Leadership

The 13th annual Women in Leadership reception honoring outstanding women on the UW-Whitewater campus will take place on March 8, 2018, at 3:30 p.m. in the Fern Young Terrace. Any UW-Whitewater woman who has exemplified leadership qualities on campus, and/or in her community is eligible for this award. The deadline for nominations is Jan. 25.



New this year! Apply for an Assessment Grant

The University Assessment Committee and the Office of Academic Assessment announce the availability of funding to support projects that address assessment of student learning outcomes.


Assessment Day - Call for Proposals

Assessment Day poster proposals are now being accepted. Join us on Feb. 28, 2018 for an afternoon of sharing and celebration of assessment! Across campus, faculty and staff are assessing student learning in exciting ways. Share your ideas, data and assessment tools, and take the opportunity to brainstorm and learn from others as you enjoy lunch, posters, and presentations.



Faculty search committee workshop

On Feb. 2, faculty will lead a workshop on Unconscious Bias During the Hiring Process, which will include a presentation and small group discussions. Lunch will be provided at 12:30 p.m. and the workshop will begin at 1 p.m.


Submit your stories

We are always looking for great story ideas. If you know of a student or faculty or staff member who deserves a shout-out, or want to promote a campuswide event, email us at news@uww.edu by noon Friday. Submissions may be edited for length or content. View Archives »