Warhawks, these scholarships are for you. Apply now!

The application period for the majority of UW-Whitewater-exclusive scholarships for the 2018-19 academic year will end on Thursday, Feb. 22. More than 200 scholarships are available.


MLK commemorative event

Floyd Rose, president of 100 Black Men of Madison, Inc., is the keynote speaker for this year's MLK commemorative event. His talk, "Value Relationships in Business and Entrepreneurship," is 1 p.m. Wednesday, Jan. 31, in Timmerman Auditorium in Hyland Hall. A commemorative event will also take place at 3:30 p.m. in the University Center Hamilton Room.



Spring Hawk Career Fair

The 2018 Spring Hawk Career Fair is Tuesday, Feb. 6, and Wednesday, Feb. 7, from 11 a.m. to 4 p.m. The event provides students and alumni of all majors with an opportunity to meet employers and discuss full-time employment, internships, continuing education, and experiential opportunities.


Free tutorial services

Campus offers academic assistance and enrichment using both small groups and one-on-one sessions. Visit the new Mary Poppe Chrisman Success Center next to Laurentide Hall for these free services.



Upcoming Events

Spring 2018 Global Experiences Fair
10 a.m. Tuesday, Jan. 30
University Center Hamilton Room

Women's Basketball vs. UW-Stevens Point
7 p.m. Wednesday, Jan. 31
Williams Center

Wrestling vs. UW-Eau Claire
7 p.m. Wednesday, Jan. 31
Williams Center

Comedian Pete Lee
7:30 p.m. Thursday, Feb. 1
University Center Hamilton Room

Ho-Chunk Nation: Relationships & Communities
3 p.m. Monday, Feb. 5
Fairhaven
Green Tank Competition

UW-Whitewater Earth Initiative will host its third annual eco-friendly entrepreneurship competition Wednesday, April 11. Students can compete individually or in a team of up to three people. Competing teams must submit a one-page proposal, due on March 23, addressing an innovative sustainable initiative for campus and how it can be implemented on our UW-Whitewater campus. Finalists will give an in-person 5- to 8- minute presentation to a panel of judges. Cash prizes will be awarded to the winning teams.



Tea with the Chancellor

The campus community is invited to attend Chancellor Kopper's next Tea with the Chancellor on Thursday, Feb. 1, in University Center, room 259, from 10 to 11 a.m.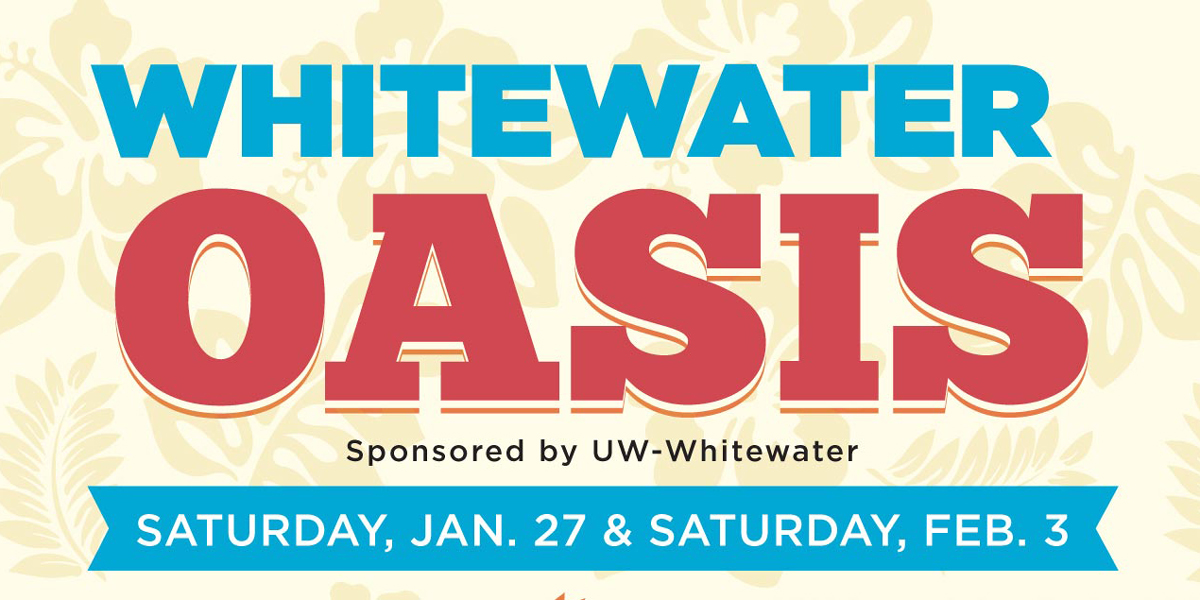 Whitewater Oasis promises free community fun
UW-Whitewater is opening up the Community Engagement Center (the former Sentry building, 1260 W. Main Street) for some free public events before the building renovation begins. On Saturday, Feb. 3, from 3 to 7 p.m., come enjoy mini golf, ping pong, art activities, music by The Mourning Dayze an indoor market and more! Plus, see what the new center and the adjacent hotel will look like — and offer your feedback.


Campus Kudos

Kudos to Hephzibah Kumpaty, professor of chemistry, who presented two papers at the 2018 Atlantic Basin Conference on Chemistry (ABCChem) in Cancún, Mexico, Jan. 23-26. The sessions involved green chemistry and materials and nanochemistry. Kumpaty's undergraduate research student, Kha Phan, is a co-author in one of the papers.

Kudos to Courtney Luedke, assistant professor of higher education leadership, who recently published an article in the Journal of Hispanic Higher Education titled, "Es como una Familia: Bridging Emotional Support With Academic and Professional Development Through the Acquisition of Capital in Latinx Student Organizations." Read more »

Kudos to Jeff Vanevenhoven, professor of management, who received a three-year appointment as the Irvin L. Young Professor of Entrepreneurship in the College of Business and Economics. Vanevenhoven has been actively engaged with the entrepreneurship program as a teacher, mentor, adviser and program coordinator. The Irvin L. Young Professorship is supported by an endowment established in 1987 by the Irvin L. Young Foundation.


In the Media: Warhawk wrestler becomes published poet

Riley Kauzlaric's poem "Paranoia" has been published in an anthology called Wisconsin's Best Emerging Poets.



In the Media: Management professor visits Korea

K. Praveen Parboteeah, professor of management, was interviewed by EBS News, one of the four major TV broadcast stations in Korea, about the importance of global education. Parboteeah also served as an adjunct faculty member at Korea University.


In the Media

Susan Johnson, associate professor of political science, talks about the bipartisan measure to keep the U.S. government operating and whether the recent shutdown could have an impact on public trust in lawmakers. Wisconsin Public Radio »

Scott Peters, associate professor of educational foundations, talks about gifted education in Wisconsin in a story that discusses a proposal that calls for accounts of up to $1,000 to be provided to families of students statewide who are identified as academically gifted. The 74 Million »

Russ Kashian, professor of economics, discusses the context of Janesville's unemployment rate dropping to its lowest level on record -- 2.7 percent. Janesville Gazette »


Becoming Ryan: Eating Disorder Recovery

Ryan Sallans, a transgender speaker, author, and advocate, will be sharing his story of recovery from an eating disorder, as well as his transition from female to male. This event is 7 p.m. Monday, Feb. 5, in the University Center Hamilton Room.


Sallans will also lead a 90 minute training for faculty and staff to create a classroom and campus climate that is accommodating toward trans-identified students at 8:30 a.m. Tuesday, Feb. 6.



Scholarship and Creative Achievement Exhibit

This event at Crossman Gallery in the Greenhill Center of the Arts features examples of research, peer-reviewed publications, and artwork from UW-Whitewater faculty and academic staff. The exhibit is on display through Wednesday morning, Jan. 31. A reception will be held Tuesday, Jan. 30, from 3-4:30 p.m.


New Student Seminar instructor informational sessions

Are you interested in being considered to teach New Student Seminar in fall 2018? Attend an informational session to learn more on Wednesday, Feb. 7, 4-4:30 p.m. or Thursday, Feb. 8, Noon-12:30 p.m. Both sessions will be held in University Center, room 262. Contact Beth John at john@uww.edu for more information.



Shipping Services at the UC

Located on the main level of the University Center, Information Services now sells shipping items like boxes, packing tape, and bubble wrap. USPS priority mailers are also available for no charge. Information Services can weigh your packages and provide a printed guide to assist with purchasing a shipping label. Already have your items packaged up and ready to go? We can take your USPS and UPS letters and packages, which are picked up every weekday at 9:30 a.m. and 2:30 p.m. Contact us at 262-472-1170 or infodesk@uww.edu.
University Awards

Nominations are now being accepted for the 2018 Faculty and Academic Staff University Awards. See the link below for the list of awards and the submission deadlines.



Promoting Civil Discourse

Everyone is invited to participate in an event from 4 to 6 p.m. on Thursday, Feb. 15, in the University Center Hamilton Room to explore and promote Civil Discourse. Help us create more campus-wide engagement in programs that promote civil discourse — this could include events, classroom practices, use of technology, and more. Food will be provided in a relaxed, cafe-style atmosphere where each person can participate in a number of facilitated small-table conversations, with opportunities to share ideas together. For more information, contact Andrea Romine at rominea@uww.edu or ext. 1672.


Assessment Fellows Program

The Office of Academic Assessment is pleased to announce a new leadership development opportunity in the assessment of student learning — the Assessment Fellows Program (AFP).



Summer Term 2018: Stay on track. Get ahead. Graduate Sooner.

With four session options and all courses offered online or hybrid, summer classes allow for the flexibility to fit in to any schedule. Registration begins February 26, but start planning now with the summer course guide. Financial aid is available, and you may qualify.


New this year! Apply for an assessment grant

The University Assessment Committee and the Office of Academic Assessment announce the availability of funding to support projects that address assessment of student learning outcomes.



Assessment Day - Call for proposals

Assessment Day poster proposals are now being accepted. Join us on Feb. 28, 2018 for an afternoon of sharing and celebration of assessment! Across campus, faculty and staff are assessing student learning in exciting ways. Share your ideas, data and assessment tools, and take the opportunity to brainstorm and learn from others as you enjoy lunch, posters, and presentations.


Submit your stories

We are always looking for great story ideas. If you know of a student or faculty or staff member who deserves a shout-out, or want to promote a campuswide event, email us at news@uww.edu by noon Friday. Submissions may be edited for length or content. View Archives »