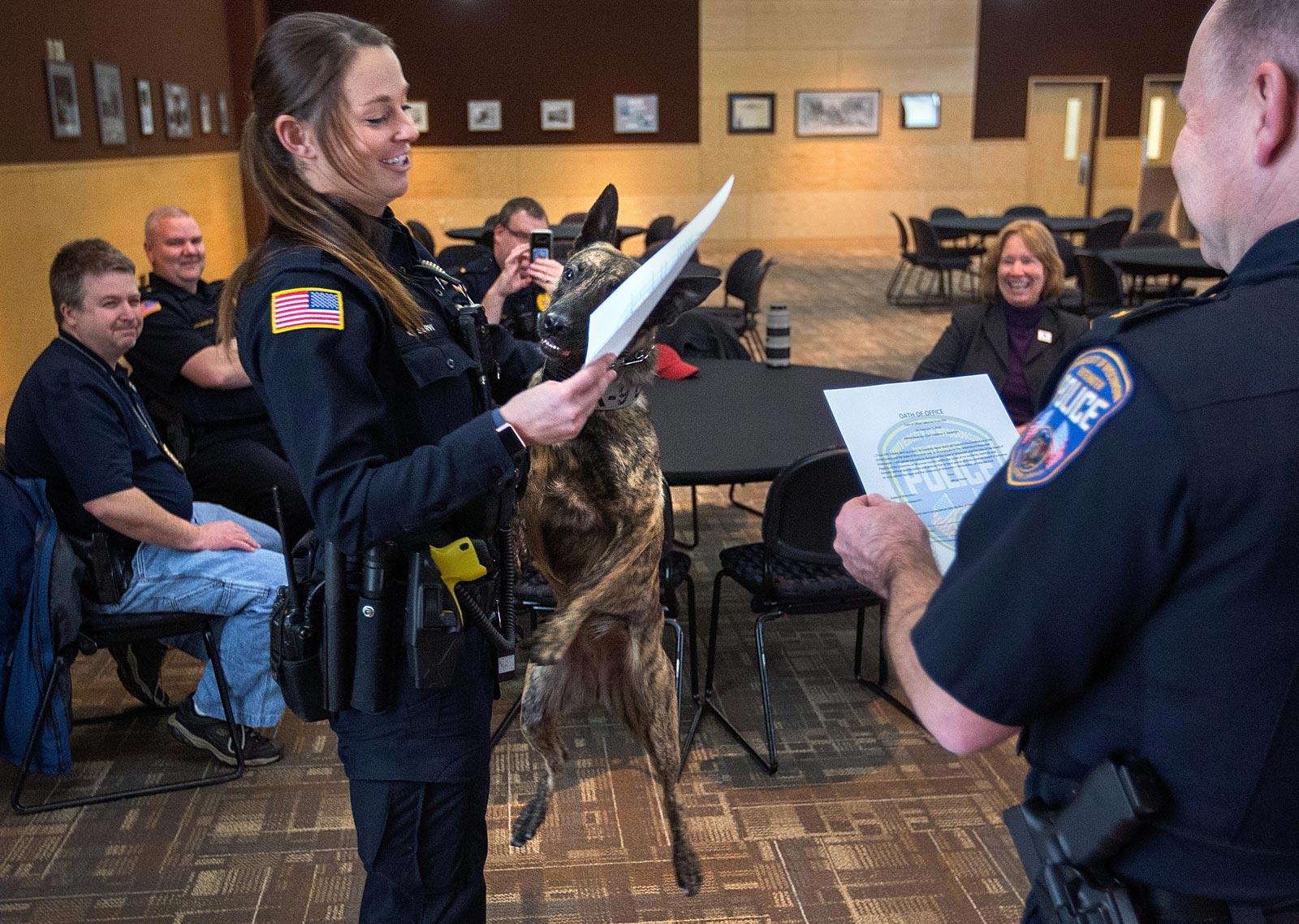 Sworn in: K-9 Truus officially joins the Warhawk family

UW-Whitewater's new K-9, Truus, appears to know she is the subject of an oath-of-office ceremony as she jumps beside her handler, Officer Kelsey Servi, left, who reads the oath with Chief of Police Matt Kiederlen on Monday, February 5, 2018. Behind them, from left, are Lt. Jason Burt, Assistant Chief Matt Schwartz, Lt. Steve Hanekamp and UW-Whitewater Chancellor Beverly Kopper. Photo by Craig Schreiner.


On sale now: Tickets to International Dinner

Come join the International Student Association for a global dining experience with international cuisine and multicultural performances. Tickets are available at the University Center Info Desk or Center of the Arts Box Office and cost $5 for students and $12 for general admission. Doors open at 5:30 p.m. Friday, March 9, in the University Center Hamilton Room. If you have an international or multicultural talent you might be willing to perform, please email Frank Bartlett at bartletf@uww.edu by Feb. 28.

Spring Hawk Career Fair

The 2018 Spring Hawk Career Fair is Tuesday, Feb. 6, and Wednesday, Feb. 7, from 11 a.m. to 4 p.m. The event provides students and alumni of all majors with an opportunity to meet employers and discuss full-time employment, internships, continuing education, and experiential opportunities.


Free tutorial services

Campus offers academic assistance and enrichment using both small groups and one-on-one sessions. Visit the new Mary Poppe Chrisman Success Center next to Laurentide Hall for these free services.



Upcoming Events

Interior Monologues Exhibit
10 a.m. Tuesday, Feb. 6
Roberta's Art Gallery, University Center

Men's Basketball vs. UW-Oshkosh
7 p.m. Wednesday, Feb. 7
Williams Center

Improv Against the Audience
7:30 p.m. Thursday, Feb. 8
Down Under, University Center

USAF Shades of Blue Jazz Ensemble
7:30 p.m. Thursday, Feb. 8
Light Recital Hall, Greenhill Center of the Arts

Country Royalty
7:30 p.m. Saturday, Feb. 10
Young Auditorium

Manifest Ignorance: Manifest Destiny & Pop Culture
3 p.m. Monday, Feb. 1
Fairhaven
Lifesaving kits installed on campus

New emergency boxes have been installed next to Automated External Defibrillator (AED) boxes in academic and auxiliary buildings. Although these unlocked boxes look like first-aid kits, they are not. They are lifesaving kits that can be used to stop severe bleeding in a traumatic event. The campus community is invited to sign up for a one-hour training at my.uww.edu.



40/10 Anniversary Celebration

The Department of Women's and Gender Studies is celebrating its 40th anniversary and the P.B. Poorman Pride Center is marking 10 years on campus. Everyone is invited to a day-long celebration on Monday, March 5, featuring a student career panel; a keynote address by van Coyote, a writer, storyteller, musician, and educator; and a reception and scholarship fundraiser. Please RSVP by Feb. 15.


AMA/sales students lead in Las Vegas competition

Congratulations to the AMA/sales students for an outstanding performance at the UNLV AMA Western Regional Collegiate Conference held at the University of Nevada, Las Vegas on Jan. 27.



Photos: MLK Commemorative Event

Featuring the Gospel Choir and a keynote address, the 32nd annual Martin Luther King Jr. Commemorative Event was held in the University Center on Jan. 31.


Campus Kudos

Kudos to LaVar Charleston, assistant vice chancellor of student diversity, engagement and success, who won the National Association of Student Affairs Professionals Benjamin L. Perry Professional Award. The award recognizes outstanding service and contributions to the field of student affairs. He will be honored at the organization's annual conference in Charleston, South Carolina, on Feb. 17.

Kudos to Jo Ann Oravec, professor of information technology and supply chain management, who will present a paper at the 2018 Telos/New York University Constitutional Theory Conference in New York City on Feb. 17. The paper is titled "Surveillance, Profiling, and the Nation State: Constitutional Theory in a 'Post-Privacy' Era."
New Student Seminar instructor informational sessions

Are you interested in being considered to teach New Student Seminar in fall 2018? Attend an informational session to learn more on Wednesday, Feb. 7, 4-4:30 p.m. or Thursday, Feb. 8, noon-12:30pm. Both sessions will be held in University Center, room 262. Contact Beth John at john@uww.edu for more information.

Warhawk Advising Network

Members of the Reimagining the First Year (RFY) initiative will share findings from campus-wide focus group conversations conducted last spring on mentoring undergraduate students. Learn about what others have said and share your thoughts and experiences regarding mentoring here at UW-Whitewater. The meeting is 3 to 4 p.m. Monday, Feb. 12, in University Center, room 259A.
University Awards

Nominations are now being accepted for the 2018 Faculty and Academic Staff University Awards. See the link below for the list of awards and the submission deadlines.



Event on Feb. 15: Promoting Civil Discourse

Everyone is invited to participate in an event from 4 to 6 p.m. on Thursday, Feb. 15, in the University Center Hamilton Room to explore and promote Civil Discourse. Help us create more campus-wide engagement in programs that promote civil discourse - this could include events, classroom practices, use of technology, and more. Food will be provided in a relaxed, cafe-style atmosphere where each person can participate in a number of facilitated small-table conversations, with opportunities to share ideas together. For more information, contact Andrea Romine at rominea@uww.edu or ext. 1672.


Assessment Fellows Program

The Office of Academic Assessment is pleased to announce a new leadership development opportunity in the assessment of student learning -- the Assessment Fellows Program (AFP).



Summer Term 2018: Stay on track. Get ahead. Graduate Sooner.

With four session options and all courses offered online or hybrid, summer classes allow for flexibility to fit in any schedule. Registration begins February 26, but start planning now with the summer course guide. Financial aid is available and you may qualify.


New this year! Apply for an assessment grant

The University Assessment Committee and the Office of Academic Assessment announce the availability of funding to support projects that address assessment of student learning outcomes.



Assessment Day - call for proposals

Assessment Day poster proposals are now being accepted. Join us on Feb. 28 for an afternoon of sharing and celebration of assessment! Across campus, faculty and staff are assessing student learning in exciting ways. Share your ideas, data and assessment tools, and take the opportunity to brainstorm and learn from others as you enjoy lunch, posters, and presentations.


Submit your stories

We are always looking for great story ideas. If you know of a student or faculty or staff member who deserves a shout-out, or want to promote a campuswide event, email us at news@uww.edu by noon Friday. Submissions may be edited for length or content. View Archives »