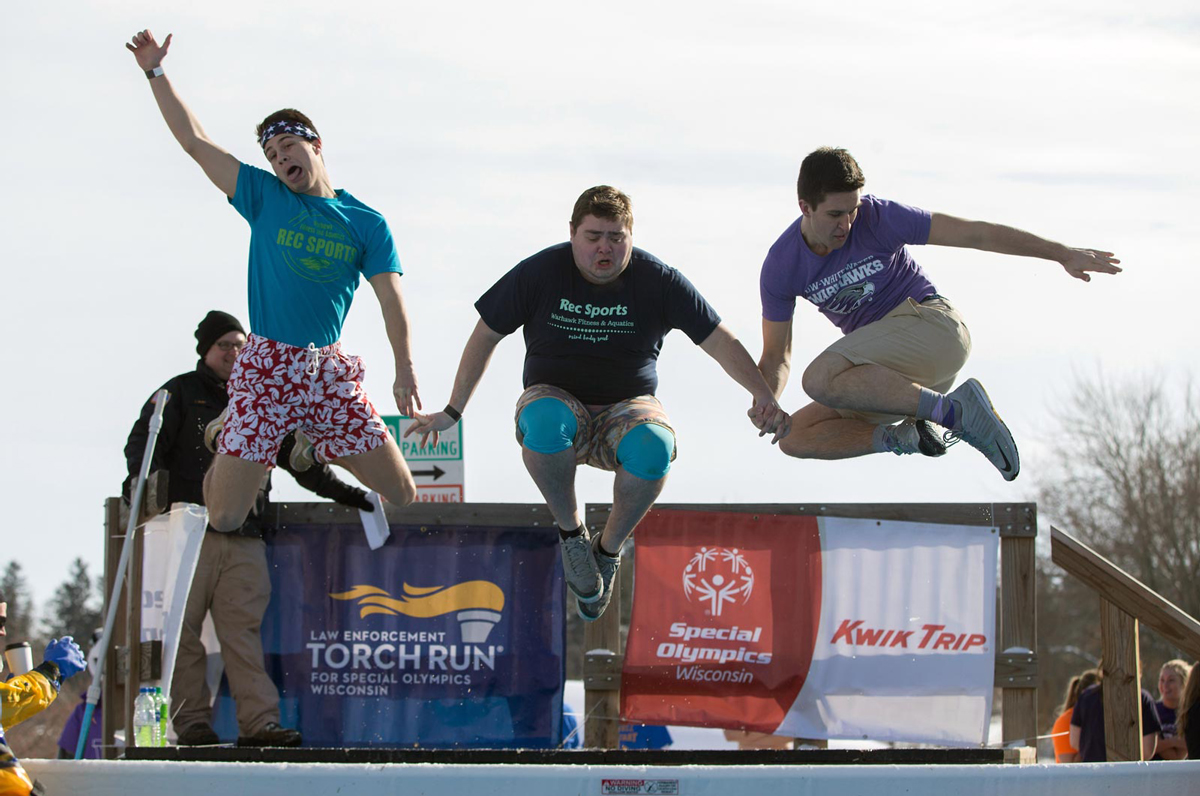 The 150,000-hour service challenge has begun

In honor of our university's Sesquicentennial celebration, we've set a goal to exceed 150,000 hours of community service collectively performed by members of our Warhawk family. We want to recognize and celebrate the multitude of ways our students, faculty, staff and alumni contribute their time, talents and expertise to our city, state, nation and the world. More than 150 hours were recorded over the weekend at the Polar Plunge, which raises money for the Special Olympics.


Nick Cave — 2018 Visiting Artist

Join us Thursday, Feb. 15, at 7:30 p.m. as renowned artist Nick Cave visits Young Auditorium to lead a student presentation and present a lecture, followed by an audience Q&A session.



Women's basketball to "Play4Kay" Wednesday

The women's basketball team will recognize Play4Kay at the Feb. 14 game against UW-Platteville at 7 p.m. at Kachel Gymnasium. Fans are invited to wear pink to join the Warhawks, who will don pink uniforms to raise awareness for the national initiative. The first 100 UW-Whitewater students with photo identification to attend the game will receive a free Play4Kay T-shirt.


Coffee at the Capitol event

From left, Whitewater Student Government members Michael Barrera, Charles Kudy and Zoe Miller talk with Chancellor Beverly Kopper in the Assembly Parlor at "Coffee at the Capitol" in Madison on Feb. 7. The event is a time when Warhawks meet with elected officials and alumni who work in state government. Photo by Craig Schreiner.



Upcoming Events

Valentine's Couples Bowling
6 p.m. Tuesday, Feb. 13
Warhawk Alley Magician: Ran'D Shine
7:30 p.m. Thursday, Feb. 15
Down Under Men's Basketball vs. UW-La Crosse
5 p.m. Saturday, Feb. 17
DLK Gym Lecture: Resource Struggle & Success in Indian Country
3 p.m. Monday, Feb. 19
Fairhaven Urban Bush Women: Hair & Other Stories
7:30 p.m. Tuesday, Feb. 20
Young Auditorium

PHOTOS: Warhawk Rugby honored at the State Capitol

February 7 was proclaimed UW-Whitewater Rugby Day in Wisconsin, after a proclamation at the State Capitol.



Economics students recognized at Regents meeting

After their historic finish as regional College Fed Champions and honorable mention at nationals, our Warhawks were recognized by the UW Board of Regents in Madison.


Student commencement speaker competition

Graduating seniors are invited to apply for the honor of serving as student speaker at Spring Commencement. The deadline to apply is 4 p.m. Thursday, March 8.



40/10 Anniversary Celebration

The Department of Women's and Gender Studies is celebrating its 40th anniversary, and the P.B. Poorman Pride Center is marking 10 years on campus. Everyone is invited to a day-long celebration on Monday, March 5, featuring a student career panel; a keynote address by van Coyote, a writer, storyteller, musician, and educator; and a reception and scholarship fundraiser. Please RSVP by Feb. 15.


On sale now: Tickets to International Dinner

Come join the International Student Association for a global dining experience with international cuisine and multicultural performances. Tickets are available at the University Center Info Desk or Center of the Arts Box Office and cost $5 for students and $12 for general admission. Doors open at 5:30 p.m. Friday, March 9, in the University Center Hamilton Room. If you have an international or multicultural talent you might be willing to perform, please email Frank Bartlett at bartletf@uww.edu by Feb. 28.



Green Tank Competition

UW-Whitewater Earth Initiative will host its third annual eco-friendly entrepreneurship competition Wednesday, April 11. Students can compete individually or in a team of up to three people. Competing teams must submit a one-page proposal, due on March 23, addressing an innovative sustainable initiative for campus and how it can be implemented on our UW-Whitewater campus. Finalists will give an in-person 5- to 8- minute presentation to a panel of judges. Cash prizes will be awarded to the winning teams.


Challenges and Chances, a presentation on cloud security

Yan Zhai, a Ph.D. student in the Computer Science department at UW-Madison, is the keynote speaker for this event at 12:30 p.m. Wednesday, Feb. 14, in McGraw Hall, room 122.



Warhawk Emergency Fund

UW-Whitewater's emergency aid program provides assistance to students experiencing unexpected financial emergencies. Up to $1,000 is available for full- or part-time students with qualifying needs.


Important student survey

UW-Whitewater is participating in the Diverse Learning Environments Survey, administered by the Higher Education Research Institute at UCLA. The survey is being sent to degree-seeking students who had achieved sophomore or junior status by the Fall 2017 semester. Students should expect to receive an email invitation with the heri@vainc.net return email address. By participating, you can provide UW-Whitewater with feedback about institutional climate, campus practices as experienced with faculty, staff, and peers, and student learning outcomes. The survey opens on Feb. 12 and closes March 12.



Event on Feb. 15: Promoting Civil Discourse

Everyone is invited to participate in an event from 4 to 6 p.m. on Thursday, Feb. 15, in the University Center Hamilton Room to explore and promote Civil Discourse. Help us create more campus-wide engagement in programs that promote civil discourse - this could include events, classroom practices, use of technology, and more. Food will be provided in a relaxed, cafe-style atmosphere where each person can participate in a number of facilitated small-table conversations, with opportunities to share ideas together. For more information, contact Andrea Romine at rominea@uww.edu or ext. 1672.


Assessment Day - Sign up to attend keynote lunch

Join us on Feb. 28 for an afternoon of sharing and celebration of assessment! Across campus, faculty and staff are assessing student learning in exciting ways. Take the opportunity to brainstorm and learn from others as you enjoy lunch, posters, and presentations.



LEAP spotlight

Learn how one LEAP team implemented online boot camps in business and communication courses to ensure a successful online classroom environment.


Submit your stories

We are always looking for great story ideas. If you know of a student or faculty or staff member who deserves a shout-out, or want to promote a campuswide event, email us at news@uww.edu by noon Friday. Submissions may be edited for length or content. View Archives »