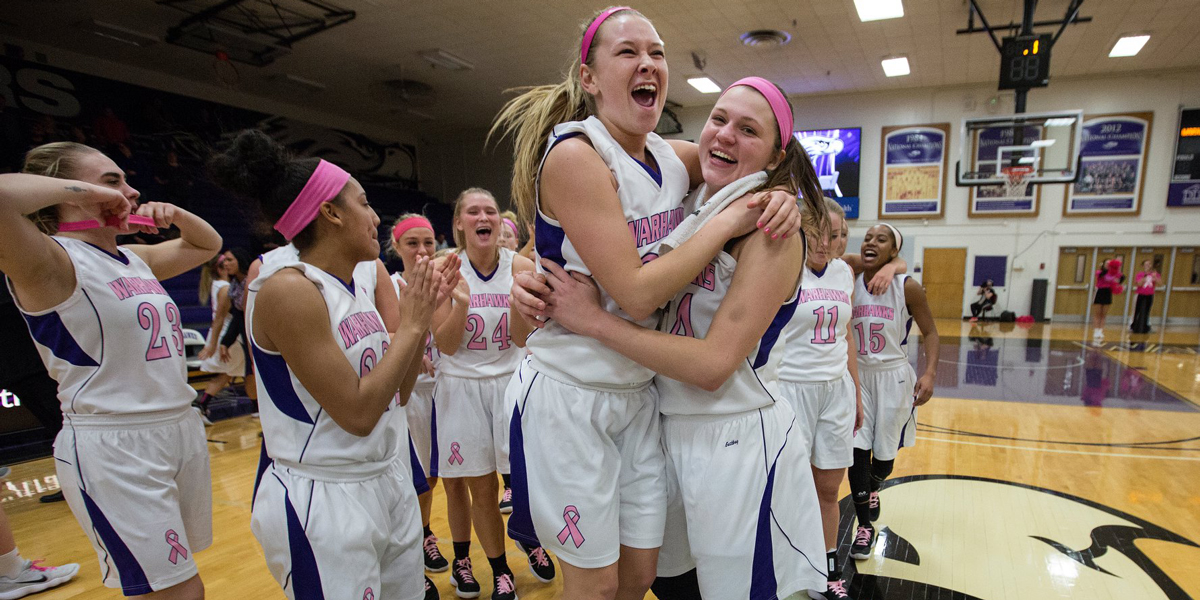 Women's Basketball clinches conference, will host tournament

Congrats to our Warhawks for clinching the Wisconsin Intercollegiate Athletic Conference regular season championship. UW-Whitewater earned the top seed in the WIAC tournament and will play at 7 p.m. Thursday, Feb. 22, at Kachel Gymnasium.


PHOTOS: Visiting Artist

Artist Nick Cave hosted a reception at Crossman Gallery featuring the work of students. His visit was funded by the Annette and Dale Schuh Visiting Artist Endowment in the Department of Art and Design.



Blood Drive Feb. 20-21

TriBeta and Pre Health Associates of Today are hosting a blood drive Tuesday, Feb. 20, and Wednesday, Feb. 21, in Esker Hall from 1:30 to 6:30 p.m. Visit bcw.edu/uww for appointments. Walk-ins are also welcome.


Student Success Presentation Series

Reserve your place at the Student Success Presentation Series, featuring campus survey data and analysis from four offices on campus. Attend to learn more about existing resources available to our campus community.



Upcoming Events

Karaoke
6 p.m. Wednesday, Feb. 21
Down Under Spoken Word Poet: Kyla Lacey
6:30 p.m. Thursday, Feb. 22
Down Under Southeast Asian Heritage Lecture Series
3:30 p.m. Thursday, Feb. 22
Down Under Gymnastics vs. UW-La Crosse
4 p.m. Saturday, Feb. 24
Williams Center Chancellor's Quartet
7:30 p.m. Sunday, Feb. 25
Light Recital Hall Edward S. Curtis and the North American Indian
3 p.m. Monday, Feb. 26
Fairhaven

New home for Honors, Undergraduate Research programs

The Undergraduate Research Program and the University Honors Program — both subunits in Student Diversity, Engagement and Success (SDES) that engage in high-impact practices — invite you to explore our splendidly refurbished home in McCutchan Hall, lower level, on Tuesday, Feb 27, 4 to 5:30 pm. Light refreshments will be served and prizes will be drawn.



Theatre/Dance presents "Street Scene"

Tickets are available for UW-Whitewater's production of "Street Scene," an opera that explores jealousy, infatuation, lust, and love set to a jazz-inspired score that reflects the multi-ethnic population of New York City. Performances are Feb. 25 and March 3 at 2 p.m., and Feb. 27 and March 1 at 7:30 p.m.


Student commencement speaker competition

Graduating seniors are invited to apply for the honor of serving as student speaker at Spring Commencement. The deadline to apply is 4 p.m. Thursday, March 8.



On sale now: Tickets to International Dinner

Come join the International Student Association for a global dining experience with international cuisine and multicultural performances. Tickets are available at the University Center Info Desk or Center of the Arts Box Office and cost $5 for students and $12 for general admission. Doors open at 5:30 p.m. Friday, March 9, in the University Center Hamilton Room. If you have an international or multicultural talent you might be willing to perform, please email Frank Bartlett at bartletf@uww.edu by Feb. 28.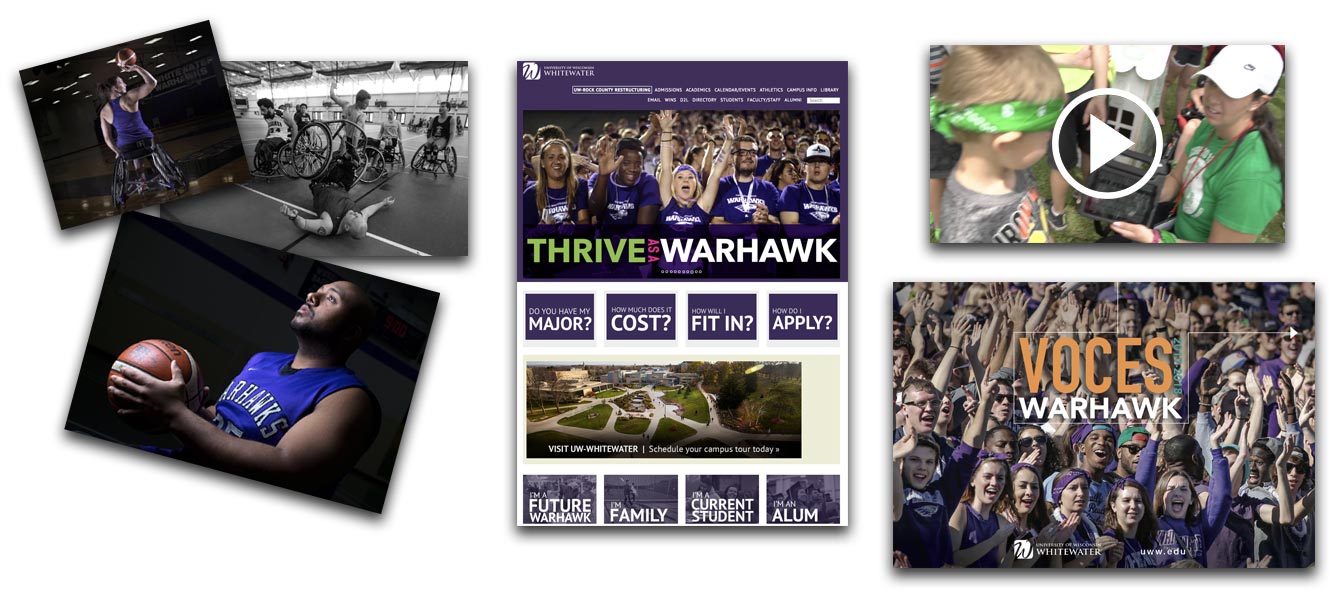 University Marketing and Communication wins four national awards
The 2017 Collegiate Advertising Awards, which recognize excellence in all forms of advertising, marketing and promotion specific to higher education, have been announced. More than 900 entries were submitted across the United States. UW-Whitewater's University Marketing and Communications won four honors:

Gold Award for Warhawk Voices - Wheelchair basketball photo series »
Gold Award for Changing Lives One Voice at a Time video »
Silver Award for Voces Warhawk, the Spanish language Admissions viewbook
Bronze Award for the uww.edu homepage design, a collaboration with the ICIT Web Team


Campus Kudos

Kudos to Jo Ann Oravec, professor information technology and supply chain management, who will present a paper at the BrainStorm 2018 technology conference, on March 4-6, in Wisconsin Dells. The paper is titled "Cybersecurity Threats, Cyberhygiene, and the Internet of Things (IoT): Perspectives for Educators and Information Technology Professionals."

Kudos to the Bachelor of Business Administration in Human Resource Management program, which was recognized for excellence at the HR.com LEAD2018 awards in Salt Lake City, Utah on Feb. 8. This distinction highlights the program's competency-based curriculum and e-Portfolio component, which prepare students to successfully transition from college to career. Read more »

Kudos to Sang Choi, professor of occupational and environmental safety and health, who was a visiting/adjunct the professor at the Korea Advanced Institute of Science and Technology (KAIST) in Daejeon, South Korea, for his sabbatical during Fall 2017. During his stay, Choi delivered lectures on human-centered systems design and also participated in several innovative collaboration research projects on elderly fall risk assessment and interactive prevention, construction safety and ergonomics, and VR/AR safety training.

Kudos to Allie Johnson, student designer at the University Center, who took 2nd place in the interior/wall art category at the 2018 Association of College Unions International Steal this Idea competition. Johnson's chalk art design (behind the UC Info Desk) was selected out of more than 350 entries.
Using polling software in the classroom

Join us Tuesday, March 6, for a look into the future of TurningPoint Polling software. Speaker Anthony Stratis, our representative from Turning Technologies, will show us a peek of what is to come in the new update to TurningPoint.



Assessment Fellows Program

The Office of Academic Assessment is pleased to announce a new leadership development opportunity in the assessment of student learning — the Assessment Fellows Program (AFP).


Active Shooter Response Training

If you are faced with the unthinkable, do you know what you can do? What you should do? This presentation is open to all students, staff, faculty and community members. University Police instructors will discuss options, provoke thought and explain actions taken for an active shooter or life-threatening situation. Presentations will be held in the University Center, room 68A on March 1, from 9 to 10 a.m.; March 7, from 11 a.m. to noon; and March 13, from 2 to 3 p.m. Contact Chief Matt Kiederlen at 262-472-4660 for more information.



At Crossman Gallery

A new exhibit opens Thursday, Feb. 22, from 5-7 pm. called "Reading Material," featuring a curated selection of artists whose work reflects a deep understanding of the materials they used to create it. The exhibit continues through March 23.


Assessment Day - Sign up to attend keynote lunch

Join us on Feb. 28 for an afternoon of sharing and celebration of assessment! Across campus, faculty and staff are assessing student learning in exciting ways. Take the opportunity to brainstorm and learn from others as you enjoy lunch, posters, and presentations. The keynote speaker will be Helen L. Chen, Director of ePortfolio Initiatives in the Office of the University Registrar and a research scientist in the Designing Education Lab in the Department of Mechanical Engineering at Stanford University.



Restructuring listening sessions

Project manager Lois Smith is holding listening sessions on the UW-Whitewater campus. Similar sessions have also been held at UW-Rock County. All are welcome to attend the remaining session, 3:30 to 4:30 p.m. Wednesday, Feb. 21, in Laurentide Hall 4012.


Submit your stories

We are always looking for great story ideas. If you know of a student or faculty or staff member who deserves a shout-out, or want to promote a campuswide event, email us at news@uww.edu by noon Friday. Submissions may be edited for length or content. View Archives »