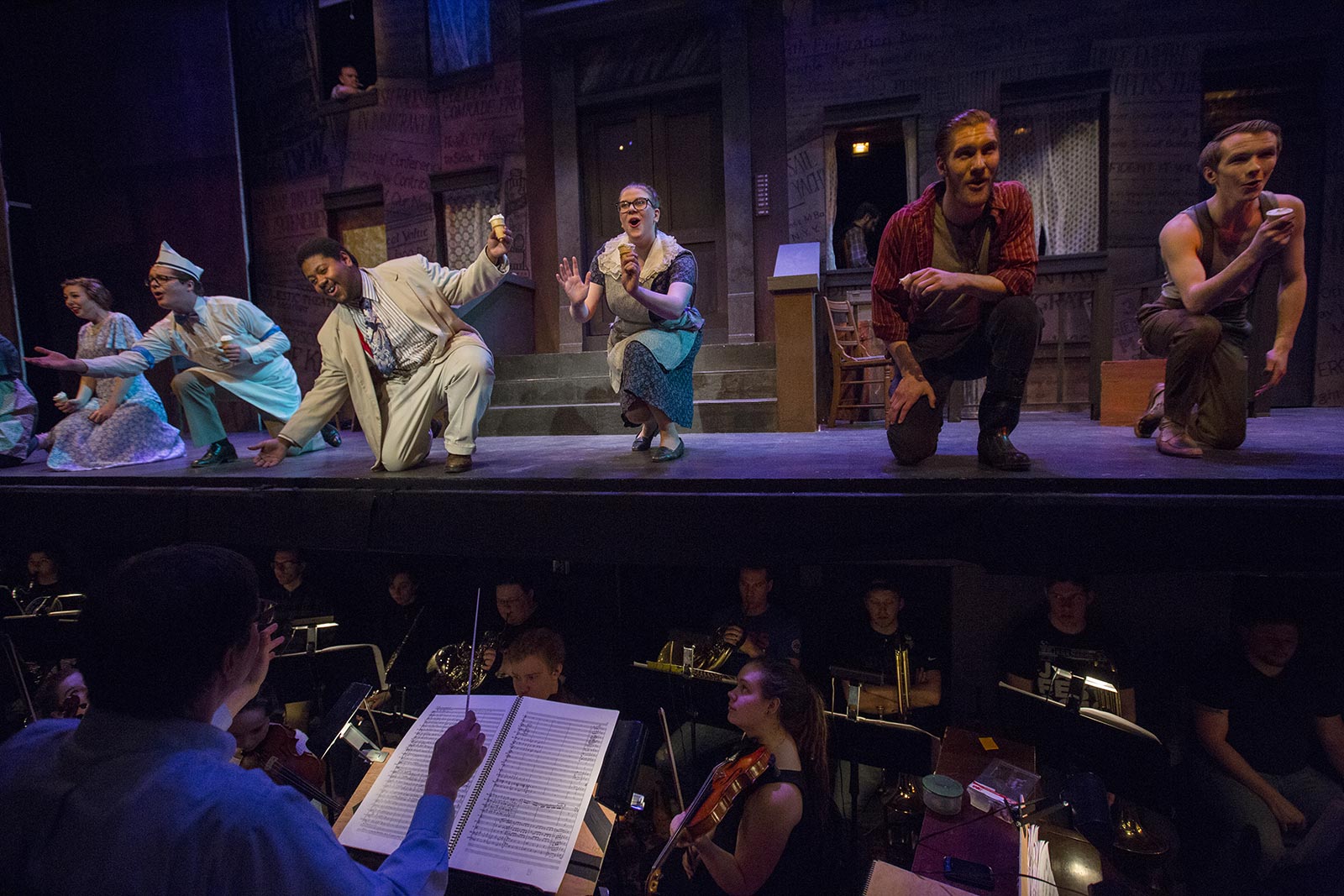 Theatre/Dance presents "Street Scene"

Tickets are available for UW-Whitewater's production of "Street Scene," an opera that explores jealousy, infatuation, lust, and love set to a jazz-inspired score that reflects the multi-ethnic population of New York City. Performances are Feb. 27 and March 1 at 7:30 p.m., and March 3 at 2 p.m.


Campus Food Pantry opening soon

A pop-up pantry located in White Hall, on Starin Road across from the Visitor's Center, will soon offer nonperishable food and toiletries to students. Questions? Contact foodpantry@uww.edu.

The pantry is working with Feeding America, a food bank in Milwaukee, to purchase food for pennies on the dollar. To help us stock the shelves, make an online donation to the UW-Foundation and select "Campus Food Pantry" on the drop-down menu.



Warhawks to host NCAA tourney

UW-Whitewater women's basketball players react as the university is named to host the first and second rounds of the Division III NCAA tournament on the during the Selection Show viewing at Summers Auditorium in the University Center on Monday, Feb. 26. The Warhawks will face UW-Superior in the first round at 7 p.m. Friday. Photo by Craig Schreiner.


Save the Dates: Earth Week

The schedule for Earth Week 2018 events is available! These events will incorporate an "environmental justice" theme for most of them and features a collaboration with UW-Rock County, a speaker on the Flint water crisis, and several community service opportunities.



Upcoming Events

Open Mic Night
6 p.m. Wednesday, Feb. 28
University Center Down Under Comedian, Sammy Obeid
7:30 p.m. Thursday, March 1
University Center Down Under African American Heritage Lecture Series
3:30 p.m. Thurday, March 1
University Center, room 259 Whitewater Symphony Orchestra and Chamber Orchestra
3 p.m. Sunday, March 4
Light Recital Hall, Greenhill Center of the Arts Rodgers and Hammerstein's "Cinderella"
7 p.m. Sunday, March 4
Young Auditorium Harry Potter Trivia
7 p.m. Monday, March 5
University Center Down Under

Student commencement speaker competition

Graduating seniors are invited to apply for the honor of serving as student speaker at Spring Commencement. The deadline to apply is 4 p.m. Thursday, March 8.



Salute to Grads

Salute to Grads will be held on Tuesday, March 6, and Wednesday, March 7, from 11 a.m. to 6 p.m. at the University Bookstore (Moraine Hall) for all May 2018 graduates. The deadline for submitting faculty and student cap and gown orders is March 23, 2018.


In The Media

Ellie Schemenauer, associate professor and chair of the Department of Women's and Gender Studies, provided context for a story that explored local reactions to the #MeToo and Time's Up movements. Janesville Gazette »

A men's health initiative, funded by UW-Whitewater's Engaged Scholarship Grants, is a collaboration between the campus's Enactus chapter and other local organizations. The group is working to develop programs to encourage men to personally address the leading illnesses that impact them. Jefferson County Daily Union »

Malia Smith, social work major and student-athlete on the women's basketball team, was featured in article that describes her impact on the team's success. Jefferson County Daily Union »
Active Shooter Response Training

If you are faced with the unthinkable, do you know what you can do? What you should do? This presentation is open to all students, staff, faculty and community members. University Police instructors will discuss options, provoke thought and explain actions taken for an active shooter or life-threatening situation. Presentations will be held in the University Center, room 68A on March 1, from 9 to 10 a.m.; March 7, from 11 a.m. to noon; and March 13, from 2 to 3 p.m. Contact Chief Matt Kiederlen at 262-472-4660 for more information.



Counseling services available

Need someone to listen? Counseling services available at Winther Counseling Lab (Winther Hall, room 3004). Counselors are graduate students-in-training, supervised by Counselor Education faculty. Services are free and available to UW-Whitewater students as well as community members. Appointments can be scheduled Mondays-Thursdays, 9 a.m. to 7 p.m. Call 262-472-2842 to schedule an appointment. Winther Counseling Lab is not available for emergency services.


Financial planning events March 1

Faculty and staff are invited to attend events on your UW TSA 403(b) program, as well as individual counseling sessions with Fidelity.



Women in Leadership recognition

The annual Women in Leadership reception honoring outstanding women on the UW-Whitewater campus will take place Thursday, March 8, at 3:30 p.m. in the Fern Young Terrace. The Women's Issues Committee will be recognizing 19 exceptional faculty, staff, and students for their outstanding leadership on campus and in the community. All are welcome to join us at this event. The featured speaker is Robyn Vining, a Milwaukee-based photographer, who will speak on "Recognizing Privilege and Intergenerational Feminism."


Assessment Fellows Program

The Office of Academic Assessment is pleased to announce a new leadership development opportunity in the assessment of student learning — the Assessment Fellows Program (AFP).


Submit your stories

We are always looking for great story ideas. If you know of a student or faculty or staff member who deserves a shout-out, or want to promote a campuswide event, email us at news@uww.edu by noon Friday. Submissions may be edited for length or content. View Archives »