UW-Whitewater Orchestra
Who we are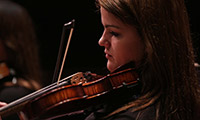 The University of Wisconsin-Whitewater has two orchestral ensembles: The University Symphony Orchestra and the Chamber Orchestra. The Symphony is open to the entire student body through audition. Participation in the Chamber Orchestra requires concurrent participation in the Symphony Orchestra. Though the majority of orchestra members are music majors, a significant number of talented students study outside the music department.
Both the Chamber and Symphony Orchestras perform a regular concert season each year and the Symphony Orchestra tours semi-annually. Each year the orchestras perform masterworks from the standard orchestral repertoire as well as contemporary modern peices. Each year student concerto soloists are selected to perform with the orchestras through the annual concerto competition and members of the music faculty at UW-Whitewater make guest solo appearances with the orchestras.
Sign up for our mailing list and be eligible to win free stuff though our monthly drawings!
Audition Information and Excerpts
Auditions: September 3 (strings) & September 8 (winds & brass)
Student Spotlight
Ready to Perform
As she prepares for her junior recital, UW-Whitewater music student Mallory Bray talks about nerves, adrenaline and love of music.