Offices & Units
Provides graduate textbooks and supplemental educational materials for undergraduate courses
Provides a wide variety of imprinted apparel and gifts to campus, community and alumni
Provides primary textbooks on a rental basis for undergraduate students
Supports faculty by providing educational tools that enhance classroom instruction
Career and Leadership Development
A centralized career development function that serves all students in all academic programs, including both undergraduate and graduate students. The office also serves all alumni.
This department also provides the following student leadership development functions: fosters student involvement in the co-curriculum; advises student organizations, student government, and the Greek community; provides education and experiential learning in diversity, leadership, career development; and enhances campus climate by providing social and tradition building programming.
Oversees the Warhawk Connection Center and PB Poorman PRIDE Center; designed to bring students together across identity boundaries to enhance the diversity experience and learning of all students.
Center for Students with Disabilities
Works with students with disabilities. Review applications and documentation, determine eligibility, and develop appropriate accommodations.
Faculty and Instructional Staff will receive written or electronic notification from the office about accommodations.
Typical services: alternative testing, alternative media, interpreters, physical classroom modifications, notetaker approval, Smart Pen, and a variety of others.
Support faculty and instructional staff with training, resources, and focus on the reasonable accommodation.
Serve as an advocate for instructional and departmental resources.
Campus Based Early Care and Education Program for children ages three months up to six years old of UW-Whitewater Students, Staff and Faculty.
Full Day Schedules offered. Two to Five Days per week
Accredited by the National Association for the Education of Young Children
Each Class is taught by a Wisconsin Licensed Teacher with small group sizes and low teacher to child ratios.
Assistance for faculty with matters of classroom disruption and student concerns
Advisement regarding academic misconduct and related protocols
Ombuds services for students - medical withdrawal, grievances, referrals to campus resources
CARE Team
Coordination of Commencement Ceremonies
Crisis Management - suicide, threats, student death
Student Behavior and Misconduct Issues
Health and Counseling Services are available to students by professional staff. Health services provides a variety of services including: treatment of illnesses and minor injuries, provision of lab tests and medication, sexual health care, and massage. Counseling services provides a safe, supportive, and helpful atmosphere to address the psychological, personal, and academic well being of our students. Phone consultation with a professional health care provider or counselor is also available. There is a wealth of health and wellness information on our website at www.uww.edu/uhcs. If you need help with a distressed student, please go to http://www.uww.edu/uhcs/counseling-services/distressed-students.
Employee Assistance Program provides a confidential resource for UW-W faculty, academic and classified staff who are experiencing personal concerns that may interfere or interrupt work performance. EAP provides confidential assistance and referral for a wide range of concerns. The EAP services are also available to family members of all UW-W employees. Please visit our EAP website at http://www.uww.edu/uhcs/counseling-services/employee-assistance-program for more information.
Recreation Sports & Facilities
Programs for Intramurals, Club Sports, Wheelchair Athletics, Informal Recreation (including Weight Room, Pool, and Gyms), Group Fitness Classes, Spirit Program (Cheerleaders, Dance Team and Willie Warhawk Mascot).
Weight Room/Fitness Center Membership program for use of the Williams Center and Wells Hall fitness facilities
Schedules and coordinates all indoor and outdoor athletic and recreation facilities at Williams Center, Kachel Fieldhouse, Perkins Stadium, Miller Baseball Stadium, and the surrounding outdoor complexes.
House 4300 students in traditional, suite or off campus apartment housing types, as well as a Wellness Hall, Global Village, Quiet Study, Drug and Alcohol Free and various Learning Communities.
Provide academic, educational, recreational, social and social justice programming and leadership opportunities for students, as well as tutors in the evenings, through collaboration with the Tutorial Center.
Guest Housing - Two suites on the 4th Floor of Goodhue are available for rent throughout the year. The suites are similar to a hotel room with a queen bed, micro fridge, dresser, color TV, and private bath. The cost per night is $45 and rooms can be reserved by calling 472-4200. Traditional double rooms will be available in the spring semester for rent. Please contact the above phone number regarding the availability and cost for double rooms.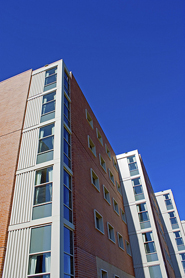 Meeting Room Reservations
Dining Services
Hawkcard Office/ID card services
Tickets
Vending
Fiskum Art Gallery
Warhawk Alley