Student Affairs
Offices and Units
Bookstore/Textbook Services provide books and other materials meant to enhance the education of the students. Last year 57,388 textbook rental transactions were conducted including both checkouts and returns. A total number of 19,798 students used the textbook rental service last year. Bookstore/textbook services also provide jobs for students to work on campus that help connect their student work to their majors and to job responsibilities and projects.
Staff in Career & Leadership Development can help you meet your recruitment needs, and are willing to assist you throughout the process. There is no cost to you to use any of our services! We have staff that specialize in the fields of business, art, education, social sciences, and more. Career Resources can help you find jobs that are appropriate for you and help you develop skills to improve your career as well as help with resumes and job interviews.
The Center for Students with Disabilities (CSD) mission is to be partners in creating an accessible learning community where students with disabilities have an equal opportunity to participate fully in all aspects of the educational experience. Through partnership with students, faculty and staff, we promote student's independence and recognition of a student's ability, not disability.
The Children's Center offers year round, full day year round child care for children from ages 3 months up to 6 years and a Summer School Aged Camp for children entering the 1st through 5th grades. Last year 106 children received early care and education from our Children's Center.
The Dean of Students Office is available to assist students and family members by providing services, programs and individual consultation. Our goal is to do whatever it takes to help students achieve their maximum potential as members of the UW-Whitewater community. Last year, 428 conduct cases were brought to the dean of students office.
The Employee Assistance Program at UW-Whitewater provides employees and their immediate family members with a free and confidential opportunity to address personal and work related concerns. Employee Assistance Program staff will work with you to determine your needs and to help connect you with community-based service providers that can best meet your needs.
The HawkCard Office allows you to purchase a meal plan, deposit money in your Purple Points account, get a replacement HawkCard and check your balances. The HawkCard Office keeps you updated on how many meal plans, purple points, and dining dollars remain in your account as well.
University Health and Counseling Services at UW-Whitewater serves the campus community by specializing in the unique wellness needs of college students. Health & Counseling Services provide high quality physical and mental health services that address the unique needs of college students.
UW-W provides students with unlimited opportunities to develop their leadership skills through participation in a variety of campus organizations. Student organizations are an integral part of a student's experience while at UW-Whitewater. They provide opportunities to develop leadership skills, broaden social and professional opportunities, and contribute to both the University and the surrounding community.
The purpose of the Intramural Sports program is to provide healthful exercise, promote leisure education, enrich social competence, and develop group loyalty. Recreational sports provided include individual sports, dual sports, and team sports for male, female, and coed participants.
Information about the residence halls, the benefits to living on campus, and the services offered to students. Applications towards living in residence halls, Cambridge and Fox Meadows apartments, and others are provided.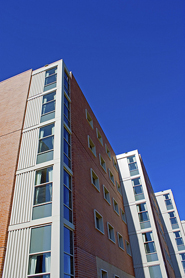 The UW-Whitewater ResNET is a collection of approximately 500 wireless access points and 6000 network ports (jacks) throughout the residence hall system. The Residence Halls have a highly available wireless system plus students have the ability to request that a data port be activated if a wired connection suits their needs better.
The University Center has many offices located inside to provide services to students, faculty, staff and campus guests. Use the links below to find the specific help you need. Roberta's Art Gallery, Warhawk Alley, and SEAL events are also in the University Center.