In the Spotlight: September 2012
Randi Case: Human Resources & Diversity
Randi Case's employment with the State of Wisconsin began in September 1995 when she was hired as a Benefits Specialist at UW-Milwaukee. After a few years in that roll she decided she wanted to expand her skills and knowledged base and applied for a Payroll and Benefits Specialist position here at UW-Whitewater in the Human Resources office. She started work on this campus in April 2001. Read more...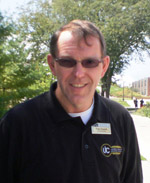 Tom Stanek: University Center
Tom Stanek has been with the University for thirty three years, beginning in April of 1979. He worked one year in the old Carlson building (now Laurentide Hall and currently being remodeled). From Carlson he moved to Tutt Hall and worked a year in that building. He then transferred to the University Center and has been with the UC Facilities Management Team ever since. Read more...
Upcoming Meetings
Mark your calendars for our upcoming meeting(s) and events:
UW-Whitewater Classified Staff Advisory Council
Timeline for nomination and election process:
Nominations for available seats on the newly formed CLASSIFIED STAFF ADVISORY COUNCIL (CSAC) will be accepted from Thursday, October 25th through noon on Friday, November 2nd.
Qualified nominees are permanent classified employees of the University of Wisconsin-Whitewater. Nominees for this election will be from the Academic Affaris, Administrative Affairs and Student Affairs divisions.
Download the nomination form, also available at the Human Resources office. Open the form and complete each field. Then save the form and forward the completed document to Patricia Waege at waegep@uww.edu OR complete the form, print and mail or deliver it to Patricia Waege in the Registrar's Office, Roseman 2032.
Meet & Greet Thursday, November 8. Come and meet the nominees and learn why they would like to be a part of the new Classified Staff Advisory Council.
VOTE Thursday, November 15. Elections will be held from 11:00 a.m. to 3:00 p.m. in the University Center, Room 259B.
Election Results Monday, November, 19. Winners will be announced and terms will begin.
Professional Development Opportunities
Please inform us of your professional development activities or opportunities of which you may be aware.
Keep Connected
Do you have any announcements to share for the next meeting or newsletter? E-mail ClassConnect@uww.edu
What is Classified Connection?
Classified Connection is a site for all classified employees at UW-Whitewater to stay informed about opportunities, events, and policies affecting your work environment. All employees are encouraged to get involved and stay connected!

Contact Us
If you have questions or comments about Classified Connection, please contact us at csac@uww.edu.