French
NEW COURSE: CAFÉS, CUISINE, AND CULTURE
Why study French?
French is fun to learn and speak. It is the international language of such fields as: Fashion, Cooking/Fine Cuisine, Theater, Dance, and Architecture.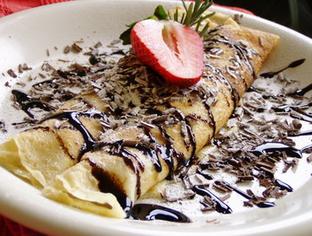 It is also the native tongue of such literary, artistic, cultural, and philosophical giants as Molière, Victor Hugo, Léopold Sédar Senghor, Edith Piaf, Jean-Paul Sartre, Claude Monet, Edgar Degas, Paul Cezanne, Georges Seurat, Alain Delon, and Zinedine Zidane.
French is spoken by 200 million people on five continents and is an official language in 29 countries. Click here to see how influential French is globally!
How is French Important?
Knowing French opens doors in the international job market. According to the French consulate page, "An ability to speak French and English is an advantage on the international job market. A knowledge of French opens the doors of French companies in France and other French-speaking parts of the world (Canada, Switzerland, Belgium, and North and sub-Saharan Africa). As the world's fifth biggest economy and number-three destination for foreign investment, France is a key economic partner."
What Kinds of Professionals Use French?
But Isn't French Hard to Learn?
Non! The pronunciation often poses an initial barrier to beginners, but the language itself—the grammar, the rules, usage, cognates—is less complex than most other languages. Fifty percent of English words come from French, including beef, ocelot, and parachute!
How Else is French Useful?
France, Paris specifically, attracts more tourists than any other destination in the world. Imagine how much richer a travel experience would be if you knew the language and could speak it with native speakers. Imagine sitting in a sidewalk café where Ernest Hemingway once sat and ordering un café crème et une baguette.
French is also a secondary language throughout most of western Europe and large parts of Africa, making it a lingua franca in many non-French countries.
For more info about French Club and Study abroad, click here.
NEW COURSE: CAFÉS, CUISINE, AND CULTURE
To see the French Classes course rotations, click here.
French is your passport to the world of arts and cinema,
philosophy, travel, and international affairs.
For more information and to learn about oppurtunities the program offers, explore the links under Program Resources.