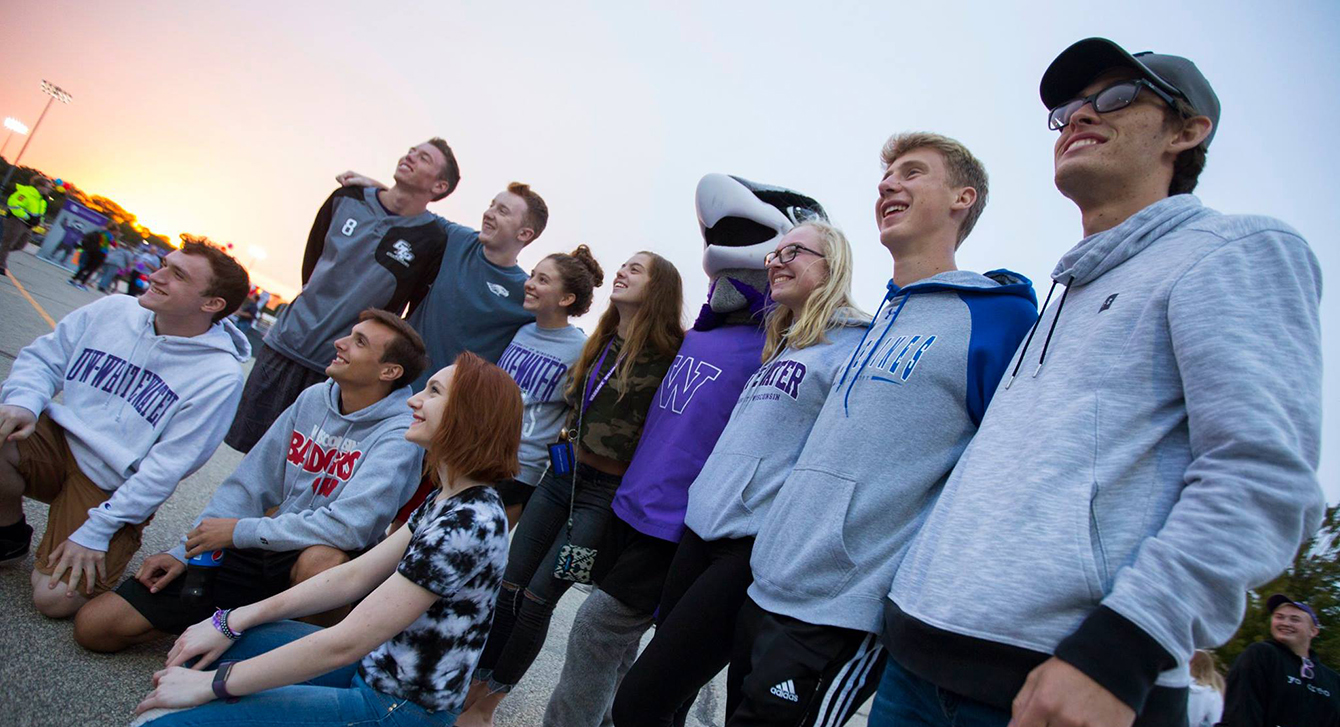 PHOTOS: Willie's Birthday Bash
Live music, games, fireworks and a Guinness World Record — Warhawks celebrated Willie's birthday in style.


PHOTOS: Warhawk football goes to 2-0

With a pre-game concert by artist Eric Paslay and a 24-6 win over Concordia Moorhead in the home opener, the football season is off and running! The Warhawks are at home again at 2 p.m. Saturday, Sept. 15, against Georgia Middle State. We'll be hosting another concert by Kinfolk before the game at noon!



PHOTOS: Painting Warhawk Drive

The Class of 2022 left its purple mark during our RU Purple event by painting Warhawk Drive. This rite of passage is an annual tradition for new UW-Whitewater students.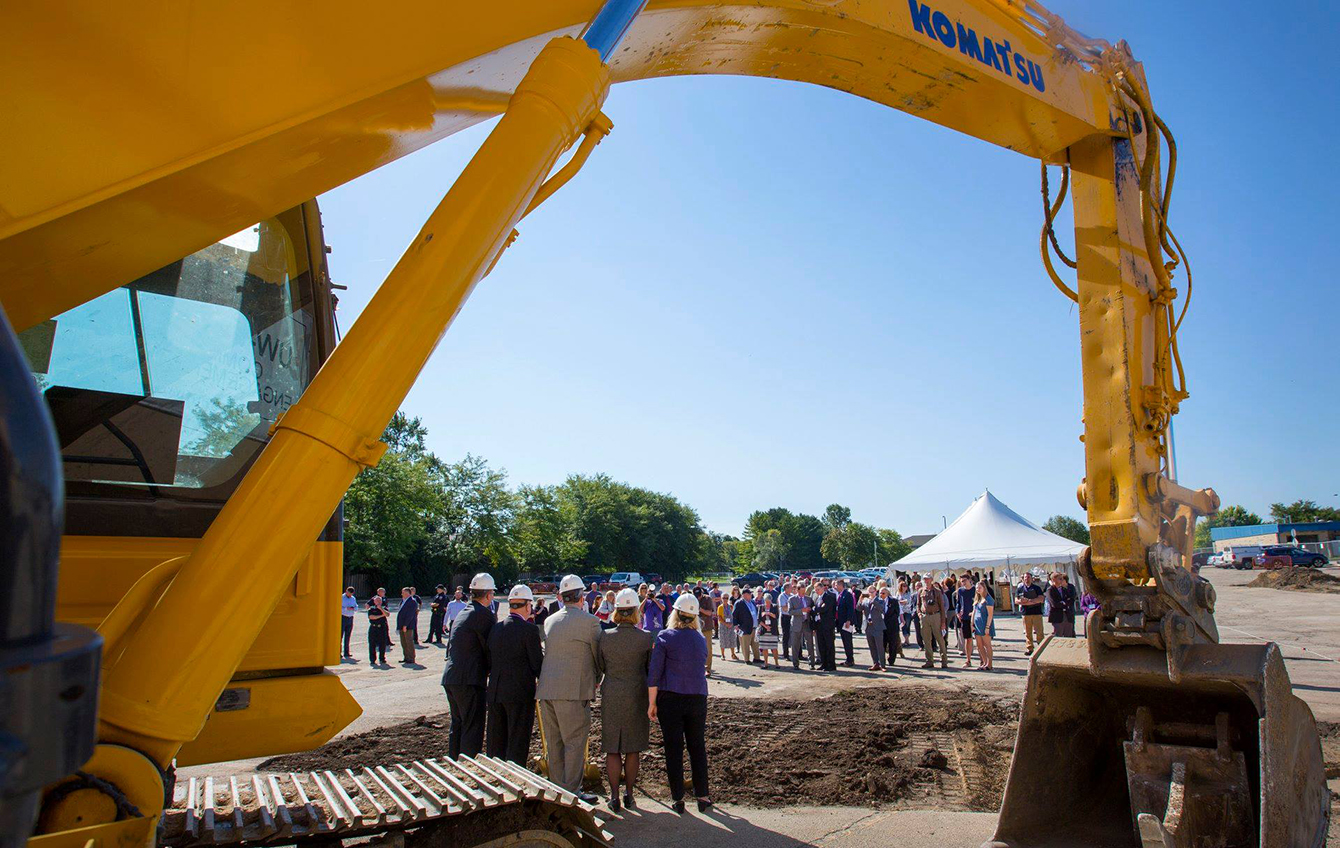 PHOTOS: Groundbreaking ceremony for UW-Whitewater Community Engagement Center and a Fairfield Inn & Suites by Marriott
University, city and state officials joined together for a groundbreaking ceremony on the city's west side.


Global Experiences Fair Sept. 18

Come and join us from 10 a.m. to 3 p.m. Tuesday, Sept. 18, on the north Wyman Mall for our annual fall study abroad fair. Learn about global opportunities that can align with your major.



Upcoming Events


Family Fest
5-9 p.m., Wednesday, Sept. 12
Warhawk Alley Outdoor Patio
Denver alumni event
7:30 p.m., Thursday, Sept. 13
Down Under, University Center
Homecoming
Saturday, Oct. 20
Marching Band reunion
Saturday, Oct. 20
Class of 1968 reunion
Saturday, Oct. 20
The Romance of Rachmaninoff - MyungHee Chung
3 p.m. Sunday, Sept. 16
Light Recital Hall, Greenhill Center of the Arts
Save the dates: Contemporary Issues Lecture Series

The popular lecture series sponsored by the College of Letters and Sciences will explore a variety of topics, including the General Motors plant closure in Janesville, sustainability and Indigenous philosophy, race and racism, and food and education.



PHOTOS: Visiting Artist Paint-Along

Five visiting artists from China, along with UW-Whitewater faculty, hosted a public outdoor paint-along at the UW-Whitewater prairie restoration area along Schwager Road.


Campus Kudos

Kudos to Allison Erck, elementary education major, who won the $2,500 Jack Kinnaman Memorial Scholarship, which honors future teachers, from the National Education Association's retired chapter.

Kudos to John Boie of the Academic Advising and Exploration Center, who won a silver medal with Team USA at the International Wheelchair Basketball Federation world championships, held Aug. 16-26 in Hamburg, Germany. Read more »

Kudos to Matt Vick, professor of curriculum and instruction, who recently accepted a role with the National Science Foundation-funded Discovery Research K-12 Research Project. The project is designed to measure and build kindergarten-fifth grade science teachers' content knowledge for teaching about matter and its interactions in teacher education settings.

Kudos to Edric Johnson, professor of curriculum and instruction, who presented "Best practices in theatre education/teaching artist preparation: Six geographical perspectives" at the American Alliance for Theater and Education, held in Minneapolis, Minnesota, Aug. 1-5.
In the Media

Alexander Carey, theatre major, was featured in a story about the Peninsula Players Theatre in Fish Creek, Wisconsin, where he served as assistant stage manager and won the Kathryn A. Doerr Apprentice Fund award. Green Bay Press Gazette »

Mark Schroeder-Strong, associate professor of educational foundations, talks about the results of the statewide Youth Risk Behavior Survey, and specifically with regard to Janesville schools. Janesville Gazette »

In the lead-up to the successful Guinness World Record attempt, John Ejnik, associate professor of chemistry, talks about the glow stick construction. Beloit Daily News »


| | |
| --- | --- |
| Amanda Hutchings, special education major, and Anne Taylor, elementary education major, started a nonprofit with their mothers to eliminate financial barriers for girls to purchase dresses for social events. | Dave Gee and William Dougan, directors of the Launch Pad program, discuss the many success stories of students and alums of the startup accelerator. |
UW-Whitewater marketing students helped organized a clean-up of the Rock River. Beaver Dam Daily Citizen »

Daniel Stalder, professor of psychology, talks about his new book, "The Power of Context," and ways to reduce bias and conflict in society by helping people to identify and reduce their biases. Shepard Express »

Aruna Jha, assistant professor of social work, talks about how child development and a family's quality of life are influenced by the city in which they live, as part of a story on "Best and Worst Cities for Families." WalletHub »
Marker recycling

UW-Whitewater Science Outreach has partnered with Lincoln Elementary School to participate in Crayola's marker recycling program, ColorCycle. Used markers are shipped to plastic processors that turn the markers into clean fuel. Please help by discarding used dry erase markers in collection boxes located in classrooms and department offices. If you would like to sponsor a box in a new location, please email scienceoutreach@uww.edu.



Sign up or volunteer for the races

UW-Whitewater is a title sponsor of the The Discover Whitewater Series, a Half Marathon, 5K, and Fit Kid Shuffle (Kid's Run), held annually every September. The event is Sunday, Sept. 23, and you can participate or volunteer.


Summer on the Mall recap

The University Center concluded its 26th year of Summer on the Mall events last month, which feature food, live music, arts activities and games. Participants raised more than $1,500 for the UW-Whitewater Campus Food Pantry, the Warhawk Emergency Fund, the Whitewater Food Pantry, the Whitewater Unified School District Family Emergency Fund, and the Whitewater Bethel House.



Emerita professor's house damaged in flood

Fannie Hicklin, emerita professor of theatre who recently celebrated her 100th birthday and participated in UW-Whitewater's Sesquicentennial, suffered damage to her home due to record flooding. A Go Fund Me site has been created to assist.


Submit your stories

We are always looking for great story ideas. If you know of a student or faculty or staff member who deserves a shout-out, or want to promote a campuswide event, email us at news@uww.edu by noon Friday. Submissions may be edited for length or content. View Archives »