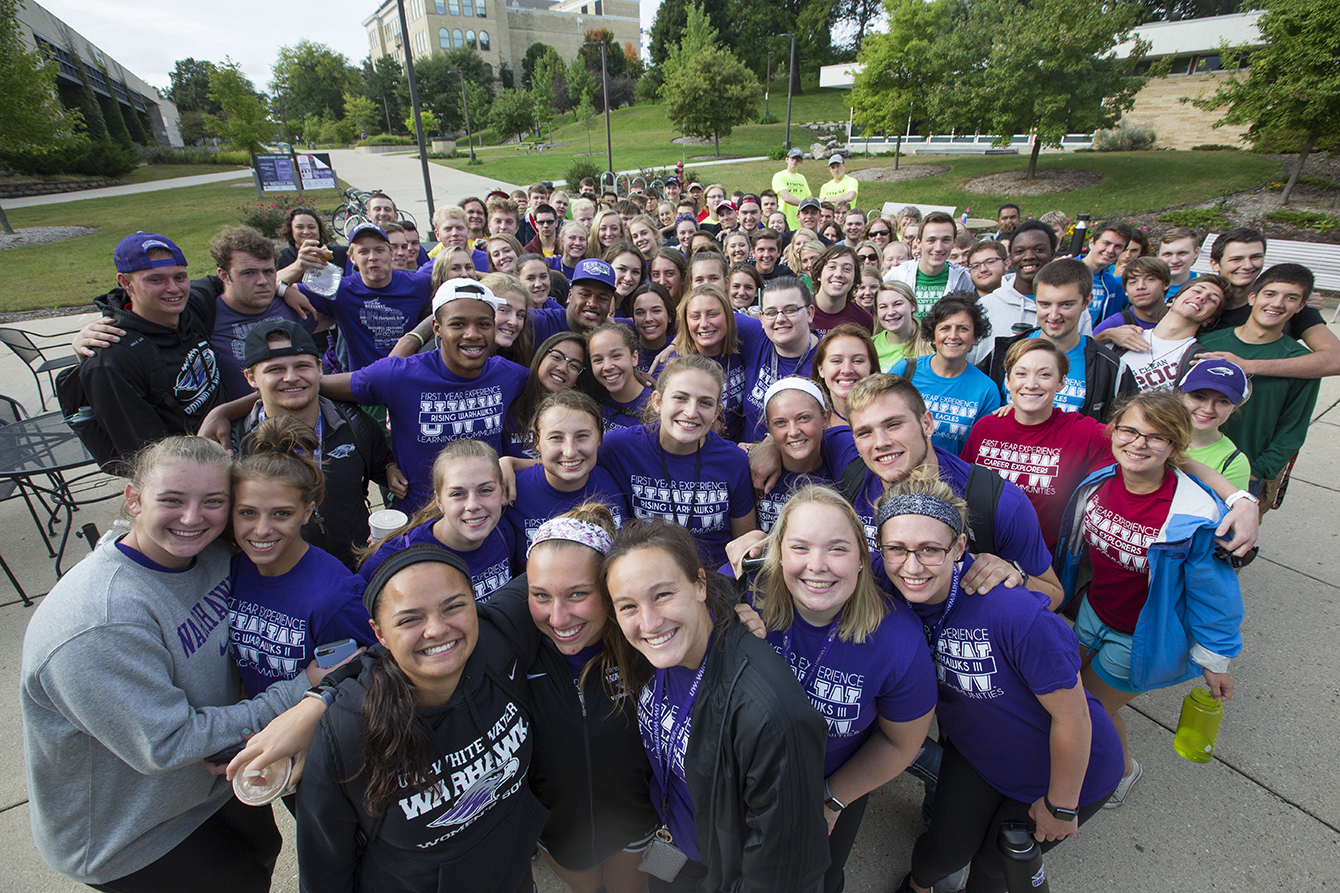 PHOTOS: Day of Service

On Sept. 21, Warhawks in learning communities visited five sites throughout Whitewater, volunteering their time to help with service projects.


Record number of degrees awarded, record retention and graduation rates
With the new academic year under way, the campus is celebrating several milestones related to student success. Preliminary numbers show the freshman-to-sophomore retention rate for fall 2018 is a record 81.9 percent. UW-Whitewater is also graduating more students than ever before.


Cooking, music, languages, social media and more this fall in Janesville

UW-Whitewater at Rock County in Janesville announces its fall lineup of workshops. The schedule includes something for adults of all ages, from cooking to photography, social media to science.



Upcoming Events


When You Play With Broken Glass Reception
5 p.m., Wednesday, Sept. 26
Roberta's Art Gallery
Karaoke Night
6 p.m., Thursday, Sept. 27
Down Under, University Center
Volleyball vs. UW-River Falls
7 p.m., Friday, Sept. 28
Russell Arena, Williams Center
Iron Pour
1 p.m., Saturday, Sept. 29
Greenhill Center of the Arts, Room 103
Trivia Night: Nickelodeon TV Shows
7 p.m. Monday, Oct. 1
Down Under, University Center
Men's Soccer vs. Loras
7 p.m. Monday, Oct. 1
Fiskum Soccer Field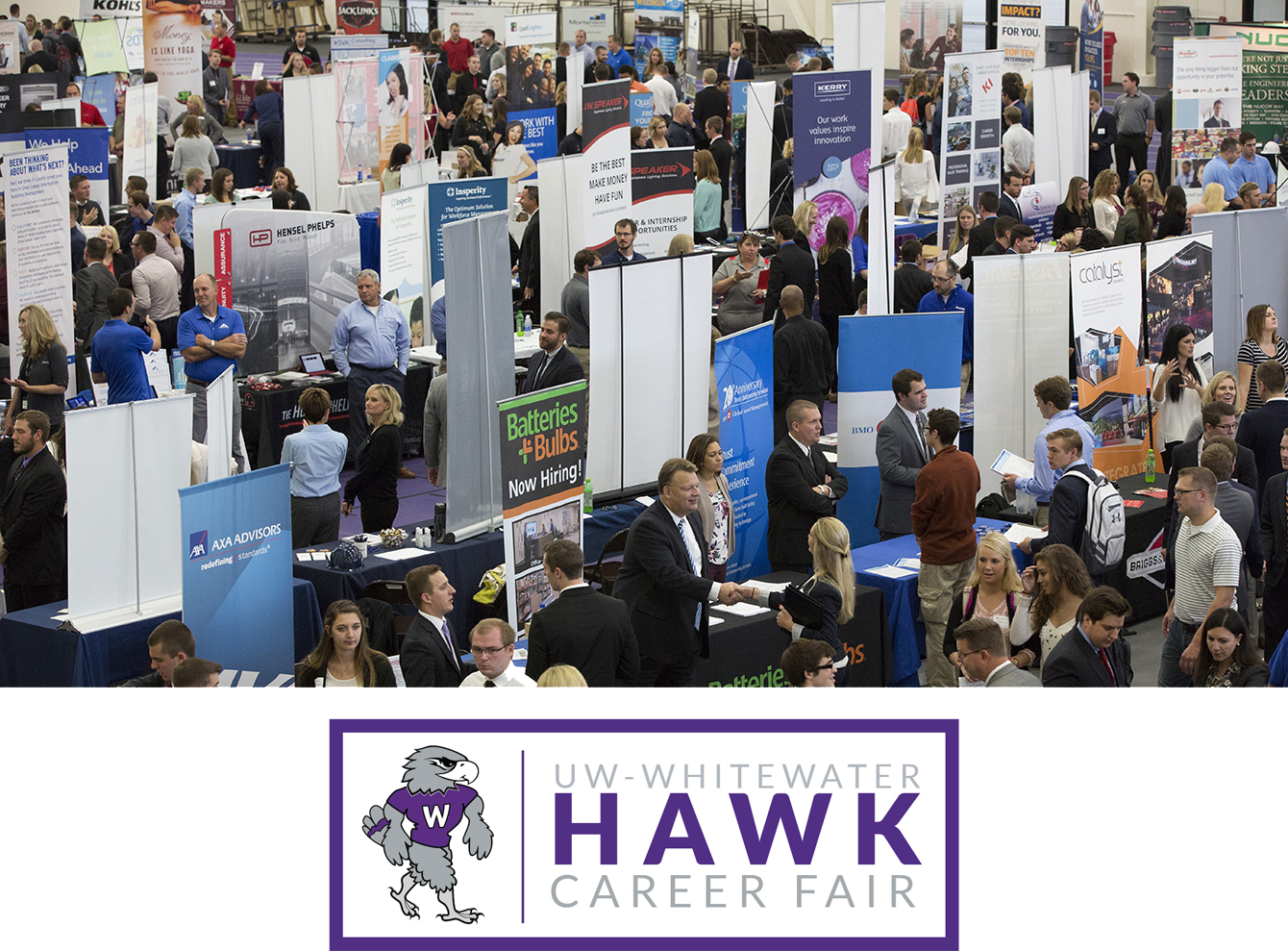 Stop by the Hawk Career Fair for an opportunity to meet more than 160 employers looking to fill full-time positions and internships! This fair is open to students and alumni from all majors. To view a list of attending employers and available opportunities, visit Handshake.

Time: 11 a.m. to 4 p.m.
Date: Wednesday, Oct. 3, 2018
Location: Kachel Fieldhouse, Williams Center

For questions, contact Career & Leadership Development at career@uww.edu or 262-472-1471.


Student speaker competition

December graduates are invited to apply for the honor of serving as student speaker at winter commencement.



Canvas Workshops – Fall 2018

The Learning Technology Center will be offer three Canvas Hands-On Introduction, Canvas Construction Zone and Canvas Deep Dive sessions during the Fall 2018 semester.


Campus Food Pantry reopens

The Campus Food Pantry is open for the fall term — and now offers school supplies in addition to a variety of nonperishable food and toiletries.

Stop by 2-5 p.m. Tuesday or Wednesdays or contact foodpantry@uww.edu or 262-472-1860. Anyone in the campus community is welcome.



Community clean up

Join Downtown Whitewater at 8 a.m. on Friday, Oct. 5, to help clean up the downtown area. This is a great opportunity for getting in some community service hours.


Join us to celebrate Interim Dean Seth Meisel

Please join the Provost's office in wishing Interim Dean Seth Meisel, a fond farewell on Tuesday, Oct. 2, at 11 a.m.



Ethics training

You are invited to join us for Ethics Training on Monday, Oct. 1. Representatives from UW System Legal Counsel will be holding two sessions in the Hamilton Room, University Center. The sessions offered are at 11 a.m. and noon.


Campus Kudos

Kudos to Bethann Moran-Handzlik, lecturer in art and design, who received an international artist residency from the La Napoule Artist Residency Foundation in southeastern France, and has been invited to exhibit her works in an exhibit at the Grand Central Atelier Eleventh Street Gallery in Queens, New York, on Oct. 3.
In the Media

Jennifer Deuel, a UW-Whitewater at Rock County student and a mother of two, has overcome obstacles to better the life for her family.



In the Media

UW-Whitewater at Rock County is offering students housing at the Whitewater campus while they take classes at the Rock County campus. A free shuttle between campuses further connects students.


New employees/New roles

In this section of UW-Whitewater This Week, we welcome employees to the Warhawk family and recognize colleagues who received new positions on campus.

Sarah Weiss was hired as a custodian with Facilities Planning and Management on Aug. 20 and works in the west zone of the academic buildings.
Submit your stories

We are always looking for great story ideas. If you know of a student or faculty or staff member who deserves a shout-out, or want to promote a campuswide event, email us at news@uww.edu by noon Friday. Submissions may be edited for length or content. View Archives »