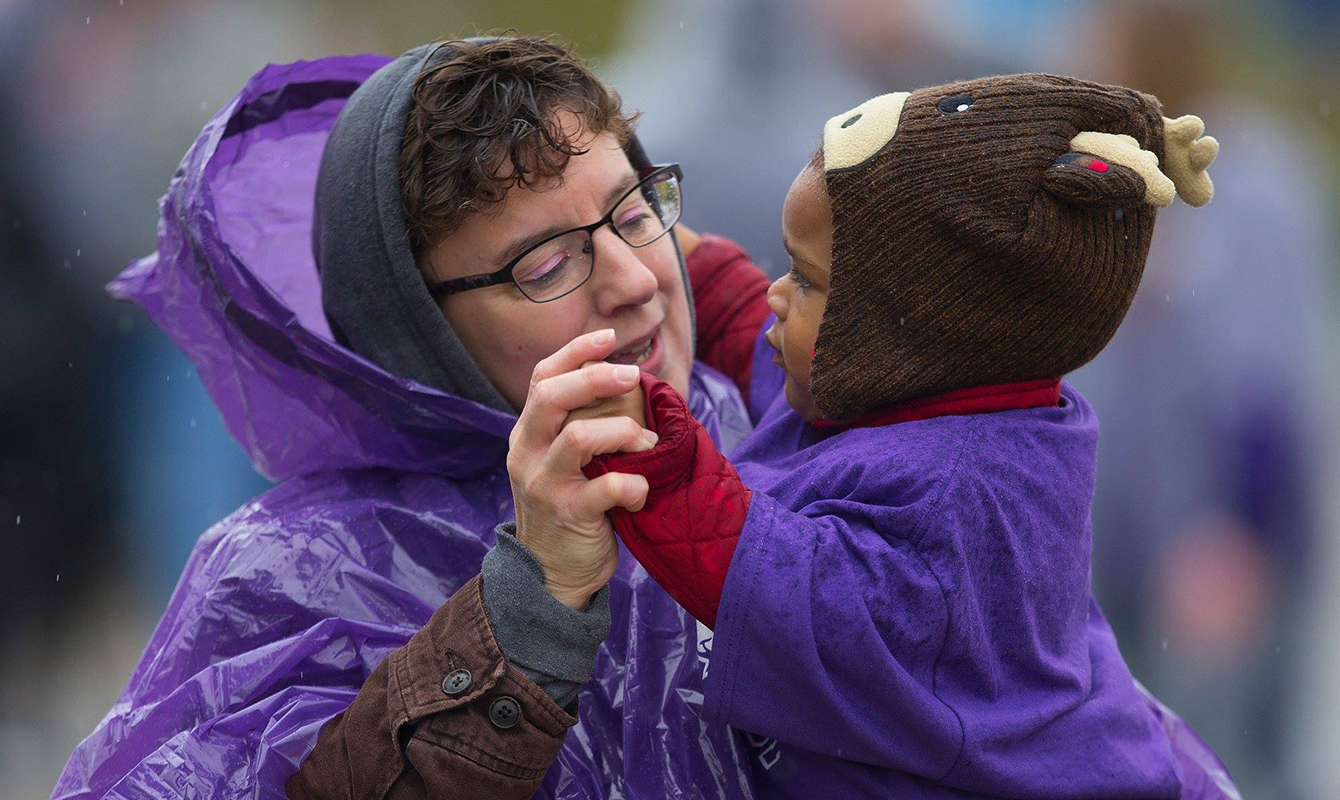 Warhawks celebrate Family Fest

UW-Whitewater hosted its annual Family Fest in style with a conference football win over rival Oshkosh, a pre-game concert and plenty of family fun.


Undergraduate Research Day Oct. 11

Everyone is invited to explore the research conducted by students and their faculty mentors on campus. Stop in during Undergraduate Research Day, 11:30 a.m. to 1 p.m. in the University Center Hamilton Room.



"Love, Loss and What I Wore" Debuts

"Love, Loss and What I Wore," a witty play inspired through tales of clothing, will be performed in Hicklin Studio Theatre at Greenhill Center of the Arts from Oct. 8 to 13 at 7:30 p.m. and Sunday, Oct. 14, at 2 p.m.


Event: The 3 Driving Factors of Wisconn Valley

Professor Sameer Prasad will discuss the impact of Foxconn on supply chain management in southeastern Wisconsin at "The 3 Driving Factors of Wisconn Valley." Check-in and continental breakfast begin at 7:30 a.m. Tuesday, Oct. 23, in the Hyland Hall Atrium, and the presentations start at 8 a.m. in Timmerman Auditorium. Registration is required. For more details and to register, visit http://bit.ly/Wisconn. Select "member" for registration type, and "Whitewater Area Chamber of Commerce" as the membership affiliation.



Pulitzer Prize-winner Goldstein to speak on campus

In more than 30 years as a staff writer at the Washington Post, journalist Amy Goldstein has focused on stories that lie at the intersection of politics and public policy and explore the effects of both on ordinary people. Her first book, "Janesville — An American Story," reflects this interest. Join her at 7 p.m. Monday, Oct. 22, at Young Auditorium as part of the College of Letters and Sciences Contemporary Issues Lecture Series.


The campus community is invited to visit with Provost Susan Elrod during her office hours 1:30-2:30 pm. Monday, Oct. 15, on the Main Floor of Andersen Library.



Rock County Campus to host congressional debate

A debate between the Democratic and Republican candidates for the 1st Congressional District seat is set for Monday, Oct. 29, in Janesville. The one-hour debate between Democrat Randy Bryce and Republican Bryan Steil starts at 7 p.m. in the Kirk Denmark Theatre at UW-Whitewater at Rock County, 2909 Kellogg Ave. Doors open at 6:30 p.m. Susan Johnson, associate professor of political science, will co-moderate the debate, hosted by WCLO radio, the Janesville Gazette and WFAW radio.
HawkCard deadline approaching
Time is running out to charge Purple Points to your student bill. Students can charge Purple Points to their bill until 3 p.m. on Friday, Oct. 12. Visit uww.edu/uc/hawkcard or stop in the HawkCard Office to find out more information! You can also check your balance at bit.ly/hawkcardbalance.


WINS Pay App now available

WINS Pay is the UW-Whitewater billing and payment system in a compact, easy-to-use mobile application. This app allows students to perform a variety of tasks including viewing outstanding charges, making payments, and managing account settings. Download the app today and start saving time when it comes to your student billing options. Available on the App Store and Google Play. For any questions, please contact the Help Desk: 262-472-4357 or helpdesk@uww.edu



Upcoming Events


Spoken Word: Lacey Roop
7:30 p.m., Thursday, Oct. 11
Down Under, University Center
Rhapsodic Voices
7:30 p.m., Thursday, Oct. 11
Light Recital Hall
Volleyball vs. UW-Stout
12 p.m., Saturday, Oct. 13
Russell Arena, Williams Center
Women's Soccer vs. UW-Stevens Point
7:30 p.m., Saturday, Oct. 13
Fiskum Soccer Field
Men's Soccer vs. St. Olaf
3 p.m. Tuesday, Oct. 16
Fiskum Soccer Field
Sean Dorsey Dance: BOYS IN TROUBLE
7:30 p.m. Tuesday, Oct. 16
Young Auditorium
Elevator Pitch Competition

Everyone is invited to attend the finals of the annual Elevator Pitch Competition, hosted by the Collegiate Entrepreneurs' Organization. The event is 5:30 p.m. Wednesday, Oct. 17, at the Innovation Center at Whitewater University Technology Park. Free appetizers and beverages will be provided. Foxconn representatives will be attending and promoting their Smart Cities, Smart Futures competition.



UW-Whitewater to be part of the Blackhawk Community Credit Union new headquarters

University of Wisconsin-Whitewater will find an additional home in downtown Janesville to complement the UW-Whitewater at Rock County Campus when the Blackhawk Community Credit Union headquarters opens.


Nontrad student nominations

Have you been impressed with the way a nontraditional student finds the time to juggle their work and home obligations and still finds the time to succeed in their academics and contribute to the university community? Nominations for the Outstanding Nontraditional Student Award are due Friday, Oct. 19.



Deadline: Student speaker competition

December graduates are invited to apply for the honor of serving as student speaker at winter commencement.


Campus Kudos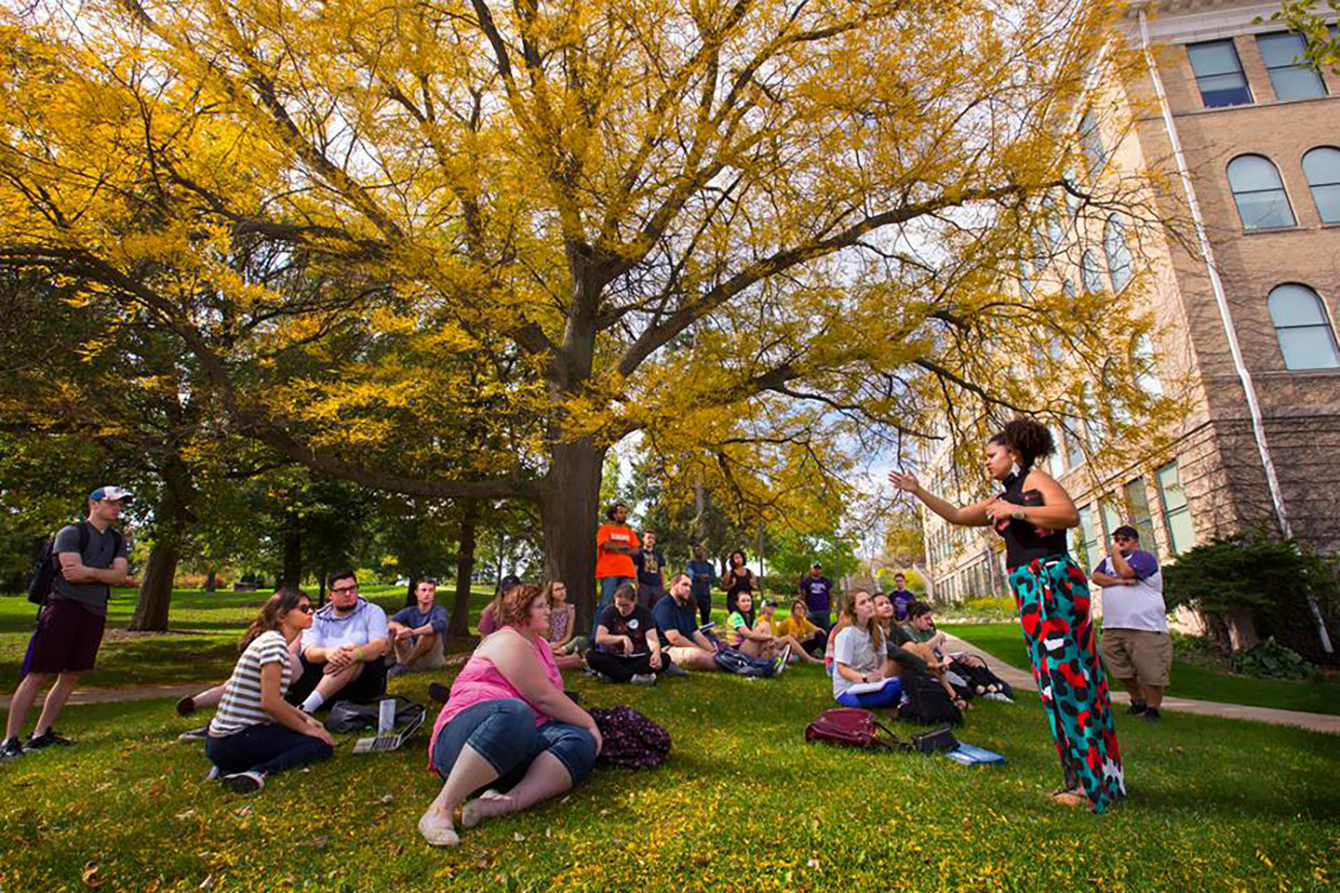 Kudos to Chandra Waring, assistant professor of sociology, criminology and anthropology, who won the Wisconsin Sociological Association's Hans O. Mauksch Outstanding Teacher Award. Waring was honored Oct. 5 at the group's conference at UW-La Crosse. She is pictured here teaching a Minority and Multiracial Families class on Oct. 9 on the lawn near Hyer Hall.

Kudos to DBA candidate Dexi Zheng, who successfully defended his doctoral dissertation, "Autonomy, proactiveness and firm performance in the entrepreneurial small- and medium-sized enterprises of the United States," on Sept. 21.

Kudos to the UW-Whitewater AMA students who competed at the Impact Sales Competition held in Hyland Hall on Sept. 21. Senior marketing majors Keven Bell and Nicole Alt won first and second place, respectively, while marketing majors Andy Ruffing, Abby Morgan, Alec Arndt and Amanda Emran tied for fourth place.

Kudos to the UW-Whitewater Sales Team, which had an exceptional performance at the 15th Annual Ball State Sales Competition in Muncie, Indiana, on Sept. 20-21. Competing against some of the top collegiate sales teams in the country, general business and marketing major Brianna Oelke tied for first place, and marketing majors Matthew Young and Thomas Zoerner tied for sixth place. Marketing major Samuel Gobert served as student trainer for this intense event, while Associate Professor Pavan Chennamaneni led as the team coach for the first time.

Kudos to Brandi Niemeier, associate professor of health, physical education, recreation and coaching, who will present at the Australian Council for Health, Physical Education and Recreation international conference, Jan. 14-16 in Canberra, Australia. Her session is titled "Promoting Health and Inclusion through Non-traditional Programming."


| | |
| --- | --- |
| Julia Ince, lecturer of art and design, talks about the history and meaning behind the artistic works found in Janesville schools. | Miguel Aranda of the University Center and Jim Winship, professor emeritus, appeared on Telemundo Wisconsin to discuss voter registration. |
Submit your stories

We are always looking for great story ideas. If you know of a student or faculty or staff member who deserves a shout-out, or want to promote a campuswide event, email us at news@uww.edu by noon Friday. Submissions may be edited for length or content. View Archives »