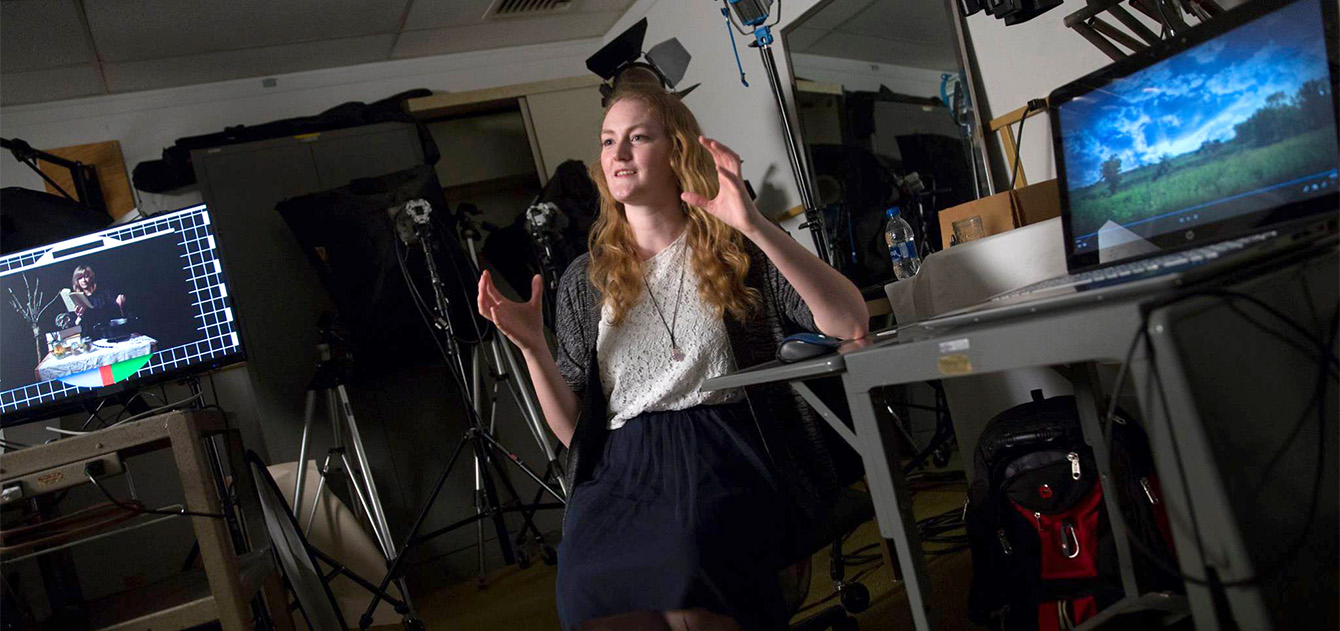 "Moving Portraits" brings witches and wizards to life

Media Arts and Game Development students brought witches and wizards to life through hands-on learning, collaboration and visual effects. This series, Moving Portraits, was created for the Wizards and Warriors Festival and allowed students to reach beyond the classroom and into the digital world of brews, broomsticks and creativity.


Photos: Warhawks accept the 2018 Ann Lydecker Educational Diversity Award

Members of the Warhawk family accepted the 2018 Ann Lydecker Educational Diversity Award from the Wisconsin State Council on Affirmative Action at the State Capitol on Oct. 26, for a STEM research summer program.




Photos: CoEPS goes rappelling

The College of Education and Professional Studies staff jumped out of their comfort zone and from the grandstands of Perkins Stadium to try rappelling, an activity that came about from a desire to socialize more. The controlled descents were guided by cadets and staff from the ROTC program, which is a part of the college, and one National Guard rappelling specialist.


Voter information for students

Are you voting on Election Day, Tuesday, Nov. 6? Visit the link below for information on what you need to do to vote in Whitewater.



Nonprofit Week

Join us Tuesday, Nov. 6 through Thursday, Nov. 8 for events to celebrate the challenging and rewarding opportunities nonprofit organizations provide. Learn about perceptions, how to overcome roadblocks and discuss varied careers available in the nonprofit sector.




Science outreach to host public tye die event

Science Outreach will be holding a public tie dye event from noon-4 p.m. on Friday, Nov. 2 and 9 a.m.-2 p.m. on Saturday, Nov. 3 in Upham Hall, Room 150. Bring your own 100% cotton t-shirt and just pay for dye, or purchase an adult shirt and dye for $12. Youth sizes also available.


Free membership to the Council on Undergraduate Research

All faculty, staff and students may join the Council on Undergraduate Research as an individual member at no cost. Benefits include: access to the CUR Community, which allows you to share questions and ideas, network and identify resources; a free electronic subscription to Scholarship and Practice of Undergraduate Research — CUR's scholarly journal that highlights useful and inspiring information about student-faculty collaborative research; discounts on CUR conference and institute registrations and more. To join, please send your name and email to urp@uww.edu no later than Nov. 15.




150 service spotlight

Each semester, Lambda Chi Alpha holds a food drive to support the Whitewater and Milton food pantries. This semester, during Homecoming, the group collaborated with Alpha Gamma Delta and Phi Delta Theta, collecting more than 3,328 pounds of food. Warhawks everywhere are contributing to our Sesquicentennial service challenge to collectively reach 150,000 volunteer hours. Log your hours today!


Veteran and military service member recognition

UW-Whitewater will honor and celebrate veterans and service members through a variety of events from Monday, Oct. 29-Monday, Nov. 12, 2018.



Tea with the Chancellor

Chancellor Beverly Kopper welcomes the campus community to her next tea on Monday, Nov. 5, from 3-4 p.m. in the University Center, room 259.


Funds available for Sesquicentennial celebrations

Is your department or organization planning events that celebrate UW-Whitewater's 150th anniversary? You are encouraged to submit your idea/proposal, along with a funding request, to the Sesquicentennial Committee.



Upcoming Events


Men's Soccer vs. UW-Platteville
7 p.m., Wednesday, Oct. 31
Fiskum Soccer Field
WIAC championship volleyball semifinal vs. UW-Oshkosh
7 p.m., Thursday, Nov. 1
Russell Arena, Williams Center
Comedian Lafayette Wright
7:30 p.m., Thursday, Nov. 1
Down Under, University Center
UW-W Percussion Ensemble
7:30 p.m., Thursday, Nov. 1
Light Recital Hall, Greenhill Center
Film: Suicide - The Ripple Effect
5 p.m. Monday, Nov. 5
Summers Auditorium, University Center
Campus Kudos


Kudos to students of King/Chavez Scholars and Black Student Union student leaders for their invitation to the NAACP of Beloit to attend the organization's Annual Freedom Fund Banquet on Thursday, Oct. 25.

Kudos to several UW-Whitewater participants at the International Colloquium on Black Males in Education in Dublin, Ireland Oct. 23-25. LaVar Charleston, assistant vice chancellor of student diversity, engagement and success and Kenny Yarbrough, chief equity, diversity and inclusion officer, were featured speakers and Shante Fossie, Natara Boatman, Devante Simmons and Deonte Iverson presented their undergraduate research at the conference.

Kudos to Michael Hammer, associate professor of communication sciences and disorders, who was invited to present at the 2nd International Dysphagia Symposium at Fujita Health University in Toyoake, Aiichi, Japan, the 24th Annual Meeting of the Japanese Society of Dysphagia Rehabilitation in Sendai, Miyagi, Japan, and the joint Korean-Japanese Dysphagia Society Meeting at Tohoku University in Sendai, Japan.

Kudos to Robert Meyers, lecturer of accounting, who has been awarded $6,750 from the Internal Revenue Service. The purpose of this award will to be support the 2019 Volunteer Income Tax Assistance (VITA) Clinic. VITA offers trained volunteers to assist individuals with low to moderate income, persons with disabilities, the elderly and those with limited English proficiency.

Kudos to Brenda O'Beirne, associate professor and department chair in the Counselor Education department, who will receive the first-ever David Van Doren Leadership and Service Award at Wisconsin Counseling Association conference on Monday, Nov. 5, 2018.

Kudos to Jo Ann Oravec, professor of information technology and supply chain management, who will present the paper "Schools for Scandal? Academic Misconduct in US Films about Higher Education" at the Film & History Annual Conference on Friday, Nov. 9, 2018, in Madison, WI.

Kudos to faculty members Susan Huss-Lederman, Juk Bhattacharyya and Brianna Deering, who were published in the Science Education and Civic Engagement journal. They describe their participation in the Do Now U Project, a collaboration between the National Center for Science and Civic Engagement and KQED Public Media. The project paired two courses, Environmental Geology and College Writing in English as a Second Language, and required students to write blog posts on environmental topics. This project provides students with valuable opportunities to research open-ended questions with important social impact while learning to collaborate and to communicate effectively.


In the Media
| | |
| --- | --- |
| Kudos to Warhawk alumni Blake Fontana and other participating members of the Warhawk family for their green initiatives. UW-Whitewater has made Princeton Review's "Green Colleges" list for 2018 based on their efforts for going green. | Kudos to LaVar J. Charleston, assistant vice chancellor of student diversity, engagement and success, for his committment to help lead the Graduate Academy at the International Colloquium on Black Males in Education. |
| | |
| --- | --- |
| Kudos to UW-Whitewater's pep band for being recognized by the NCAA for their up-tempo soundtrack renditions and their ability to liven up a crowd. | Kudos to Warhawk football's defensive squad for ranking first in the country in scoring defense (4.3 points per game allowed) as they continue to climb up the D3football.com Top 25. |
Submit your stories

We are always looking for great story ideas. If you know of a student or faculty or staff member who deserves a shout-out, or want to promote a campuswide event, email us at news@uww.edu by noon Friday. Submissions may be edited for length or content. View Archives »