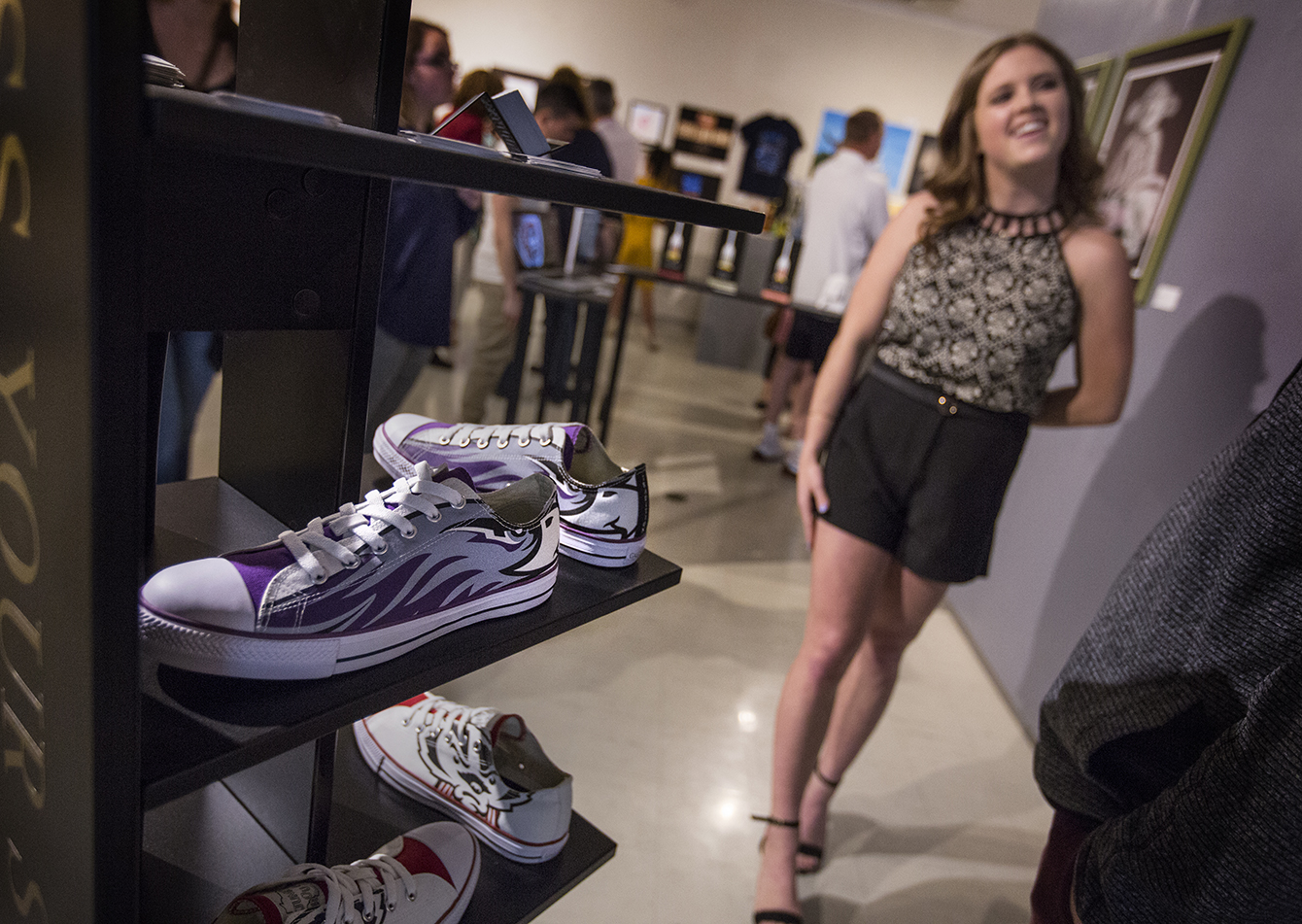 VIDEO: Art meets entrepreneurship

What started as a love for art turned into a thriving business for UW-Whitewater alum Anna Tracy, who earned a B.A. in graphic design with a minor in entrepreneurship in May 2018. Tracy, who is founder and CEO of the custom branded footwear company GreetFeet, is grateful to her art and Launch Pad professors who helped her pave to make her dream a reality. Tracy, a former athlete, is using GreetFeet to give back to fellow athletes. A portion of the proceeds from each pair sold funds the programs of the teams that sold them.


PHOTOS: Warhawk football advances to second round of NCAA Division III playoffs

The Warhawks defeated Eureka College to advance into the second round of Division III NCAA football playoffs. Join them at noon this Saturday, Nov. 24, at Perkins Stadium as they take on St. Norbert.



PHOTOS: Wheelchair basketball hosted national tournament

The UW-Whitewater men's and women's wheelchair basketball teams hosted a two-day tournament of teams from the U.S. and Canada in Kachel Fieldhoue on Friday and Saturday, Nov. 16-17.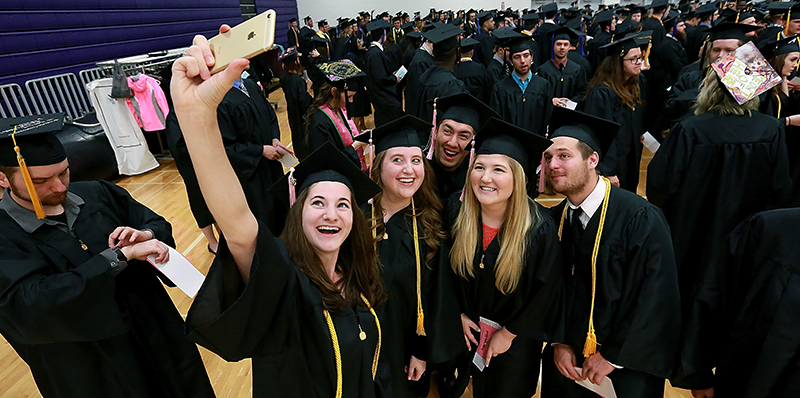 Commencement tickets ready for pick-up
Attention December graduates! Commencement tickets can be picked up now through Friday, Dec. 14, at the Ticket Services desk in the Greenhill Center of the Arts. Each graduate is given seven tickets and must present a photo ID.


Hired Before Graduation - December 2018
Are you graduating in December? Congratulations! If you've already landed a job, been accepted to graduate school or started your own business, we invite you to stop by the Old Main Ballroom (room 275B) in the University Center to have your photo taken for the Hired Before Graduation campaign. Times are 7 a.m.-noon on Tuesday, Dec. 4, and 2:30-6:30 p.m. on Wednesday, Dec 5. No appointment is needed. See you there, Warhawks!​


#GivingTuesday

#GivingTuesday is a global day of giving that harnesses the collective power of individuals, communities and organizations to encourage philanthropy and to celebrate generosity worldwide.

On Tuesday, Nov. 27, we'll come together as members of the Warhawk family to give back to the UW-Whitewater community and support student success. Join fellow UW-Whitewater faculty, staff, students, alumni and friends in championing this global day of philanthropy by making a gift to the Warhawk Emergency Fund or another fund of your choice.



Kyle Whyte to speak on campus Nov. 26

The College of Letters and Sciences Contemporary Issues Lecture Series continues Monday, Nov. 26. Kyle Whyte will present "Indigenous Sustainability: Honoring Lands, Resurging Communities, Resisting Injustice" at 7 p.m. in Young Auditorium. The event is free and open to the public.



What do you think about the Campus Food Pantry?

The Campus Food Pantry has been open since March 2018. Whether you've used it, just heard about it or had no idea there even was a food pantry on campus, we'd like to ask you a few questions. As with the pantry itself, the survey is open to all.


LEAP Workshops 2019

All UW-Whitewater and Rock County Campus faculty, employees, and students are invited to form teams and apply to participate in this year's LEAP workshop series. LEAP (Liberal Education and America's Promise) is an initiative aimed at helping teams develop action plans to enhance collaboration and improve student learning and success. Nearly 800 people on 152 teams have participated so far. Now it's your turn! The application deadline is Friday, Nov. 30.



Win a free parking pass

The UW-Whitewater Police Department and Parking Services are calling all budding artists! We are seeking an infographic to represent the Run, Hide, Fight principles of an active threat response. The infographic must be visually appealling, applicable to posters, pamphlets and presentations, simplistic and individualized to our UW-Whitewater campuses. Chief Kiederlen will pick the winning design. Entries must be received by Dec. 13. Entries can be submitted electronically to police@uww.edu in PDF, Microsoft Publisher or PowerPoint formats. Physical entries may be dropped at department in Goodhue Hall, attention Chief Kiederlen. Electronic entries are preferred. The winning entry will be announced in January. The designer will win a FREE parking permit (blue, yellow, or green as appropriate) for the 2019-2020 school year! Specific questions can be sent to Chief Kiederlen at kiederlm@uww.edu.


Campus Kudos
| | |
| --- | --- |
| Kudos to the student organization Institute of Managerial Accountants for winning the National Award of Excellence - 2018 Gold Chapter of the Year. Students Samantha Rennie, Nathan Schueler, Brett Hiess, Benjamin Sigwart, Tanner Dechant and Nayeli Govantes Alcantar traveled to the2018 National IMA Leadership Conference in St. Louis, Missouri, Nov. 1-3. In addition to the chapter award, Govantes Alcantar was named national winner of the Student Manuscript Competition. The chapter adviser is Officer Ryan Dewing, University Police. | Kudos to K. Praveen Parboteeah, who has been selected as Distinguished Professor of the College of Business and Economics for the next three years. Recipients of this honor must demonstrate exemplary leadership in all areas of teaching, service and research. Parboteeah has consistently achieved excellence as a teacher at undergraduate as well as the doctoral levels. His commitment and leadership have been instrumental in the inception and success of the Doctorate of Business Administration — which recently welcomed its fifth cohort. |
Kudos to Courtney Luedke, assistant professor of higher education leadership, who co-presented with Miao-Ching Liu, inclusive excellence fellow, and alumna Tera Holtz-Wagner on a paper titled, "Making Sense of Students' Ecuadorian Experiences: Cultural Intelligence Revisited" at the Association for the Study of Higher Education in Tampa, Florida, on Nov. 16.

Kudos to Katherine Drechsler, assistant professor of social work, who presented her research on "Engaging in Diversity and Difference in Practice Competency" at the Council of Social Work Education annual conference in Orlando, Florida, Nov. 8-11.

Kudos to Jeannine Rowe, associate professor of social work, who won the $85,000 Bader Philanthropies Board Grant for her Project GREY project. She will be working with Yeongmin Kim, assistant professor of social work, on this project for the next year.

Kudos to LaVar Charleston, assistant vice chancellor for student diversity, engagement and success, who presented "African American Males' Attitudes Toward the Scientific Workforce: Implications for Educational and Occupational Decision Making Toward STEM" at the Association for the Study of Higher Education annual conference Nov. 14 in Tampa, Florida.


In the Media
| | |
| --- | --- |
| Ron Berger, A professor emeritus of sociology, wrote "Children, Save Yourselves! One Family's Story of Holocaust Survival," recounting his family's harrowing ordeal as they escaped the Nazi regime. | Freshmen Mitchell Krien and Michael Nielsen are among five members of Boy Scout Troop 129 who have earned the highest rank in the Boy Scouts of America, that of Eagle Scout. |
Submit your stories

We are always looking for great story ideas. If you know of a student or faculty or staff member who deserves a shout-out, or want to promote a campuswide event, email us at news@uww.edu by noon Friday. Submissions may be edited for length or content. View Archives »