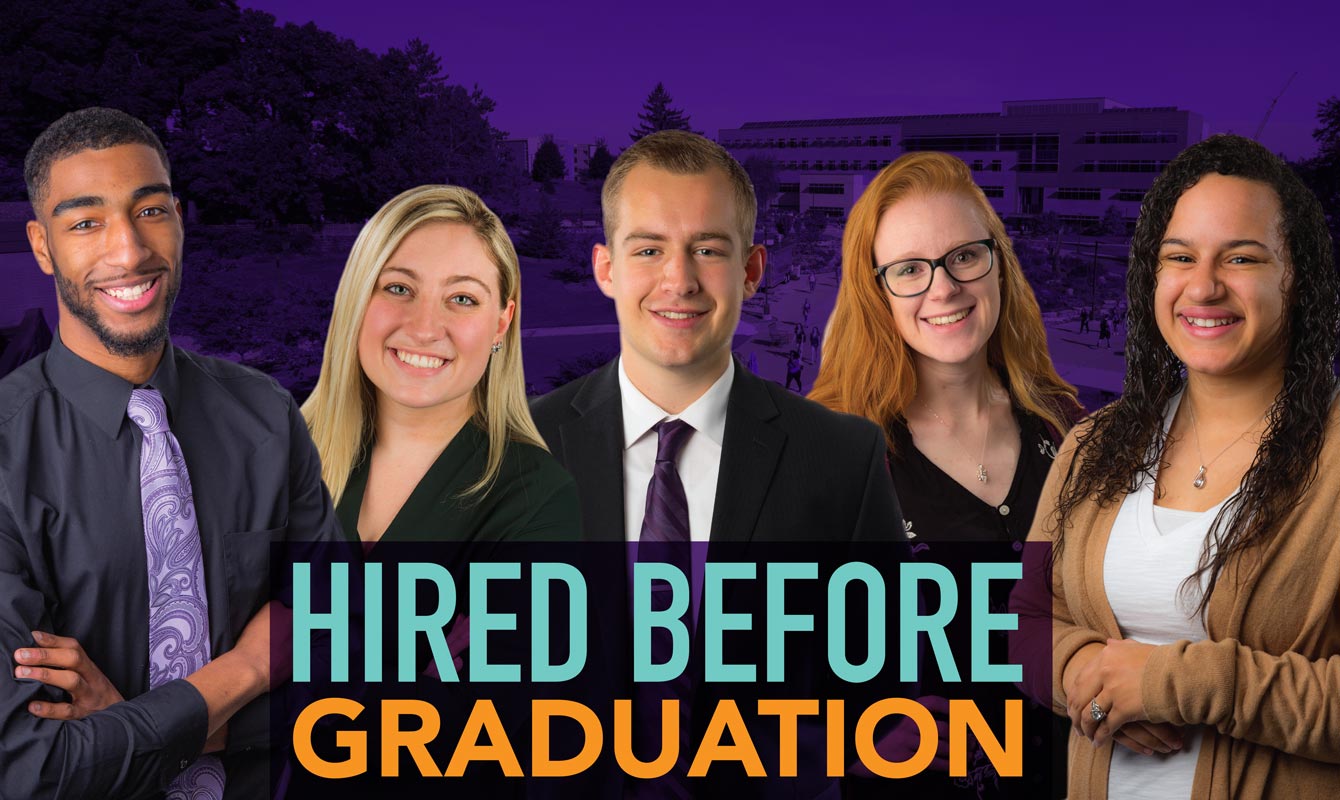 PHOTOS: Hired Before Graduation

With winter commencement right around the corner, we are celebrating our talented Warhawks who have either landed a job, been accepted to grad school or started a business prior to graduation. Congratulations, Warhawks!


Winter commencement set for Dec. 15

More than 782 students will march across the stage to receive their degrees at the 2018 winter commencement. The ceremony begins at 10 a.m. on Saturday, Dec. 15, at Kachel Fieldhouse. This year's commencement speaker is alum Kwame Salter and the student speaker is Starr Lee.

Graduates are asked to view this training video.



PassportParking app

Over winter break, physical parking meters on campus will be removed and the metered parking spaces will transition to meter-less parking with the PassportParking Mobile Pay app, an easy-to-use, free application available on iOS and Android devices. This app will only be used for spaces currently marked as metered parking. It does not affect general parking/permits.



PHOTOS: Warhawk Football finishes the season 13-1

Warhawk Football's season came to an end with a loss to the University of Mary Hardin-Baylor in Belton, Texas during the semifinals. They ended the season with a 13-1 record. Read the game recap here.



Student Organization recognition Spring 2019

The Student Organization recognition process for the Spring 2019 semester is open until noon on Friday, Dec. 21. If your organization was not previously recognized this academic year, you still have time!




Technology Surplus Sale
Take advantage of great pricing on used equipment for your home or personal use at the Technology Surplus Sale from 9 a.m. to 3 p.m. on Wednesday, Dec. 12 in the Andersen Library, room 1213. All equipment is sold as is.


2019 University Award process

The Office of the Provost reminds all faculty and academic staff about the 2019 University Award process. Nominations for the following awards are currently being accepted:

Roseman Teaching Award
Outstanding Research Award
Faculty Service Award
University Faculty/Staff Academic Advising Award
Excellence Award for instructional Academic Staff
Excellence Award for non-instructional Academic Staff





New business cards for faculty/staff

A new business card design with the updated university logo is now available to order!


Relaxathon: a chance to relax before and during finals

Relaxathon is back. This stress-relieving outlet is offered Monday, Dec. 3, through Thursday, Dec. 20, and most of the events take place in the Andersen Library. Enjoy a Stress Navigation Station, Relax Snax, Word Search Relay and large-scale, marquee events such as NBA 2K19 Gaming Tournament, Paint & Sip and Life-Size Gaming.



Reminder for graduates: Senior Outcomes Assessment Survey

Graduating seniors are reminded to take the Senior Outcomes Assessment Survey (SOAS). An email was sent on Wednesday, Nov. 14 (from the Registrar's Office), with a link to the survey. You may notice an SOAS hold on your WINS account. This is a reminder to complete the survey by Friday, Dec. 14, at the latest. Holds will be removed every three days. Contact assessment@uww.edu with questions.


Provost office hours

Provost Susan Elrod will be available for office hours Wednesday, Dec. 12, in the University Center near Roberta's Gallery from 10:15-11:15 a.m.







Campus Kudos

Kudos to Ruth K. Hansen, assistant professor of management, who presented "A Penny for Your Thoughts: How do Fundraisers Think about Clients and Donors When Writing Appeals?" at the 47th Annual Conference of the Association for Research on Nonprofit Organizations and Voluntary Action.

Kudos to Carol Brunt, assistant professor of management, who presented "Continuing to Build Knowledge: Undergraduate Nonprofit Programs in Institutions of Higher Learning" at the 47th Annual Conference of the Association for Research on Nonprofit Organizations and Voluntary Action.



In the Media

Seniors Heather Bown, Terrel Morgan, Dolton LaCassa, Devon Brunsell, Jamie Meyer, Sydney VanZeeland, Bree Unger, Ed Steckley, and Robert Marinelli are displaying their art in the Crossman Gallery through Saturday, Dec. 15. Read more »


| | |
| --- | --- |
| Derek Kumerow, a sophomore and wide receiver on the football team, discusses his inspiration and love for the sport of football, similar to his older brother, Jake. | King Chavez Scholars spend time at Converse Elementary School, inspiring second graders to pursue post-secondary education as they get older. |
Submit your stories

We are always looking for great story ideas. If you know of a student or faculty or staff member who deserves a shout-out, or want to promote a campuswide event, email us at news@uww.edu by noon Friday. Submissions may be edited for length or content. View Archives »