Join us for a welcome reception

The campus community is invited to a special reception as we welcome Interim Chancellor Cheryl Green to UW-Whitewater. Please join us for refreshments and fellowship!

The event is 3-5 p.m. Thursday, Jan. 24, in the James R. Connor University Center, Room 275. Parking is free on campus during the reception.


Martin Luther King Jr. commemorative discussion and movie

At 5 p.m. Tuesday, Jan. 29, in the University Center Summers Auditorium, Assistant Professor of Political Science Eric Loepp and members of the Chancellor's Inclusive Excellence Committee will host a discussion focusing on civil rights from the 1960s to today. This discussion will be framed by the video production of excerpts from the Birmingham letter as well as the historical significance of the march in Selma, Alabama. This will set the stage and context for a free 7 p.m. showing of the powerful movie "Selma," which depicts the historic 1965 voter rights marches from Selma to Montgomery, Alabama.



A commemorative keynote: Where Do We Go From Here? Reflections on the Life and Legacy of Dr. King

Dr. Terrance L. Green, assistant professor at the University of Texas at Austin in the department of educational leadership and policy, will be speaking at 6 p.m. on Wednesday, Jan. 30, in the Hamilton Room. Dr. Green's research focuses on urban school reform and socially just community development.



Spring Hawk Career Fair

Stop by the Spring Hawk Career Fair on Tuesday, Feb. 5, and Wednesday, Feb. 6, 2019, from 11 a.m. to 3 p.m. in the University Center, Hamilton Room and Ballroom. Students and alumni from all majors will have the opportunity to meet with more than 130 employers looking to hire for full-time positions and internships.

To view the full list of employers attending each day of the event and the available opportunities, visit Handshake.

For questions, contact Career and Leadership Development at career@uww.edu or 262-472-1471.



Scholarship and Creative Achievement Exhibition Jan. 29–31

An exhibit of works recognizing faculty and staff for their scholarship and creative achievements of the previous academic year will take place next week at Crossman Gallery, Jan. 29-31. The purpose of the event is to promote a free exchange of ideas and to encourage and stimulate further research and creative activity. A reception, featuring music and refreshments, will take place 3-4:30 p.m. Tuesday, Jan. 29.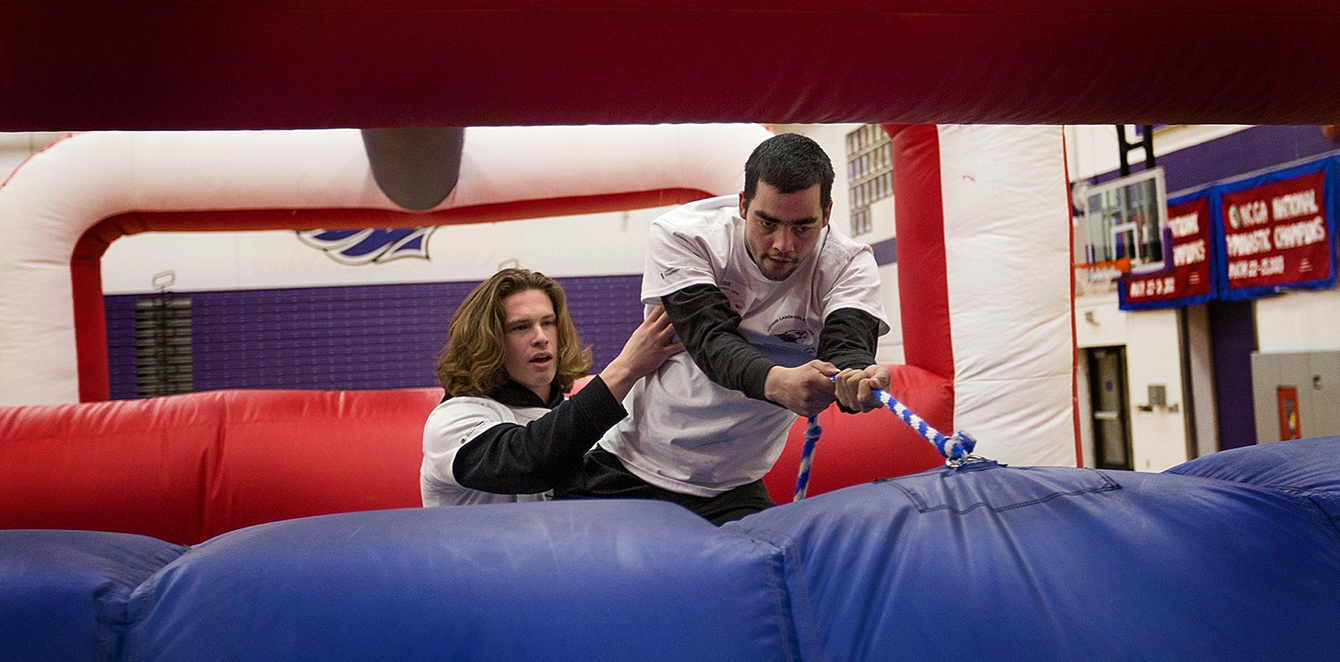 PHOTOS: Special Olympians pair with UW-Whitewater for a day of training
An Athlete Leadership Academy at UW-Whitewater paired Special Olympians with UW-Whitewater student-athletes for a day of training, fellowship and a basketball game.


PassportParking app

Over winter break, physical parking meters on campus were removed and the metered parking spaces transitioned to meterless parking with the PassportParking Mobile Pay app, an easy-to-use, free application available on iOS and Android devices. This app will only be used for spaces currently marked as metered parking. It does not affect general parking/permits.



We've moved!

The offices of Student Affairs and the Dean of Students are now located in Andersen Suite 2130. The entrance is next to the purple UW-Whitewater sign on Main Street.

Our office phone numbers remain the same: 262-472-1051 (Student Affairs) and 262-472-1533 (Dean of Students).

We hope you'll visit us in our new space!

Assessment Day is Feb. 27, proposals are now being accepted

Join the Office of Academic Assessment on Feb. 27 for an afternoon of sharing and celebration of assessment! Across campus, faculty and staff are assessing student learning in exciting ways. Share your ideas, data, assessment tools — and take the opportunity to brainstorm and learn from others as you enjoy lunch, posters and presentations! Proposals are due by noon Jan. 31.



Assessment Grant applications are now being accepted

Applications for this year's Assessment Grant are due to the Office of Academic Assessment by Feb. 8. For more information about how to apply, please visit uww.edu/assessment/grant.



Chancellor's Chat

Interim Chancellor Cheryl Green welcomes the campus community to chat with her on Tuesday, Jan. 29, from 11 a.m. to noon in the University Center, room 275.


Nominations for Women in Leadership

The 14th annual Women in Leadership reception honoring outstanding women on the UW-Whitewater campus will take place on March 14, 2019, at 3:30 p.m. in the Fern Young Terrace. Any UW-Whitewater woman who has exemplified leadership qualities on campus and/or in her community is eligible for this award. The deadline for nominations is January 29, 2019.



Wisconsin Governor's Business Plan Contest open for 2019 entries

The 16th annual Wisconsin Governor's Business Plan Contest is accepting entries online for the 2019 competition until 5 p.m. Thursday, Jan. 31, 2019. The contest, designed to encourage entrepreneurs in the startup stage of tech-based businesses in Wisconsin, allows students valuable public and media exposure and a chance to raise money for their ventures.







New employees/New roles

In this section of UW-Whitewater This Week, we welcome employees to the Warhawk family and recognize colleagues who received new positions on campus.

Lynn Perkins has been hired as recruitment and retention program advisor for the College of Education and Professional Studies.



Campus Kudos

Kudos to Uma Kedharnath, assistant professor of management, and Kelly Delaney-Klinger, associate professor of management, for presenting a professional development workshop, Navigating the Big World of Big Data and HR Analytics, at the third HR Division International Conference in Dublin, Ireland, on Wednesday, Jan. 9. The conference brought together HR scholars from all over the world to discuss the current state of research and practice in human resource management.

Kudos to Franklin Goza, interim dean of the College of Letters and Sciences, who will serve as a co-investigator on a Howard Hughes Medical Institute sub-award from UW-Madison. UW-Whitewater will receive $115,000 of the total $1,000,000. Goza and faculty from UW-Madison and Madison Area Technical College will create STEM pathway courses between two-year technical colleges and fpur-year institutions and to provide faculty and staff with professional development opportunities to learn to work effectively with and meet the needs of transfer students.



In the Media

Dan Stalder, professor of psychology, details the affects of tribalism during the current government shutdown. Read more »

Susan Johnson, associate professor of political science, discusses House Speaker Nancy Pelosi's request to postpone the annual State of the Union address and the response from President Trump. Read more »

Foreclosures in Wisconsin have hit an 18-year low and Russell Kashian, professor of economics, provides insight into the drop, despite it still being an issue in parts of Wisconsin. Read more »

Ony July 25, 1961, Martin Luther King Jr. visited what is now the University of Wisconsin-Whitewater to share his message against segregation. Read more »


| | |
| --- | --- |
| UW-Whitewater is connecting with the Janesville community in ways that go well beyond the recent campus merger. | Christina Outlay, associate professor of information technology and supply chain management, is founder of the organization colorcoded, which seeks to inspire and encourage more females and people of color in the tech industry. |
Submit your stories

We are always looking for great story ideas. If you know of a student or faculty or staff member who deserves a shout-out, or want to promote a campuswide event, email us at news@uww.edu by noon Friday. Submissions may be edited for length or content. View Archives »