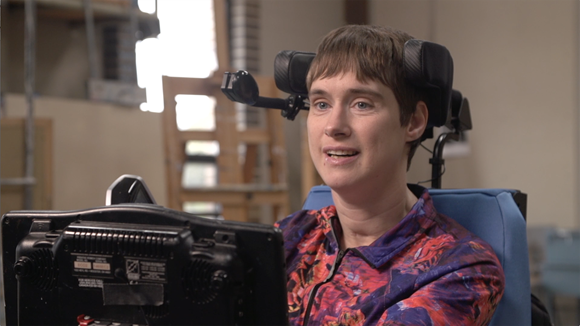 VIDEO: This is what it means to be a Warhawk — pursue your passions, overcome obstacles, aspire for excellence

Anastasia Wilson inspires us. Powered by her own determination, and with the help of caring faculty and staff at UW-Whitewater, Anastasia — who was born with cerebral palsy and dyslexia — graduated cum laude in 2009 with an art degree. She is living her dream and motivating the next generation.


Student commencement speaker competition

Graduating seniors are invited to apply for the honor of serving as student speaker at Spring Commencement. The deadline to apply is 4 p.m. Thursday, March 7.



Help extend a warm Warhawk welcome

Monday, Feb. 18, is UW-Whitewater's first-ever Warhawk Ready day, when admitted students come to campus with their families to take a closer look. We encourage everyone to wear purple and give them your warmest Warhawk welcome — you'll know them by the lanyards they're wearing.



Relieve stress with our four-legged Warhawk family members from noon to 2 p.m. on Tuesday, Feb. 19, in the Andersen Library. Pet therapy, which occurs regularly on alternating Mondays and Tuesdays, provides a safe and relaxing enviornment for students to unwind.



Income tax presentation

A free presentation on income taxes will be offered at 3:30 p.m. on Wednesday, Feb. 20, in Hyland Hall, Room 1302. Learn about when and how to file and the responsibilities of filing as a college student.

For more information or special accommodations, contact Robert Meyers: MeyersRH27@uww.edu.

Updated Parking Services website

The updated website has information about the PassportParking App, a Frequently Asked Questions section, and an event page for campus departments to request parking for event or speakers.



Strategic Enrollment Planning open forum

The campus community is invited to attend an open forum to learn more about UW-Whitewater's Strategic Enrollment Planning (SEP) process and emerging strategies for improving enrollment at both the main and branch campuses. This forum will be held on Wednesday, Feb. 13, from 3:30 to 5 p.m. in the Hamilton Room of the James R. Connor University Center.


Free family fun day

Chase away the winter blues with Young Auditorium's Family Fun Day from 2 to 5:30 p.m. on Sunday, Feb. 17, in the Young Auditorium. The building will be transformed into a fun zone with a series of family-friendly activities for children of all ages. Let your kids exercise their bodies and theirs minds at this totally free event.



Upcoming Events


We Give Our Consent
Wednesday, Feb. 13 through Tuesday, Feb. 26
Crossman Gallery
Open Mic Night
6 p.m. Thursday, Feb. 14
University Center, Down Under
JEN Valentine Swing Dance
7:30 p.m. Friday, Feb. 15
University Center, Down Under
Men's Basketball vs UW-River Falls
5 p.m. Saturday, Feb. 16
Williams Center
Guest Artist, Otis Murphy, saxophone with Haruko M
7:30 p.m. Saturday, Feb. 16
Light Recital Hall
Violin Studio Recital
7:30 p.m. Sunday, Feb. 17
Light Recital Hall

Assessment Day keynote speaker announced

Join us in welcoming Dr. Peter Felten for Assessment Day 2019 on Wednesday, Feb. 27. Dr. Felten will discuss High Impact Practices and how recent research on transfer can inform the design and assessment of student learning experiences in and beyond the classroom. Lunch is provided during the keynote, so please RSVP on signup.uww.edu.




Now accepting applications for Assessment Fellowship 2019

An exciting leadership development opportunity is being offered by the Office of Academic Assessment called the Assessment Fellows Program (AFP). This program aims to provide interested faculty members across UW-Whitewater and UW-Whitewater at Rock County with the opportunity to develop knowledge, skills and understanding of campus-level academic assessment, and specifically student learning assessment. Applications for the program are due by March 6, 2019.


Training for active threat situations

During Civilian Response to Active Shooter Events training, UW-Whitewater Police will provide you with information to assist in the decision-making process necessary during an active threat situation.

Programs will be held:

11 a.m.-1 p.m. Thursday, Feb. 21, University Center, Room 68

10 a.m.-noon Wednesday, March 6, University Center, Room 69



Citizen Response to Active Shooter Events (C.R.A.S.E.)

C.R.A.S.E. 2.0 will be active training by UW-Whitewater Police on the run, hide, fight principles. Participants will run, learn how to hide by barricading doors and finding safe areas to hide, and participate in a fight scenario.

Programs will be held:

11 a.m. to 12:30 p.m. Thursday, Feb. 14, University Center, Rooms 68 and 69

9-10:30 a.m. Tuesday, March 12, University Center, Room 69






Campus Kudos

Kudos to Jennifer Betters-Bubon, associate professor of counselor education, who presented a preconference workshop on Integrating School Counseling Programs with MTSS to impact Student Outcomes at the Annual Wisconsin School Counselor Association conference.



In the Media

This spring, the Fairhaven lectures, presented by UW-Whitewater faculty and staff, encompasses a series of lectures entitled "A World at War: Taking a Closer Look at WWII." The next lecture, "The Decision to Drop the Atomic Bomb, Part 1" will be presented by David McKay, senior lecturer of history, on Monday, Feb. 18. Read more »

Kim Kostka, professor of chemistry at the University of Wisconsin-Whitewater at Rock County, adjusts her classroom methods to account for competency-based learning in hopes to better prepare students for success. Read more »

Susan Johnson, assistant dean of the College of Letters and Sciences and associate professor of political science, visits with Wisconsin Public Radio to provide her insight regarding lawmakers negotiating border security. Read more »


| | |
| --- | --- |
| Louis Fucilla, assistant professor of political science, will present a Fairhaven lecture, "Woodrow Wilson's Reluctant March to War in Europe." The lecture will be aired at 4:18 p.m. on Monday, Feb. 18, and can be viewed on Wisconsin Public Television's University Place. | Susan Elrod, provost, Jodie Parys, professor of languages and literatures, and Meg Waraczynski, professor of psychology, detail how shared leadership and the implementation of strategic priorities assist UW-Whitewater in recruiting, retaining and graduating students in a competitive environment. |
Submit your stories

We are always looking for great story ideas. If you know of a student or faculty or staff member who deserves a shout-out, or want to promote a campuswide event, email us at news@uww.edu by noon Friday. Submissions may be edited for length or content. View Archives »