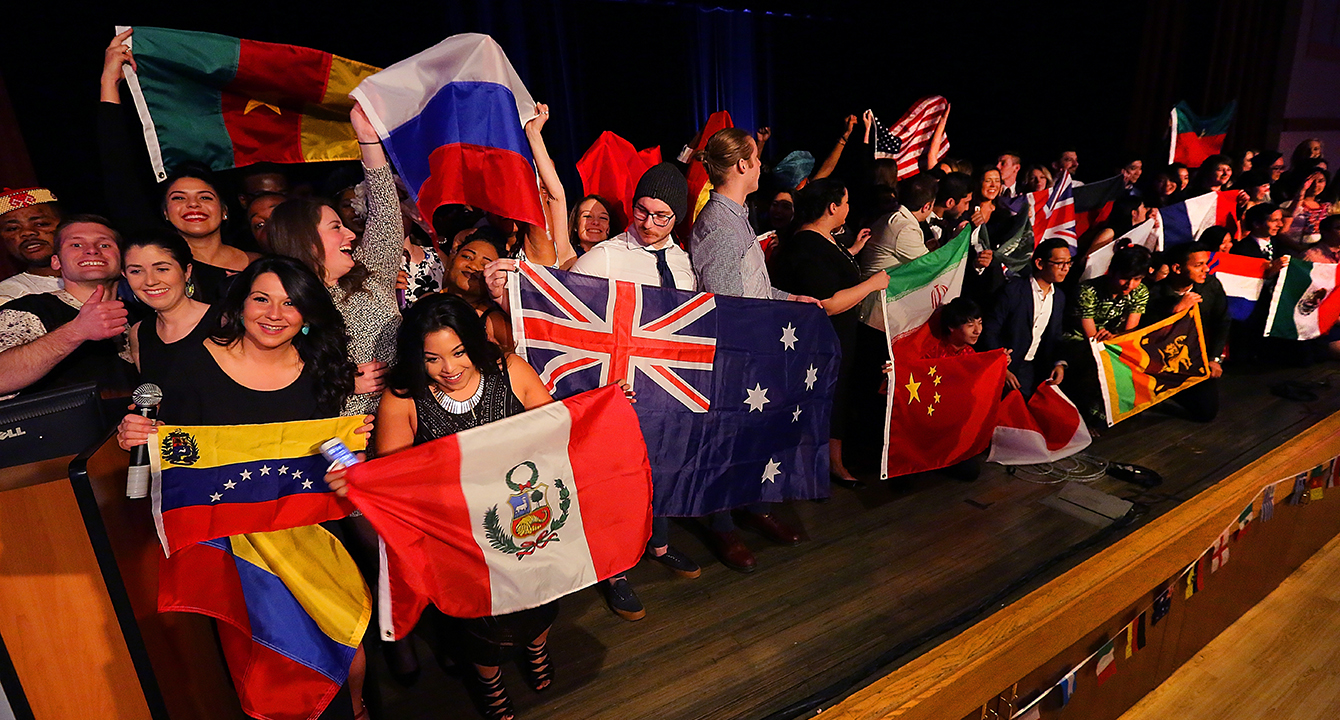 Indulge your senses with flavors and performances from around the world

Expand your palate without leaving campus. The International Dinner will provide a diverse menu of nine cuisines and performances from 13 countries across the globe. Doors will open at 5:30 p.m. on Friday, March 8, in the University Center Hamilton Room.

Tickets are $5 for students and $12 for general and are available at the University Center Information Desk and the Center of the Arts Box Office.


Student commencement speaker competition

Graduating seniors are invited to apply for the honor of serving as student speaker at Spring Commencement. The deadline to apply is 4 p.m. Thursday, March 7.



Income tax presentation

A free presentation on filing income taxes will be offered at 3:30 p.m. on Wednesday, Feb. 20, in Hyland Hall, Room 1302. Learn about when and how to file and the responsibilities of filing as a college student.

For more information or special accommodations, contact Robert Meyers: MeyersRH27@uww.edu.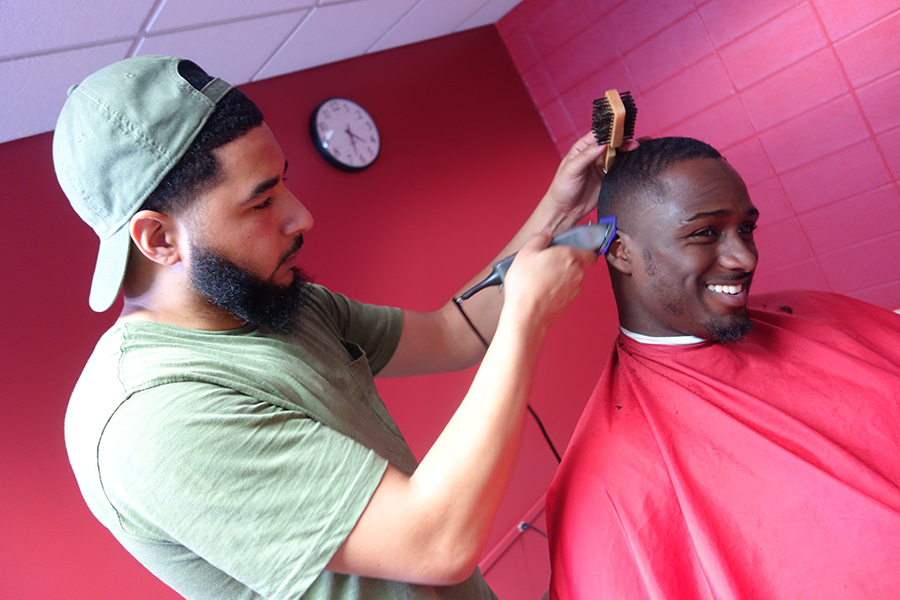 'Study N' Style' returns to Andersen Library
'Study N' Style', a highly interactive study session, offers free haircuts and grooming services to all students. In partnership with Student Diversity, Engagement & Success (SDES), Brother-to-Brother, and Hip-Hop Stylez barbershop of nearby Beloit, this Andersen Library event offers a fun environment with welcoming music, arts and craft opportunities, and snacks/refreshments.

'Study N' Style' is the last Monday of the remaining months of the school year (Feb. 25, March 18 and April 29), 4-7 p.m. in the Andersen Library, Room L1105.



Salute to Grads

The Salute to Grads event for May 2019 graduates will take place on Tuesday, March 5, and Wednesday, March 6, from 11 a.m. to 6 p.m. in the University Bookstore. The deadline for students and faculty to order cap and gowns for Spring Commencement is March 22, 2019.



Free film and food: "The Illusionists — The Globalization of Beauty"

Join University Health & Counseling Services on Wednesday, Feb. 27, at 5:30 p.m. in Winther Hall, Room 1001, to explore the link between media messages and negative body image. Free subs and snacks will be provided.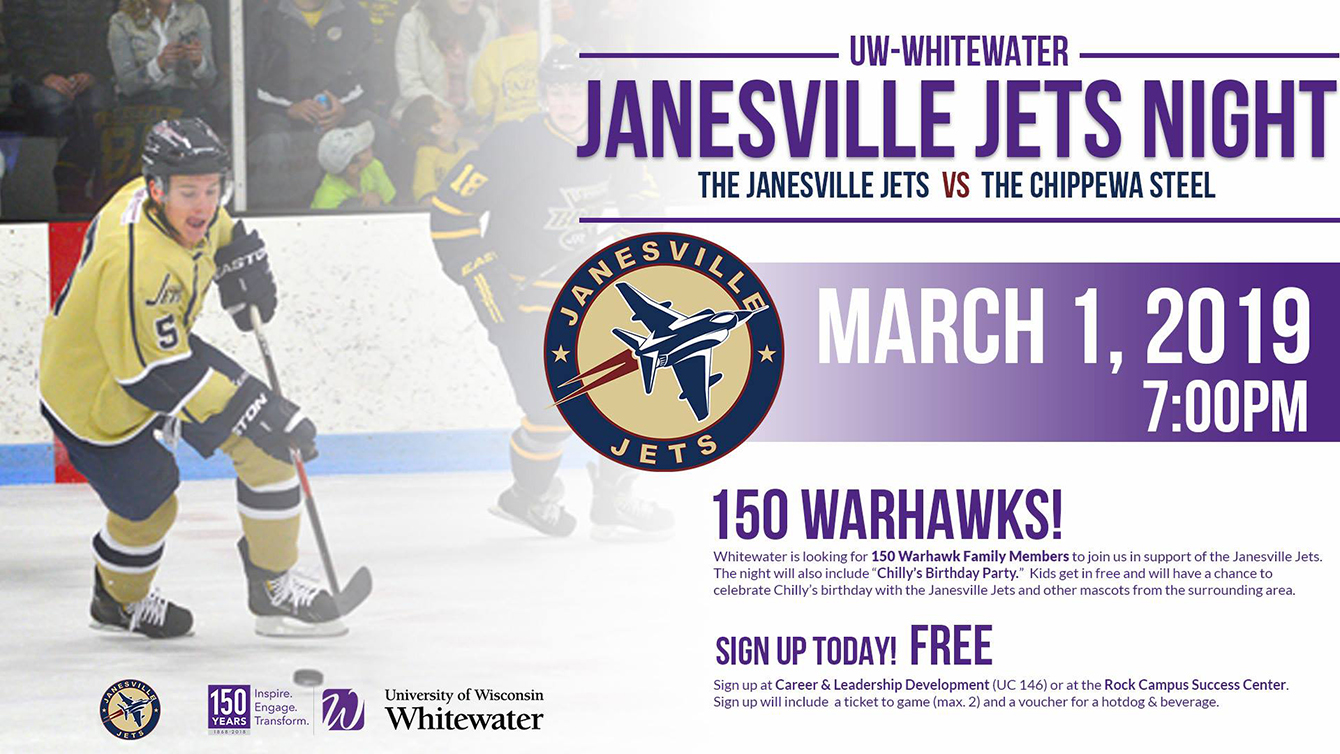 Join us for UW-Whitewater Day with the Janesville Jets
The main and branch campus students, faculty, staff and their families can sign up to attend the Janesville Jets vs. the Chippewa Steel at 7 p.m. Friday, March 1. Our goal is to have 150 Warhawk family members attend the game to help celebrate Chilly the Mascot's birthday party!

Warhawks will be able to attend via bus/shuttle or opt to drive (parking at the arena is free). Sign up will include tickets to game (maximum of 2), a voucher for a hot dog/beverage, and a piece of UW-Whitewater swag! Sign up will be coordinated via a sign up list at the Student Affairs office at the Rock County campus and at the Career and Leadership Development front desk at the Whitewater campus.



A battle of heart over head

Join us for a rollicking musical ride on a difficult path to love, filled with deception, disguise, and confused relationships. Triumph of Love will be presented by the UW-Whitewater Theatre/Dance Department at 7:30 p.m. from February 26 through March 1 and at 2 p.m. on Saturday, March 2.



Upcoming Events


Fork Farms Lecture: Alex Tyink
7 p.m. Wednesday, Feb. 20
Hyland Hall, Timmerman Auditorium
Chancellor's Quartet recital
7:30 p.m. Thursday, Feb. 21
Light Recital Hall
Lizzy the Hypnotist
7:30 p.m. Thursday, Feb. 21
University Center, Down Under
Abi Hummel and Shawn McCarron student recital
3 p.m. Saturday, Feb. 23
Light Recital Hall
Lauren Vander Linden student recital
7:30 p.m. Saturday, Feb. 23
Light Recital Hall
Jesse Clark, bass trombone recital
3 p.m. Saturday, Feb. 24
Light Recital Hall
Pet Therapy
Noon-2 p.m. Monday, Feb. 25
Andersen Library
The Decision to Drop the Atomic Bomb, Part 2
3 p.m. Monday, Feb. 25
Fairhaven Retirement Community
Bingo Night
7 p.m. Tuesday, Feb. 26
University Center, Down Under

Chancellor's Chat

Interim Chancellor Cheryl Green welcomes the campus community to chat with her on Monday, Feb. 25, from noon to 1 p.m. in the University Center, Room 275 B.



Free ping pong tournament

Join us for a ping pong tournament at 7 p.m. on Wednesday, Feb. 20, in Warhawk Alley. The tournament is free to all students, and prizes will be awarded. Don't miss out on the chance to be a ping pong champion!


Last call: Proposals celebrating teaching and learning conference

All UW-Whitewater and UW-Whitewater at Rock County faculty and staff are welcome to submit a proposal by Friday, Feb. 22, 2019, for a forum hosted by the LEARN Center and the LTC to showcase the ways we are transforming lives through teaching and learning.



High schoolers compete in pitch competition

The third annual Midwest High School Pitch Competition will take place at Hyland Hall from 1 to 4 p.m. on Wednesday, Feb. 27. With generous support from sponsor Geneva Supply, seven high school teams will be competing for the top award of one year of free tuition at UW-Whitewater! This event is managed and promoted by CEO, the Collegiate Entrepreneurs Association.


Assessment Day keynote speaker announced

Join us in welcoming Peter Felten, Ph.D., for Assessment Day 2019 on Wednesday, Feb. 27. Felten will discuss high impact practices and how recent research on transfer can inform the design and assessment of student learning experiences in and beyond the classroom. Lunch is provided during the keynote, so please RSVP on signup.uww.edu.




Now accepting applications for Assessment Fellowship 2019

An exciting leadership development opportunity is being offered by the Office of Academic Assessment — the Assessment Fellows Program. This program aims to provide interested faculty members across the UW-Whitewater and UW-Whitewater at Rock County campuses with the opportunity to develop knowledge, skills and understanding of campus-level academic assessment, and specifically student learning assessment. Applications for the program are due by March 6, 2019.






Campus Kudos

Kudos to Daniel R. Zamzow, assistant professor of biology at the University of Wisconsin-Whitewater at Rock County, for his recently published article "Higher Levels of Protein Palmitoylation in the Frontal Cortex across Aging Were Associated with Reference Memory and Executive Function Declines." Read more »

Kudos to UW-Whitewater's Student American String Teacher's Association chapter, which has been nationally recognized as the Most Improved Student Chapter for 2019. The selection was based on organization size and national membership, activities the chapter has sponsored, and any other notable contributions on campus and within the community. The award will be presented at the National ASTA Conference March 6-9 in Albuquerque, New Mexico.

Kudos to Alicia de Gregorio, professor of languages and literatures, for a recent publication by invitation of the following article in the first of three volumes honoring Professor of Spanish and Latin American Literatures José Romera Castilla: '''La corrección' y 'Dimòni': la deshumanización del ser humano en dos cuentos de Vicente Blasco Ibáñez." Cartografía literaria: En homenaje al profesor José Romera Castillo. Ed. Guillermo Laín Corona and Rocío Santiago Nogales. Madrid, Spain: Visor Libros, 2018. 691-706.

Kudos to Nicole Weber, director of learning technology, who will be presenting on the 2019 EDUCAUSE Horizon Report panel. The EDUCAUSE Horizon project works to identify and describe higher education trends, challenges, and technology developments that are likely to have an impact on teaching, learning, and creative inquiry. Nicole was selected as one of 150 expert panelists from around the world. Read more »

Kudos to UW-Whitewater students of Beta Alpha Psi-Epsilon Rho Chapter, who raised $10,000 to help Bethel House, a project helping families facing homelessness in Whitewater. Beta Alpha Psi promotes the study and practice of accounting and finance and information systems, thus providing opportunities for self-development and service by encouraging a sense of ethical, social, and public responsibility. Read more »

Kudos to the UW-Whitewater Sales Team for an exceptional performance at the University of South Florida Sales Competition in Tampa, Florida, on February 14 and 15. Sam Wanezek earned first place in the Speed Selling Competition. Jackie Sticka won first place in the three-round Cold Call Competition, and earned first place in the Individual All-Round Competition. In addition, the UW-Whitewater team was awarded Team First Place. Congrats!

Kudos to UW-Whitewater AMA for earning several honors at the UW-Eau Claire 6th Annual Regional Conference in Eau Claire, Wisconsin, on Feb. 15. Matt Young won first place in the Sales Competition and Nicole Alt took third place. In the Perfect Pitch Competition, Sam Gobert won first place, Melissa Khalil won second place and Kate Amerling won third place. The team also earned first place in the Design Competition and second place in the Marketing Strategy Competition. Finally, Kate Amerling and Lincoln Raddatz won second and third places, respectively, in the Mock Interview Competition. This event brings the chapter one step closer to the AMA International Collegiate Conference in New Orleans this April!



In the Media

Patrick Moran, professor of language and literatures, will be doing a poetry reading from his newest publication at 7:15 p.m. on Thursday, Feb.28, at the Fort Atkinson Club in Fort Atkinson. Moran had assistance for this publication from his student, Nicole Chermak, a senior at UW-Whitewater. This is Moran's 5th book publication. Read more »

Scott J. Peters, associate professor of educational foundations, remarks on employing innovative methods to add more students to gifted and talented programs. Read more »


| | |
| --- | --- |
| Tyler Fallahi, senior accounting major, knows no bounds. Fallahi, who lives with a form of muscular atrophy, had a difficult time finding the right college before he found his home at UW-Whitewater. In addition to his successful path to become a CPA, Fallahi built a website to help other disabled students navigate and choose a college that's right for them and their disability. Fallahi was interviewed for CPAZb Magazine. | Ethan Langer, a sophomore psychology major, has been named the varsity coach for the Milton High School boys' tennis team. Langer, who is a graduate of Milton High School, is a member of the UW-Whitewater club tennis team. Langer was interviewed for the Milton Courier. |
Submit your stories

We are always looking for great story ideas. If you know of a student or faculty or staff member who deserves a shout-out, or want to promote a campuswide event, email us at news@uww.edu by noon Friday. Submissions may be edited for length or content. View Archives »