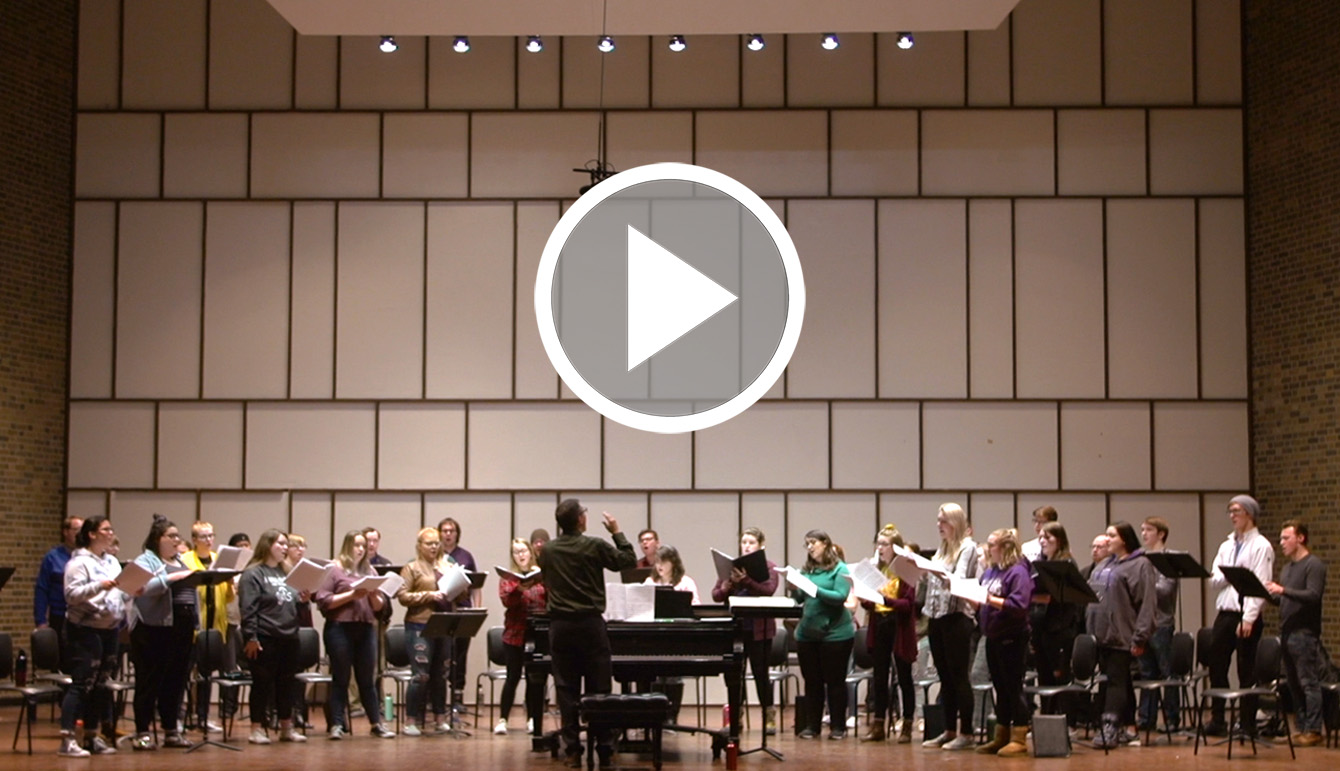 VIDEO: Chamber Singers to perform world premiere concert of 150th anniversary commission

Composed by Professor Christian Ellenwood in honor of our university's sesquicentennial, "As a Torch Blown Along the Wind" will be performed by the UW-Whitewater Chamber Singers in Light Recital Hall in the Greenhill Center for the Arts at 7:30 p.m. Sunday, March 10.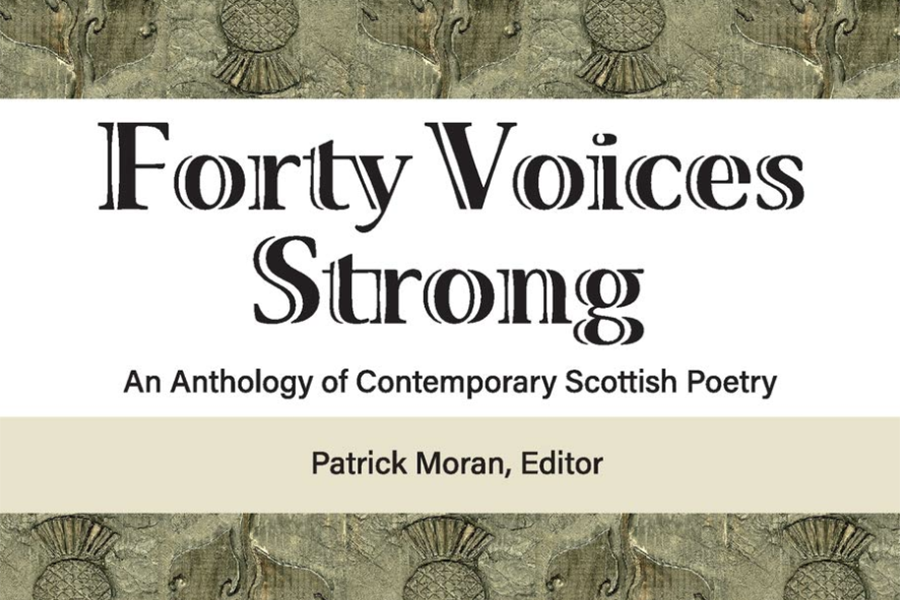 English professor and student publish book on Scottish poetry
An avid reader, English major Nicole Chermak immerses herself in fantasy, science fiction and historical fiction. Young adult fiction is another of her favorite genres.

So, when Professor Patrick Moran approached her with a book publishing project on Scottish poetry, it was a bit of a departure for the UW-Whitewater student — but a welcome challenge.



Student commencement speaker competition

Graduating seniors are invited to apply for the honor of serving as student speaker at Spring Commencement. The deadline to apply is 4 p.m. Thursday, March 7.




Test of emergency message systems on March 7

At 1 p.m. Thursday, March 7, the UW-Whitewater Police Department will conduct a test of the emergency message systems.

You will hear several messages including "Tornado Warning" and "Run, Hide, Fight".



Campus Awards applications are now open

UW-Whitewater's Campus Awards Ceremony is scheduled for 1 p.m. Sunday, May 5, in the Old Main Ballroom (UC 275) in the University Center. The award ceremony is an annual tradition for recognizing and celebrating the achievements of our students, student organizations, faculty and staff.

The deadline to apply is midnight on Friday, March 22.




Technology Surplus Sale

The Technology Surplus Sale will be held from 8:30 a.m. to 3:30 p.m. on March 7 and 8 in Andersen Library, 1213. Stop by and browse items including: complete computing systems, laptops, projectors, DVD and VCR players, monitors, audio speakers, memory chips and more!

Payment methods include cash or check, and all devices are sold as is.



Learn about the history and dance of the Anishinaabe Tribe

Join the Red Cliff Drum Dance and Troupe from 2 to 5 p.m. on Wednesday, March 6, in the University Center Ballroom. This is hosted by the Native American Cultural Awareness Association, the Department of History, the Department of Race and Ethnic Studies, and Student Diversity, Engagement and Success.




Upcoming Events


Mindfulness and Mediation Class
All-day event Wednesday, March 6
Fireplace Lounge, Rock County campus
Men's Rugby Chili Cook-Off
All-day event Saturday, March 9
Hawk Bowl in Whitewater
Women's Tennis vs. Northern Iowa
Noon, Saturday, March 9
Janesville, WI
Faculty member Rachel Wood, mezzo-soprano
7:30 p.m. Saturday, March 9
Light Recital Hall
Symphonic Wind Ensemble and University/Community Band
3 p.m. Sunday, March 10
Young Auditorium
Chamber Singers & Vocal Jazz Ensemble
7:30 p.m. Sunday, March 10
Light Recital Hall

Women's History Celebration

In 1987, the U.S. Congress declared March as Women's History Month in perpetuity, signifying our nation's commitment to recognize the significant contributions women have made to our society. At UW-Whitewater, we endeavor to honor and respect the timeless and tireless contributions women have made to our campus. We are pleased to announce a series of activities that our university community can take part in for the celebration of the month.




Unwind with four-legged friends

Relieve stress with our four-legged Warhawk family members from noon to 2 p.m. on Monday, March 11, in the Andersen Library. Pet therapy, which occurs regularly on alternating Mondays and Tuesdays, provides a safe and relaxing enviornment for students to unwind.



International Dinner tickets still available

The International Dinner on Friday, March 8, will provide a diverse menu of nine cuisines and performances from 13 countries across the globe. Doors will open at 5:30 p.m. in the University Center Hamilton Room.




Provost office hours

Provost Susan Elrod will be available for office hours from 3:15 to 4:15 p.m. on Wednesday, March 13, in the main floor of Andersen Library (near Food for Thought).

She will also be available for office hours from 10:30 a.m. to noon on Wednesday, March 20, in the Fireplace Lounge at the University of Wisconsin-Whitewater at Rock County.







Campus Kudos

Kudos to College of Education and Professional Studies faculty who published "Adoption Matters: Teacher Educators Share their Stories and Strategies for Adoption-Inclusive Curriculum and Pedagogy." Robin Fox, interim dean, edited the book, which focuses on the intersections among adoption, teacher education and the ways in which the authors have been profoundly touched by adoption within their own personal experience — from being adopted themselves to adopting their own children. Current faculty who authored chapters include Lana Collet-Klingenberg, Sharon Kolb, Elizabeth Hughes-King, Brandi Niemeier, Tracey Scherr, Anne Stinson, Wade Tillett and Ozalle Toms. Read more »

Kudos to Pontian Adogamhe, chemistry major, who will present a poster at the New England Science Symposium to be held April 6 at the Joseph B. Martin Conference Center at Harvard Medical School in Boston, Massachusetts. The topic of his poster is "The Role of ST2/IL-33 Pathway in Ugandan Children with Severe Malaria."

Kudos to Eryca Card, associate lecturer in curriculum and instruction, who won Educational Leader of the Year, the highest recognition from Project Lead The Way, a nonprofit organization that provides a transformative learning experience for PreK-12 students and teachers across the United States. The award honors exceptional commitment to students, school leadership, and meaningful involvement in curriculum, assessment, and professional development. Card will be honored at the organization's national conference in Indianapolis, Indiana.

Kudos to University Center Graphics & Marketing for winning first place in the ACUI (Association of College Unions International) "Steal this Idea" contest in the Interior/Wall Art Category for the new elevator decals in the University Center. These decals are on all three elevators in the University Center and feature Willie the Warhawk and the university's values.

Kudos to Amy Barth, assistant professor of counselor education, for being selected as this year's recipient of the Humanistic Educator/Supervisor Award from the Association for Humanistic Counseling. This award was established to recognize an AHC member who demonstrates a humanistic philosophy of teaching or supervision, resulting in a significant impact on the development of students or new professionals through teaching, advising, supervision, and/or mentoring. Amy will be honored at the AHC annual conference on Thursday, May 30, in Minneapolis, Minnesota.

Kudos to Catherine Chan, associate professor of biological sciences and chemistry and LEARN Center Fellow, and LaVar Charleston, assistant vice chancellor of Student Diversity, Engagement and Success, for presenting at the 2019 HIPs in the States Conference at Downing Student Union at Western Kentucky University. Their presentation, "Filling the Gap: Assessing and Communicating the Impact of Undergraduate Research," featured research based on data collected related to the Undergraduate Research Program, one of many high-impact practice programs housed in the SDES department.



In the Media

Ashley Barnes-Gilbert, lecturer of women's studies, will be presenting a Fairhaven Lecture, "Suffragettes, Loyalty, and Wartime Activism", on WPT's The Wisconsin Channel and on the University Place website at 4:06 p.m. on Monday, March 11.

UW-Whitewater's Small Business Development Center, along with its counterparts across the state, helped businesses exceed more than $100 million in capital investment. It's the first time the centers, most based at UW System schools, have surpassed that mark. Read more »


| | |
| --- | --- |
| Jan Nordin, veterans benefits coordinator, has retired after 30 years of service helping student veterans make the transition to civilian life. A self-proclaimed "Army brat," Nordin is a two-time recipient of the Department of Defense Patriot Award and has served on many UW System veteran-related committees. | Christopher Ramaekers, assistant professor of music, will be conducting the Lake Forest Civic Orchestra as they perform a "Celebrating Creation" concert. The performance is at 4 p.m. on March 10, at John and Nancy Hughes Theater at the Gorton Community Center in Lake Forest, Illinois. |
Submit your stories

We are always looking for great story ideas. If you know of a student or faculty or staff member who deserves a shout-out, or want to promote a campuswide event, email us at news@uww.edu by noon Friday. Submissions may be edited for length or content. View Archives »