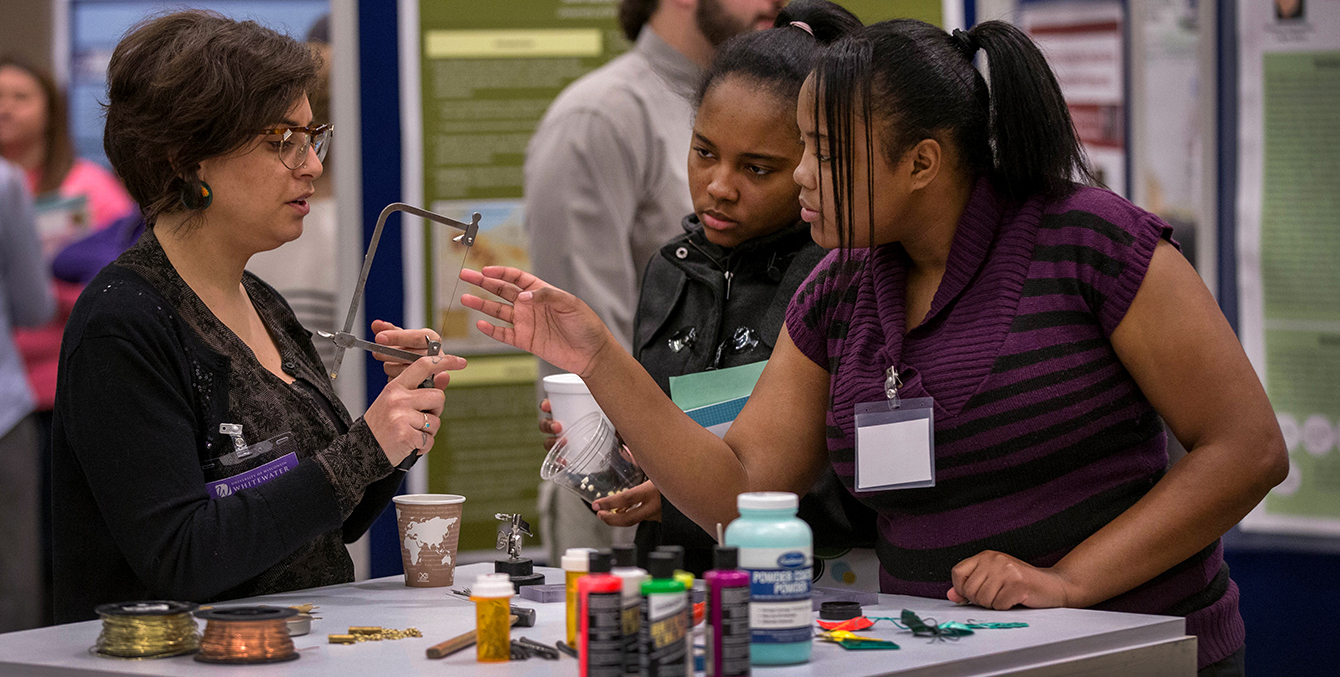 Undergraduate Research Day

Join us from noon to 3:30 p.m. Thursday, March 21, in the University Center Hamilton Room to see the research achievements of undergraduate students in all disciplines. The event will include oral presentations, art presentations, musical and theatrical performances. Come and celebrate research at UW-Whitewater!


It's On Us t-shirts available for purchase

Monday, April 1, kicks off National Sexual Assault Awareness Month. In recognition, we invite the campus community to wear "It's On Us" clothing on April 1. T-shirts are $5 and can be purchased in the Warhawk Connection Center in the University Center.




PHOTOS: DanceScapes '19

UW-Whitewater Theatre/Dance Department presented DanceScapes '19 earlier this week. Performances included works by student, faculty and guest choreographers, including Alfonso Cervera and Alessandra Williams, who are also Inclusive Excellence Fellows.



Looking for marchers for commencement

Faculty and academic staff members are invited to march during the Spring Commencement ceremonies on Saturday, May 18 in the Kachel Fieldhouse. Please contact Breanna Brunner in the Registrar's Office at brunnerb@uww.edu for additional details.




Save the dates for money smart events

In honor of Money Smart Week, which occurs March 30-April 6, the Andersen Library and the Financial Literacy Department are offering several events to help the campus community manage their personal finances. Programs are offered to all demographics and income levels, and cover all facets of personal finance. Join us for GeoCache for College Cash, Financial Crimes Awareness and Prevention, Homebuying 101 and Cooking on a Dime.

For more information or special accommodations, contact Naomi Schemm at schemmn@uww.edu or 262-472-5519.


41st Early Childhood Conference presents David Stokes, animal dude

David Stokes, animal dude, will be sharing frogs, turtles, snakes and more from 10-11 a.m. on Friday, April 12, in the Roseman gym. Creating an engaging and exciting atmosphere, Stokes uses fun, wonder and humor with live animals, songs, puppets, toys and 3-dimensional objects to provide an exciting opportunity to touch, see and hear. Tickets are $5.




Upcoming Events


Pet Therapy
Noon-2 p.m. Tuesday, March 19
Andersen Library
Native American Heritage Lecture Series
Noon, Tuesday, March 19
Rock County campus, Williams Hall, room 120
SDES Native American Heritage Lecture Series
3:30 p.m. Tuesday, March 19
University Center, Old Main Ballroom
MAYUMANA: Currents
7:30 p.m. Tuesday, March 19
Young Auditorium
Spring Break
9 p.m. Friday, March 22 through 7:45 a.m. Monday, April 1
Intramural Sports Entries Open
All day event

Correction to CARE Team calendar

There is a misprint in the printed CARE Team calendar distributed to faculty and staff. There is NO mini break on April 19, 2019.



Provost office hours

Provost Susan Elrod will be available for office hours from 10:30 a.m. to noon on Wednesday, March 20, in the Fireplace Lounge at the UW-Whitewater at Rock County.



Campus Kudos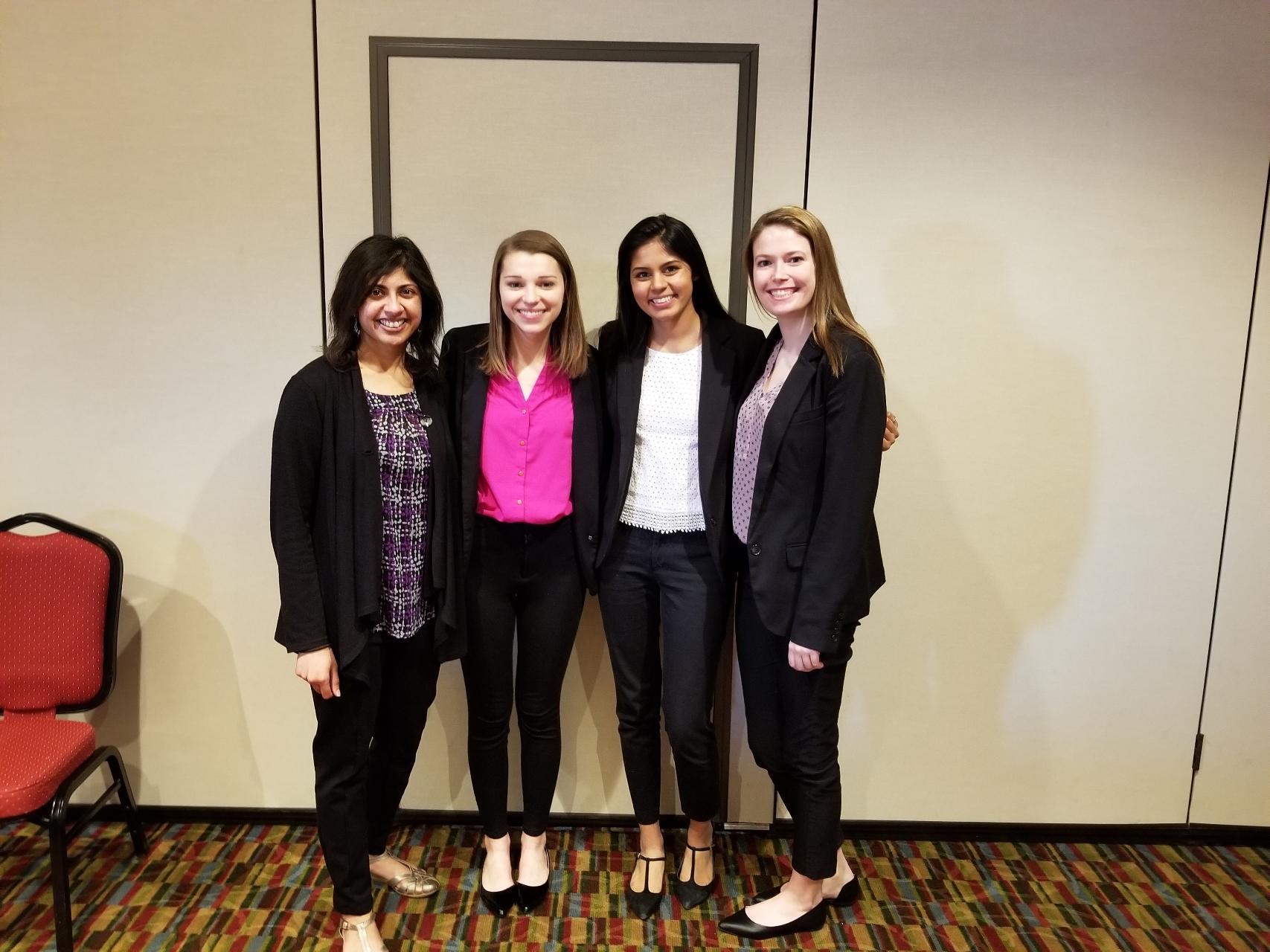 Kudos to students Emily Owen, Roshani Patel and Erin Parr, who placed third out of 15 teams at the 2019 Society for Human Resource Management Wisconsin Student Conference and Competition held at UW-Eau Claire March 1-2. The three human resource management majors won $200 for their chapter. They are pictured with co-advisor Uma Kedharnath, assistant professor of management.

Kudos to social work majors Victoria Hammill and Ebony Dabel, and social work faculty Katherine Drechsler and Sarah Hessenauer, for presenting at the Bacculearte Program Directors annual conference in Jacksonville, Florida, March 13-17. Hammill presented on emotional support animals in education and Dabel presented a poster on mentoring. Drechsler presented on advisory boards in social work education and Hessenauer presented on offering human sexuality courses in social work education.

Kudos to Jo Ann Oravec, professor of information technology and supply chain management, who will present the paper "Big Data and the City: How Artificial Intelligence Can Obfuscate and Illuminate Public Policy Analyses" at the D. B. Reinhart Institute for Ethics in Leadership at Viterbo College in La Crosse, Wisconsin, on April 5.

Kudos to Jeff Vanevenhoven, Irvin L. Young Professor of Entrepreneurship and professor of management, who has been named editor-in-chief of the Journal of Small Business and Enterprise Development. The journal is in its 25th volume year and publishes 50 articles a year on all aspects of entrepreneurship. Read more »

Kudos to Bethann Moran-Handzlik, lecturer in art and design, whose work will be featured alongside four other artists in the upcoming exhibit "Uprooted: Plants in a Changing Climate," which features new work focused on the diverse plant communities under threat in Wisconsin. It runs April 26 to June 23 in the James Watrous Gallery at the Overture Center for the Arts in Madison. Read more »

Kudos to Nicole Weber and Andrew Cole of the Learning Technology Center who were recently published in the book, "Technology Leadership for Innovation in Higher Education." They wrote the chapter called, "The Use of Emerging Technology Projects to Guide Instructional Innovation." Read more »




In the Media
| | |
| --- | --- |
| | UW-Whitewater was proud to partner with Special Olympics Wisconsin for The Athlete Leadership Academy. This opportunity provides athletes a unique position to be leaders in schools, workplaces, and communities. |
| | |
| --- | --- |
| Economics faculty Russel Kashian and Matt Winden, along with student Casey Russell and recent alum Ron Tittle, found that incorporating environmentally sensitive design along the Chicago River system would create an annual $192 million economic return on investment in that region. They completed the study as part of their work with the University of Wisconsin-Whitewater's Fiscal and Economic Research Center. | George Ferencz, professor of music, will be presenting "The Making of NBC-TV's Victory at Sea" at noon on Wednesday, March 20. Ferencz's behind-the-scenes story of NBC's prize-winning WWII documentary series will be held the National WWII Museum in New Orleans, Louisiana. |
Submit your stories

We are always looking for great story ideas. If you know of a student or faculty or staff member who deserves a shout-out, or want to promote a campuswide event, email us at news@uww.edu by noon Friday. Submissions may be edited for length or content. View Archives »