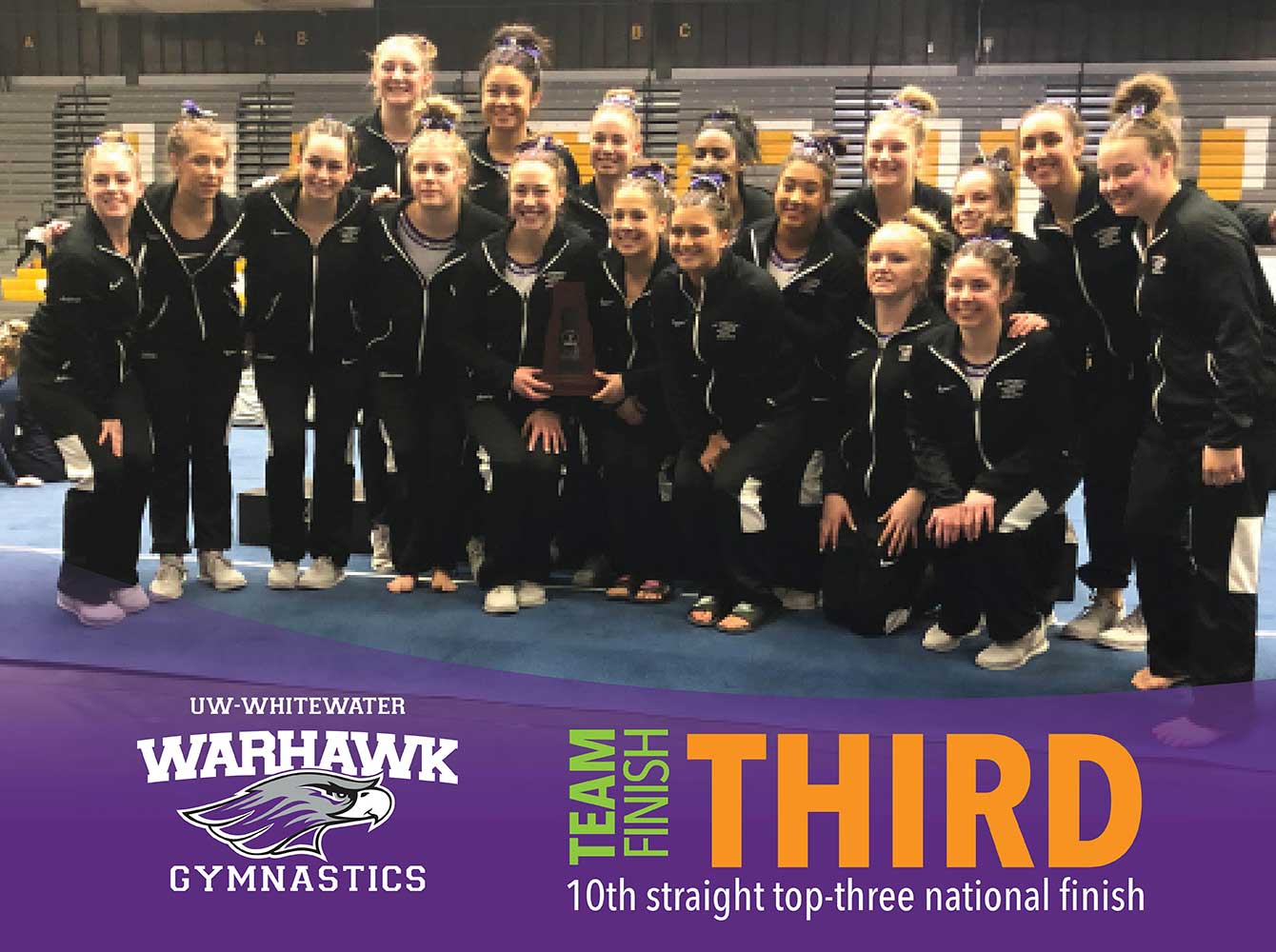 Women's gymnastics places third in National Championship

Congratulations to UW-Whitewater's gymnastics for a team finish of third place at the National Collegiate Gymnastics Association National Championship! This is their 10th straight top-three national finish. Franchesca Hutton brought home a national title, and four team members earned All-American honors: Bailey Fitzpatrick, Acacia Fossum, Lauren Marshall, and Blaise Wilson.


Franchesca Hutton, national champion

Senior Franchesca Hutton, environmental science major, closed her UW-Whitewater gymnastics career with her first-ever national championship. Hutton won the balance beam with a score of 9.775, the highest of her career and tied for the third-best in the program record book. It is her third career All-America honor and second on the beam.



Spring Faculty and Staff Recognition Reception

Do you believe a faculty or staff member has made a positive impact on your life? We want to hear from you! The Whitewater Student Government is seeking nominations from current students and alumni for six awards. Faculty and staff can nominate their peers as well.



Music Mosaics season finale ends on high note

After 35 years, the winds of change have brought the Whitewater Brass Quintet a new musician. Dafydd Bevil, horn, joins Frank Hanson and Jessica Jensen, trumpet; Mike Dugan, trombone; and John Tuinstra, tuba. Their next concert is Sunday, April 7, at 3 p.m. in the Light Recital Hall.




Sexual assault awareness events

Sexual Assault Awareness Month, which is observed in April, will be recognized throughout the month with several events around campus. Sponsored by University Health and Counseling Services, these events will raise awareness and educate the campus community on how to prevent sexual assaults from happening.



Annual Political science lecture April 3

The campus community is invited to the 34th Annual Kyle Lecture, sponsored by the Department of Political Science, at 7 p.m. Wednesday, April 3. The event, which focuses on medical malpractice and personal injury law, is called "Life is what happens while you are busy making other plans: One lawyer's journey," presented by attorney Jerry Hierseman.



Upcoming Events


Spring Break
9 p.m. Friday, March 22 through 7:45 a.m. Monday, April 1
Cooking on a Dime
4 p.m. Monday, April 1
University Center, room 275 B





Campus Kudos


Kudos to Christina Schwab, head coach of the UW-Whitewater's women's wheelchair basketball team for being inducted into the National Wheelchair Basketball Association hall of fame. Schwab owned a spot on Team USA at four Paralympic Games and brought home several gold medals. Schwab was also a member of the International Wheelchair Basketball Federation World Championship Team, where she earned a gold and silver medals.

Kudos to students and faculty who presented at the Teachers of English to Students of Other Languages international convention in Atlanta, March 12-15, attended by more than 6,000 people from around the world. Rossitza Ivanova, assistant professor of languages and literatures and Natalija Krsteva, English education major presented "Poem Project Connects International ELLs to the Local Community." Brianna Deering, associate lecturer in the English Language Academy and Susan Huss-Lederman (English Language Academy and professor of languages and literatures) presented "Investigating Environmental Sustainability Through Project-Based Learning." Jenna Cushing-Leubner, assistant professor of curriculum and instruction presented "EL Teacher Preparation for Immigrant Youth: Scaffolding Discomfort."

Kudos to Jennifer Betters-Bubon, associate professor of counselor education, who presented "Understanding Prevention Science: A Panel Discussion on Multi-Tiered Systems of Support and Facilitating Research in K-12 Systems Panel Discussion" at the National Evidence Based School Counseling Conference, March 10-11, in Columbus, Ohio.

Kudos to LaVar Charleston, assistant vice chancellor for student diversity, engagement and success, who was honored by the Milwaukee Bucks as one of Wisconsin's 42 Most Influential Black Leaders at the March 24 game against the Cleveland Cavaliers in Milwaukee. Read more »

Kudos to Thomas Drucker, lecturer in mathematics, who will receive the 2019 Distinguished Teaching Award from the Wisconsin Section of the Mathematical Association of America at Carthage College on April 5. The award, established in 1991, recognizes people who display extraordinary success in teaching mathematics.




In the Media

The Warhawk baseball team has been invited to play at the Blue Wahoos Stadium in Pensacola, Florida, thanks to UW-Whitewater alumnus and owner of the stadium, Quint Studer. Studer's generous invitation includes a chance for the Warhawks to play against the University of St. Thomas at the bayfront ballpark. Read more »



| | |
| --- | --- |
| John Vodenlich, head coach of the Warhawk baseball team, discusses plans to replace star pitchers Heath Renz and Austin Jones. Jones signed a contract to play for the Joliet Slammers in the Frontier League, and Renz was drafted in the 27th round of the MLB Draft by the Tampa Bay Rays. The Warhawks can look forward to Michael Kaska, finance major, on the mound following a stellar season that earned him WIAC Pitcher of the Year. | Senior Bailey Fitzpatrick competed for the final time as a Warhawk. A physical education major who has been tumbling since the age of three, Fitzpatrick has overcome multiple injuries and brought home several gold medals throughout her career. |
Submit your stories

We are always looking for great story ideas. If you know of a student or faculty or staff member who deserves a shout-out, or want to promote a campuswide event, email us at news@uww.edu by noon Friday. Submissions may be edited for length or content. View Archives »