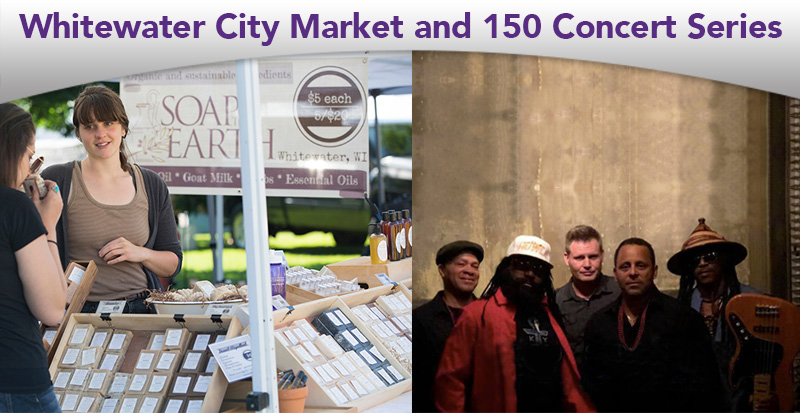 Join us 4-7 p.m. Tuesday, July 3

Whitewater City Market comes to campus this week with more than 40 vendors and food trucks! Shop for local produce, eggs, cheese, beef and chicken, bread, soap, honey, kombucha and more — and then pick up dinner from Flying Cow Pizza, Yang's Thai Food, Smoke on Wheels BBQ, Lefty's Chicago-Style Dogs, or Grandma's Goodies' sliders. Borrow a blanket and stretch out on the hill or set up at our café tables, and enjoy reggae, world and ska music from King Solomon, who will play from 4:30 to 6:30 p.m.


UW-Whitewater welcomes branch campus at Rock County

With the Higher Learning Commission giving its stamp of approval on Friday, Rock County is now a branch campus of UW-Whitewater. We're proud to welcome our colleagues to the Warhawk family.



From Chancellor Kopper: A new chapter begins for UW-Whitewater and Rock County

Over the past year, as people from both campuses met to discuss this proposal and to work out the details, we learned that we have so much in common. Our campuses have a special sense of family and shared purpose. We genuinely change lives.


Grandchildren's University

Grandchildren's University, a two-day overnight camp at UW-Whitewater, builds relationships across generations. Children ages 7-14 come for family-friendly programs run by faculty and students.



Wheelchair Basketball Camp

Wheelchair basketball players ages 8-18 attended an annual camp at UW-Whitewater taught by coaches and current and past players from the national championship-caliber program.


UW-Whitewater Day at Miller Park

Warhawks painted Miller Park purple as the university continued its Sesquicentennial celebrations with a tailgate, camaraderie and Brewers game.



"Dear Ruth"

"Dear Ruth" is an energy-filled World War II romantic comedy written by Norman Krasna and directed by Kymberly Mellen. It was performed in Hicklin Studio Theatre in Greenhill Center of the Arts on June 26-30.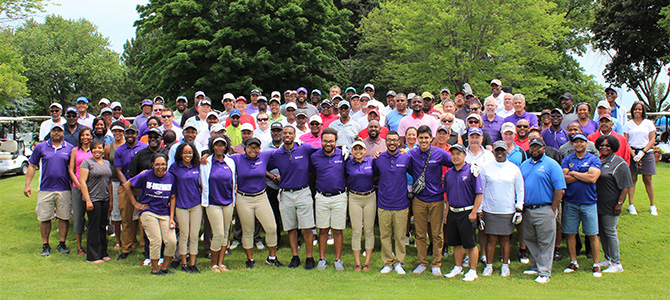 King/Chavez Scholars program raises $6,000
More than 110 people supported the annual golf outing at Lake Lawn Resort in Delavan, Wisconsin, on June 29 to benefit the King/Chavez Scholars. The program is designed to attract and retain exceptional undergraduate students from diverse backgrounds, while engaging them in high-impact practices and experiences that adequately prepare them to be exceptional leaders, scholars and researchers. Over the past few years, about 200 King/Chavez Scholars have been admitted to the program, serving in various leadership roles throughout campus.


Campus Kudos

Kudos to faculty and staff of the departments of Curriculum and Instruction and Credit Outreach — lecturer Carmen Rivers, associate professor Lucy Heimer, and outreach specialist Anne Tillet — who were awarded $110,302 from the Wisconsin Early Childhood Association for three projects. They include developing infrastructure and systems required to ensure the new Early Child Care and Education degree will become sustainable; supporting continuing work on a partnership between UW-Whitewater and the Lac Courte Oreilles Ojibwe Community College; and supporting the UW-Whitewater Early Childhood Education Program Accreditation.

Kudos to Carol Scovotti, professor of marketing, who won the Robert B. Clarke Outstanding Educator Award, recognizing overall achievement in marketing education, teaching, writing, research and speaking. The award is given by Marketing EDGE, a nonprofit organization whose mission is to educate, develop, grow, and employ college students in the field of marketing. Read more »

Kudos to UWW-TV for receiving the 2017-18 Tom Butler Award, which recognizes outstanding media coverage provided to the Wisconsin Intercollegiate Athletic Conference and the NCAA.



Submit your stories

We are always looking for great story ideas. If you know of a student or faculty or staff member who deserves a shout-out, or want to promote a campuswide event, email us at news@uww.edu by noon Friday. Submissions may be edited for length or content. View Archives »