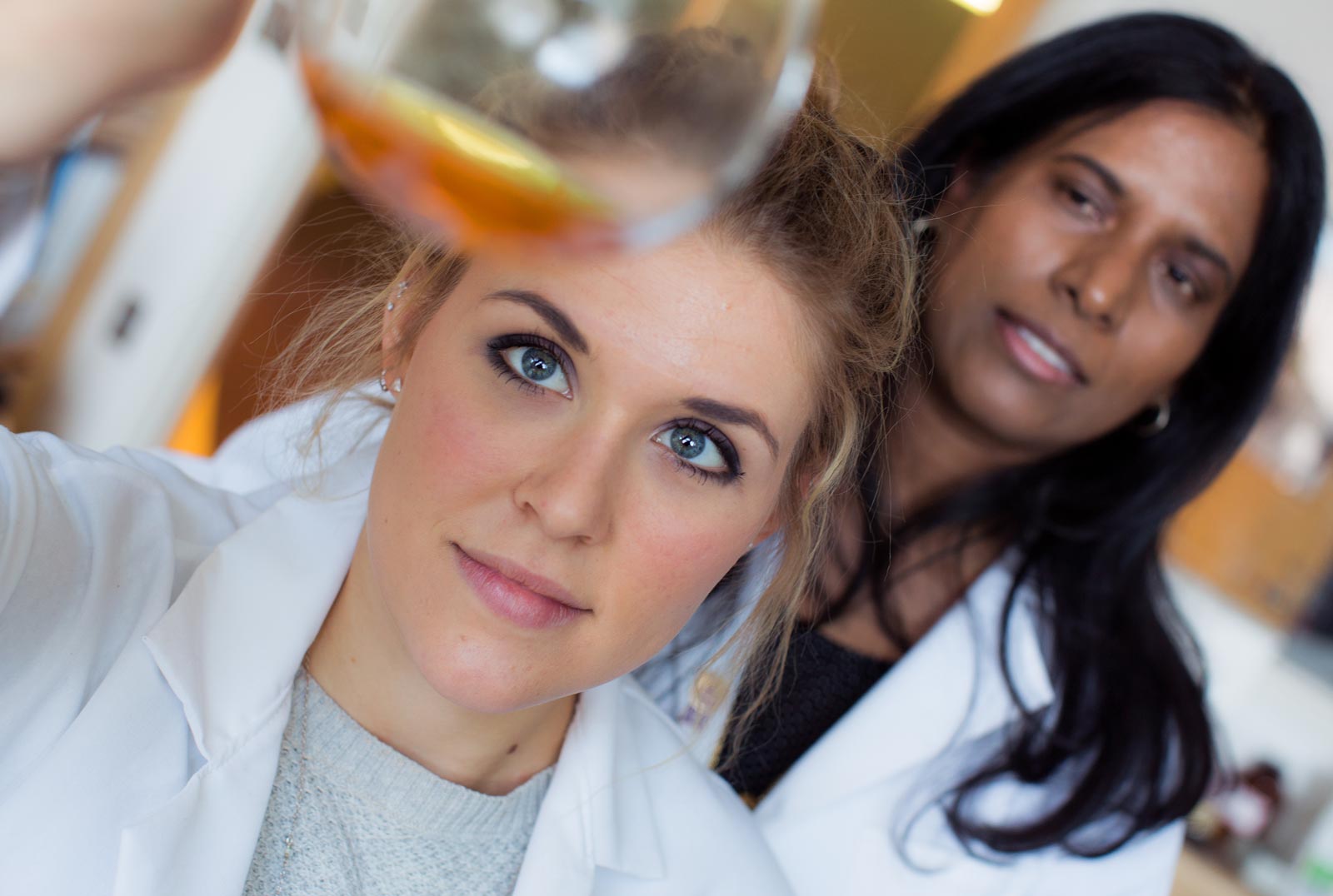 Chemistry student earns admission to national laboratory program

Katherine Ceschi, left, will study for six weeks at Brookhaven National Laboratory in Upton, New York, on Long Island, where she will explore nuclear chemistry. Only 24 students in the country were selected for this highly competitive and prestigious program, funded by the Office of Science of the U.S. Department of Energy. She currently works in the Upham Hall laboratory of Professor Hephzibah Kumpaty, right.


Warhawk Business Plan Competition

At this event, six students/teams each had six minutes to pitch their start-up ideas to a panel of judges. The presentations were evaluated for content and delivery, and those ranked in the top three split $2,250 in prize money to help advance their startups.




Mathematics major wins national Goldwater Foundation recognition

Senior Ryan Schroeder, who hopes one day to earn a Ph.D. in mathematics, was honored for his work with his mentor, Associate Professor Leon Arriola. The duo use mathematics to explore — and head off — potentially serious events like disease outbreaks.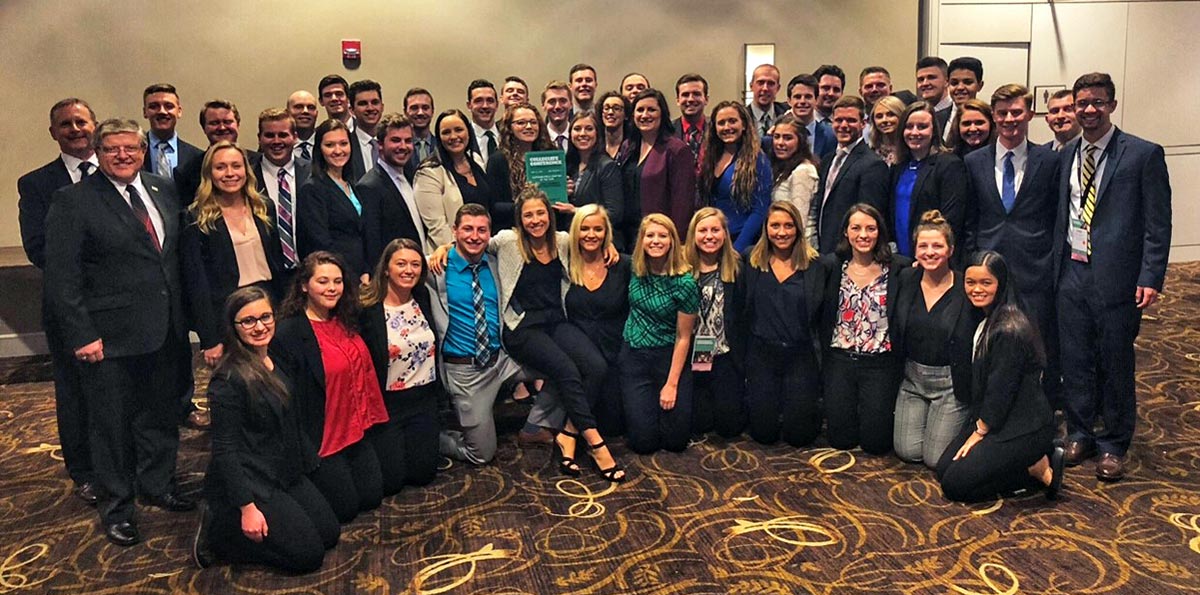 Outstanding finish for AMA
The UW-Whitewater American Marketing Association chapter proved to be the platinum standard once again at the International Collegiate Chapter Conference in New Orleans, April 5–7. Notable awards include:
— UW-Whitewater retained its coveted International Chapter of the Year status
— The team placed second in the highly competitive International Case Competition event
— Sweeping the top International Sales awards, Matthew Young and Kelsey Berchem tied for first place, Thomas Zoerner placed second, and Paytin Kennicott placed third
— Kaitlin Amerling placed second and Samuel Wanezek placed third in the Perfect Pitch Competition
— Kelsey Berchem won the USCA Sales Student of the Year and placed second in the AMA International Marketer of the Year


Marc Edwards to speak on campus

In 2016 he was named amongst TIME Magazine's 100 Most Influential people in the World, and Fortune Magazine called him one of the World's 50 Greatest Leaders. Marc Edwards will visit UW-Whitewater for a talk at 7 p.m. Monday, April 16, at Young Auditorium. The topic is "Saving Humankind from Itself: Science, Politics and Human Failure from Lysenko to Flint."



Upcoming Events

Back Forty Mine Panel Discussion
7 p.m. Tuesday, April 10
University Center, room 259A Mind Reader: Eric Dittelman
7:30 p.m. Thursday, April 12
University Center Down Under Southeast Asian Heritage Lecture Series
3:30 p.m. Thursday, April 12
Hyland Hall Timmerman Auditorium UW-Whitewater Percussion Ensemble
7:30 p.m. Thursday, April 12
Light Recital Hall, Greenhill Center of the Arts Glow Night
7 p.m. Friday, April 13
Warhawk Alley, University Center Piano Studio Recital
7:30 p.m. Friday, April 13
Light Recital Hall, Greenhill Center of the Arts

150 YEARS: Funding available for campus celebration
Is your department or organization planning an event to celebrate the university's sesquicentennial? $50,000 will be available to fund approved projects.


150 YEARS: Alma Mater lyrics contest

Help us create a new Alma Mater that will instill pride in everyone. The tune has been picked, we need you to write the words. The contest deadline to write lyrics has been extended to April 30.



150 YEARS: Service spotlight

Students in the UW-Whitewater Nursing Home Visitation Program travel to area nursing homes throughout the academic year to form friendships with residents. On one day in April, the program plays host to residents who travel to campus for lunch and games with students.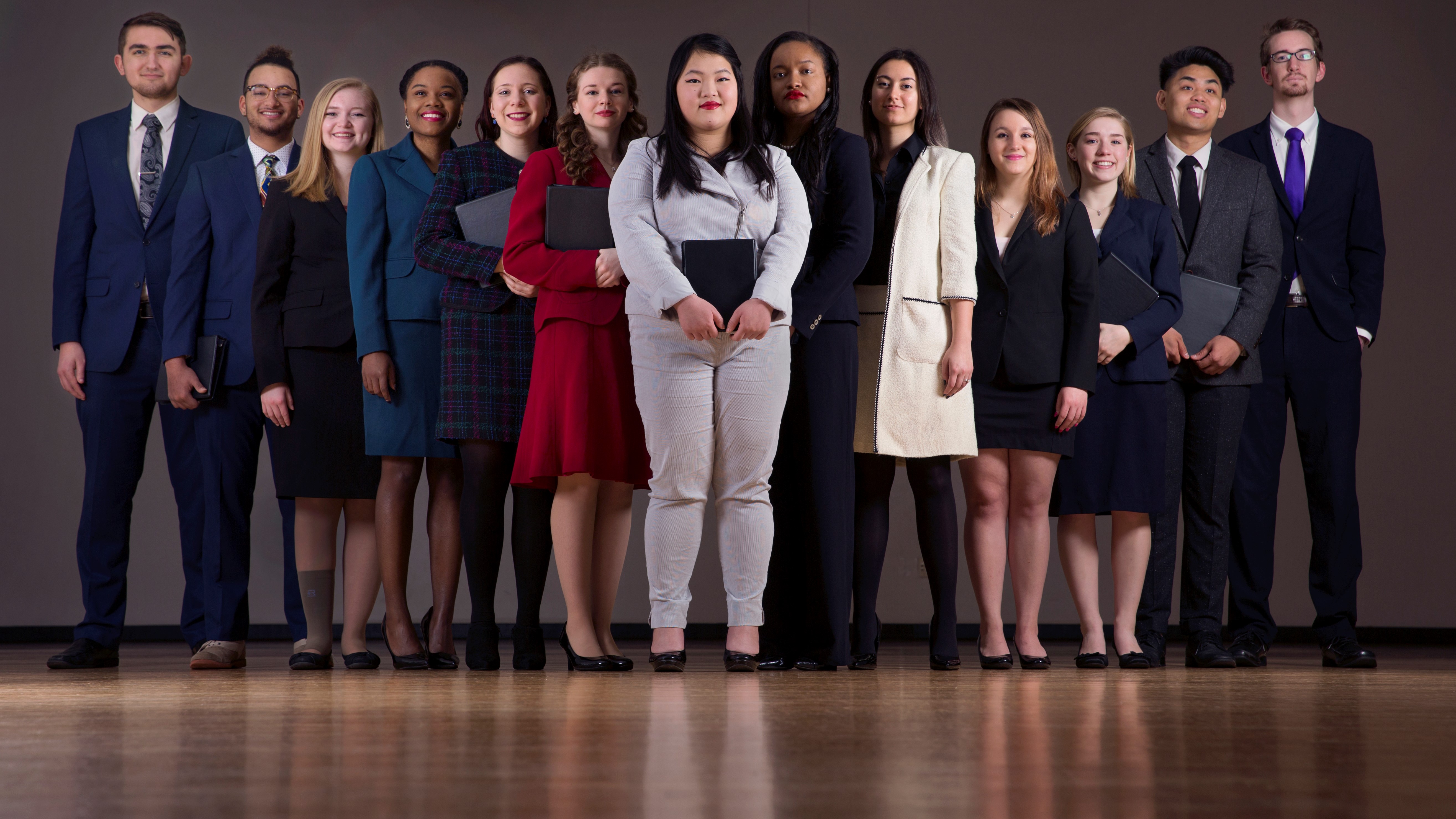 Forensics team performance showcase
Come watch performances from the nationally competitive UW-Whitewater speech and dramatic performance team. The event is 7 p.m. Sunday, April 15 at the University Center Summers Auditorium.


Campus Kudos

Kudos to Julie Minikel-Lacocque (Curriculum and Instruction), Prajukti Bhattacharyya (Geography, Geology, and Environmental Science) and Catherine Chan (Biological Sciences and Chemistry) who won UW-Whitewater Strategic Initiative Grants) Read more »

Kudos to Jenna Cushing-Leubner, assistant professor of curriculum and instruction, who won the 2018 Outstanding Dissertation Award from the American Educational Research Association. Her dissertation, "Accompaniment for the climb: Becoming reparational language educators of Spanish as a 'heritage' language," explored the experiences of a multilingual teacher of color teaching Spanish-English bilingual Latinx youth in a Midwestern city high school.

Kudos to Benjamin Whitcomb, professor of music, who published a triptych of books: Compendium of Chords for the Cello, Violin, and Viola. Read more »

Kudos to JP Villavicencio and Katie Rutenbar, academic advisers, who will present at the NACADA Region 5 Conference April 11-13 in Columbus, Ohio. Their presentation is titled "The Art of Working with Gen Z."

Kudos to Chloe Hill, chemistry major, who has been selected for the University of Tokyo Research Internship Program for Summer 2018. This internship is highly selective, with only about 20 students selected worldwide each year. Chloe has been conducting nanomaterials research in the lab of Steven Girard, assistant professor, since her freshman year. She will spend 10 weeks at the University of Tokyo, where she will conduct full-time research. All airfare and lodging are paid through the internship, and she will receive a summer stipend.

Kudos to Makenzie Miller, geography major, who won a 2017-18 Wisconsin Space Grant Consortium Undergraduate Scholarship. Awards for this statewide honor are based on a commitment to space-related studies and an indication of an on-going or a proposed program of undergraduate space-related studies.
Register your student org

All current and new student organizations are required to complete the annual student organization recognition process between April 3 and May 15 in order to be recognized for the 2018-19 school year.



Provost's office hours

Provost Susan Elrod will be available for open office hours in the University Center Commons from 9:30 to 10:30 a.m. on Wednesday, April 25.


In the Media

Corey Davis, associate professor of communication, presented a lecture "Fake News: Conjecture, Conspiracy and Consequences for American Democracy," at a Whitewater League of Women Voters meeting on March 15. Southern Lakes News »

Students at Washington Elementary and international students attending the UW-Whitewater recently took time out of their days to meet, chat and tell stories of each other's cultures. Southern Lakes News »


Last Chance to Participate in the Faculty/Staff Workplace Survey

UW-Whitewater is participating in the "Great Colleges to Work For" survey. This is a national survey designed to recognize institutions that have built outstanding workplaces. Invitations to participate were sent from Modern Think to a random selection of UW-Whitewater employees. If you are selected to participate, please take a few minutes to complete the survey. Your feedback is invaluable, and the data we receive will be helpful as we continue to create the best workplace possible. The survey closes on Friday, April 13, 2018.



Graduating seniors survey

Graduates are reminded to take the Senior Outcomes Assessment Survey. An email from the Registrar's Office was sent on Wednesday, April 4, with a link to the survey. You may notice an SOAS hold on your WINS account. This is a reminder to complete the survey by May 18, 2018, at the latest. Holds will be removed every 3 days as seniors complete the survey.


Adaptive Learning Project – Call for participants

The Learning Technology Center is looking for instructors to take part in the Fall 2018 emerging technology exploration project on adaptive learning. In adaptive learning, content and/or assessments continuously adapt based on how a student performs, providing customizable feedback and additional learning material so the student can better understand, and master, the course material.



Active Learning Academy

The Learning Technology Center is seeking proposals from instructors who would like to participate in our inaugural Active Learning Academy. The Active Learning Academy will explore how to utilize pedagogy, technology, and space to increase student engagement and learning. Instructors completing the Active Learning Academy in its entirety will be eligible for a $1,000 stipend. You can apply now, submissions are due by Friday, April 13.


Canvas introduction and workshops

During the month of April, the Learning Technology Center will offer a series of workshops to help instructors start diving into Canvas and preparing their courses.



Tornado drill April 12

At 1:45 p.m. Thursday, April 12, UW-Whitewater will participate in a statewide tornado drill. At that time, please move to the designated shelter areas. The drill will conclude at 2 p.m. If you have questions, please contact Police Services at 262-472-4660.


UW-Rock County and UW-Whitewater collaborate for Earth Day Event

The Mutual Aid Disaster Relief Training Team is visiting UW-Rock County on April 19 as part of their national capacity-building and educational tour. Join them, along with other local environmental and social justice organizations, to learn how to get organized and take action to respond to some of our most pressing environmental and social challenges.



Upcoming Events at

"The Pursuit of Happiness in Industrial America — Utopian Communities of the 1800s"
6 p.m Wednesday, April 11
Andrews Hall 131 Meditation and Mindfulness
5:30 p.m. Thursday, April 12
Fireplace Lounge Student Government elections
8 a.m. - 4:30 p.m. Tuesday, April 17
Allen Hall Upper Lobby Break the Silence Ball
6:50 p.m. Friday, April 20
Hyatt Smith Hall Commons

Submit your stories

We are always looking for great story ideas. If you know of a student or faculty or staff member who deserves a shout-out, or want to promote a campuswide event, email us at news@uww.edu by noon Friday. Submissions may be edited for length or content. View Archives »