UW-Whitewater This Week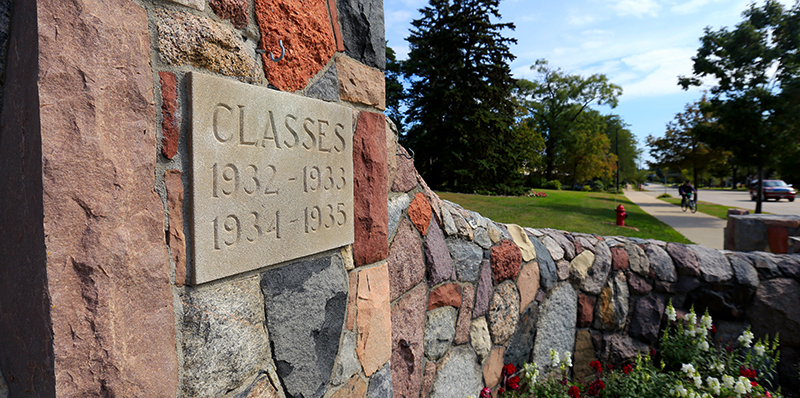 Historic stone gate to be relocated, time capsule discovered
Memorial Gateway, the landmark stone entrance to UW-Whitewater that has stood for more than 80 years, is being relocated as part of a traffic intersection improvement project.
Warhawk football bests Morningside

in No. 1 showdown

In a thrilling, last-minute victory, UW-Whitewater extended its college-football-best active winning streak to 35 consecutive games as after defeating the NAIA's No. 1 team, Morningside College, 33-30.

Student commencement speaker auditions

Applications to speak at the December 2015 ceremony are due by 4 p.m. Wednesday, Oct. 7, to the Career and Leadership Development office in University Center room 146. Auditions will be held on Oct. 14.
Higher Learning Commission open forums

Everyone is invited to participate as a five-member team from the Higher Learning Commission comes to campus on October 5-7, as part of its decennial reaccreditation process.

Health carnival

University Health and Counseling Services is hosting a carnival at the Ambrose Health Center on Tuesday, Sept. 29, from 4 to 6 p.m. Learn great ways to be a healthier, happier you, and get a behind-the-scenes look at UHCS. Enjoy carnival games, yoga, refreshments and prizes.

Learn to write a high-quality business grant proposal

The event, featuring Todd Strother of the Center for Technology Commercialization, is 5:30-7 p.m. Wednesday, Sept. 30, at the Whitewater University Technology Park Innovation Center.
In the Media

DMZ Aerial, founded by entrepreneurship major Mitchell Fiene, and his cousin Zach, now have drones scouting the agricultural fields in 15 states, including California and Texas.

Praveen Parboteeah, professor of management, talks about today's business climate as recent scandals at Volkswagen and a peanut company raise questions of business ethics.

"Learning to Stay," a 2013 novel by Erin Celello, assistant professor of languages and literatures, is now a play, set to debut in Madison.

Is Hamlet fat? Elena Levy-Navarro, professor of languages and literatures, weighs in on an unanswered mystery regarding one of Shakespeare's most famous characters.

Karl Brown, assistant professor of history, has figured out a clever way for college students to learn about industrialization, globalization and imperialism: Teach them the history of beer.
Computer science workshop

A workshop on research, internships and entrepreneurship related to computer science is 5:30 to 7:30 p.m., Tuesday, Oct. 6, in the University Center Hamilton Room. Meet and interact with student and faculty and network with representatives from industry.

Arts entrepreneurship event

From 8-10 a.m. on Friday, Oct. 2, the United States Association for Small Business and Entrepreneurship will be hosting a free event to educate artists about the ins and outs of starting their own business.
Salute to Grads

The event will take place in the Old Main Ballroom, University Center, room 275, on Wednesday, Oct. 7, from 11 a.m. to 6 p.m. The due date for faculty and student cap and gown orders for the December commencement is Oct. 16.
Submit Your Stories

We are always looking for great story ideas. If you know of a student or faculty or staff member who deserves a shout-out, or want to promote a campuswide event, email us at news@uww.edu by noon Friday. Submissions may be edited for length or content.