UW-Whitewater This Week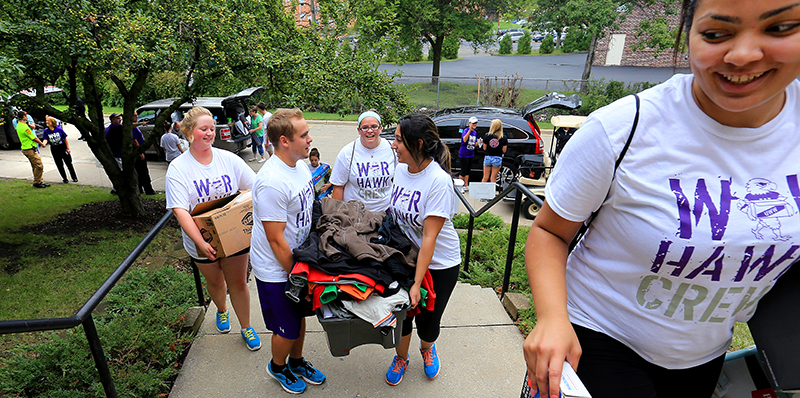 PHOTOS: Move-In Day 2015
Energetic and enthusiastic Warhawks and their families descended upon campus over the weekend, making new friends and memories along the way.
Warhawk welcome events

Faculty and staff are invited to participate in welcoming our newest students to UW-Whitewater at the following events:

- RU Purple: Monday, Aug. 31, Perkins Stadium (7-9 p.m.)
- Convocation: Tuesday, Sept. 1, Kachel Fieldhouse (11:15 a.m.–12:30 p.m.)

Timeflies concert Sept. 1

Timeflies will perform at Kachel Fieldhouse on Tuesday, Sept. 1. This concert is open to UW-Whitewater students, faculty and staff only. Doors will open at 7 p.m. and Timeflies will perform at 8 p.m. Attendance is first-come, first-served with a UW-Whitewater HawkCard ID. No carry-ins allowed. For more information, or if you require special accommodations, please contact Jan Bilgen at bilgenj@uww.edu or 262-472-1079.
Warhawks hunt for fossils on their

way to Yellowstone National Park

Every summer, UW-Whitewater students, under the guidance of Lecturer George Clokey, are granted permission to hunt for fossils in Glendive, Montana, as part of a three-week science course.
Board of Regents to meet

on campus Sept. 10-11

UW-Whitewater will host the Sept. 10-11 meeting of the University of Wisconsin System Board of Regents.

Inauguration information

Everyone is invited to attend Chancellor Beverly Kopper's inauguration on Friday, Sept. 11.
Student entrepreneur to launch line of changeable cellphone cases that light up

Luke Olson, a sophomore majoring in general management, is about two weeks away from initiating a $30,000 Kickstarter campaign that could get Illumicase into production.

Campus Kudos

Kudos to Pilar Melero, associate professor of languages and literatures, whose book, "Mythological Constructs of Mexican Femininity," was published by Palgrave.

Kudos to Jo Ann Oravec, professor of information technology and supply chain management, who spoke at the Asian Conference on the Social Sciences, Sociology, and Globalization in Asia, Aug. 24-26, in Hiroshima, Japan. Her paper is titled "Cultural and Social Shifts in Academic Collaboration, Intellectual Interaction, and Knowledge Production in Higher Education in an Era of 'Big Data.'" She was also a featured speaker at the Inaugural Conference on Psychology for Sustainability (also in Hiroshima), presenting her research on "virtual hoarding."


Kudos to Manuel Ossers, professor of languages and literatures, whose article "(Casi) no existe la literatura dominicana... en las antologías de literatura hispanoamericana" ["Dominican Literature (Almost) does not Exist... in the Anthologies of Hispanic American Literature,"] was published in LEANRANLE: Journal of the North American Academy of the Spanish Language. Volume IV, Number 7, (2015).
Blood Drive Sept. 2-4

Delta Zeta Sorority is sponsoring an American Red Cross blood drive in Esker Hall, Sept. 2, 10 a.m.-4 p.m.; Sept. 3, 11 a.m.-4 p.m.; and Sept. 4, noon-6 p.m. Visit redcrossblood.org or call 1-800-RED CROSS to make an appointment or for more information.

At Crossman Gallery

Starting Sept. 8, Crossman Gallery presents "In Light We Trust," an exhibit featuring the work of five Wisconsin artists who use nontraditional photographic processes to create their imagery.

Free Office 365 ProPlus subscriptions

Free subscriptions to Microsoft Office 365 ProPlus are now available to all UW-Whitewater students, faculty and staff. The subscriptions are for use on personal devices and are available for PCs, Macs and mobile devices (Android and iOS).
Submit Your Stories

We are always looking for great story ideas. If you know of a student or faculty or staff member who deserves a shout-out, or want to promote a campuswide event, email us at news@uww.edu by noon Friday. Submissions may be edited for length or content.