UW-Whitewater This Week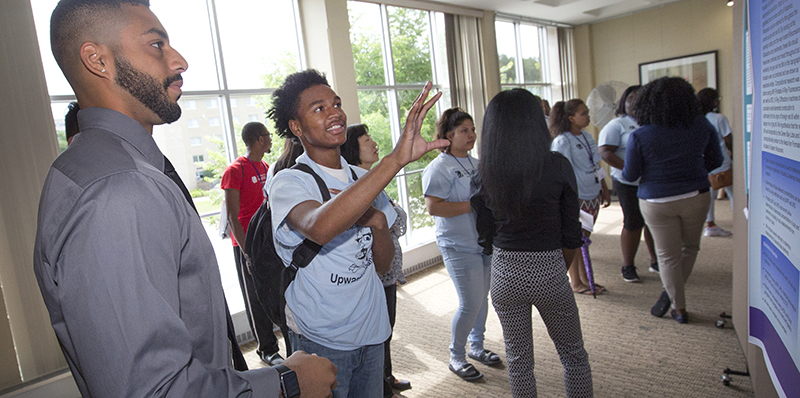 PHOTOS: McNair Scholars
UW-Whitewater McNair Scholars displayed the undergraduate research projects they will be working on in the new academic year at the McNair Scholars Program Research Symposium on Thursday, July 7.
Warhawk alumnus reaches summit of Mount Everest, makes history

Jeffrey Glasbrenner '98 discovered wheelchair basketball at UW-Whitewater and found mentors and coaches who pushed him to succeed. He is a three-time Paralympian and Ironman competitor. His latest personal challenge took him to the top of the world.

VIDEO: Making a Splash

Watch as communication major Elizabeth Fideler finds a welcoming home at UW-Whitewater, overcomes challenges and lives her passion for swimming.
Tea with the Chancellor

As Chancellor Beverly Kopper marks one year as UW-Whitewater's chancellor, the campus community is invited to join her for a Tea with the Chancellor at 9 a.m. Thursday, July 14, in the University Center, room 259. Refreshments will be available. There is no set agenda.

Summer on the Mall

The University Center will host Summer on the Mall: Tailgating with the Warhawks on Wednesday, July 13, from 11 a.m. to 1 p.m. There will be food, fun, games, prizes, live music and a dunk tank.

The beautiful business of doing good

Faculty from the College of Business and Economics show that making a meaningful difference is not just a side business, but one that can be fundamentally woven into the fabric of entrepreneurship.
Women in Higher Education Leadership

Mark your calendars for the Women in Higher Education Leadership Event on Thursday, Aug. 25. Our keynote speaker will be Emily Greener, co-founder and CEO of I Am That Girl.

Campus Kudos

Kudos to Jo Ann Oravec, professor of information technology and supply chain management, who presented a paper at the University of Sydney's 5th International Academic Identities Conference. The paper is titled "The Manipulation of Scholarly Rating and Measurement Systems: Social and Ethical Dimensions of Academic Gaming."

Kudos to Carmen Rivers, associate lecturer in curriculum and instruction, who won a $25,000 T.E.A.C.H. Early Childhood Scholarship Program Articulation Grant from the Wisconsin Early Childhood Association. The grant will support efforts to develop an articulation agreement with Wisconsin Technical College System for a newly proposed nonlicensure B.S. degree in early childhood education at UW-Whitewater.


Kudos to Sang Choi, professor of occupational and environmental safety and health, who presented and published two papers at the International Society for Occupational Ergonomics and Safety annual international conference on June 9-10 in Chicago, Illinois. The papers are "Research to Practice to Research (RtPtR): A Roadmap for Occupational Ergonomics and Safety Practitioners and Researchers" and "Preliminary Findings on Stretch and Flex (SF) Program and Work-related Musculoskeletal Disorders".
New library director

UW-Whitewater has named Paul Waelchli as director of Andersen Library, effective August 1.

Surplus sale

There will be a public surplus sale the first Friday of each month from 9 a.m. to noon in the central receiving area of Facilities Planning and Management, located at 500 N. Fremont St.
Submit your stories

We are always looking for great story ideas. If you know of a student or faculty or staff member who deserves a shout-out, or want to promote a campuswide event, email us at news@uww.edu by noon Friday. Submissions may be edited for length or content.