UW-Whitewater This Week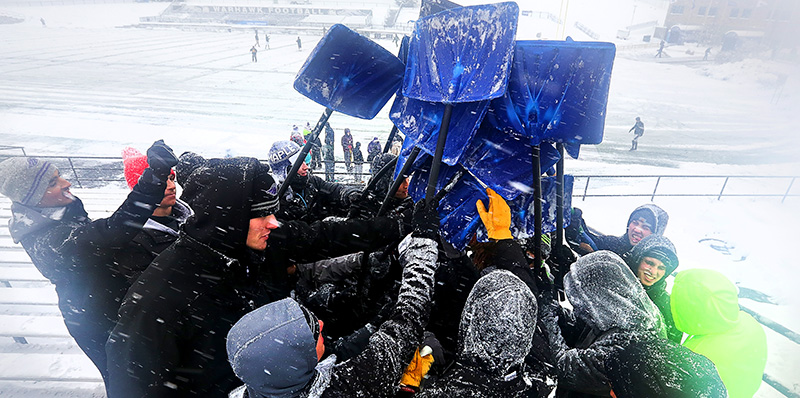 A Warhawk winter wonderland
The season's first snowstorm is a story about the Warhawk family — the volunteers like those pictured above who worked to clear Perkins Stadium of ice and snow, the passionate fans who refused to let the wintry weather freeze their purple pride, the campus's tradition of excellence as our student-athletes skillfully downed their opponent in the opening round of the national championship playoffs — captured beautifully by university photographers.
Tickets now on sale for

Dec. 5 holiday gala

The gala holiday concert, dinner and silent auction is Saturday, Dec. 5. Featuring performances from nearly every campus ensemble, the gala benefits the music department's scholarship fund. The silent auction features a handmade quilt, gift certificates from area businesses, a weekend in Door County and more.

National Geographic photographer to speak on campus Nov. 30

Annie Griffiths, one of the first women to photograph for National Geographic magazine, will present her lecture "Help a Woman, Help the Planet" at 7 p.m. Monday at Young Auditorium.
Men's rugby sprints to final four

The Warhawks — a club team that competes in Division II — will play in the USA Rugby national championships, Dec. 5-6 at Furman University in Greenville, South Carolina.
Save the date!

Hired Before Graduation

December graduates who have landed jobs are invited to stop by Andersen 1216 to have their photos taken for the Hired Before Graduation campaign. Drop-in times are Dec. 2 and Dec. 9 from 7:30 a.m. to noon.

Scholastic Book Fair

The Children's Center invites the campus community to its Scholastic Book Fair in Rosemen Building, room 1005. Times are 7:30-9 a.m. and 4:30-5:30 p.m. on Monday, Nov. 23 and Tuesday, Nov. 24; and 7:30 a.m.-5:30 p.m. on Wednesday, Nov. 25.

LEAP workshops 2016

All UW-Whitewater faculty, employees and students are invited to form teams and apply to participate in this year's LEAP workshop series. LEAP (Liberal Education and America's Promise) is a campuswide initiative aimed at helping teams develop action plans to enhance campus collaboration and improve student learning and success.
Campus Kudos

Kudos to the women's soccer team, which finished the season at 20-5 overall, with school records in wins and goals (68), and reached the national quarterfinals for the first time in school history.

Campus Kudos

Kudos to Candace Chenoweth, director of the Center for Global Education, who presented on UW-Whitewater's strategies to engage underrepresented students in education abroad at the Institute of International Education's Generation Study Abroad Summit in Washington, D.C. on Oct. 1.


In early November, Chenoweth also presented at the NAFSA Region 5 conference in Rosemont, Illinois, on the Association of International Educator's recently released "International Education Professional Competencies" and their implications for the field. In addition, she served as a panelist for NAFSA's recent live, online Collegial Conversation "Access for All – Physical Mobility in Study Abroad."


Erika Cuevas, immigration and global initiatives coordinator, also presented at the NAFSA Region 5 Conference on "Lose the Paperweight – Steps to Go Paperless in Your ISSS Office."
Emergency training

UW-Whitewater Police Services is offering AED and CPR training on Dec. 1, Dec. 4 and Dec. 14. For more information, email cpr@uww.edu or call 262-473-0510 ext. 121.

Scholarship and Creative Achievement reception

You're invited! Research and creative accomplishments of faculty and staff from a variety of disciplines will be recognized during a reception 3-4:30 p.m., Tuesday, Nov. 24, at Crossman Gallery in the Greenhill Center of the Arts.
Enterprise CarShare

This car-sharing program is a great way to get off campus to run errands or meet friends without the cost of car ownership. Become a member today for only $1 with promo code 1TOJOIN.

Zimride special

Driving home for Thanksgiving? Car-free and need a ride home? You can easily find classmates who need to go the same way! Share the ride, split the cost and have a chance to win a $50, $100 or $200 MasterCard gift card from Zimride.
Submit Your Stories

We are always looking for great story ideas. If you know of a student or faculty or staff member who deserves a shout-out, or want to promote a campuswide event, email us at news@uww.edu by noon Friday. Submissions may be edited for length or content.