UW-Whitewater This Week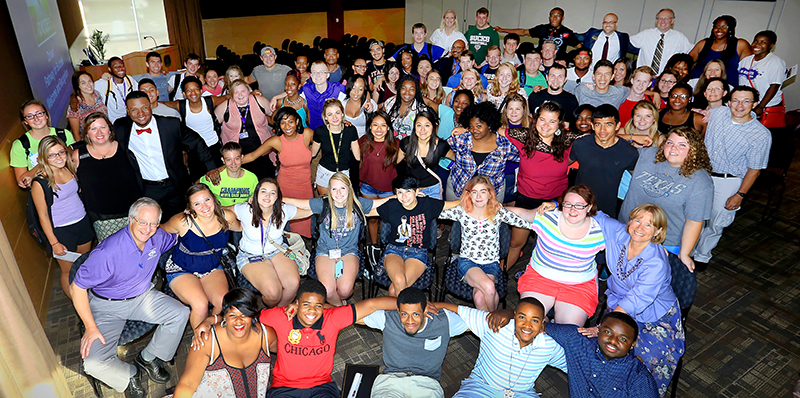 UW-Whitewater tapped to help nation reimagine students' first year of college
Our campus is one of only 44 universities in the United States chosen to participate in a sweeping initiative to improve graduation and retention rates nationwide.
Art professor winner in London graphic design competition

Daniel Kim's latest design for a popular grocery item blends practicality and art.

PHOTOS: Celebrating Mozart's birthday

A fun moment as six musicians -- three students and three faculty members -- performed Mozart in the atrium of Greenhill Center of the Arts over the lunch hour on Wednesday in honor of the composer's 260th birthday.
Call for New Student Seminar instructors

The First Year Experience Office is looking for faculty and staff to teach New Student Seminar for fall 2016. To learn more about this opportunity, please attend one of the New Student Seminar Information Sessions: Tuesday, Feb. 9, or Wednesday, Feb. 10. Both take place from Noon to 1 p.m., in University Center, room 261. Contact Beth John, director of first year experience at johne@uww.edu or 262-472-3205.

Register for LEAP Day

UW-Whitewater is hosting LEAP Day, Feb. 29, to celebrate the amazing work our campus and all UW System campuses do with the LEAP initiative. Events include a keynote address from Carol Geary Schneider, president, AAC&U, a panel of employers discussing workforce needs, presentations to highlight LEAP work from UW System campuses, and a poster session.

Enterprise CarShare

The car sharing program is a great way to get off campus to run errands or meet friends without the cost of car ownership. Become a member today for only $1.
Free tax clinic at UW-Whitewater

The IRS Volunteer Income Tax Assistance program at UW-Whitewater offers free tax help and free electronic filing of 2015 federal and Wisconsin tax returns.

Campus Kudos

Kudos to James Hartwick, professor of curriculum and instruction, who co-authored "Emphasis on diversity of religious views in social studies: A national survey of social studies teachers," an article that was published in The Journal of Social Studies Research.

Kudos to Russ Kashian, professor of economics, who will present at the Governor's Conference on Economic Development, Feb. 3-5 in Madison on Wisconsin's brownfields.

Kudos to Taylor Spitzig, human resources assistant, who received a $1,000 grant from the Department of Employee Trust Funds Office of Strategic Health Policy to promote wellness activities on campus.


Kudos to Ramon Ortiz, interim vice chancellor for multicultural affairs and student success, who was named one of the 48 most powerful Latinos in Wisconsin.
Student commencement speaker auditions

UW-Whitewater is looking for outstanding student speakers to address their graduating classes at the May commencement ceremonies.
Submit your stories

We are always looking for great story ideas. If you know of a student or faculty or staff member who deserves a shout-out, or want to promote a campuswide event, email us at news@uww.edu by noon Friday. Submissions may be edited for length or content.