UW-Whitewater This Week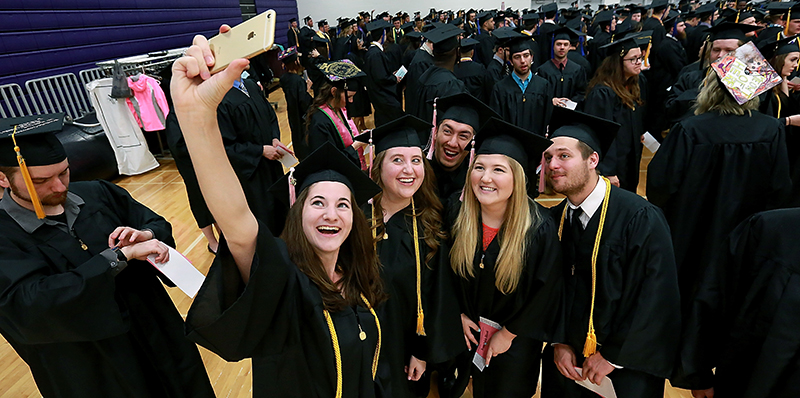 PHOTOS | Spring commencement
University photographers Craig Schreiner and Erika Sternard present a photographic celebration of our newest Warhawk alumni and all the people who inspired and supported them. Congratulations Class of 2016!
PHOTOS: Track/field

teams compete in WIAC tourney

The UW-Whitewater men's and women's track and field teams finished second and fourth, respectively, in the WIAC meet.

Warhawk baseball NCAA bound, earns top seed in regional

The Warhawks (29-14 overall) picked up one of 16 at-large bids into the 56-team field.

Scene from the classroom

On occasion, Victor, a service dog belonging to UW-Whitewater student Elizabeth Fideler, sheds his harness for an impromptu pas de deux with dance professor Barbara Grubel in the dance studio following a rehearsal of sit-down (in wheelchairs) and stand-up dancers.

"He's been watching us practice all semester," Grubel said. "When he finally had the chance, he wanted to dance, too."

Photo by Craig Schreiner

In the Media

Two UW-Whitewater students, Michael Grimley, a freshman from Kenosha and Jessica Bacher, a freshman from Pleasant Prairie, will be one of 160 vendors at Kenosha's HarborMarket this summer. Grimley, a computer science major and Bacher, an English major, will operate Roll With It, a mobile food booth featuring gourmet fusion egg rolls. The HarborMarket is the second largest farmer's market in the state and is open Saturdays from 9 a.m. until 2 p.m.

Sam Lukach, a sophomore communications major from Pewaukee, was recently featured on WKOW-TV for his invention, HUK-TV Mounts. Lukach created the TV mounts when he wanted to find a way to use the space in his dorm room more efficiently. Last fall, HUK-TV Mounts won first place at the Collegiate Entrepreneurs' Organization National Elevator Pitch Contest.
New FAFSA start date

The Free Application for Federal Student Aid (FAFSA) is changing in two ways beginning with the 2017-18 award year.

Summer food program

The Upward Bound Program and PreCollege Summer Academic Camps will operate a Summer Food Service Program from June 19 to July 29. The Summer Food Service Program for children is sponsored by the Wisconsin Department of Public Instruction - Community and School Nutrition Programs. Meals will be served in Esker Dining Hall for 75 to 90 students weekly. Contact nowakp@uww.edu for more information.
Campus Kudos

Kudos to Bill Miller, assistant professor in the Department of Art and Design, who has had two videos selected for upcoming international screenings and exhibitions. The animated videos, "Phantoms" and "Phantoms 2" use data collected in the UW-Whitewater Motion Capture Studio for animated cloth simulations that display drawings created with traditional materials by Miller.

Kudos to Lynn Gilbertson and Donna Vosburgh, who received a WISys Technology Advancement grant for their proposal, "Development of a Novel Method for Measuring Occupational Noise Levels in the Ear Canal, Phase 2." Gilbertson, assistant professor of communication science and disorders and Vosburgh, assistant professor of occupational and environmental safety and health, designed and tested a set of low-cost accessories for adapting the 3M Edge 5 dosimeter to measure noise levels in the ear canal. The team was awarded a WISys Prototype Development grant in 2014-15 for the first phase of the prototype.


Kudos to recent UW-Whitewater graduate, Alexis Baker from Fountain City, Wisconsin, who recently received the American Chemical Society Award in Organic Chemistry. Alexis, who graduated last Saturday, has been accepted at the Medical College of Wisconsin and will begin its M.D. program this fall.

Metals and jewelry student Jason "JJ" Thomson forms art with meaning

Creating objects in copper, brass and sterling silver as an art student, JJ Thomson learns more about his learning disability — and shares his journey with others.
Submit your stories

We are always looking for great story ideas. If you know of a student or faculty or staff member who deserves a shout-out, or want to promote a campuswide event, email us at news@uww.edu by noon Friday. Submissions may be edited for length or content.