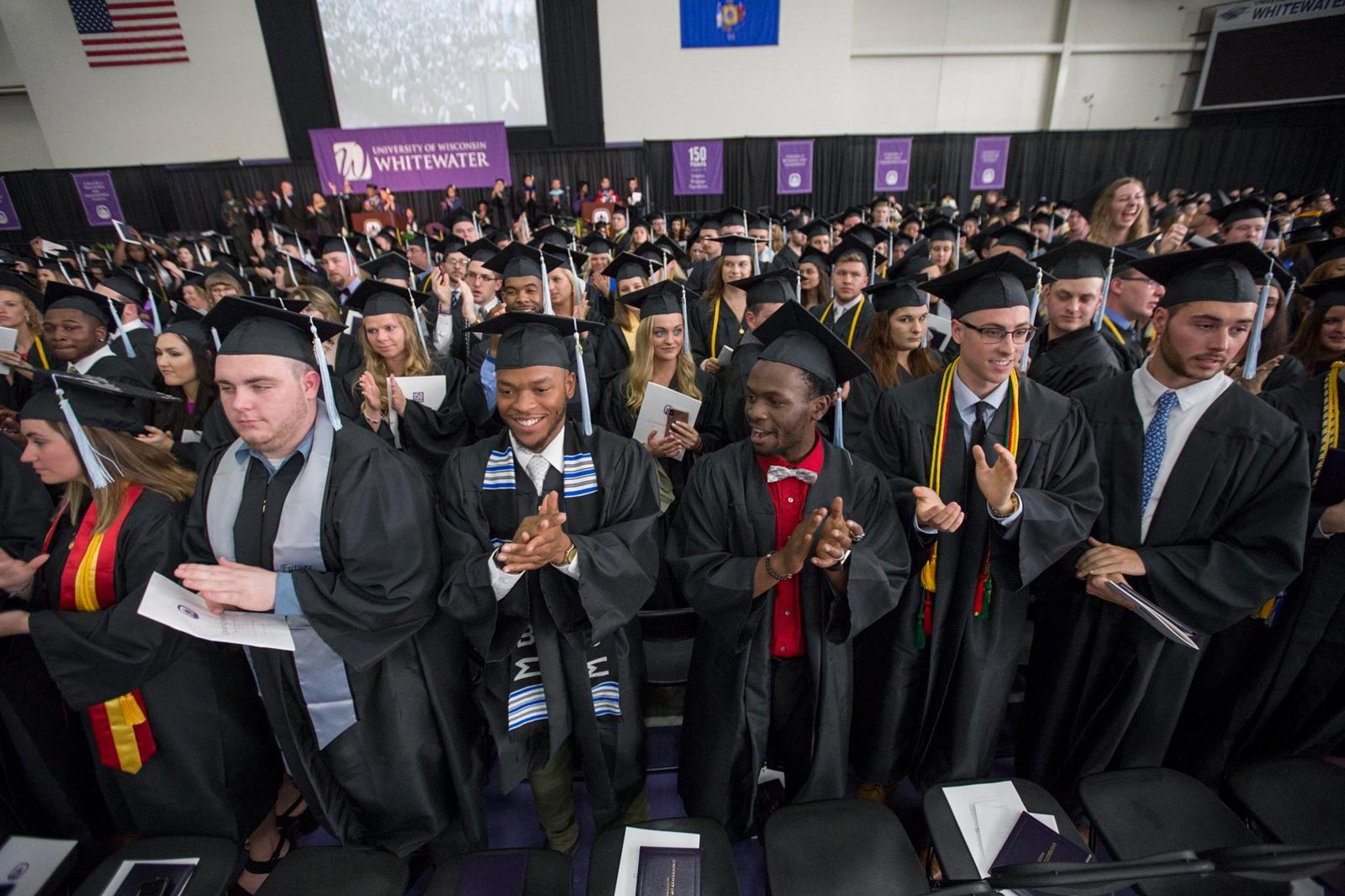 PHOTOS: 2018 Spring Commencement
In the Media: UW-Whitewater graduates 1,644 students

Alumnus Timothy J. Hyland encouraged students to be positive and optimistic, and never forget to tell loved ones that they are loved. "Commit to a lifestyle of being charitable," he said. "Giving your time and talent to charity is one of the most rewarding facets of life."



In the Media: Janesville family honored at UW-Rock County commencement

Chancellor Beverly Kopper addressed a crowd of UW-Rock County students Tuesday, where about 50 graduates crossed the stage.


In the Media (continued)

Members of the Warhawk wheelchair basketball teams spun, dribbled, shot, rammed into each other, fell to the ground and picked themselves up to teach students at Olympia Brown Elementary School on May 16 about overcoming challenges. Racine Journal Times »

With a one-way ticket to Croatia in hand, adventure awaits recent graduate Sam Lepak. Lepak says he caught the travel bug in 2017 while studying abroad in Sweden, and he is pursuing remote employment opportunities so he can continue traveling and launching new business ventures. The Wisconsin 100 »

Lecturer in psychology Jim Larson is serving on a City of Milwaukee anti-bullying task force, which is focusing on the needs in Milwaukee Public Schools. CBS 58 WDJT Milwaukee »

U.S. Sen. Ron Johnson visited with UW-Whitewater's Regional Champion College Fed Team and held a listening session at the Mary Poppe Chrisman Success Center. Jefferson County Daily Union »

The Warhawk men's rugby club team finished as national runner-up at the College 7s championship held May 20 in Glendale, Colorado. USA Rugby »

For the past year, the UW-Rock County's Student Housing Committee has been studying the possibility of student housing. Janesville Gazette »

Blackhawk Technical College has signed a transfer partnership agreement with UW-Whitewater to help business students at the two-year college complete a bachelor's degree at a four-year university. 1230 AM WCLO Radio »
ROTC Commissioning Ceremony

Audience members, from left, Aria Bennett, Nate Lepak and RJ Greco, react as student Zachary F. Bringer, right, receives his officer's commission as a second lieutenant in the U.S. Army Field Artillery at a ceremony held in the University Center. Earlier in the day, Bringer, who is from Savannah, Georgia, received his Bachelor of Business Administration during the university's spring commencement ceremony.
Photo by Craig Schreiner



PHOTOS: Student-athlete Commencement

On May 21, UW-Whitewater conferred degrees on student-athletes from the university's rugby and baseball programs who were competing and unable to attend the commencement ceremonies on May 19.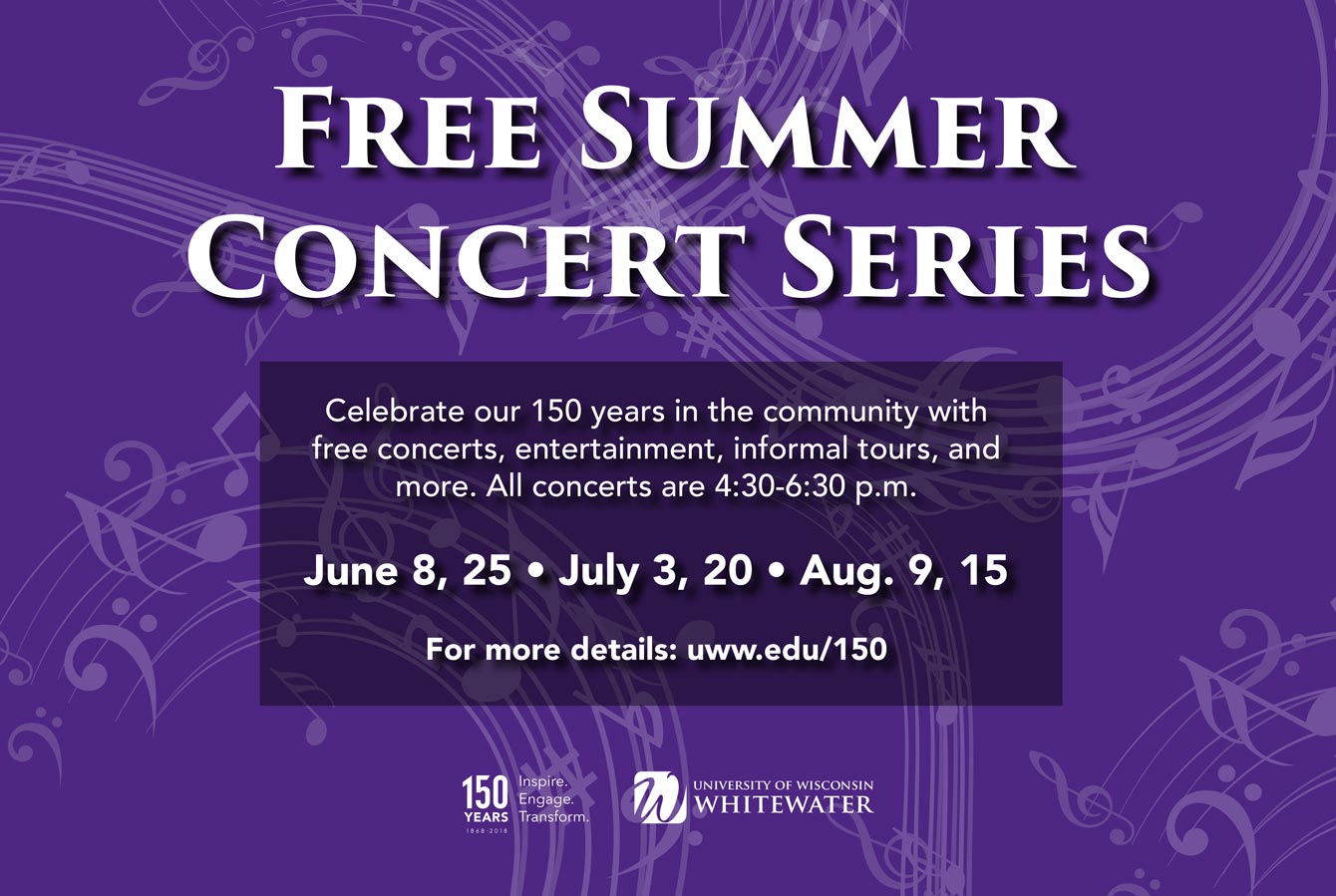 Music, fun and games
Join us on the south Wyman Mall for free outdoor concerts and kids' activities, and visit our beverage and food tents to make your picnicking easy. The line up includes blues, soul, country, jazz and more.


A Photographic Celebration

Own the official publication marking UW-Whitewater's Sesquicentennial Celebration.




- Save the Dates -
Join us in cities across the Midwest for our 150 Roadshow

Green Bay
Monday, Aug. 13
Lambeau Field Madison
Tuesday, Aug. 14
Keva Sports Center Milwaukee
Thursday, Aug. 16
MobCraft Taproom Chicago
Friday, Aug. 17
Chicago Athletic Association Minneapolis
Monday, Aug. 20
Mill City Museum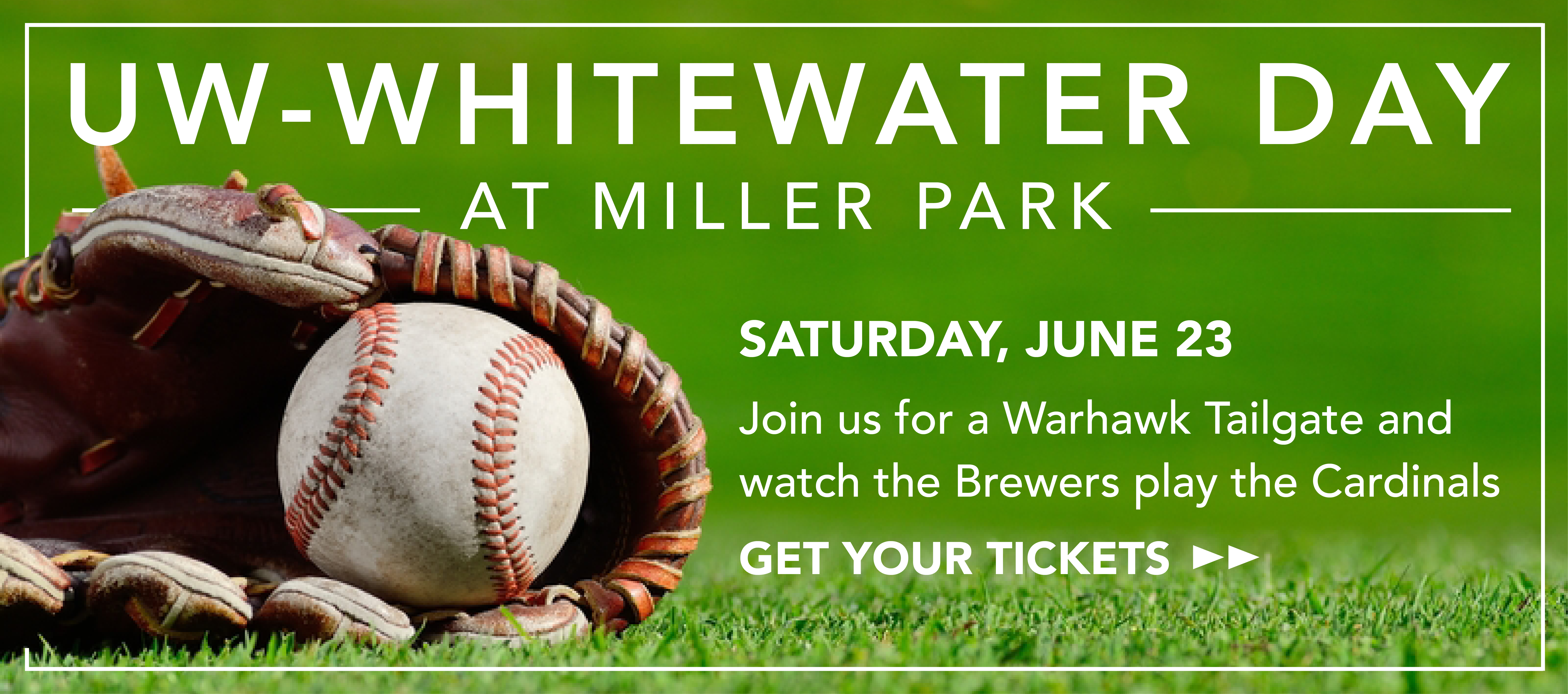 Everyone is invited to celebrate UW-Whitewater's 150th birthday at Miller Park
Ride the Warhawk Bus from Whitewater to Milwaukee and join us for a pre-game tailgate featuring a Smokehouse BBQ lunch, cash bar, games and entertainment. Then, watch the Brewers take on the St. Louis Cardinals. You'll receive a commemorative Warhawk baseball cap and T-shirt, and our group will be recognized on the scoreboard during the game. Get your tickets!


Campus Kudos

Kudos to UW-Whitewater Science Outreach, which co-sponsored the Chemists Celebrate Earth Week Illustrated Poem Contest for the local section of the American Chemical Society. The office promoted the event to area K-12 schools, collected entries, posted them in Upham Hall, organized the voting, determined local winners, and sent those winners off to the national competition. Our local winner, Constance Vogt, 2nd Grade, took first place at the national level. Read more »

Kudos to Jo Ann Oravec, professor of information technology and supply chain management, who will present "Self-tracking Practices in Organizations: Addiction, Versioning, Data Manipulation, and Security Dimensions" at the International Association for Media and Communication Research Annual Conference at the University of Oregon, in Eugene, Oregon, on June 22.
Summer on the Mall

Look forward to live music, art activities, prizes, great food and a break in the day. Philanthropy Recipients include: Warhawk Emergency Fun, Campus Food Pantry, Local Food Panty, and the Bethel House. Open to the public. Bring your friends!



2018 Summeround Season

Presented by the Department of Theatre/Dance, a summer of comedy is headed your way! The season kicks off in June with a World War II era comedy in "Dear Ruth," and extends through July with the Off-Broadway hit "Greater Tuna."


Submit your stories

We are always looking for great story ideas. If you know of a student or faculty or staff member who deserves a shout-out, or want to promote a campuswide event, email us at news@uww.edu by noon Friday. Submissions may be edited for length or content. View Archives »