HOUSING
Living on campus is often a hallmark of the college experience. You'll forge life-long friendships, form lasting memories, and learn important life lessons as you navigate independent living — together — with roommates, hallmates and classmates.
Housing at the University of Wisconsin-Whitewater is accessible, inclusive and designed with community and convenience in mind. And our residence life team is committed to creating a welcoming, positive, safe and enjoyable residential experience.
Personalize your space
Make yourself at home and bring your personality to life as you arrange and decorate your dorm room on your terms.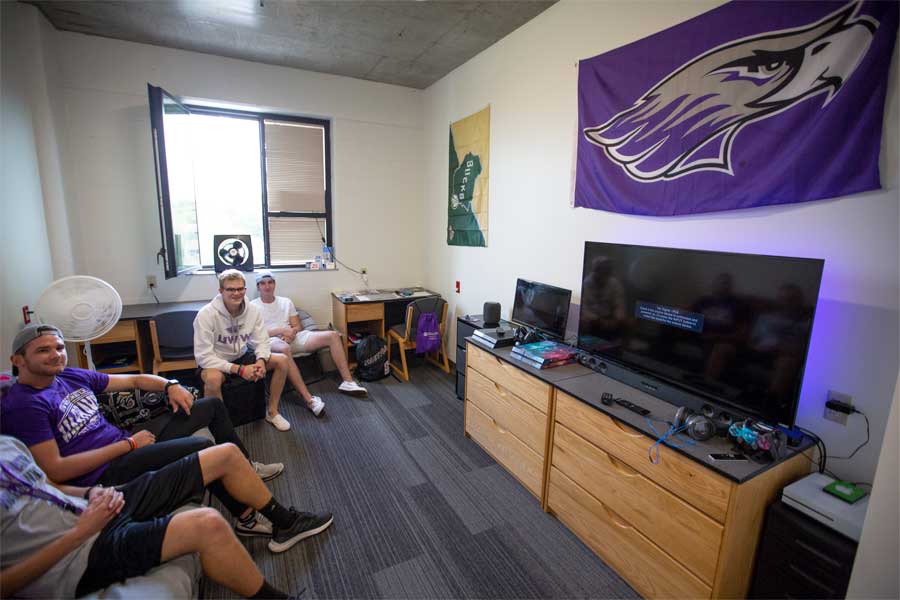 Enjoy the convenience
Living on campus means quicker and constant access to classes, recreation, food, activities and events.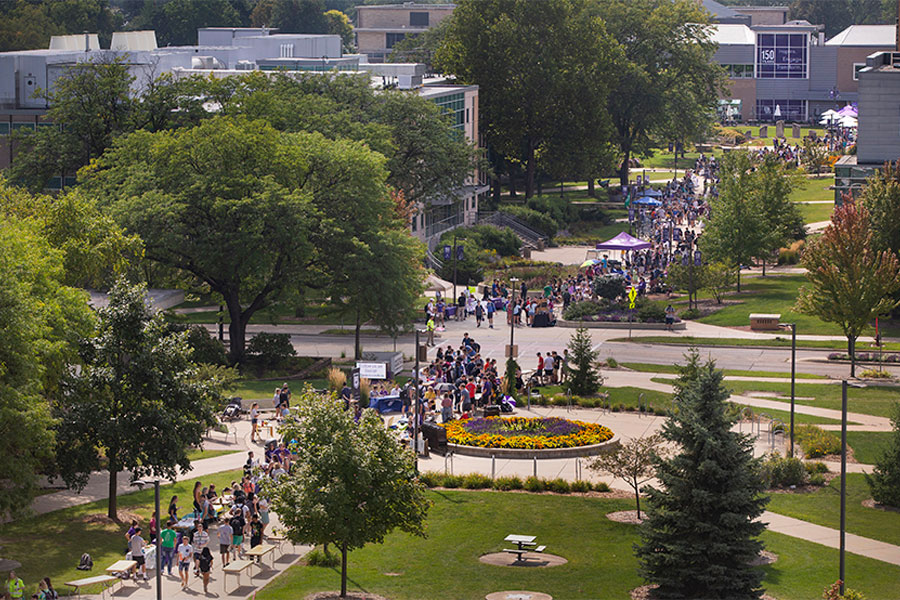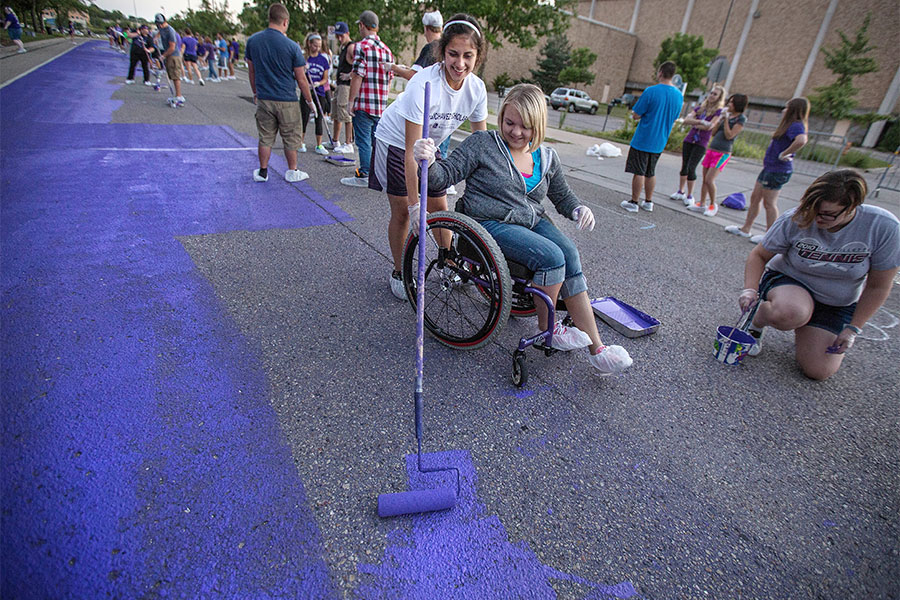 Feel at home right away
Get acquainted with your neighbors — and future friends — during opening week activities and events.
You'll call one of our 15 student residences home, from the high-rise Wells Halls to the Pulliam Hall suites. Our on-campus living options include 2-person rooms, single rooms, and 2-bedroom pods, and 4-bedroom suites.
Each residence hall is a bit different, but here's a look at what's included with most on-campus housing:
Additionally, you'll find dining locations in our east or west housing hubs, Drumlin and Esker.
When we say "community," we mean it. The residential experience at UW-Whitewater includes countless ways to connect with others through a range of academic, social, entertainment, and service programs and activities.
Residence Hall Association (RHA) and Leadership Involvement Team (LIT)
RHA serves as the student voice on housing matters. They also build community with campus-wide events, such as a Whitewater's Got Talent and outings to Milwaukee Brewers games. LIT members represent their residence halls and floors and plan programs and events, like pancake breakfasts!
A top campus employer
University Housing offers many job opportunities for students to gain professional work experience and be part of a close-knit team to enhance the on-campus living environment for fellow students.
Jitters: A Student-run Coffeehouse
Located in Wells Hall, Jitters is a student-created, student-operated venue that offers espresso drinks and other beverages and hosts open mics, acoustic shows, game nights and other events.
Students get the most out of their UW-Whitewater experience by living on campus. For those who may be interested in living off-campus, we provide a variety of housing resources to help you make an informed decision as you explore off-campus options. Please note, University of Wisconsin-Whitewater requires that all students that have graduated from high school less than two years ago, live in university operated residence halls during the academic year unless approved for an exemption. See exemption process at the following link: Learn more about Housing Policy.
Here are pages with answers to some of the most common questions we get about University Housing:
View all housing services at UW-Whitewater.
For more UW-Whitewater housing information, go to our University Housing FAQ page.
We're excited for you to join the Warhawk family! As your first semester — and move-in day — approaches, you'll begin to receive lots of information about housing at UW-Whitewater. Until then, you might find these pages helpful in answering dorm life questions like, "what size beds are in college dorms" or "what comes in a college dorm room?":
For more UW-Whitewater housing information, go to our University Housing FAQ page.
We strive to make living on campus feel like home. Our dedicated professional staff cares deeply about our Warhawks and works to ensure our residential buildings are safe, clean and comfortable. We provide a residence hall community experience that supports students' education and academic pursuits while enhancing their overall collegiate experience.