World premiere concert commemorates UW-Whitewater's 150th
March 06, 2019
Video by Jeffrey Pohorski and Dennis Koback | Written by Jeff Angileri
The past, present and future will collide in a beautiful vocal crescendo as University of Wisconsin-Whitewater students perform a world premiere concert in honor of the campus's 150th anniversary.
Composed by Professor Christian Ellenwood for the sesquicentennial, the commissioned piece "A Torch Blown Along the Wind" will be performed by the UW-Whitewater Chamber Singers, under the direction of Robert Gehrenbeck, associate professor of music, at 7:30 p.m. on Sunday, March 10, in Light Recital Hall in the Greenhill Center of the Arts.
Tickets are $5.50 for students and children, $6 for seniors, and $8 for adults.
To accompany the original music he composed, Ellenwood chose the aspirational poem "To the Others" — written by Irish-American poet Lola Ridge and published about 100 years ago — for the lyrics.
"The poem speaks to a need to include everyone in this great American experiment. It's about being optimistic in spite of challenges. The torch serves as a wonderful metaphor and a symbol for our individual growth, our individual journeys, as well as our institution's journey," he said.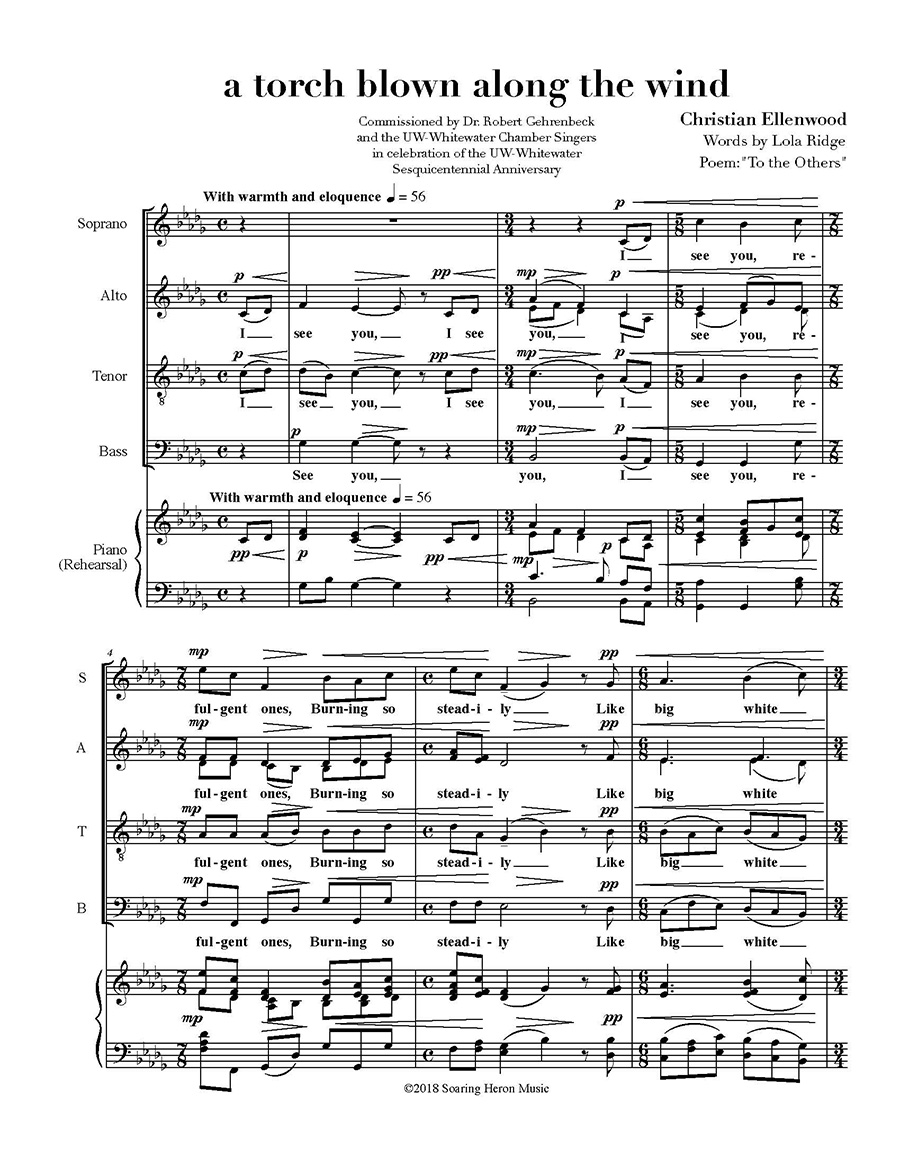 For Ellenwood, who has composed more than 30 original works, the experience is defined by inspiration, awe and deep gratitude.
"There's nothing more profound, nothing that can touch my heart like hearing my musical ideas taken into somebody's heart and given voice," he said.
Lauren Vander Linden, a music major from Manitowoc, calls it a "full circle moment — performing with the people I've grown with." She said it was cool to be part of this once-in-a-lifetime historic moment at UW-Whitewater.
Darius Sanders, a music major from Chicago, describes the collaboration and working with Ellenwood as life changing.
"I was extremely excited to participate because I look up to him as a teacher. My goal is to teach vocal music — to give someone the gift of music and to help them master it."
The Chamber Singers are composed of 40 students, half of whom are music majors, but the group includes students with many different majors from all colleges on campus.
The ensemble will perform encores of "A Torch Blown Along the Wind" during its tour of Germany and Poland May 21-June 2.