Legacy of excellence continues as Warhawk Ryan Schultz wins statewide music education award
October 22, 2019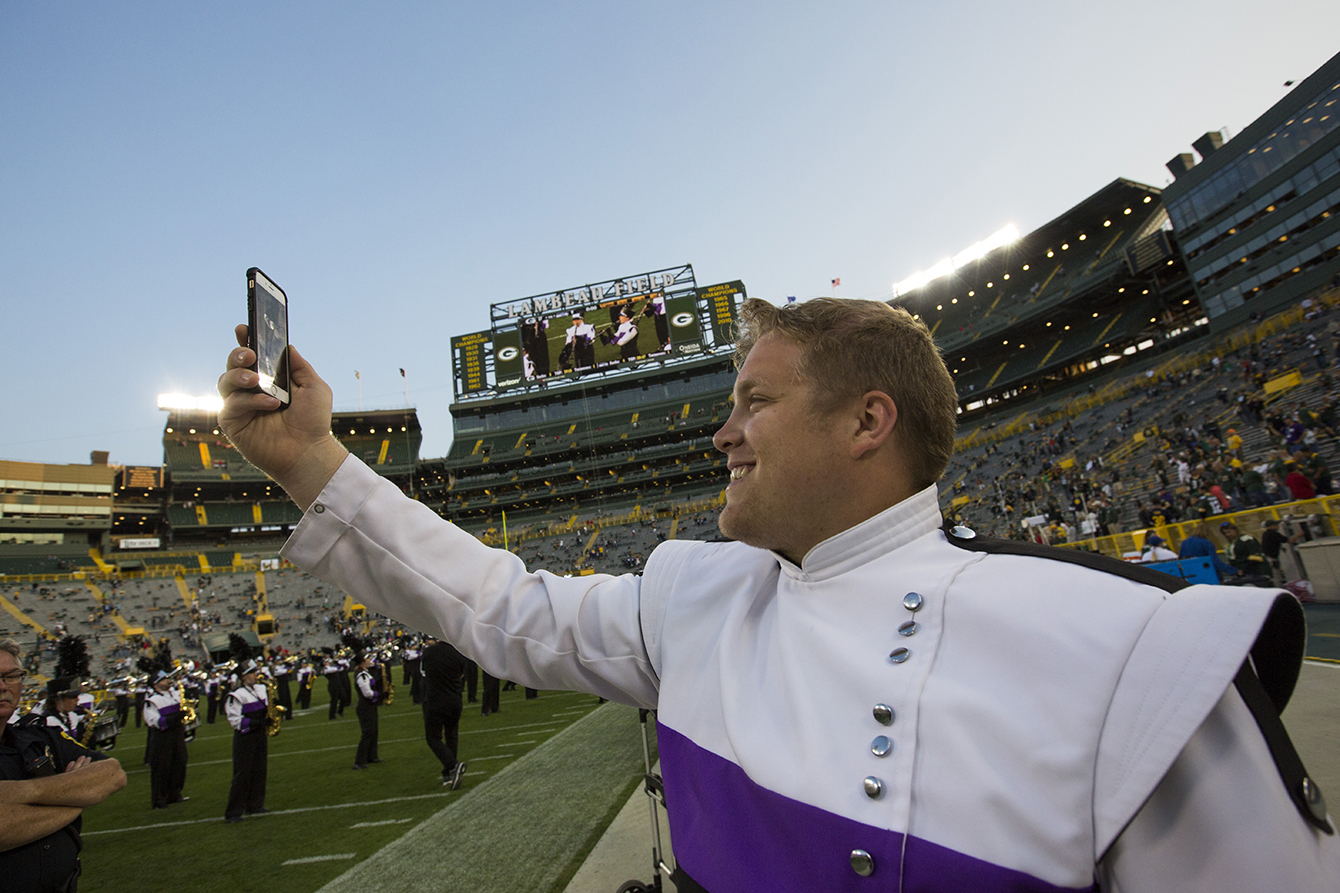 He was there.
On that hallowed field. Performing with the Warhawk Marching Band — playing his heart out — in front of 80,000 fans at the Green Bay Packers 2017 home opener.
When he thinks about the experience, Ryan Schultz says it still feels surreal.
"It's like a blur of green and gold and purple. I remember lying down on the big 'G' at the 50-yard line, and all these alumni and parents cheering in the stands," he said.
The performance at Lambeau Field is, without a doubt, one of the many highlights of Schultz's college career. His musical journey at the University of Wisconsin-Whitewater has included performances in numerous ensembles, including the Whitewater Symphony Orchestra, Symphonic Wind Ensemble, Concert Band, University Band, and of course, the Warhawk Marching Band.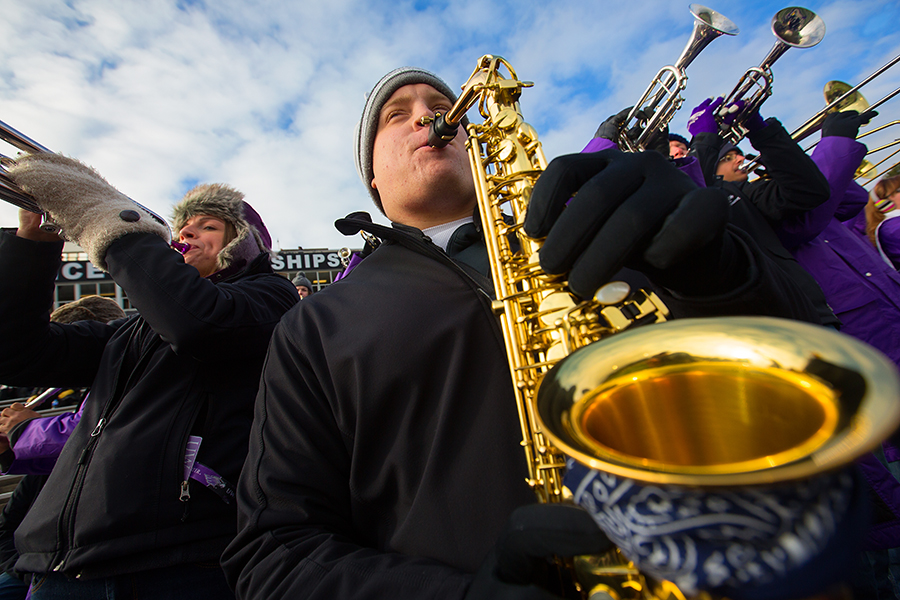 Along the way, he served as president of the National Association for Music Education collegiate chapter, taught at music camps — including flute and band — and helped lead the "Sounds 'n' Visions" program, an annual workshop event where elementary students from across the region experience music making.
All of these efforts have contributed to Schultz being named the 2019 Richard G. Gaarder Award winner. An honor bestowed by the Wisconsin Music Educators Association, the award is presented each year to an undergraduate music education major who has shown exceptional leadership, musical excellence and service to the campus and community. Warhawks have won the statewide honor 19 times since 1989, the most of any university.
Schultz will be honored on Oct. 24 during the Wisconsin State Music Conference at Monona Terrace in Madison.
His path to winning this prestigious award might never have happened had it not been for the persistence of his grandmother. When he was 5 years old, Schultz wanted nothing more than to play with his dinosaur toys. But his grandmother had other ideas.
"She took me to piano lessons. I hated it. I absolutely hated it. It wasn't fun at all," he said.
But he stuck with it and, by middle school, he was performing concerts and appreciating the gift of an incredible art form.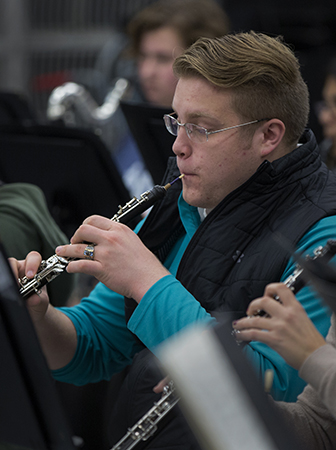 "Music conveys so much expression and emotion — the silence is your canvas. My all-time favorite piece to play is Beethoven's 'Moonlight Sonata.' It's the purest piece I've ever played. You can interpret it for how you're feeling that day. On a good day, you can play it beautifully, and on a bad day, you can just pour the emotions out into the piece."
In addition to piano, oboe is another strong suit for Schultz. But music teachers are expected to be able to play and teach all instruments, said Alena Holmes, associate professor and coordinator of music education.
"Ryan is also a talented vocalist with a great knowledge of technology and modern band instruments," she said.
As he aspires to be a transformative teacher, Schultz has plenty of examples to draw from. His band director at Jefferson High School, Denise Reichhoff, inspired him to pursue music education. At UW-Whitewater, Professor Glenn Hayes modeled empathy and a drive for excellence. And Holmes embodied the very best in classroom instruction — energy, positivity and a dedication to student success.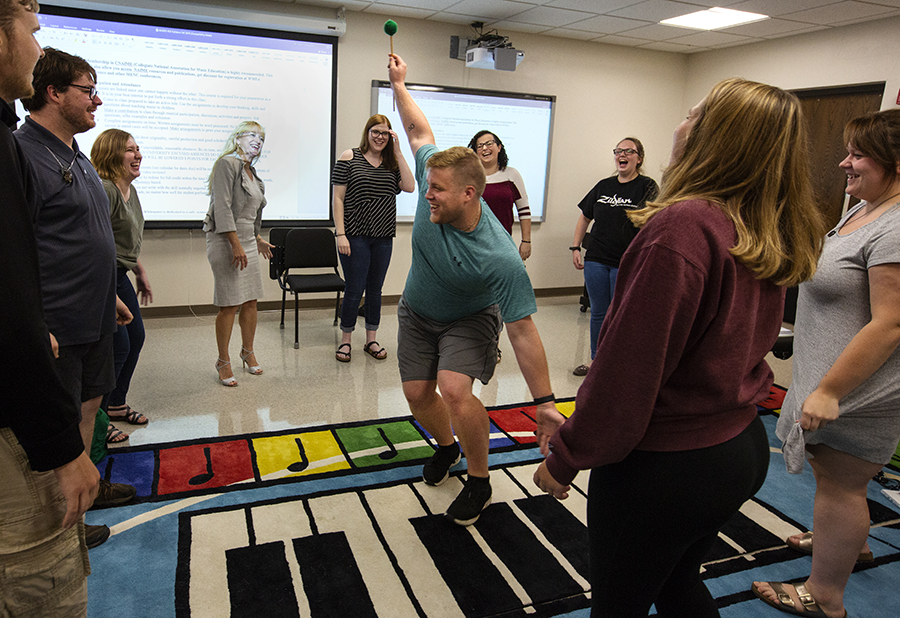 Teaching music is Schultz's calling.
"The kids who struggle — I want to help them the most. Lesson after lesson, you'll finally say something that turns on the lightbulb for them. That emotion you feel as a teacher when you see your previously struggling student succeed is indescribable."
This is the kind of passion that makes for an exceptional future teacher, Holmes said.
"Ryan is, without question, the most dedicated future music educator I've had the privilege to teach. He is an individual with integrity, kindness of heart, and a passion for excellence in everything he does," she said. "I would trust the world of music education to him."
And as for Schultz's grandma — who saw his potential at the age of 5?
"She makes every concert and, when I finished my senior recital, she was the first person to give me a hug." And, Schultz says with a smile, "She likes to take all the credit."