UW-Whitewater student among six worldwide recipients of international business scholarship
February 18, 2022
Written by Craig Schreiner | Photography by Craig Schreiner and College of Business and Economics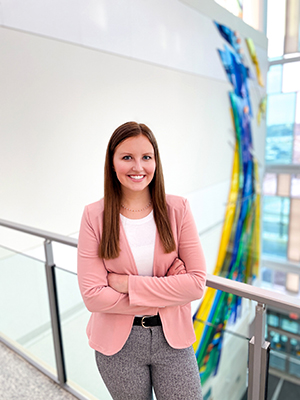 Courtney Jentz, a double major in accounting and finance at the University of Wisconsin-Whitewater, sees herself as a partner at a firm and in other top-echelon roles at national and global companies. After all, she's a Warhawk, and is now an internationally recognized future business leader.
Jentz is one of only three Americans — and six recipients worldwide — to win $8,000 scholarships from Zonta International, a global organization dedicated to helping women who aspire to be business leaders. The other two American recipients attend Wharton School of Business and the University of Maryland, College Park. Jentz also won in Zonta's district and regional rounds, adding another $2,500 to her scholarship fund.
Jentz, a senior, graduates in May and will go on to UW-Madison for a master's degree in business administration, specializing in securities analysis.
"I hope to make a substantial impact in a business field and empower women through my successes, showing women they can be successful," said Jentz. "Women are sometimes intimidated by male-dominated business fields. I aspire to change this narrative by obtaining a partner position during my career."
Mohammad Jafarinejad, assistant professor of finance and business law, is Jentz's finance instructor and served as a reference on her scholarship applications. He puts the honor in perspective.
"(UW-Whitewater) students are capable of going head-to-head with the top schools in the nation. I tell my students, 'You have nothing less than other schools. It's a matter of showing up and putting your best foot forward. Here is an example.' It shows that it works," said Jafarinejad.
Jentz is a Platteville native who was always a standout in a quiet way. To this day, she seems to glide seamlessly from two academic majors to volunteerism to operating three businesses on the side. Out of their apartment next to campus, she and two roommates operate a used clothing and fashion business. They do nails for others as a separate business. And Jentz taught herself photography online and has a photography business, sometimes taking photos as part of the other two businesses.
As a 15-year-old, Jentz's first job was at a local Culver's Restaurant. During her junior year in high school, Jentz was approached by Janis Miles, her business and marketing teacher at Platteville High School, about the local office of Honkamp Krueger and Co., P.C. needing student help during tax preparation season.
At Honkamp Krueger, Jentz found a professional environment where she was treated as a colleague. She worked for Michelle Thompson, the tax and accounting manager in the Platteville office, who became a mentor. It was a heady environment for a high school junior: doing real work for real clients in one of the offices of a national CPA and accounting services firm.
In a sense, that job offered a mountaintop view from which Jentz saw the world spread out before her. The relationships and references that came from it have led to prestigious internships, scholarships, work experiences and networks of colleagues and friends Jentz knows will last a lifetime.
During her senior year in high school, Jentz applied to five colleges, visiting only Marquette and UW-Whitewater. Excellent faculty along with welcoming experiences on tours and from older students in the University Honors Program cemented the decision to become a Warhawk.
Her goals would be threefold: become an accountant and CPA, complete 150 credits and do it within four years. By year four in the fall of 2021, even with the pandemic year thrown at her, Jentz was on track when she entered Jafarinejad's class on investments and securities. The class exposed Jentz to yet another mountaintop view, another major, another seamless change. Even after adding finance as a second major, Jentz is on track to finish in May.
Jafarinejad was delighted.
"We don't have enough women in finance," he said. "By the time she finishes her MBA I think she's going to end up at one of the Wall Street firms or another one of the prestigious firms."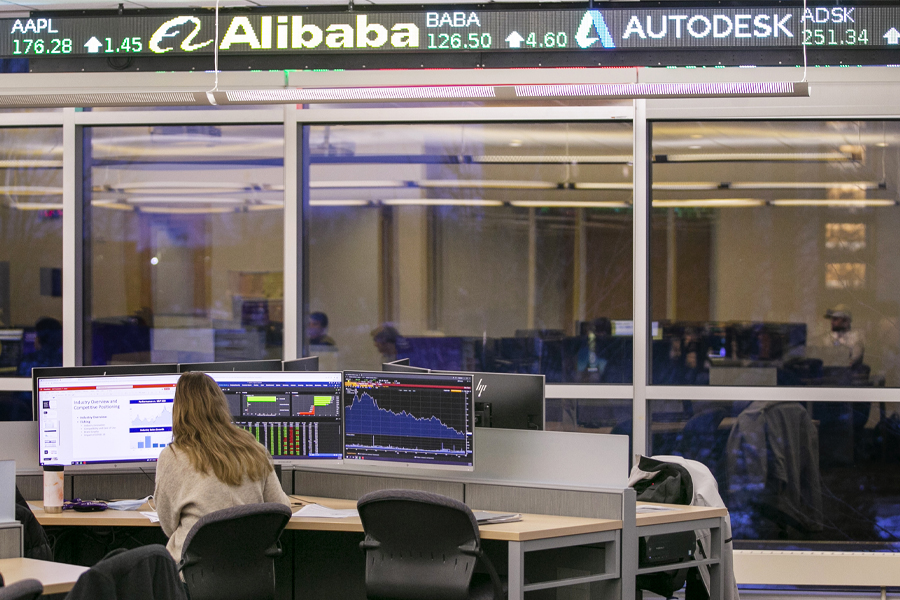 By the end of the fall semester, Jafarinejad knew he wanted to recommend that Jentz become one of 12 students in the Applied Investment Program, where students manage portfolios of securities backed by a university endowment. The students work in teams under the tutelage of R.J. New, an investment practitioner and instructor backed by an advisory board of faculty and investment professionals. The work takes place inside the university's own trading room on the second floor of Hyland Hall, home to the College of Business and Economics.
"In that program, they are working with actual money," said Jafarinejad. "You have to be selective. I'm not just looking at their grades when I refer them. Sometimes it's not a top academic achiever. I notice students who read beyond the material, who are interested and motivated and who learn beyond the course."