UW-Whitewater dean honored regionally for leadership
January 23, 2023
Written by Paul Doro | Photos by Craig Schreiner
An award-winning Milwaukee publication that recognizes noteworthy leadership has honored one of the University of Wisconsin-Whitewater's leaders.
BizTimes Milwaukee has included Matthew Vick, dean of the School of Graduate Studies and Continuing Education, in its inaugural Notable Leaders in Higher Education list. He was celebrated in the January 23, 2023 issue of BizTimes Milwaukee as well as online on biztimes.com.
Vick is an exceptional educator and thoughtful leader who listens, seeks recommendations and makes swift decisions allowing his school to flourish.
His nomination read, in part:
"His team works with employers giving 1,600+ grad students relevant job skills to take their careers to the next level; including new Master of Science degrees in: education in early childhood policy, applied kinesiology, and social work. His Research and Sponsored Programs department brings in millions of dollars for grants and corporate projects creating hands-on experiences and supporting the community.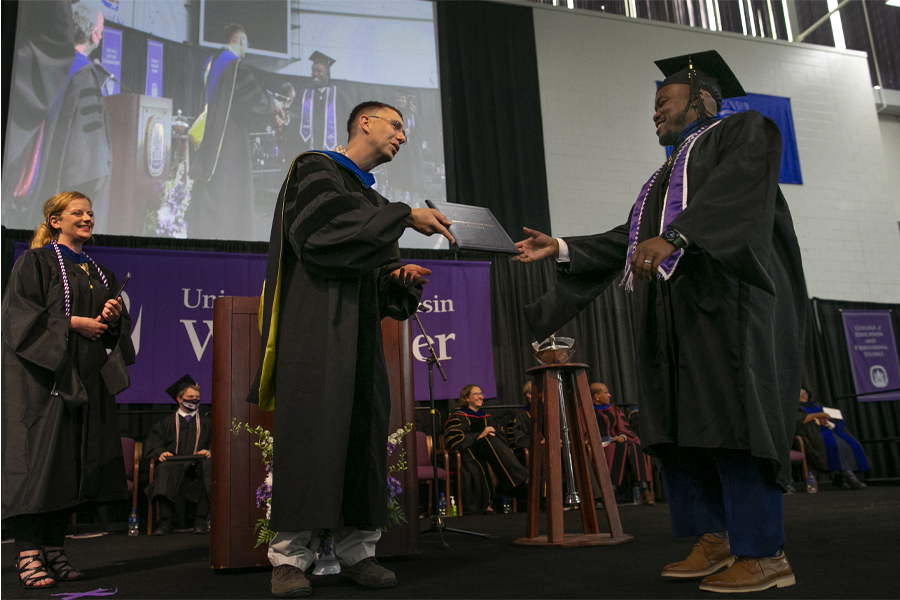 Under his purview is the UW-Whitewater camps program, well-known across the Midwest for its high-quality experiences. Last summer hundreds of coaches, faculty and student workers united to host 5,000+ campers across athletics, arts and academic areas. Demonstrating UW-Whitewater's core mission of helping students of diverse abilities find success, select camps partner with organizations like Variety to provide "Chatter Matters," a camp for children with special needs who use assistive communication devices and their immediate families. Additionally, this summer, the camps department hosts the 2023 Special Olympics on campus."