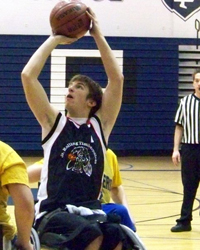 The Warhawk Wheelchair Basketball Team has signed the top recruit in the country. Derrick Bisnett of Bismarck, North Dakota has won 3 National Championships with the Minnesota Jr. Timberwolves. He has represented the USA on the U19 team that competed in Australia and his team is the top seed heading into the National Championships in Denver next month. What is next for Derrick Bisnett?

Bisnett has signed his letter of intent to attend the University of Wisconsin-Whitewater for the 2011-2012 season. He plans on getting his Graduate degree in Speech Pathology during his five years of eligibility at Whitewater. "It was a tough choice, but Whitewater was the school that I felt was the best fit for me", said Bisnett.

The Whitewater Wheelchair Basketball program is excited to add such an outstanding young athlete to their program. When asked coach Lade stated, "Derrick is one of those athletes that will positively represent our University on and off the court. He has the ability to lead our team on the floor and be a great influence in our program for the upcoming years."

Jr. Timberwolves coach Mike Bauler commented that, "Derrick is a kid that is very coachable and makes his teammates around him better".

Derrick will finish a great career with the Minnesota Jr. Timberwolves in Denver this April. His dedication and hard work in the classroom and on the court have clearly paid off. Bisnett is a young athlete with big goals and ambitions that are being met because he has put in the time in the classroom and on the court that is needed to be successful.