The Higher Education Leadership Program is a 30 credit program. The coursework consists of three core foundational courses (9 credits), five higher education leadership specific content courses (15 credits), and a comprehensive capstone including a 3 credit practicum and 3 credit capstone courses (6 credits).
The practicum experience is the foundation of the UW-Whitewater HELEAD Program. The program requires a 3 credit practicum aimed at preparing students for career fields through hands-on, practitioner experience. Practicums include 150 hours of hands-on work in a unit of higher education of professional interest to the student and are arranged with the program coordinator and site supervisor. This experience is highly individualized and tailored to assist students with meeting individual career goals. Current students and alumni have completed practicums throughout the Midwest in areas such as student affairs, academic affairs, intercollegiate athletics, and two-year college leadership. As future higher education leaders, practical experience in the field is crucial. Students in the program will apply theory and concepts developed in class to higher education leadership settings. The purpose of the practicum is twofold: (a) to enhance individual leadership skill sets; and (b) to enhance each students' professional résumé and CV to be competitive in a job market that values diverse, hands-on, practical experiences in higher education.
Currently, higher education institutions are experiencing significant turnover as the baby boomer generation moves to retirement. In addition, the centrality and focus of the higher education student experience has drastically enhanced the number of positions available in this field. In turn, the higher education job market is quickly and steadily rising. Within higher education campuses, there are a robust number of opportunities and units that employ higher education leadership students. As a higher education leader, you are prepared to work within specific units of interests as well as collaborate across different campus units. Below are potential opportunities students who complete this degree may wish to pursue in student affairs, academic affairs, intercollegiate athletics and two-year college leadership.
Students Affairs Leadership:
Dean of Students Office
First-Year Experience Office
Career and Leadership Development
Greek Life
LGBTQ Programming
Diversity and Inclusion
Multicultural Affairs
Transition Programing High School to College
Campus Outreach Programming
Camps and Clinics
2-Year College Leadership
Academic Affairs Leadership:
Registrar's Office
Academic Advising
Faculty Development Center
Financial Aide
Enrollment and Retention
Graduate and Continuing Studies
2-Year College Leadership
Provost's Office
Chancellor's Office
Curriculum Development
Assessment
Matt Denney's Success Story
Mr. Matt Denney is an inspiring student with vast experiences in the workplace. Before pursuing a Master of Science in Education in Professional Studies with an Emphasis in Higher Education Leadership here at UW-Whitewater, Mr. Denney earned his bachelor's degree in Theatre, English, and English as a Second Language from the University of Nevada, Reno.
While Mr. Denney was getting his bachelor's, he worked in different fields, such as sales, event planning, customer service training, research, management, education, and writing. With all of the experiences, Mr. Denney has earned the position of Residential Learning Advisor in University Housing to help better the students' learning experience on campus at UW-Whitewater. Furthermore, Mr. Denney was invited to present in the Wisconsin College Personnel Association Conference in 2019, where he earned the top Presentation Award.;
For research, Mr. Denney is interested in the experiences of undocumented Latino/Latina students in the Midwest, where he uses the skills, he learned from the graduate program to understand and help undocumented students in an educational atmosphere. "Graduate studies allow me to dive deep into the many theories, research methods, and organizational models that inform current higher education practices. We learn collaboratively with each other every class, and then utilize those skills in real-life experiences that are related to a career in higher education. It feels amazing to study all facets of a career you already love in order to give you a more holistic perspective of where we are currently, where we've been, and where we would like to go in higher education."
With all of this success at college and work, in Mr. Denney's personal life, he is an artist. He has published a poetry book called "Coffee, Cheesecake, and Ice Cream: Poetry for the soul & stomach" 2017. He has performed over 35 professional and causal plays and musicals. Mr. Denney continues to express his artistic creativity by teaching theatre and performing arts workshops in the Whitewater community.
---
Cherish's Success Story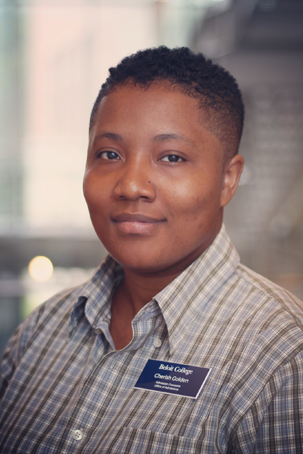 While working on her undergraduate degree at UW-Whitewater, Cherish learned about the High Education Leadership program while working in the LGBT* resource center. Since she enjoyed the small class sizes and liked the curriculum, continuing her education at UW-Whitewater seemed like an easy choice. She stated the faculty and advising helped her most to be successful in the program.
One of the most memorable things that Cherish did while at Whitewater was her capstone project. She wrote a proposal to have University Health and Counseling Services (UHCS) provide hormone replacement to transgender students. The most memorable part was actually putting it into practice by meeting with UHCS and the LGBT* coordinator, showing that your capstone proposals really can be put into action.
When asked what advice she has for current students she stated to make sure you get an internship or GA position, that deals with soft skills and conflict resolution. "Navigating conversations, redirecting, deflecting from problematic topics, and keeping the conversation going when speaking with a quite student," are important soft skills you can only learn from doing and not necessarily in the classroom. Also, when looking for a job, "really research the institution as a whole." Be sure to learn about the climate and culture of the institution, so you can use it to your advantage when working there.
Cherish is currently an admissions counselor at Beloit College, "helping [students and parents] with the college search and application process." She states that specific classes have helped her greatly in her career. "my assessment and diversity/equality courses helped prepare me to [work] with students."