Warhawk Voices — Connor Moore
February 25, 2019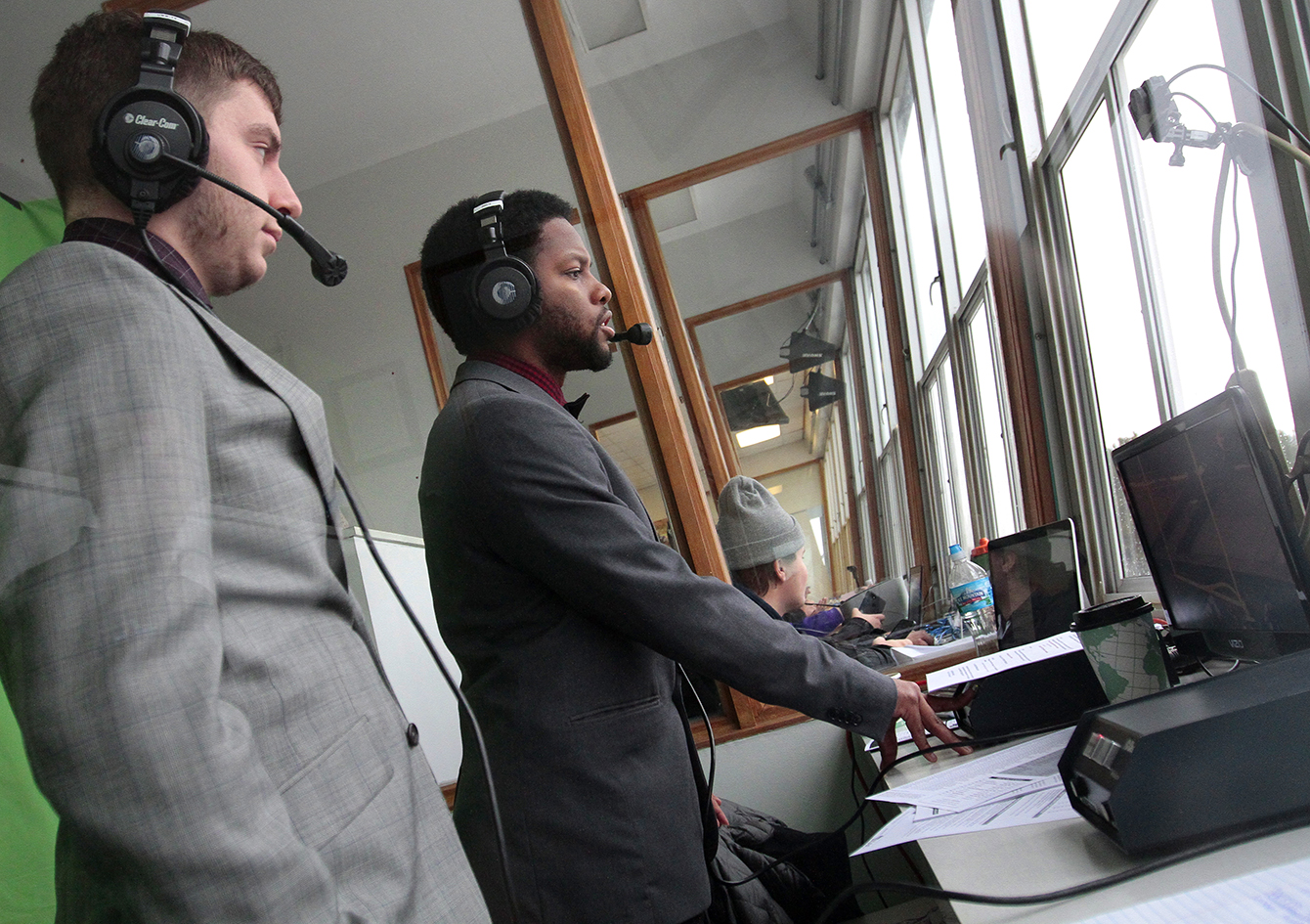 Tyler Job, left, and Connor Moore broadcast the final UW-Whitewater home football game of the 2018 season.
UW-Whitewater student Connor Moore saw the emotional milestone coming like a freight train — broadcasting his final home football game with fellow Warhawk Tyler Job in the press box at Perkins Stadium for UWW-TV.

"The end day was circled in my mind. I did not know it would be that day but, win or lose, I knew I could go out there, announce the game and let emotion run its course afterward. Or at least try to contain as much as possible and not erupt on camera."

That train took Moore all the way to the last stop as the Warhawks won the quarterfinal playoff game 26-12 over Bethel University on Dec. 1.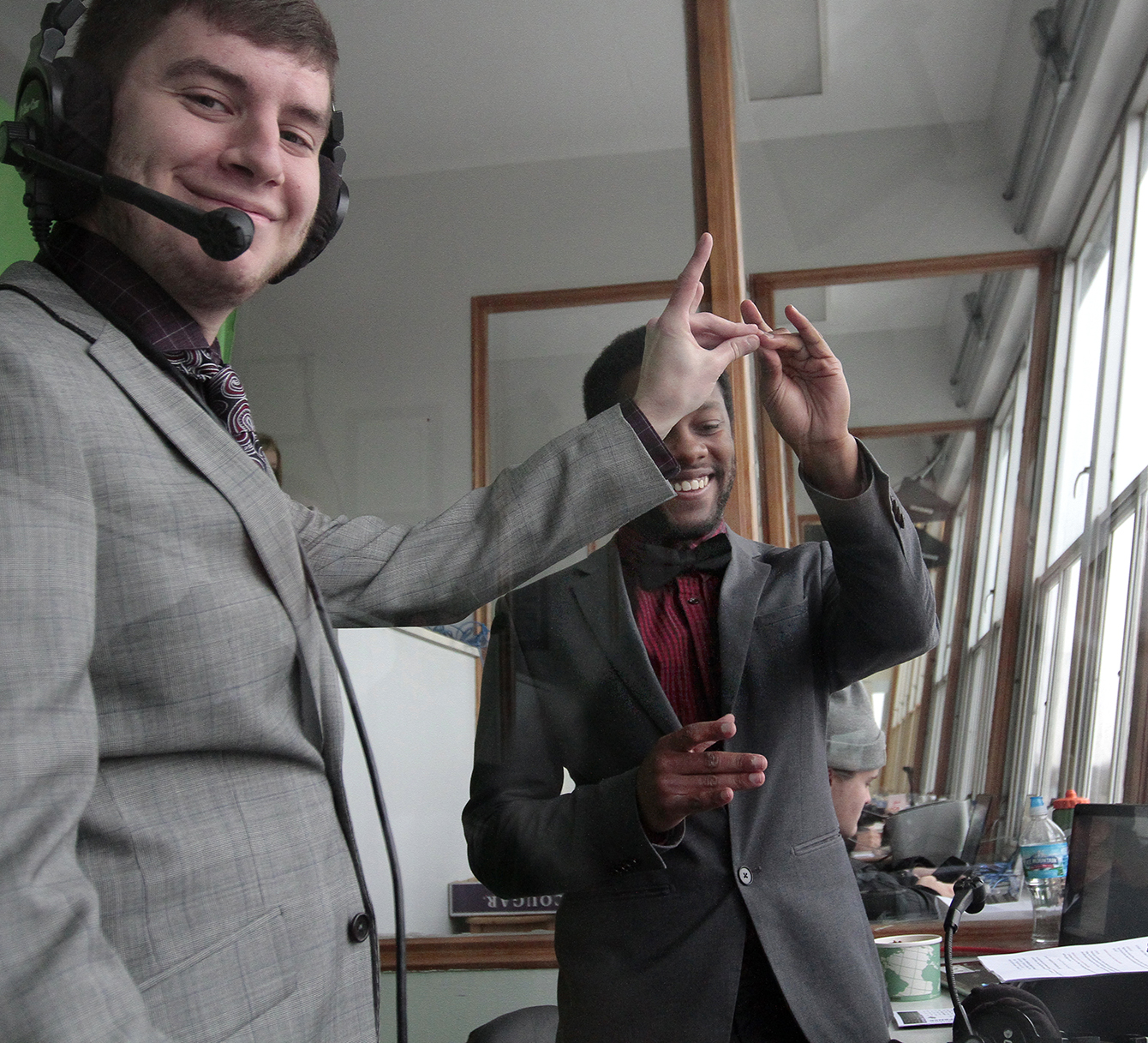 "The great thing about the last (home) game was that it was a close game, and so I couldn't afford to have any emotion take over. Even in the last two minutes I couldn't afford to have any emotion. A fumble could have easily meant Bethel would get the ball back. Once it was over and the handshakes were done, it didn't really set in until Coach Kevin Bullis had his sideline interview. It was (reporter) Kolton (Hegstrom's) final sideline report with Coach, too. At that moment, I knew that was it."
Moore, who is from Elgin, Illinois, first came to campus for a conference in high school.

"I had no idea UW-Whitewater existed until my senior year in high school. There was a journalism conference my senior year. It was that KEMPA conference, and I came up. And I visited everything. The day was gray and gloomy, but something about this campus just connected with me."

UWW-TV director Jim Mead tapped Moore, a journalism major, to announce football games after his freshman year.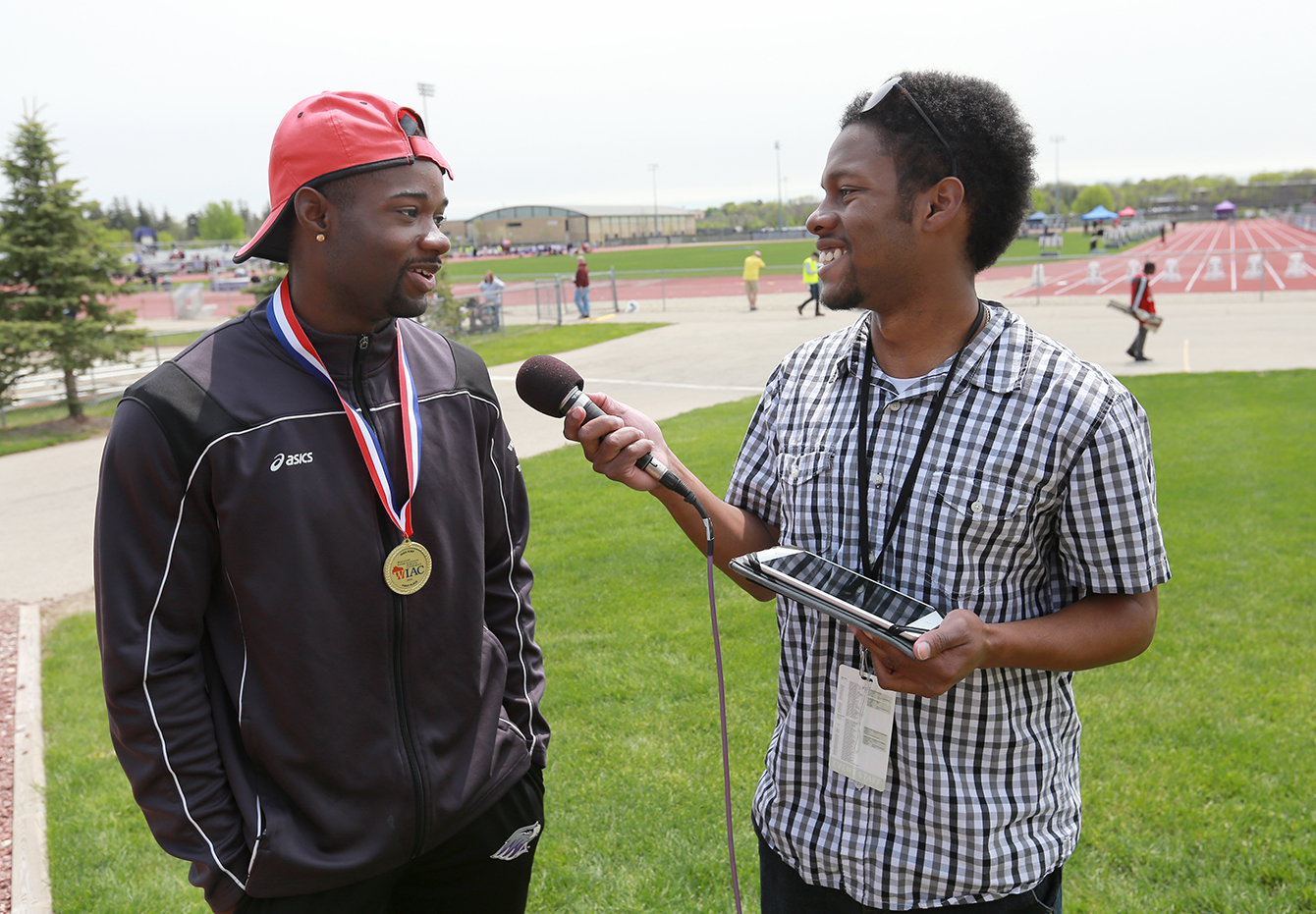 Moore, right, interviews track-and-field athlete Robert Starnes outside Foster Track on May 7, 2016.
"For Jim to pick me after my freshman year… it can be said he gambled a little bit because he usually picks more experienced people. Four years after the fact, I hope the gamble has paid off. I like to think I made it about the team. I made it about the TV station. For all that and to have success and the doors that opened up because of it, I'd like to think Saturday was the last chapter of that, at least for football."

In March 2018, UWW-TV won 12 awards at the Wisconsin Broadcasters Association Student Awards for Excellence — including more first-place awards than any other university in the TV categories. Moore and fellow student Cody Keip won for their work announcing the Wheelchair Basketball 2017 National Championship. He has also earned first-place accolades in sports broadcasting and live television broadcasting from the Wisconsin Community Media Best in the Midwest awards.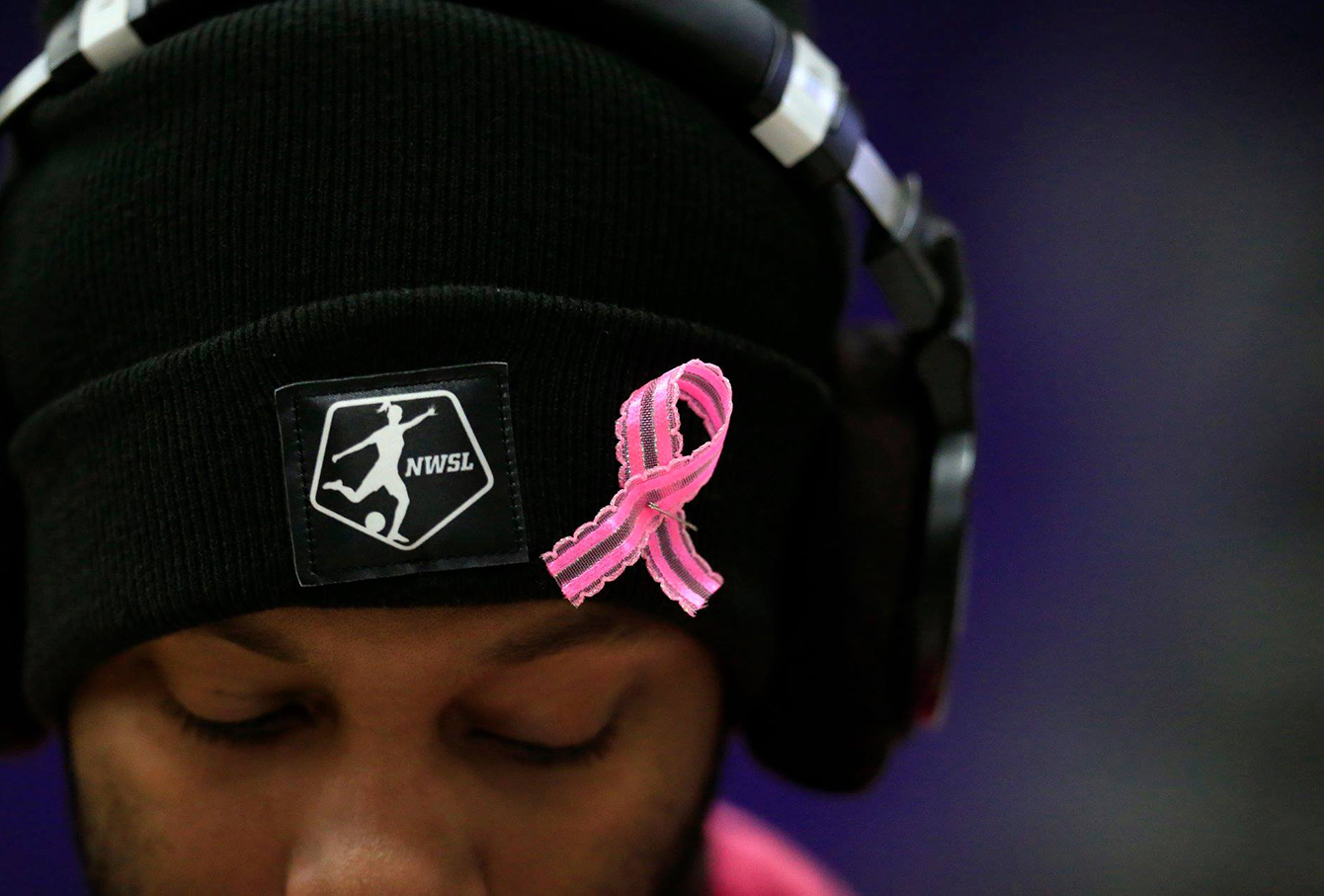 Moore, who was operating a camera for UWW-TV, wears a pink ribbon for breast cancer awareness as the UW-Whitewater women's basketball team defeated UW-Eau Claire 68-55 on Saturday, Feb. 2, 2019, at Kachel Gym.
Moore will continue announcing athletics through the spring semester before graduating in May.
"My dream has always been (to be an announcer at) ESPN. Hopefully in the next 10, 15 years I'm there. Whether it's big ESPN or kind of a regional one like ESPN Chicago — which would be great — or ESPN Milwaukee or Madison. If the name 'Connor Moore' is followed by 'ESPN employee' — mission accomplished. I feel the path I chose can definitely get me there."