Brian Martinez named student speaker for Class of 2020
December 07, 2020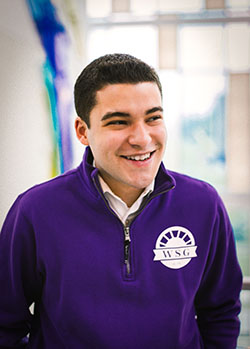 For Brian Martinez, becoming a Warhawk meant finding a place to plant roots. When he visited campus as a transfer student from another Wisconsin university, UW-Whitewater felt like an inclusive family, where everyone belonged — a place that put people first.
"I could see myself thriving here. I knew the amount of opportunities I would have." Born in Puerto Rico, Brian moved from city to city with his family before settling in Mt. Pleasant, Wisconsin.
Whether it's hiking the gorgeous Baraboo bluffs or recreating on one of the state's 15,000 lakes, Brian's affinity for the environment runs deep. With his work with the American Conservation Coalition, Brian helped advocate for new energy solutions to combat climate change and reduce carbon emissions that also create economic prosperity.
"Protecting our planet for future generations is a profound responsibility," said Brian.
On campus, Brian has served as a peer mentor, leading new students through their first semester, and as intergovernmental affairs director for Whitewater Student Government, where he advocated for student concerns and causes to elected officials at the local, state and national level. Along the way, he served as a Kenosha County Circuit Court intern and field director for the C.E.R.S. Committee of the Republican Party of Wisconsin.
He graduated in May with a Bachelor of Arts in political science with a legal studies emphasis and a paralegal certificate.
UW-Whitewater political science graduates have successfully reached the highest levels of government — including the White House. A self-described policy wonk who enjoys the nitty gritty details of legislation, Brian has already moved to Washington, D.C., where he recently served on the digital political team working on Get Out The Vote efforts for the 2020 campaign cycle.
Brian, along with his peers Alex Ostermann and Hogan Veserat, established the Warhawk Legacy Society — a scholarship fund through the UW-Whitewater Foundation — in which each graduating student can donate their graduation year (the Class of 2020 would donate $20.20 each) to fund a scholarship for incoming freshman.
"Service is something that's core to UW-Whitewater, and being able to help folks coming in as we're on our way out is one of the coolest things."
Each semester, UW-Whitewater holds a competition for the honor of serving as a student speaker at commencement. Brian was chosen to address attendees of the afternoon ceremony on May 16, which was canceled due to the COVID-19 pandemic. He spoke during May's Virtual Celebration of Graduates, and will join fellow student speakers in December's Virtual Commencement for a joint address.