COMMENCEMENT
Congratulations to our students who will be participating in the December 2023 commencement ceremony and their family members! For student information, including Salute to Grads and ordering regalia, visit graduation and commencement services.
The commencement ceremony will be held at 10 a.m. Saturday, Dec. 16, in the Williams Center on the Whitewater campus. The ceremony will last approximately two hours long. The Williams Center doors open at 8 a.m., and the doors to the Kachel Fieldhouse open at 8:30 a.m.
Please note:
Seating is on a first-come, first-served basis.
Only water is permitted in the fieldhouse.
Water and flowers will be available for purchase.
Strollers, balloons and other large items must be checked; a free coat check is available.
There are no restrictions on bags (size, clear vs. opaque, etc.).
The lost and found is located in Room 101.
Tickets for the ceremony
Each graduating student will be issued seven tickets in the form of pre-printed wristbands. The wristbands can be picked up from the Registrar's Office between 8 a.m. and 4:30 p.m. from Nov. 17 through Dec. 15. Wristbands can also be picked up at the Will Call box office on the second floor of the Williams Center starting at 8 a.m. on the day of the ceremonies. All guests must be wearing wristbands to enter the fieldhouse. For those without wristbands, remote viewing is available in Timmerman Auditorium in Hyland Hall.
Apply to be a Speaker
All students who are graduating in Dec. 2023 are welcome to apply to be a commencement speaker. Applications are due by 3 p.m. Thursday, Oct. 12.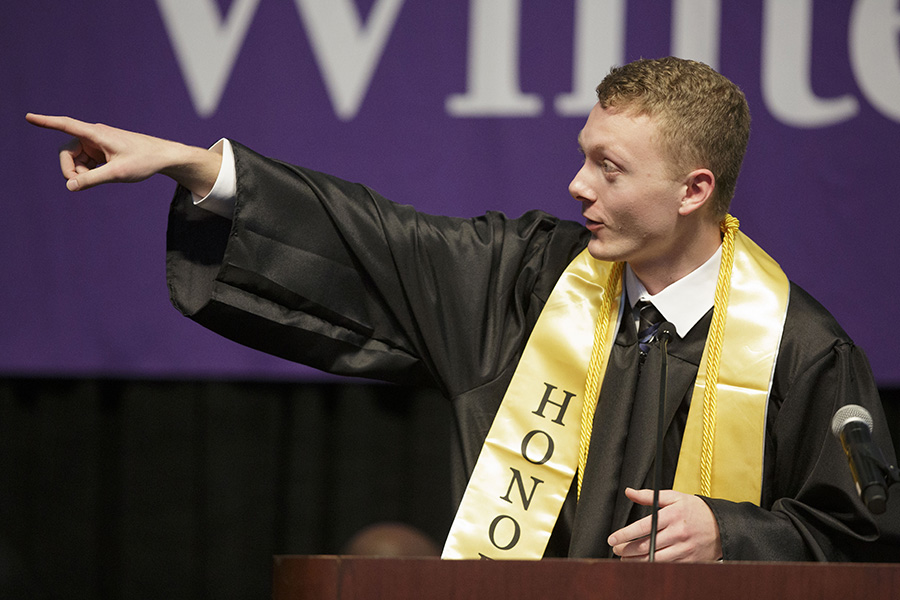 If you are graduating in Dec. 2023 and have landed a job, earned admission to graduate school or started a company before commencement, join us for Hired Before Graduation, a university tradition, to have your photo taken professionally and posted to UW-Whitewater's Facebook page.
Congratulations, class of 2023! GO WARHAWKS!