Commencement
Congratulations to our December 2021 graduating students! The University of Wisconsin-Whitewater is excited to honor your accomplishment at the December Commencement Ceremony.
The ceremony will be held Saturday, Dec. 18, at 10 a.m. in Kachel Fieldhouse at the Williams Center. Each student is able to invite up to seven guests.
Each guest will require a ticket, which their graduating student will provide, to enter the fieldhouse. Spaces will be available for wheelchairs throughout the main floor of the fieldhouse. Overflow seating will be available in the Timmerman Auditorium located in Hyland Hall if needed. Note that doors will close at 9:45 a.m. for the processional and will reopen after the singing of the national anthem.
At this time, face masks are required. Please note, COVID-19 is an ongoing situation and changes to the ceremony may be required, depending on the status of the pandemic in our region and recommendations from the local health departments.
Regalia can be purchased through the University Bookstore.
Free parking is available on campus in lots 9, 7, 18, 19 and 24.
Students can pick up their tickets at the Registrar's Office between 8 a.m. and 4:30 p.m. Monday thru Friday beginning Thursday, Nov. 22, 2021. There is no need to order the tickets or indicate the number needed in advance. For those unable to pick up tickets during this time frame, you can pick up your tickets at the Williams Center. Location details will be updated when finalized.
Questions can be directed to commencement@uww.edu.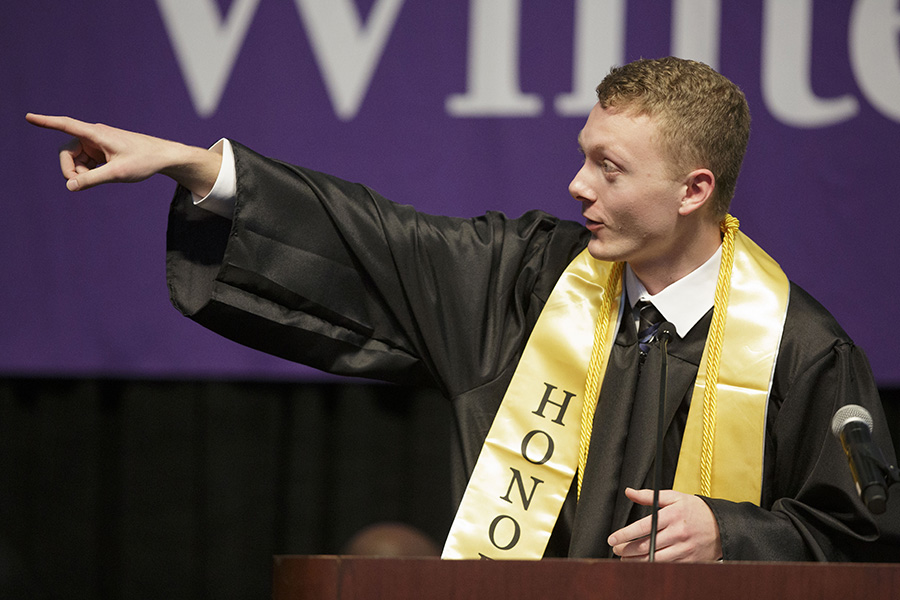 All students who are graduating in December 2021 are welcome to apply to be a commencement speaker. The deadline to apply is 3 p.m. Wednesday, Oct. 13. Please contact Mickey Topp and Cassie Schenkel at empower@uww.edu with any questions.
Congratulations, class of 2021! GO WARHAWKS!
Make sure you have filled out your graduation application, which can be accessed in your Student Center in WINS. Please see the WINS How-To page Graduation - Apply.
If you have questions about your graduation status, contact the Registrar's Office or your specific college immediately:
Arts and Communication – 262-472-1221
Business and Economics – Advising and Career Services Office, 262-472-4900
Education and Professional Studies – Jillian Smith, 262-472-1059
Integrated Studies – 608-898-6541
Letters and Sciences – Deb Connelly, 262-472-1620
Associate of Arts Degree – Registrar's Office, 262-472-1570
Graduation regalia for both Undergraduates and Masters students are available for purchase from the University Bookstore. You can purchase cap, gown, tassel, and diploma frames either in-store or through our website.
Online orders can be shipped to you, or they can be picked up at the Bookstore in our contact-free bins during our business hours.

Any questions can be sent to edwardsc@uww.edu or you may contact the store at 262-472-1280.