Children's Center tops $100,000 in grants as UW-Whitewater takes care of the "youngest Warhawks" during pandemic
December 11, 2020
Written by Craig Schreiner | Photos submitted
The laugh of a child brought back the joy and excitement for Erica Schepp.
The director of child care at the UW-Whitewater Children's Center, Schepp recalled that first day, re-opening the doors to the center in late May, three months after the facility in the Roseman Building had closed due to the COVID-19 pandemic.
"Being shut down was surreal," said Schepp, who, during those three months worked from home serving families and preparing to return safely. "Preparing to come back, I remember being excited, being worried, hoping we had prepared enough and we were doing enough."
"My office overlooks the playground," Schepp recalled. "The moment they (children) came out, I heard the laughter and joy in those young voices and I knew, 'This is it.' It was the joy and the energy coming back."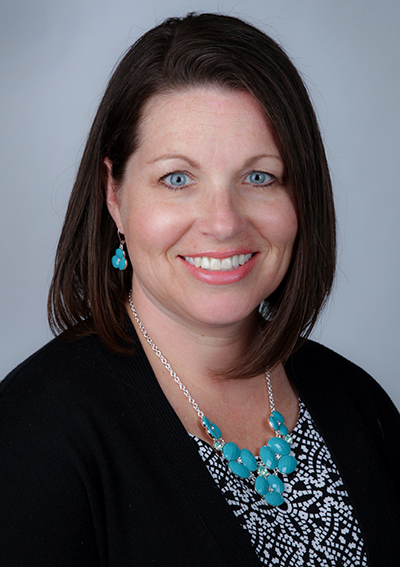 Schepp, pictured left, said the Children's Center was the first program to return to in-person activities after learning and instruction went online midway through the spring semester. Not only was it vital to re-open safely, but others on the campus would be learning from the Children's Center's example. Schepp said the staff of the center met the challenge.
"We were the front runners," said Schepp. "We learned a lot from being the first ones to reopen. I am proud and thankful for that."
Others think so, too. The center recently topped $100,000 in awards from a series of grants administered by the Wisconsin Department of Children and Families from $50 million in the federal CARES Act to keep safe, high-quality childcare going in the United States. Schepp credits the National Association for the Education of Young Children and its "nonstop work and support" for advocating for that funding in the CARES Act.
She said the grants help because the Children's Center is largely self-sustaining. When the center closed in mid-March, it returned 75 percent of tuition to its families. Schepp said the grants are earmarked for centers that had to shut down; retention and retaining of teachers; personal protective equipment and other defenses from COVID-19; and other pandemic-related needs.
During the closure, the Children's Center's professional teachers kept working with their families online. Schepp said those relationships between teachers and families are key to supporting the children and keeping trust. And at UW-Whitewater, Schepp said trust matters.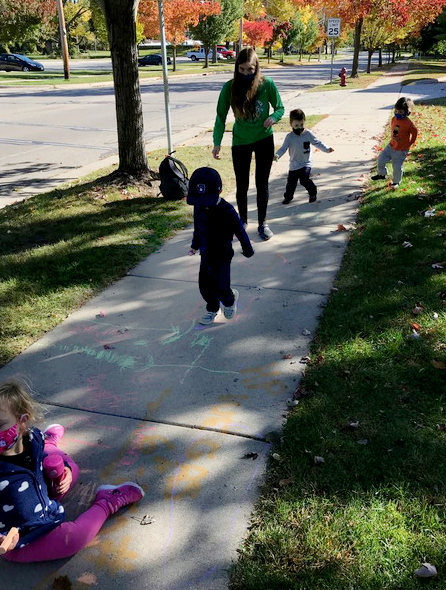 UW-Whitewater elementary education major Krissy Swatkowski, a student employee at the university Children's Center, plays with children on an obstacle course they chalked on the sidewalk. (UW-Whitewater Children's Center photo)
"We say we have 'the youngest Warhawks' in our program," said Schepp. "The work we do supports so many others on campus and through the Whitewater community. Childcare is essential to the workforce, to the community and to the campus."
And to the 54 UW-Whitewater students who work as paid part-time teaching assistants, the Children's Center has become an essential part of their training for careers in elementary education, early childhood education, social work, communications disorders and related fields involving children. The center accepts children from infancy through 4-year-old kindergarten.
Students learn to become careful observers of children, to notice what questions children ask and to discover individual curiosities that can be built upon. Students experience language development and early literacy. They even see basic sign language taught to infants, who are known to sign before speaking their first word.
"If a child's interests are engaged more, they want to go deeper," said Schepp. "That's how our classrooms are designed. You might look at a class and say 'Well, they're just playing.' But the play is our children's work. There's meaning and value in that play."
"What a difference those first four years make," added Schepp, an urgency rising in her voice. "I know that the first five years are critical years in their lifelong development."
The university students at the center chart every detail of each child's day for reports, which go to the parents. Students change diapers, feed children, eat with children, play outside with children and assist the professional teaching staff. And now, during the pandemic, there are cleaning protocols and health screening tasks to be done.
Schepp said the center reopened at 50 percent of capacity in late May and now is up to about 70 percent. She will keep writing those grant applications.
"This is not something you leave on a desk at the end of the day, and I see it in our student employees," said Schepp. "With some of them who struggle with coursework, grades, even thoughts of leaving school, this is what keeps them going. The challenging moments they work through with children make their relationships stronger."
"This is a place of humanity. What you receive from it often feels like it's tenfold what you give."
Top photos, from left: A squirrel outside the UW-Whitewater Children's Center catches the attention of a toddler held by early childhood education student McKenzie Collier, senior and student employee at the center; Children listen as UW-Whitewater elementary education major Anna Gurgos, a student employee, reads stories from; Children create mosaics in a classroom.