UW-Whitewater's Center for Students with Disabilities celebrates 50 years
March 04, 2021
Written and photos by Craig Schreiner
The University of Wisconsin-Whitewater's Center for Students with Disabilities was founded a half a century ago, during the 1970-71 academic year.
From that founding, the center has worked with colleagues across campus to make UW-Whitewater a national leader in educating students with disabilities — a college where students of all abilities can find a community, fully participate in all aspects of their education and university life, and earn a college degree.
As the CSD marks its 50th anniversary, the celebration isn't about a building. It isn't a "center" in that way. The CSD is a center in much the same way as a human heart is the center of the body. The CSD has not only served as a center for generations of students with disabilities, it embodies the Warhawk values of diversity and opportunity. Of service and social responsibility. It may be the first and most important way that UW-Whitewater reached out to a valued community — with a range of visible and invisible disabilities — and said "You belong here."
Who is the CSD? It is the dedicated professional staff and student workers in the CSD office at Andersen Hall, for certain. But it is also the faculty and staff across campus who support — and even champion — the center's priority mission of collaborating with students, faculty, and staff to create an inclusive, accessible university experience for all.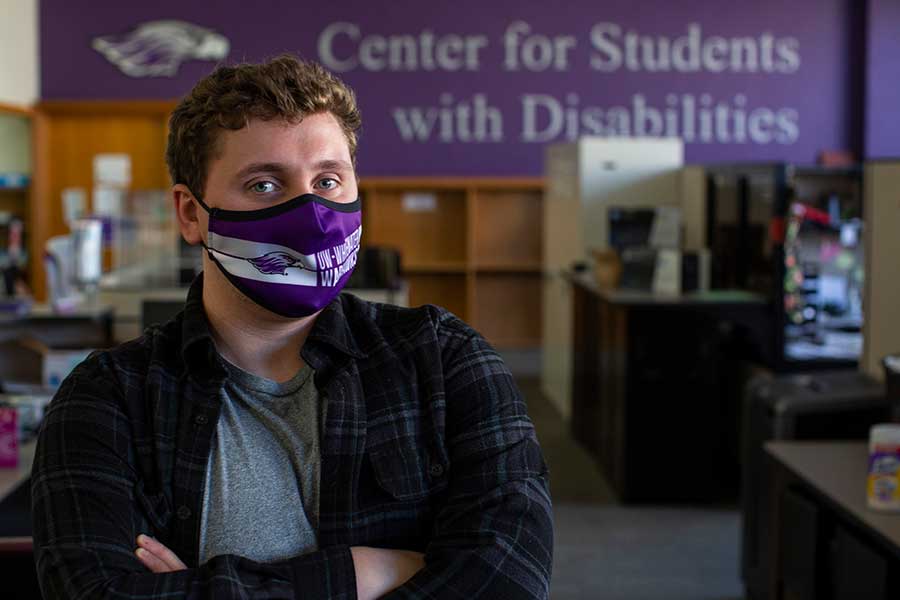 Elizabeth Watson, who served as the center's director until recently, can recite names too numerous to list.
There is George Clokey, a lecturer of biological sciences who worked with the center to first make his field study trip to Yellowstone National Park wheelchair-accessible in 2011, which was captured in "Fieldwork on Wheels."
"I didn't know anything about this," said Clokey of the measures needed to safely provide the opportunity to students in wheelchairs. "The Center for Students with Disabilities — those are the ones who said 'You're going to need this, you're going to need that.' All in all, they were the ones who put this together. Without them, this wouldn't have happened."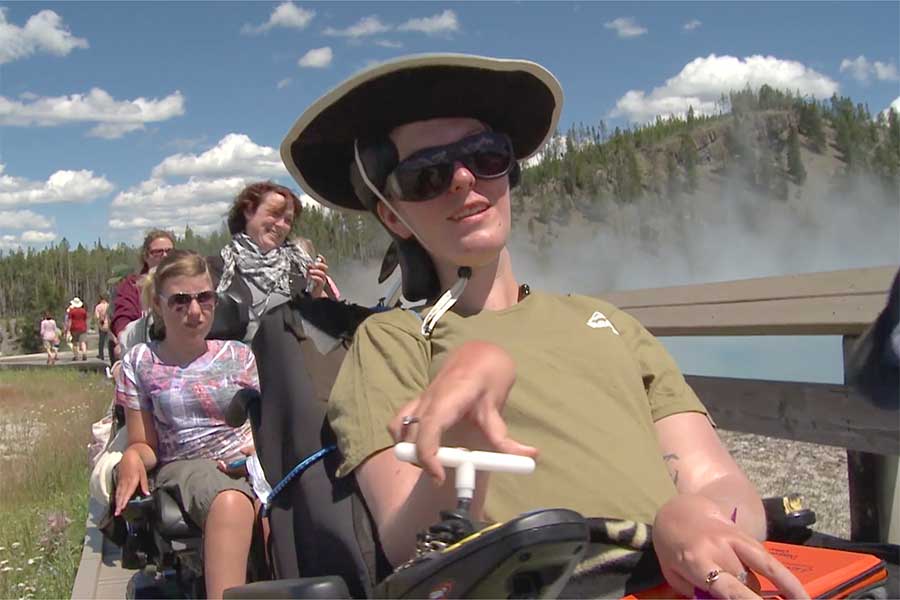 There's Frank Hanson, of University Housing, who Watson says "walks the walk" — decorating residence halls with color and contrast as visual cues for students with seeing impairment. And the facilities staff who work tirelessly on sidewalks and buildings to keep them accessible and safe, a factor in UW-Whitewater being named a top-5 mobility-friendly campus.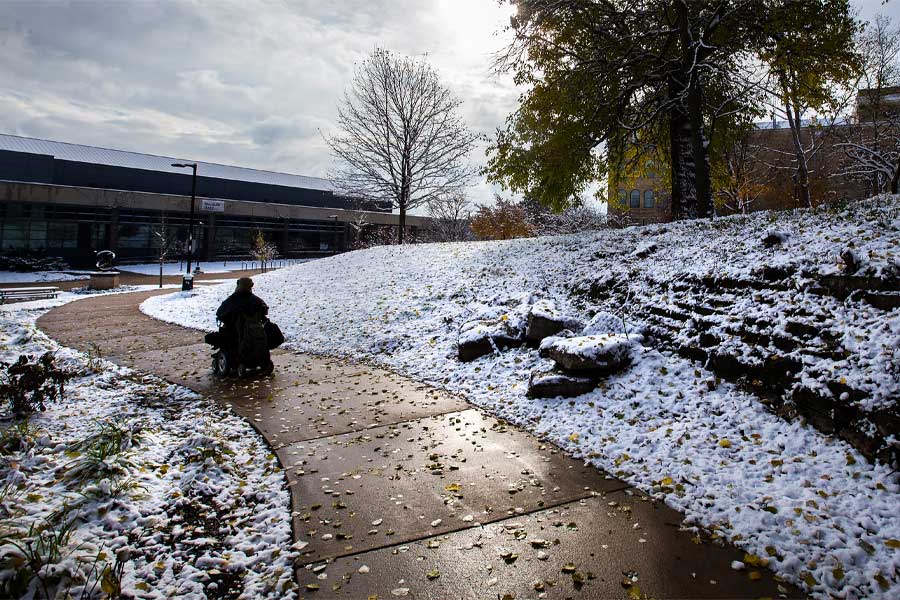 There's Barb Grubel, professor of theatre/dance depicted in "Taking the Leap," who led the campus effort to create a dance class specifically designed for both sit-down (wheelchair) and stand-up dancers, the first of its kind in the UW System.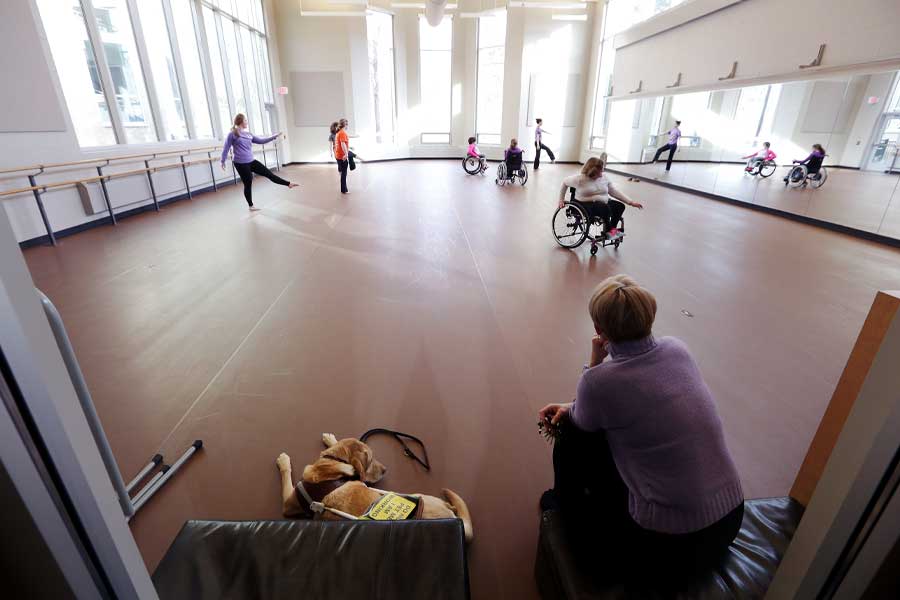 The spirit of the CSD is manifested in the faculty who collaborated to help student Chris Mathews develop his own method of learning Arabic by using a 3-D printer to print braille character blocks. In Susan Wildermuth, a professor of communication, who has worked to make travel-study experiences accessible to all. And it's in Watson herself, who thought it just made sense to offer young adults with disabilities the opportunity to travel to the Paralympic Games in Brazil as a travel-study.
The CSD of today is built on the shoulders of Warhawks who came before, integrated with campus far beyond the walls of the building and providing opportunities to more students than can be counted.
Over the coming months we'll be telling some of these stories, starting with how the university first started its special education program, under the leadership of Paul Lauritzen, and how that program eventually led to the center being established under John Truesdale. Join us as we highlight the CSD and the unique role it has played on campus.
Ideas for stories can be sent to news@uww.edu.