UW-Whitewater makes history with Enactus national championship, will represent the United States at World Cup
April 27, 2021
Written and photos by Craig Schreiner
Cheers broke the silence at Hyland Hall on the Friday before Spring Break as seven University of Wisconsin-Whitewater students won the Enactus United States National Exposition with their business model for combating blindness and empowering young women in India. Their business model, called "Shakti," already has served thousands of people.
UW-Whitewater is the first Wisconsin institution to win a national Enactus championship and the right to represent the nation, according to Becky Hoy, U.S. regional program manager for Enactus.
Enactus is a global nonprofit with student chapters who take business principles they learn in class and apply them to world problems in order to find a self-sustaining model, which solves the problem and continues on its own. The UW-Whitewater model is called "Shakti," because the word means "empowerment" in Hindi. Working with longtime supporter Combat Blindness International and CBI's partners in India, the Enactus team has taken the best practices from past work to create the Shakti business model, incorporating technology and support from other partners as well. The model can be refined and grown to help thousands with restored vision and to empower the young women who work as vision screeners.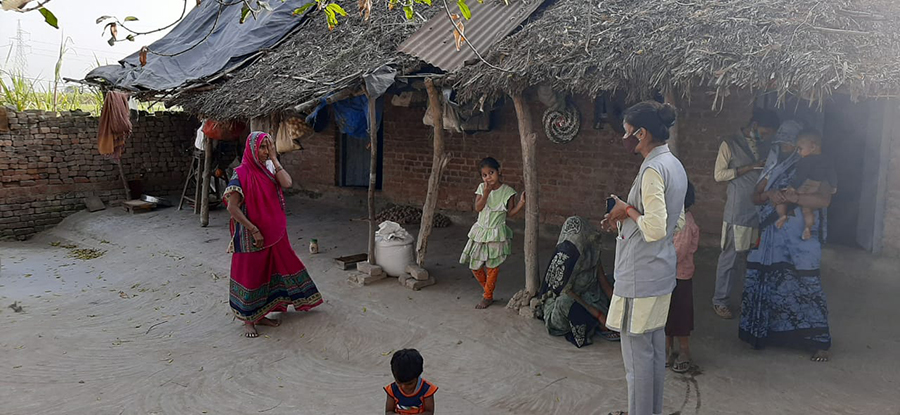 Six Wisconsin schools have Enactus student chapters listed on the Enactus website: UW-Whitewater, UW-Madison, Carthage College, Carroll University, Lakeland University and Viterbo University. The UW-Whitewater students will represent the United States in the Enactus World Cup 2021 competition Oct. 14-21 as one of 34 Enactus teams from around the world. Like the National Exposition, the World Cup competition will present virtually.
"The week has been an emotional roller coaster," said Enactus president Jason Jaworski, a senior majoring in information technology. "Since my freshman year, I said that by the time I graduated, I wanted to be in the top four of Enactus. Our goal (this year) was to make the top 16."
Enactus advisor Choton Basu, professor of information technology and supply chain management at UW-Whitewater, said those 16 schools selected in the preliminary round of the national competition are considered the program elites. UW-Madison won a spot alongside UW-Whitewater. Also among the top 16 schools were Oral Roberts University, University of Illinois, Brigham Young University-Hawaii, University of Missouri-Kansas City and Texas A&M.
The breakthrough on the first day began to feel like momentum when UW-Whitewater Enactus emerged as a finalist in the second round. The final four were UW-Whitewater, University of Illinois, North Central College and Southern Adventist University.
Then on Friday, the last day of the exposition, the UW-Whitewater team, its advisors and supporters gathered in a second-floor lecture hall in Hyland Hall to watch on giant twin monitors as the four teams' videos were shown along with videos of their question and answer sessions with the judges.
The students took their seats in a front row. There were Hannah Zanow, Jaworski, Grayden Gruchow and Chase Boudreau in their gray Enactus t-shirts. Team member Katie Childs, a creative writing major, appeared in the doorway after class in time for the big moment. The other two students who worked on the project, Jonathan Schreurs and Colin Olsen, were not present.
Only two schools were announced. As usual second place came first. It was North Central College. Then the words, "University of…," and an eternal pause before they heard the "…Wisconsin-Whitewater." As soon as they could believe their eyes and ears, the cheers went up. Advisor and marketing lecturer John DeGraff was high-fiving everyone within reach.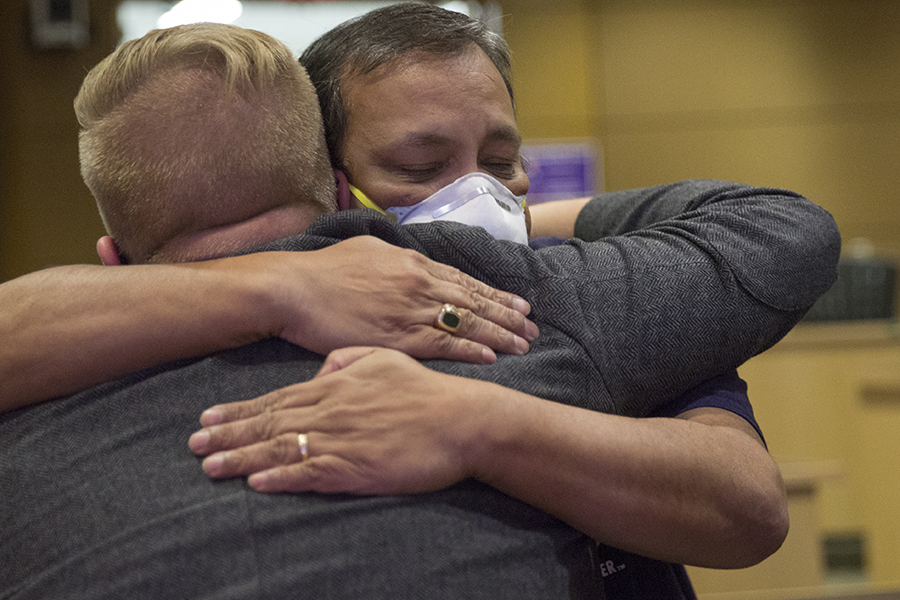 Basu, tears streaming, reached over a desktop to Jaworski. Under any circumstances, it would not have been easy. This was a pandemic year filled with personal and academic challenges, but they did it anyway. National champions.
"Thank you," said Basu. "For keeping everyone together."
The story doesn't end here. We'll be sharing much more about the Warhawks' incredible work in the coming weeks and months as they prepare for the world championships this fall, including an in-depth look at their life-changing eye care efforts across the globe.