Former Warhawk champion athlete wins ESPY Award
July 26, 2021
Becca Murray, a University of Wisconsin-Whitewater alumna and national champion women's wheelchair basketball athlete, was named Best Athlete with a Disability in Women's Sports at the 2021 ESPY Awards at Pier 17 in New York City on July 10.
Murray was picked from four finalists, all of them Paralympians: Sam Bosco, cycling; Oksana Masters, Nordic and cycling; and Leanne Smith, swimming.
"I guess I never took myself to be one of those athletes," said Murray of other wheelchair basketball athletes who have been ESPY nominees. "So I was super excited to find out I was nominated."
The ESPY Award is presented by the American broadcast television network ABC, and previously by ESPN, to recognize individual and team athletic achievements and other sports-related performances. Nominees in other sports categories in 2021 included Simone Biles, Tom Brady, Aaron Rogers, Naomi Osaka, Phil Mickelson and LaMelo Ball.
After a tumultuous year for sports, catharsis was in the air and a sense of purpose in the speeches at the 2021 ESPYs. Like many nominees, Murray did not travel to the event and instead posted a 19-second video on the National Wheelchair Basketball Association Facebook page thanking her wheelchair basketball "family."
"Being good at basketball gets your name out there, but I've always wanted to be that athlete who brought their teammates along with them," said Murray, several days after the awards ceremony. "That makes the difference between a good basketball player and a player who is remembered."
The quiet athlete from Germantown, Wisconsin, came to UW-Whitewater as a freshman in 2008, already a member of Team USA, which had gold-medaled that September at the Paralympic Games in Beijing. Murray, a special education major, became a cornerstone of a newly established women's wheelchair basketball team at the university.
The UW-Whitewater men's wheelchair basketball team had sprung from the university's mission to serve students with disabilities, established in the 1970s. By the early 2000s, the men's program was enjoying both national respect and support from the campus and community, propelled first by former Head Coach Tracy Chynoweth. It was time to expand the wheelchair basketball franchise to a women's team.
What followed was a remarkable team-building effort that resulted in three straight collegiate women's wheelchair basketball national championships, international competitions and, for Murray, two more Paralympic Games including a gold medal in 2016 at Rio de Janeiro. Through those years, the UW-Whitewater wheelchair basketball program added athletes from the U.S. and around the world, attracted by the reputation of its program, and talent developed in summer camps on campus. By 2014, UW-Whitewater was the national capital of collegiate wheelchair basketball when both the women's and men's teams won national titles under Head Coaches Dan Price and Opie Lade, respectively.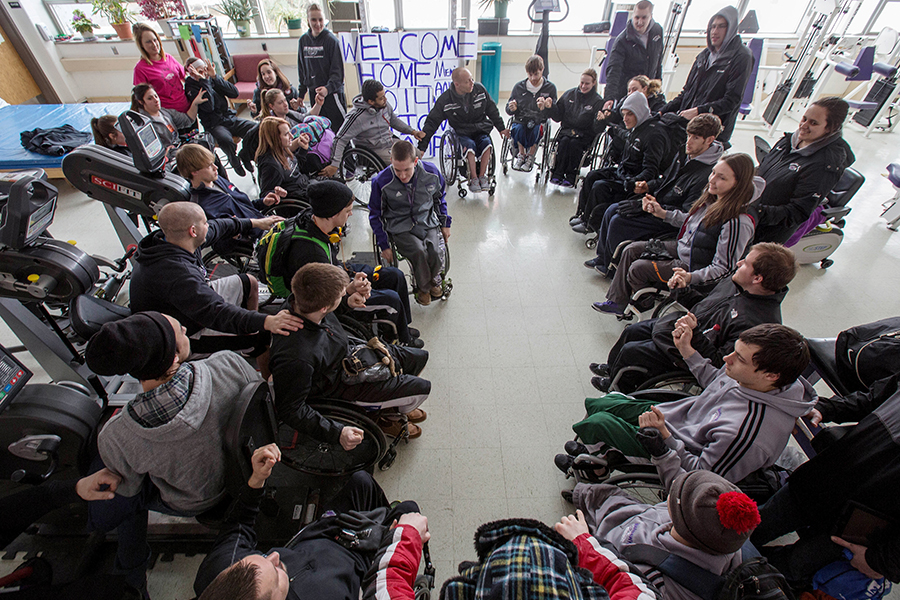 "I have tons of role models," said Murray, laughing when asked to cite only one. "I couldn't name them all. That Whitewater family is where a lot of that came from. Opie has always been a big influence, like a brother. Tracy Chynoweth is the reason I got to play at Whitewater. He asked me to help start a team. I'm forever grateful to him for starting that women's team."
As a player for the Warhawks, Murray was patient, unflappable and as essential to the team as the hub is to a wheel. Her individual statistics confounded one coach, who noticed she posted higher percentages in games, where she had real opponents, than in practices, where she did not. Murray didn't fold under pressure — she got better. One close friend, another Warhawk athlete, at first felt intimidated by all of that talent, which surprises Murray.
"It is funny when I hear those stories because I don't see myself as intimidating," she said. "No one is better than another person. And so I take the time when people approach me and want to talk. And they see I'm just a down-to-earth person."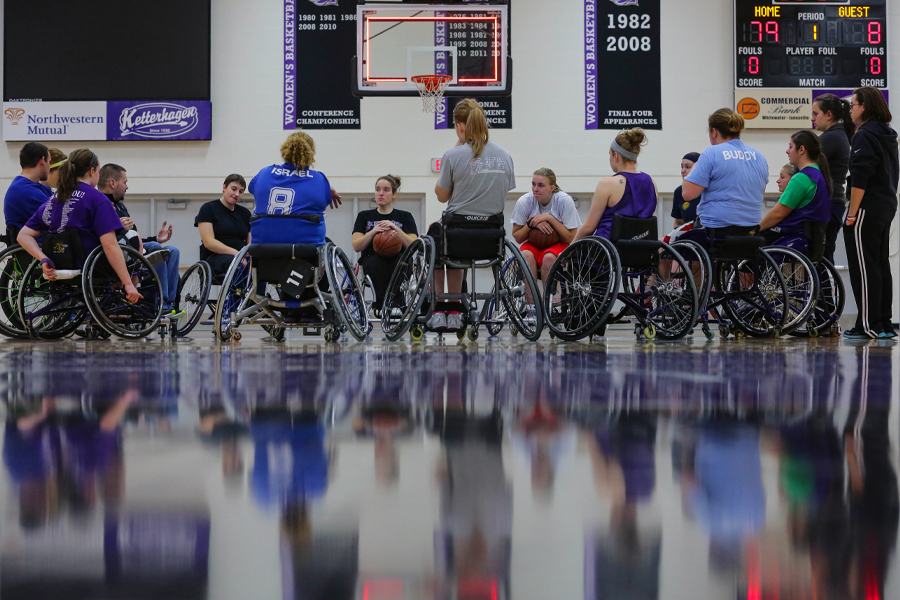 Murray, who graduated in 2014, works as a clinical assistant at Rogers Behavioral Health in Brown Deer, Wisconsin. For the 2021 Paralympic Games held in Tokyo Aug. 25-Sept. 5, she plans to take a two-week vacation just to view the live broadcasts of Team USA, which will likely air in the middle of the night, local time.
In the fall she will return to basketball, playing for the Division 1 Milwaukee Bucks men's wheelchair basketball team and the women's counterpart, the Lady Bucks. Retired from playing basketball on the world stage, she recently bought a condo in New Berlin to be closer to the Whitewater campus, where both Bucks teams practice at the Roseman Building. The move also brings her closer to Edgerton, where her friends AJ Messmer, a former wheelchair basketball athlete who just succeeded Lade as head coach, and Lydia Messmer, a former teammate and women's assistant coach, have their home. It would never do to be too far from your family.
"I enjoyed my time at UW-Whitewater and being a part of that wheelchair basketball family," said Murray. "There was something special about that team. There are always your highs and lows. But we would always pull together, and that would make us stronger."