Exploring unknown worlds: UW-Whitewater student blends communication and science in deep sea venture
June 19, 2023
Written by Paul Doro | Photos submitted
Studying the deepest depths of the ocean to learn more about space. It might seem counterintuitive, but it describes the mission of the JOIDES Resolution, a seagoing research vessel, which departed from Portugal and is exploring extreme parts of the Atlantic Ocean from April through June.
UW-Whitewater graduate student (M.S. in Communication) Sarah Treadwell (pictured below, right) is on board, playing a major role in connecting the outside world to the exploration and the work of the geologists, microbiologists, and other scientists conducting research.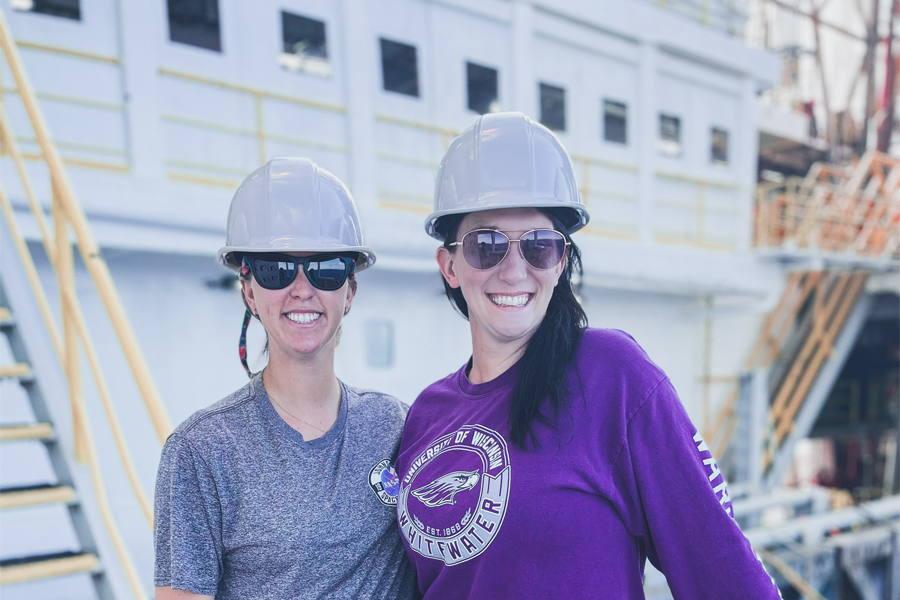 The work being done by the JOIDES Resolution centers around astrobiology, a relatively new field of science that examines extreme locations on Earth to see how life could exist in other parts of our Solar System. Some of the deepest holes ever dug will determine what forms of life there are in the most remote of locations.
Treadwell, a NASA ambassador who goes by Space Case Sarah, is a communications officer responsible for explaining how drilling deep into the ocean can tell us about the origins of life here and on other planets. She will host live broadcasts for schools and museums, something she has extensive experience doing as the host of space-themed shows on NASA TV and IHeartRadio.
"I love science, but I also love communicating it," Treadwell explains. "I am passionate about scientific outreach."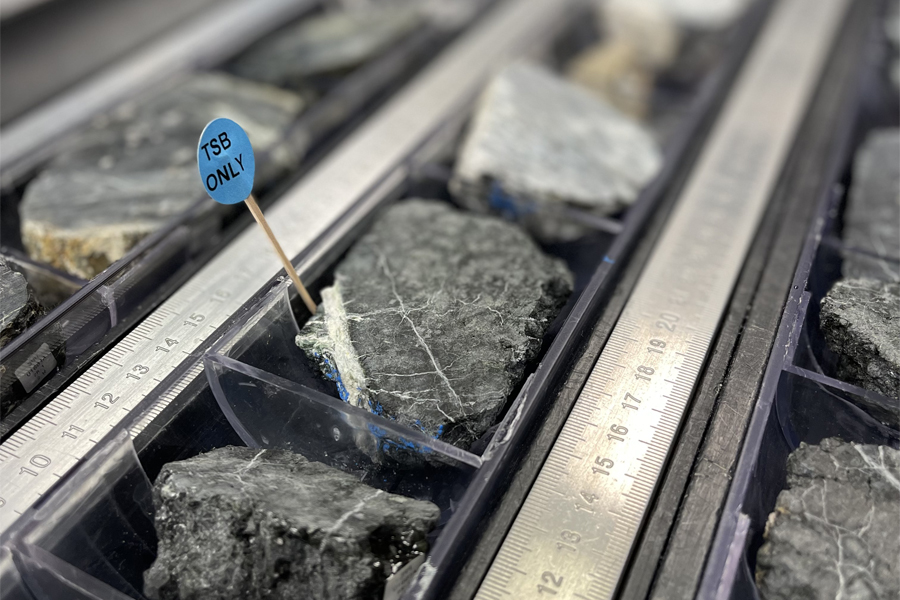 She has been able to hone her communication skills at UW-Whitewater partly because of program flexibility. With the onset of the COVID-19 pandemic, she needed to find an online master's degree program, and Whitewater was a good fit.
James Kates, professor of communication, has been especially influential. "Dr. Kates has been great," she says. "He's helped me with podcasting, but he is also a kind and supportive advisor who has also helped with academics."
Treadwell, recently accepted into a PhD program at the University of North Dakota, credits UW-Whitewater with being a great stepping stone as she continues to pursue a passion in communicating science to the general public.
Asked about her future plans following academia, Treadwell has a clear idea of what she wants to do. "I hope to build the Space Case brand and practice more science outreach," she answers.
That involves something she calls "sidewalk astronomy" — going to public places with a telescope and sharing the moon and stars with people. The expressions they make upon seeing what's up there, usually for the first time, reinforces how she feels about what she does.
UW-Whitewater has been a key player as Treadwell has achieved great success informing others about the wonders of the oceans and outer space. Whatever the JOIDES Resolution discovers as it digs deep into the Atlantic Ocean, she will be the one telling us what they find and what it means.
The JOIDES Resolution is featured in an international TV news story with on-board video footage shot by UW-Whitewater student Sarah Treadwell in her role on board as communications officer.