Kristen Prock
February 24, 2022
Written and photos by Craig Schreiner
In WHY I TEACH, Kristen Prock, an assistant professor of social work and affiliated faculty in women's and gender studies, talks about creating a course that has become a labor of love — "Social Work Practice With LGBTQ+ Populations." She describes it, quite simply, as the course she would have wanted to take as an aspiring social worker.
While working on her doctorate, Prock was researching best practices for social workers who work with LGBTQ+ people and communities. Social workers, she said, are ethically required to have an understanding of social diversity including sexual orientation and gender identity or expression. To her surprise, no one had created a course on the subject — so she did.
Like many of her own students, Prock was a first-generation college student. Her personal path to social work and then to teaching is a journey she shares with students who are finding their own way.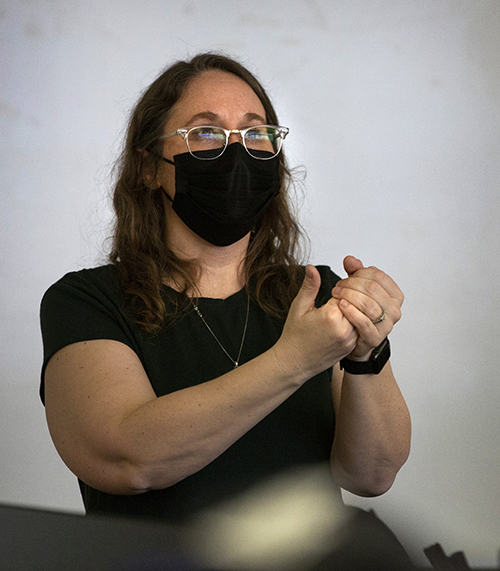 "As a first-generation college student, I started as a theatre major, then business, then marine biology… and the list went on. Eventually, a psychology degree led me to working as a case manager with youth in residential care, where I met my first social worker. I was in awe! The way that she met kiddos at their level and helped them find light after so much darkness inspired me to pursue a master's in social work. I loved being a therapist, but couldn't shake this feeling that something was missing. When I started my Ph.D. a few years later, I fell in love with social work all over again.
"I earned my Ph.D. at a research-intensive university, but I always intended to find a home at a teaching institution. While (interviewing on) campus at UW-Whitewater, I met with a group of social work students who were eager to tell me how UW-Whitewater wasn't just a school, it was a family. As I drove away that day, I knew I would be back!"
"I work with students at varying points in their education — from first year through graduate school. Social work students often enter the profession because they know they want to help people, but that's very broad. When they enter my classroom for the first time, I always ask them 'why social work?' I want to be able to support them on their individual journey, which likely involves personal, educational, and professional development. I want my students to know that I care about who they are and what they need, while also acknowledging that everyone's path is different."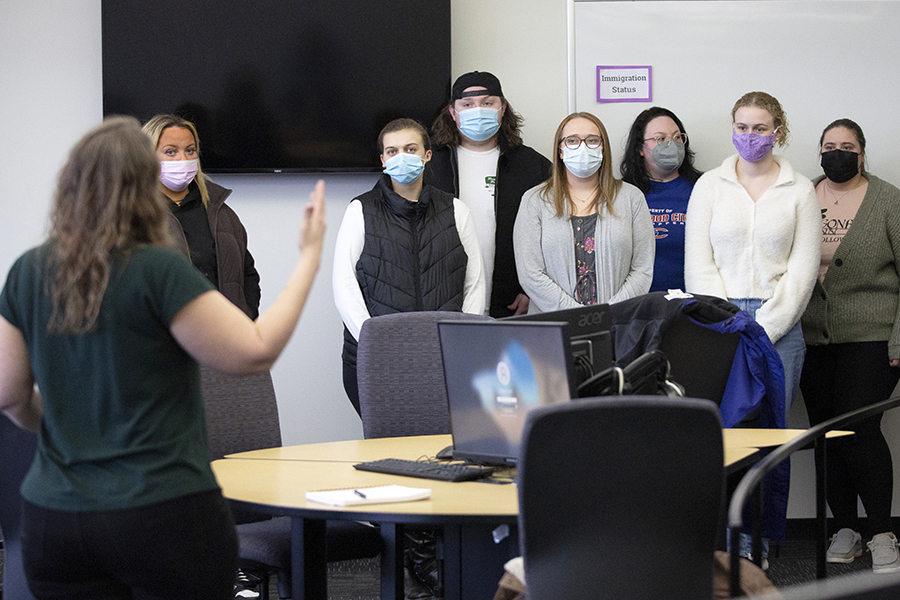 "Definitely the 'aha' moments (are rewards) that I experience from working with students. I worked as a clinical social worker for many years before earning a Ph.D. and I bring that real-world experience to my classroom. Students find that is practical and useful. Last year I had a student in my LGBTQ+ course who had very limited knowledge about working with LGBTQ+ populations, but they told me that they very much wanted to learn so that they could be a positive role model for their kids. A couple weeks after the module on the importance of normalizing pronouns, this student emailed me to tell me about how they took the information that they learned in class and advocated for a coworker to have their gender pronouns used and respected. Those are the experiences that make it all worthwhile!"