Nate Maddux
March 19, 2021
Written by Craig Schreiner | Photos by Craig Schreiner
In WHY I TEACH, Nate Maddux, an assistant professor at the College of Integrated Studies at UW-Whitewater at Rock County, recalls how, at his high school in central Minnesota, he heard the future calling. The future, he noticed, spoke Spanish.
"It was entirely because I had lucked into the classroom of a phenomenal teacher, Myriam Mansell, who sparked my interest and lovingly yanked me out of my cultural bubble by convincing me to accompany her on several service learning trips to Bogotá, Colombia."
Maddux's father and mother — an educator and an administrator respectively — brought their son into contact with great professors and administrators. Then, as an undergraduate at St. Cloud State University, Maddux encountered Jim O'Neill, a phonetics professor who provoked another revelation.
"Jim launched me into an absolute obsession with understanding the ways the sounds of Spanish vary according to the geographical and socio-economic realities of its half-billion speakers around the world," he said. "That was the lightbulb moment: I knew I simply wanted to study and teach Spanish phonetics and how bilingualism and other variables can influence 'dialect' features of an individual or group — stuff like that."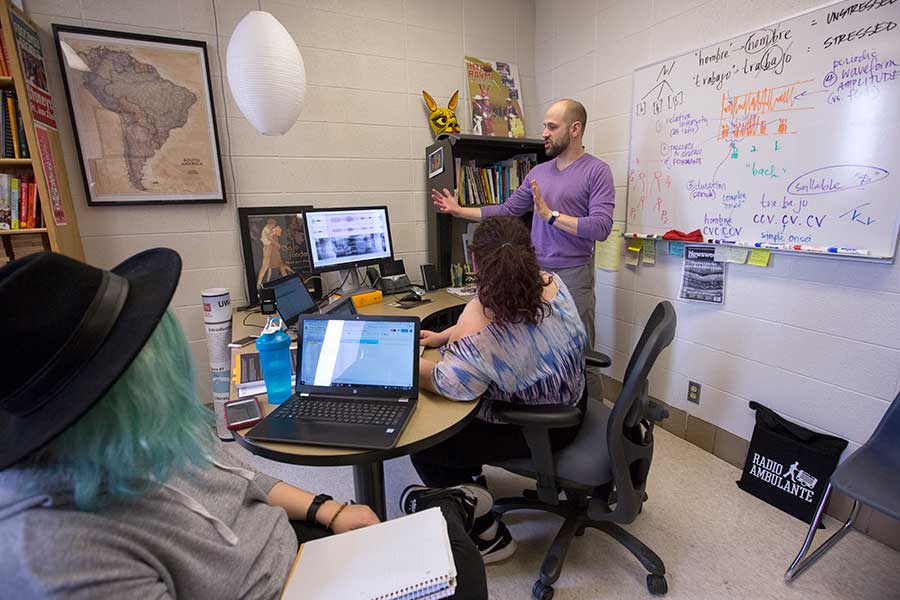 Maddux received his Ph.D. in Spanish linguistics and second language acquisition from UW-Madison and has been teaching on the Rock County campus for five years. He works with beginning- and intermediate-level non-native Spanish speakers on their path to proficiency in Spanish as a second language. He also works with heritage Spanish speakers, who grew up with the language but who may or may not have studied it formally before college, to help them develop academic skills in the language of their parents and the broader Spanish-speaking community.
Each fall, Maddux and his students also explore how the history of Mexico, the Caribbean and Central and South America can be understood as an amalgam of indigenous legacies, European impositions and reverberations of the African Diaspora, all of which have shaped modern Latin American forms of music, dance, spirituality and other cultural and linguistic expression for five centuries.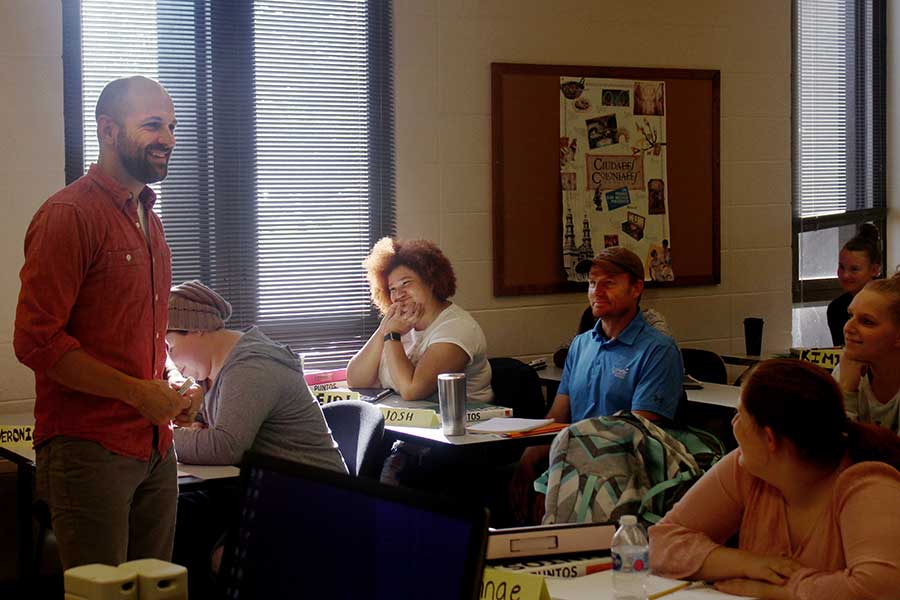 "I find there is a pretty consistent and predictable pattern of previous experience with Spanish among my non-native-speaker students. I invite them to share with me at the outset in order to get back to an adventurous and courageous place, collectively, in which everyone feels like they belong, they are making progress, and they feel supported. For those who didn't have a great experience learning Spanish in high school, there is sort of a reconciliation that can happen as they re-embrace the fun and adventure of language acquisition and, for some, allow it to become part of their identity, not just their college transcripts," said Maddux.
"The endeavor of teaching and learning is so intrinsically and beautifully human that the rewards, too, are wonderfully interpersonal and relational. Some days it's observing a new level of confidence in a student who sees evidence of her success. Other days it's the wide eyes of a sudden lightbulb moment, so brief you'll miss it if you blink. Every now and again it's very tangible, like the update from a student who has decided to declare a major in Spanish after our time together. And, on occasion, the reward comes in the form of a visit from a former student I haven't seen in ages, who maybe didn't major in Spanish, but for whom the language played a key role in professional or personal relationships. As someone who teaches on a relatively small campus, I am privileged to get to interact so regularly with nearly all of my students outside of the classroom, and this is often where I feel the rewards of my work most clearly. I am certain I share this sentiment with most of my colleagues on the Rock County campus."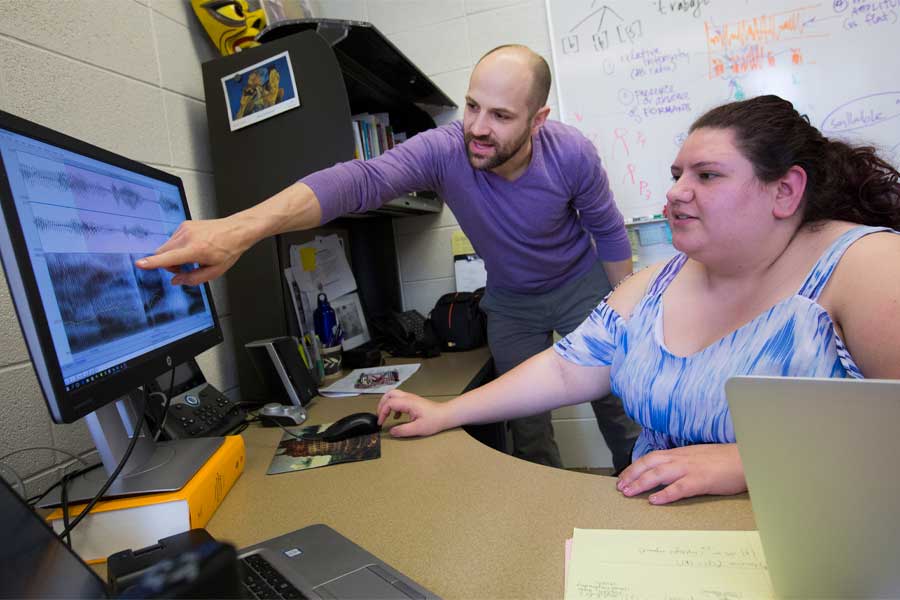 "A priority for me is to help my students see and make connections between what ideas they engage with in the classroom and in their own lives in the community. I use approaches like community-based class projects or even undergraduate research. For me, this is the 'holy grail,' — when it happens, and when you see the evidence of deep learning, there is nothing more rewarding in teaching," he said.
"In my class for native Spanish speakers, my students script and conduct extensive interviews with their parents or other family members in order to explore the events that led to their arrival in Wisconsin. The students use the resulting interview transcripts to build a written narrative around their own story, their identity and their sense of belonging as members of their communities. Excerpts from the interviews displayed on campus. And as a small capstone, these students make a visit to Janesville Craig High School to meet with native Spanish speakers and teach the concepts we've covered."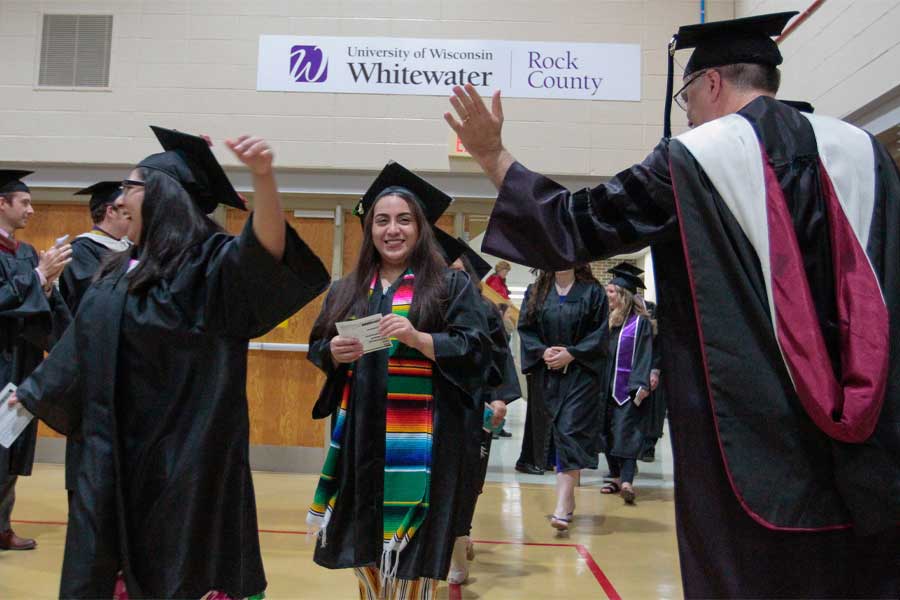 "Importantly, what I observe in the final weeks of the course and in feedback from students is a deepened understanding and appreciation they have of their family's history and the pride they feel in their place in that trajectory."
WHY I TEACH is a series about the dedicated professionals at the University of Wisconsin-Whitewater, including professors, coaches, advisors and other staff members, who make every day a teachable moment — and every place a learning place — by their expertise and example.