Megan Matthews
March 17, 2021
Written by Craig Schreiner | Photos by Craig Schreiner
In WHY I TEACH, Megan Matthews, a senior lecturer of management at the University of Wisconsin-Whitewater, tells how her students view businesses as interlocking pieces. How does the marketing department affect accounting? How does human resources affect the supply chain?
In one class, Matthews has a team of students lead an exercise about a restaurant where the team is the CEO, manager, cook, servers and dishwasher. How would students rank them in importance? Perhaps, for the first time, they consider the gifts of the dishwasher, and how all of the team members contribute to achieving the restaurant's goals.
Matthews is a Warhawk. She studied general management as an undergraduate. After earning her master's degree in community arts management from Sangamon State University — now University of Illinois-Springfield — Matthews returned to teach a course in arts management at UW-Whitewater. Now an educator with 21 years of experience, she teaches the courses Business and Society and Organization and Management in the College of Business and Economics. She has served on the board of the Whitewater Arts Alliance and has mentored students in the university's Institute for Nonprofit Management Studies, helping them find internships at the WAA and other nonprofits.
"I didn't plan to teach long-term, but I have found that I love helping students figure out how to get where they want to go. I also love being around students when they have their 'lightbulb' moment and see what they are capable of. That is just plain fun. When I was teaching arts management, I got interested in the idea of arts entrepreneurship and the idea of creativity in business. I get the amazing opportunity to bring all those things together."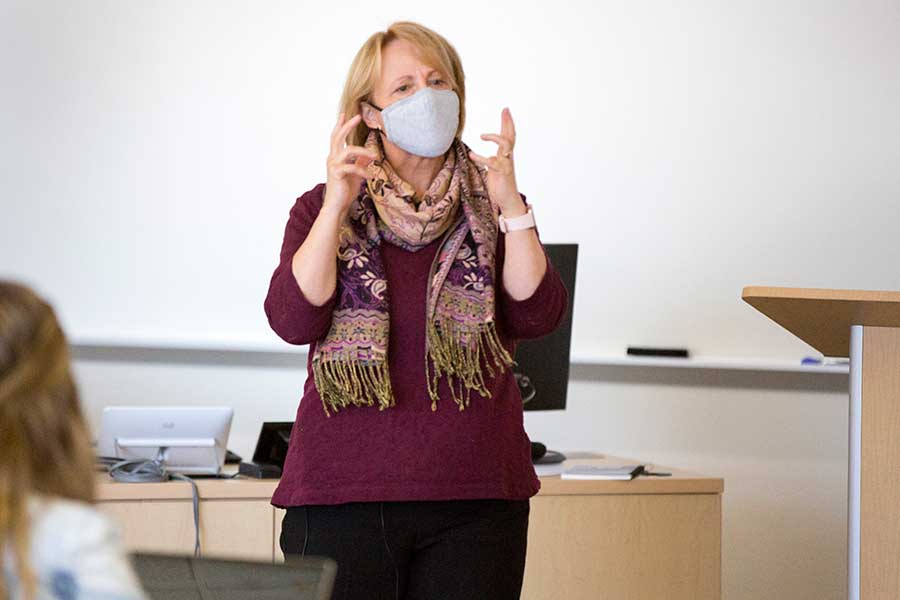 "In Organization and Management I bring the idea of curiosity, creativity and innovation into the class. How do managers create a culture that fosters new ideas and new ways of solving the unexpected? How do managers create an environment that allows people to feel it is safe to be creative in achieving organizational goals? We have to be intentional and think about how we communicate, what we reward, and how to keep people on track. In Business and Society, we look at how the pieces of business fit together. The course is intended to help new students find their way into student organizations and understand the college's vision, mission and corporate culture, and how their courses are intended to help them graduate with a thorough knowledge of the business environment. It is also intended to help students realize how businesses with intentionality and integrity impact society in a positive way."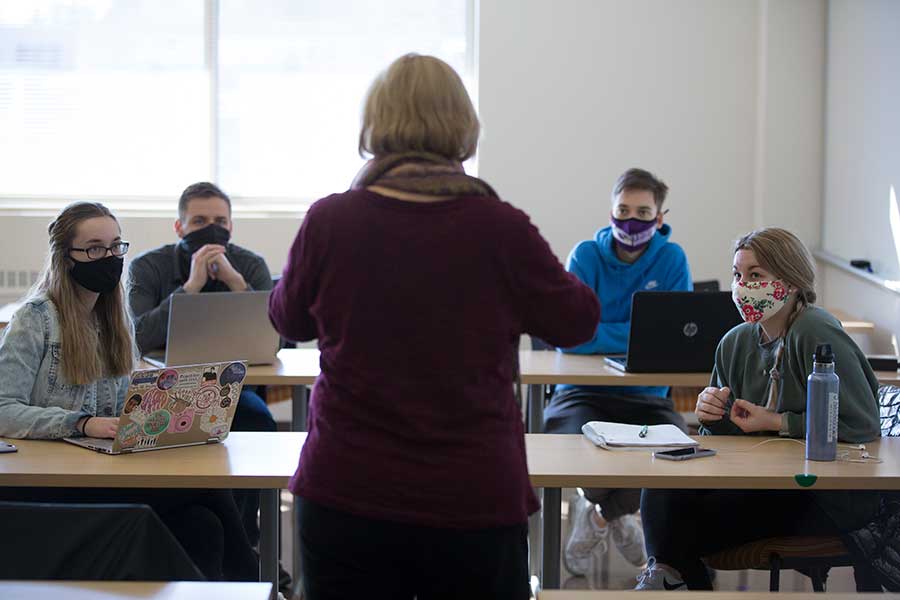 "There were instructors here when I returned to school as a single parent who showed me kindness and helped me not give up. When I help current students do that, it is my way of saying thanks to the people who cared enough to help me out. I think most of our students are juggling work, school and life so I try to be thoughtful about that. I have a sign in my office that says 'The caterpillar thought the world had ended… until it became a butterfly.' I don't know where the original quote came from, but that is why I stay at the university. When a student walks out of my office feeling like they are going to be OK — that they can get through whatever they thought was impossible — that makes this job rewarding. Also, seeing former students do well in their careers, that makes me smile."
WHY I TEACH is a series about the dedicated professionals at the University of Wisconsin-Whitewater, including professors, coaches, advisors and other staff members, who make every day a teachable moment — and every place a learning place — by their expertise and example.